NBA Power Rankings: The Top 25 NBA Players Under 25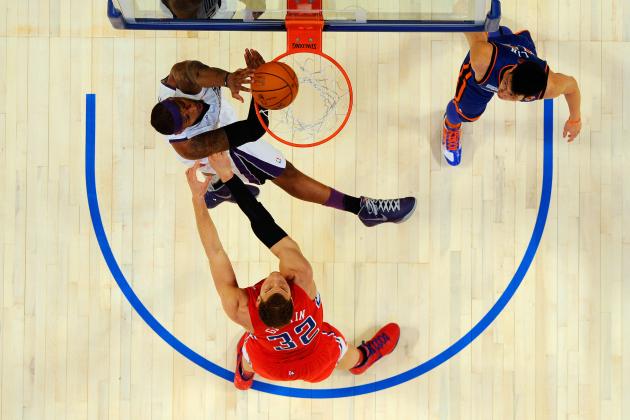 Pool/Getty Images

A wise man once told me that the prospective is in the eyes of tomorrow. In layman's terms, the future is now. While I've never been one to mingle cliches and professional basketball, the term has never been more applicable to the current state of the NBA.
While the league's more veteran stars remain true to form, the youth movement has become quite an overpowering force.
From Chicago to Oklahoma City, there has been a country-wide display of youth overtaking experience in the quest for glory. The question is: Who is the best of the young guns?
While we could speak of players already in their prime like LeBron James, Chris Paul and Dwight Howard, it is much more intriguing to look at the players that will shape the next generation of professional basketball.
Here is a list of the top 25 players in the NBA under the age of 25.
Begin Slideshow

»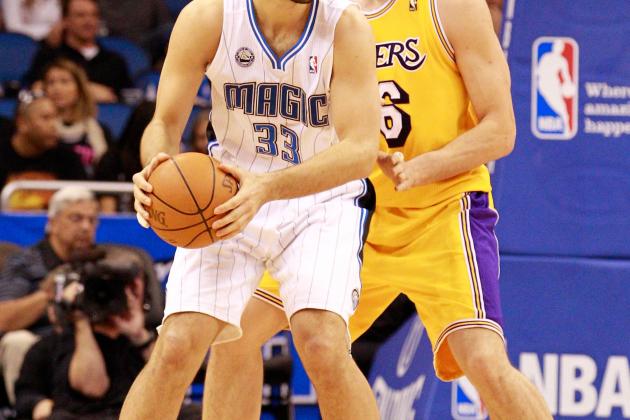 Sam Greenwood/Getty Images

Position: Power Forward
Age: 24
Height & Weight: 6'10"—240 pounds
The 2012 NBA Most Improved Player has gone from a breakout performer with Dwight Howard active to a complete non-factor with Howard on the sidelines. Nevertheless, his accomplishments in 2012 cannot be overlooked, and his potential must be acknowledged.
Anderson finished the year with a league-high 166 three-point field goals, 28 more than the second-best mark set by Jason Terry. Anderson also shot a very respectable mark of 39.3 percent from distance, a top-30 mark in the league.
What separates Anderson from most three-point shooters is that he posted 7.7 rebounds per game. While that is not an incredible average for a starting power forward, the fact that he is still young bodes well for the future.
The fact that he averaged just 9.6 points and 4.6 rebounds on 34.1 percent shooting in the postseason, however, is not.
Season Averages: 21.23 PER—16.1 PPG—7.7 RPG—39.3 3PT%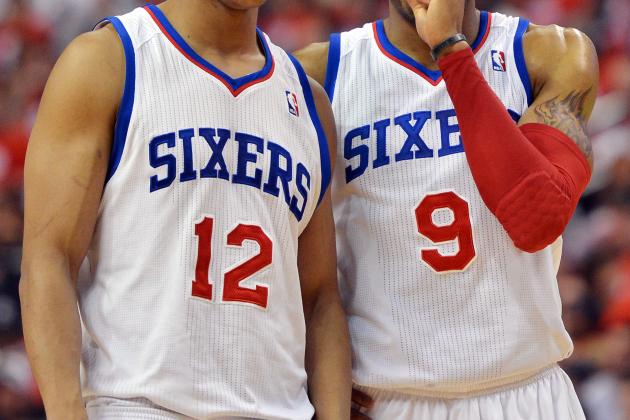 Drew Hallowell/Getty Images
Evan Turner is one of many who is a year away from breaking out.
30. Michael Beasley, 23, Minnesota Timberwolves
The word "disappointing" just about sums up Beasley's production. His talent is questionable due to severe inconsistency, and he barely saw the court last season after a breakout 2010-11 campaign.
29. DeMar DeRozan, 22, Toronto Raptors
DeRozan is an explosive scorer and a dominant transition weapon, but he did not progress in his third year in the league. His potential remains sky high.
28. Evan Turner, 23, Philadelphia 76ers
Turner has come a long way since disappointing rookie year. He is an excellent rebounder for position and a dynamic scorer. He should move up this list next season.
27. Danny Green, 24, San Antonio Spurs
Green is a very good perimeter defender and a capable three-point shooter. A player who comes up big in big games, Green could establish himself as a future leaders of San Antonio Spurs.
26. Ricky Rubio, 21, Minnesota Timberwolves
Had Ricky Rubio remained healthy, he would certainly be higher on this list. Unfortunately, his rookie season was cut short. In terms of talent, however, he is already one of the league's elite facilitators.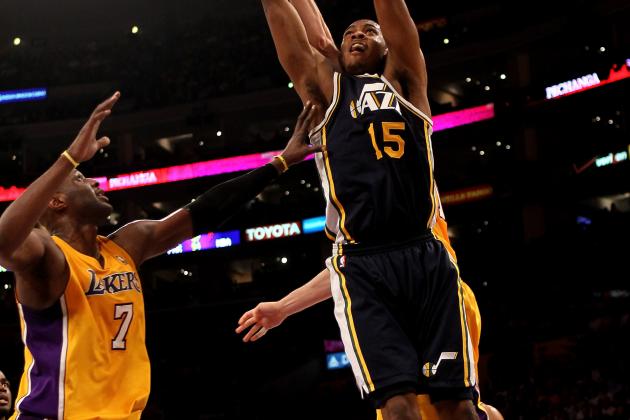 Stephen Dunn/Getty Images

Position: Power Forward
Age: 20
Height & Weight: 6'10"—248 pounds
Derrick Favors took some time to get there, but in the second half of the regular season, he showed everyone why he is an elite prospect. Favors was dominant as an interior defender and raised his levels of production down the stretch (April averages of 9.8 points, 8.4 rebounds and 1.5 blocks per game).
His postseason averages of 11.8 points, 9.5 rebounds and 1.5 blocks are all signs of progress towards a consistent high level of play.
Give him another year, and Favors will emerge as a Sixth Man of the Year candidate. Give him another two or three years, and he will emerge as a Defensive Player of the Year and All-Star nominee.
Season Averages: 17.05 PER—8.8 PPG—6.5 RPG—1.0 BPG—49.9 FG%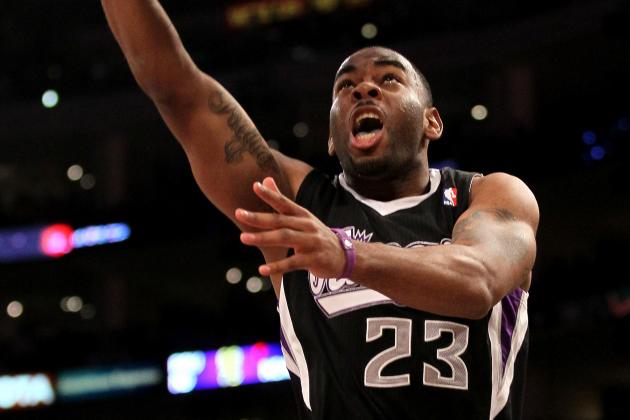 Stephen Dunn/Getty Images

Position: Shooting Guard
Age: 24
Height & Weight: 6'4"—205 pounds
Marcus Thornton may not be a player that fans around the league are familiar with, but he deserves recognition.
Thornton is one of the more prolific young scorers in the NBA and does a very good job taking care of the ball, as evidenced by his career average of just 1.3 turnovers per game.
Thornton displays fantastic ball-handling skills and is one of the best in the league in terms of dribble penetration. While his outside shooting could improve, he knows his way around the basket and can convert from the inside with efficiency.
The biggest hurdle for Thornton will be finding ways to contribute in other areas. While he's a good rebounder for his size and an underrated defender, scoring alone may not be enough on a team like the Kings.
Look for Thornton to improve his all-around game as he continues to wow fans in Sacramento.
Season Averages: 17.43 PER—18.7 PPG—3.7 RPG—1.9 APG—1.4 SPG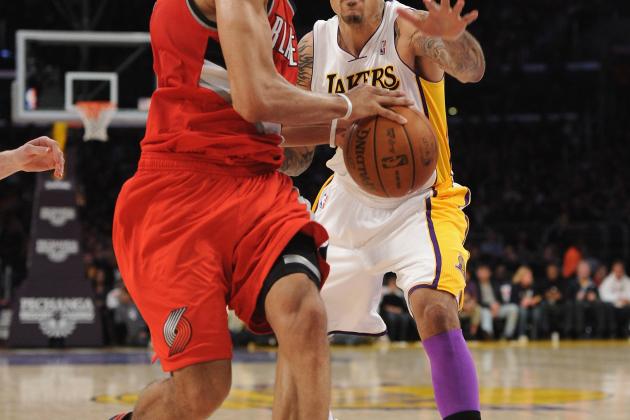 Harry How/Getty Images

Position: Small Forward
Age: 23
Height & Weight: 6'8"—200 pounds
Ranking based on upside alone, Nicolas Batum would break the top 10 on this list.
Nicolas Batum is a top-tier athlete with unbelievable length. While his defensive prowess is overstated, his athletic ability and wingspan give him the potential to be amongst the league's elite. Tack on his lights-out shooting from distance, and you have yourself a well-rounded project.
A project that's beginning to take shape, might I add. The excitement in Portland is warranted.
Season Averages: 17.32 PER—13.9 PPG—4.6 RPG—1.4 APG—1.0 BPG—1.0 SPG