NHL Playoffs 2012: First Stanley Cup Crown Won't Come Easy for L.A. Kings
May 27, 2012

There's too much standing between the Los Angeles Kings and the Stanley Cup to think they'll come by the most coveted trophy in North American professional sports without a fight.
First and foremost, there are the New Jersey Devils. They've hoisted the cup three times in their history, each time on the back of future Hall of Fame goaltender Martin Brodeur. The 40-year-old Montreal native isn't quite the dominant force between the pipes that he once was, but he's done more than well enough in these playoffs (.923 save percentage, 37 goals allowed in 18 games) to evoke memories of a young Marty.
Not to mention, he has put the Devils within four wins of another glorious moment in franchise history.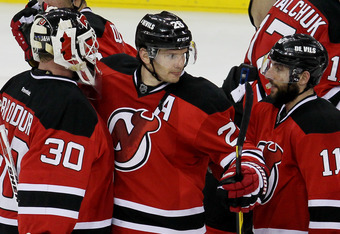 Jim McIsaac/Getty Images
Brodeur won't be the only salty elder statesmen on the ice for Peter DeBoer's bunch, though. He'll be joined by veteran center Patrick Elias, who's played alongside Marty on each of New Jersey's last two Cup winners.
Joining them this time around will be (among others) captain Zach Parise, center Adam Henrique and, most infamously, Ilya Kovalchuk. The Russian wing leads all postseason competitors with 18 points, but will be widely despised by Kings fans for jilting L.A. in free agency in 2010.
Cracking down on Kovi's Devils, then, would be something of a cathartic endeavor for the Kings, who might also take pleasure in equaling the archrival Anaheim Ducks in cup victories by taking down the same team that doused Jean-Sebastien Giguere and company in 2003.
The puck will drop on that endeavor Tuesday at the Prudential Center in Newark, where the Devils went 24-13-4 during the regular season and have lost just twice this postseason.
The bigger obstacle, though, may well be history itself. The Kings are one of two existing teams from the 1967-68 expansion that haven't hoisted Lord Stanley's Cup, along with the St. Louis Blues, whom L.A. ousted in four games in the second round.
(Note: The California Seals went under as the Cleveland Barons after the 1977-78 campaign).
To do so would also require that L.A. become the first No. 8 seed to win the cup and only the second West Coast club to upend an East Coast foe in the finals in seven attempts (per ESPN).
Not that history has been any match for the scrappy Kings so far. They've needed only 14 games to get to this point, through which they've already set new records for most consecutive road wins in one postseason (eight) and in one or more postseasons (10). The Kings are also the first team to ever take down a No. 1 seed, a No. 2 seed and a No. 3 seed in the same playoff run.
So, really, if there's any iteration that's capable of ending the franchise's drought (and vanquishing the curse of Marty McSorley's stick), it's these Kings, of Dustin Brown, Anze Kopitar, Drew Doughty, Jonathan Quick and so on and so forth.
They've overcome more than their fair share of obstacles thus far. Who's to say their rewriting of hockey history will stop now?