6 Houston Texans Who Could Switch Positions in 2012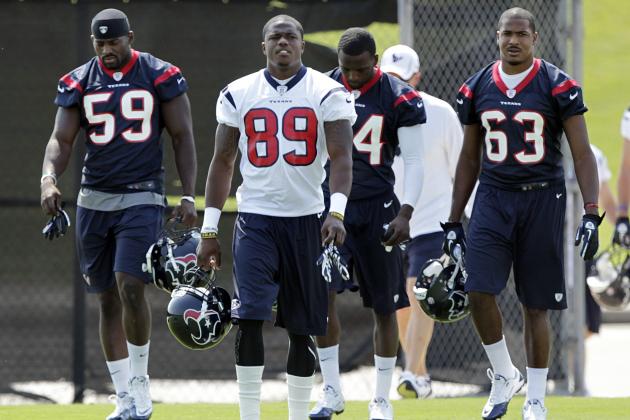 Bob Levey/Getty Images

With the switch to Wade Phillips' 3-4 defense last season, position changes were aplenty.
To name a few: Mario Williams moved from defensive end to outside linebacker, Glover Quin moved from cornerback to safety, Shaun Cody moved from defensive tackle to nose tackle, and Brian Cushing was forced to transition from a 4-3 weak-side linebacker to a 3-4 inside linebacker.
Now, as the Houston Texans prepare for the approaching 2012 season, there will most likely be no position changes before or during the season.
That does not mean, however, that circumstances may not force a Texans player to make a position change at some point during the season.
The main cause of a position change would be an injury to a key player, or perhaps even depth concerns at a certain position.
Incoming rookies may have to switch their positions to either contribute to the team in a more significant way, or even just make the team.
The following slides will discuss the players who may have to change their position either during the offseason, or even right in the middle of the regular season.
Begin Slideshow

»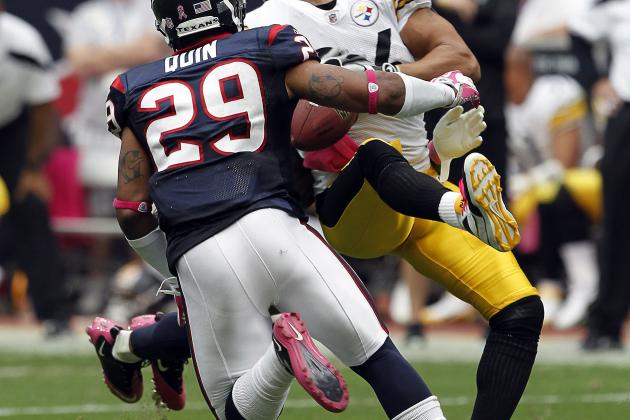 Bob Levey/Getty Images

Safety to Cornerback
Glover Quin is a natural defensive back who can play anywhere in the secondary. Although his natural position is at safety, he is still a talented cornerback, and he proved that in 2010, displaying solid coverage and picking off three passes.
Quin, however, excelled last season playing in the strong safety slot, and he was a major contributor to the Texans' improved defense.
Due to his success at safety, it is highly unlikely that the coaching staff would choose to move him to cornerback, but there are some situations where they may be forced to make that move.
The No. 1 circumstance that would cause Quin to switch positions would be if Jonathan Joseph suffers an injury that would take many weeks to recover from.
The Texans would be left with little depth at cornerback; the inconsistent Kareem Jackson would be the No. 1 corner, and there would be very little depth behind him.
If Brice McCain, Brandon Harris, Roc Carmichael or Sherrick McManis could not fill in effectively at the No. 2 slot, then Quin might be forced to move down from safety. He would help stabilize the cornerback position and the whole Texans' defense.
This move would be made possible by Quintin Demps, who proved last season that he was a viable option at safety when Danieal Manning broke his leg and missed several weeks.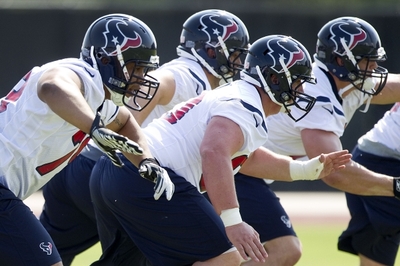 Guard to Tackle
The weakest position on the Texans' offense right now is likely the tackle position. Behind Duane Brown, a Pro Bowl caliber offensive lineman, there is little to be excited about.
Rashad Butler is currently the starter on the right side of the line, but he has little starting experience, and he not shown any reason for optimism in his few starts.
After Butler, the sole remaining tackle who will likely make the roster is Nick Mondek, a sixth-round draft selection who is considered a project and needs time to adjust to the NFL.
If Butler or Brown succumb to injury, or if Butler is incapable of starting, then the Texans have very few options at tackle. The depth is weak, and there are no viable backups.
Enter Brandon Brooks.
Brooks, a third-round draft pick, is a huge offensive lineman who was built to play at guard on the line. He is freakishly large, the heaviest in Texans history, incredibly strong and he can dominate at the point of attack.
That being said, Brooks is also surprisingly quick and agile, and these skills are a major part of his game. He makes sure to take advantage of them whenever he can, and this allows him to get blocks in the second level very effectively.
If needed, Brooks has the potential to transition from guard to tackle. This would not be a permanent move, as he is clearly better at the guard position, but it might be a necessary temporary switch.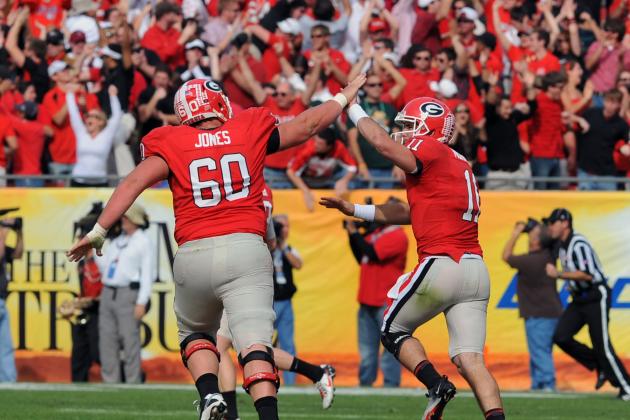 Al Messerschmidt/Getty Images

Center to Guard
Ben Jones has the potential to be an excellent starting center in the NFL, especially in Houston's zone blocking scheme. He is a leader, he uses his strengths to his advantage extremely well, he opens up holes for the running back very easily, and he is well acclimated to the zone blocking scheme.
The only thing standing in his way is just that Pro Bowl center that has started every single game in his four years with the Texans: Chris Myers.
The durable Myers has not missed a single game in the NFL since becoming a starter, and it is very unlikely that Jones will get much playing time behind him.
Therefore, it might be best for Jones to transition from solely being a center to becoming a guard. He could remain the team's backup center, of course, but he would see his skills be put to much better use if he makes himself a viable guard on the offensive line.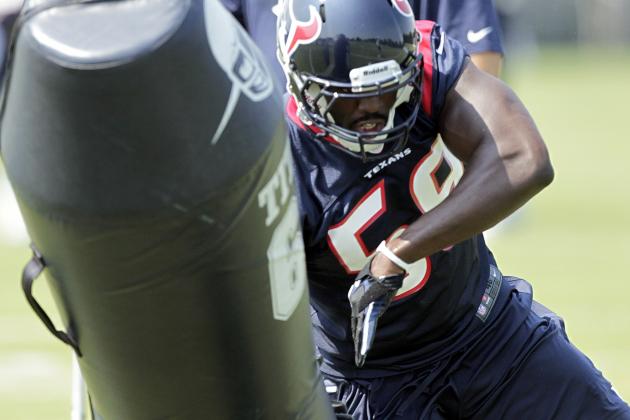 Bob Levey/Getty Images

Outside Linebacker to Defensive End
This move is very improbable, and it would be very surprising if it did, in fact, occur.
Whitney Mercilus, the Texans' first-round draft pick, is expected to become an integral part of a three-man outside linebacker rotation with Connor Barwin and Brooks Reed.
Despite playing as a defensive end in college at Illinois, Mercilus has all the skills a 3-4 outside linebacker could need—speed, strength, hand-skills—and it should not bother him to make the position change.
There is a possibility, however, that Mercilus will be found playing with his hand on the ground throughout the 2012 season.
Injuries could strike at the defensive end position, and Mercilus would be a great option to take the role of an injured Antonio Smith, J.J. Watt or even Jared Crick. He has experience at the position, and he would be capable of keeping the end position running smoothly and soundly.
While this may occur, it is more likely that Tim Jamison will be placed into a more prominent role on the defensive line, and Mercilus would just remain at outside linebacker.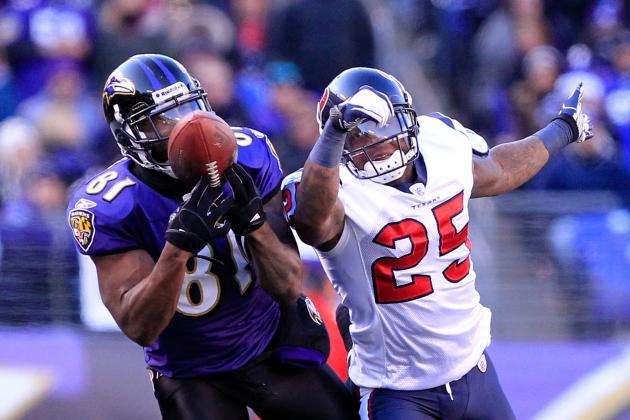 Chris Trotman/Getty Images

Cornerback to Safety
Kareem Jackson has been terribly inconsistent since being drafted with high expectations in 2010. Jackson was believed to be the Texans' answer for the cornerback position, but all he has done in his short career is weaken it.
He is oft burned by opposing receivers, and he struggles greatly with rotating his head and locating the ball in mid-air. This allows for opposing offenses to make big plays when they throw the ball towards him.
The 2012 season will be a definitive one for Jackson, and his future as a starting cornerback in the NFL seems bleak if he cannot make a positive jump forwards.
If it becomes clear that Jackson will not improve this upcoming season, then it might be wise for the Texans to consider a position change before moving him down the depth chart as a cornerback.
Jackson has the skill-set to play as a safety in the NFL, and he actually may even be more suited to play there, instead of at cornerback.
He is a very effective tackler, an important skill for a safety, and he has totaled 113 of them in his two-year career with the Texans.
Furthermore, playing at safety would mean that the problems he struggled with at cornerback would be less likely to affect him. It would be much harder for him to get burned, and he would also not have to play with his back to the ball as often.
He would be running forwards most of the time, instead of backwards, and this would enable him to have a better chance at making a play at the ball in mid-air.
Jackson certainly has the skills to play as a safety in the NFL, and it would be foolish of the Texans if they do not consider the possibility of a position change for him.
Scott Cunningham/Getty Images

Halfback to Fullback
If one is an undrafted free-agent signee, then he would most likely do anything to make an NFL roster. Even if it meant switching away from a position that he dearly loves to play.
This could be the situation that Davin Meggett may find himself in.
Meggett will be competing with Jonathan Grimes for the third and final spot at halfback, but it is very probable that the former Maryland standout will not win this battle. Grimes is simply a better ball-carrier, and he is also much more effective as a receiver out of the backfield.
The odds appear to be stacked up against Meggett, and his hopes of making the Texans' roster as a halfback may be dwindling.
Meggett, however, can even the odds of him making the roster if he does one simple thing: switch his position.
The Texans' depth at fullback is very weak, and this is where Meggett can find his opening.
He is extremely strong, very muscular and incredibly thick for a halfback. Furthermore, he has a low center of gravity, and he shows a willingness as a blocker that may allow him to transition to playing as a fullback.
If Meggett wants to make the Texans' roster and not get cut, then it would be wise of him to take advantage of the Texans' weak depth at fullback and switch his position.