2012 NBA Mock Draft: Comparing Top 20 Prospects to a Current NBA All-Star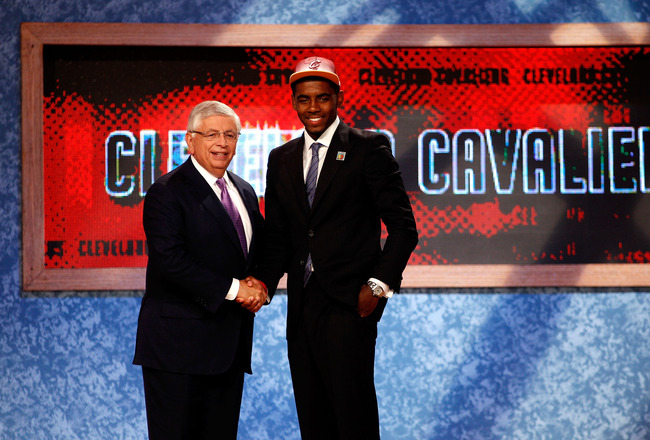 Mike Stobe/Getty Images
With the NBA Draft Lottery coming up on May 30, it is time for those teams no longer in the playoffs to start looking forward to the draft. With this year's draft class as deep as it is, there is a good chance we will see multiple future All-Stars.
The premise of this slideshow is to compare each of the top 20 prospects with a current NBA player that has played in an All-Star game or has All-Star game capabilities. As the picks progress, some of the selections may be a little bit of a reach but sometimes its good to think positive.
Anthony Davis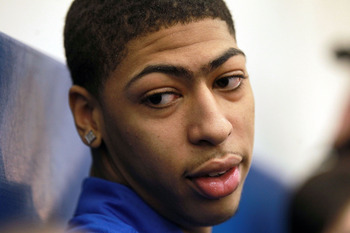 Andy Lyons/Getty Images
Let's start with the future number one pick, Anthony Davis. A player with his size, skill, and athleticism will have no problem making an immediate impact in the NBA. There could be a lot of All-Star games in his future, and the best current player to compare him to would be Dwight Howard.
Dwight came into the league without much of an offensive game but was able to use his size and athleticism to affect games on the defensive end. Anthony Davis should be able to do the same in his rookie year.
While Howard is a more imposing player right now, Anthony Davis could end up with more offensive skill as his career progresses. In the end, I think Anthony Davis and his uni-brow will have a better offensive game than Dwight, but will not have the same defensive prowess as the three time defensive player of the year.
Michael Kidd-Gilchrist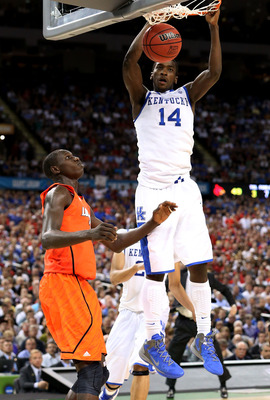 Ronald Martinez/Getty Images
Michael Kidd-Gilchrist was able to play lock down defense for Kentucky this year, while attacking the basket with his slashing ability. His play reminds me of what Andre Iguodola provides for the Sixers.
Iguodola is a very athletic wing that plays great defense and has developed his offensive game over the years. He doesn't always affect the game offensively and that is where Kidd-Gilchrist could surpass him. If Kidd-Gilchrist develops a solid jump shot he will have no problem being a better overall player that Iggy.
For now, you can expect to see great defense and slashing from Kidd-Gilchrist while he works on his jump shot. As he progresses their could be a lot of similarities between Kidd-Gilchrist and Iguodola.
Bradley Beal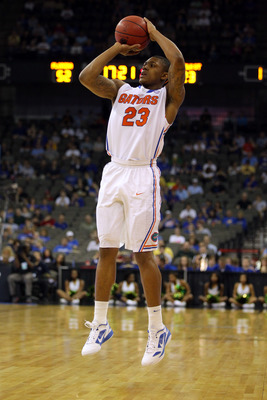 Doug Pensinger/Getty Images
Bradley Beal should have no problem adjusting to the NBA game. His jump shot, rebounding, and character will help him make an immediate impact. His game is quite reminiscent of Eric Gordon.
Both are undersized for there position, but have great jump shots and good finishing ability to make up for it. Eric Gordon was able to take over games in college where Beal wasn't as good at imposing his will.
However, Beal is also a great rebounder for his size and that is one skill that consistently transfers to the NBA. Just look at Kenneth Faried. I see Beal taking a very similar career path as Gordon.
Hopefully without the injuries.
Thomas Robinson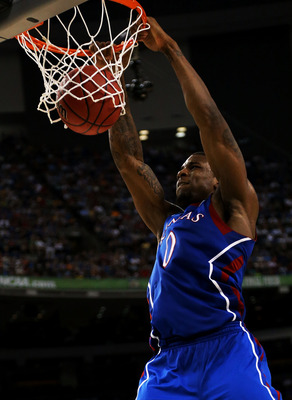 Ronald Martinez/Getty Images
Thomas Robinson was a physically imposing player in college, with blow by ability in the post. He also finishes very well around the rim and has a serviceable jump shot. His athleticism reminds me a little of Blake Griffin, but he isn't as imposing as Griffin.
For that reason, I will call him a more athletic David West. I see Robinson's jump shot developing quickly and that is the only piece missing from this comparison. West is able to use his strength to gain position in the post and can finish well around the rim which is Robinson's biggest strength.
With an improved jump shot, Thomas Robinson will be a much more athletic David West, making the team that takes him very happy.
Andre Drummond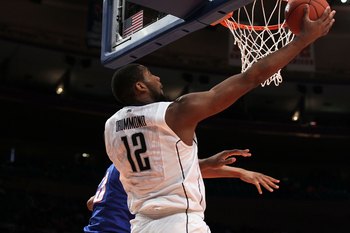 Jim McIsaac/Getty Images
Andre Drummond projects to be a very frustrating pro based on his play at UConn. He would often disappear in games, despite his imposing size and strength. This is why some think he could be the next Kwame Brown.
However, if he develops his potential he could become a team's franchise center for years to come. How long it will take him to develop is another thing.
I would compare him to another frustrating player, Andrew Bynum. One of the reasons for this is the fact that he can disappear while on the floor. Bynum also came into the league at a very young age and took years to develop into the player he is now.
Patience will be needed with Drummond just like it was for Bynum. The team that drafts him will hope he develops some of that potential and uses that athleticism to alter games on both ends of the floor.
Harrison Barnes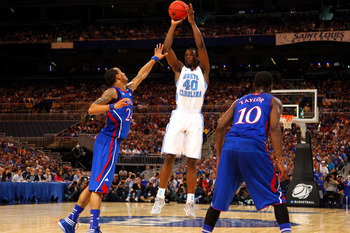 Dilip Vishwanat/Getty Images
Harrison Barnes will bring a lot of skill to the team that drafts him. He could be the best pure jump-shooter in this draft. However, he has other parts of his game to develop. In the NCAA tournament he struggled creating shots for himself after Kendall Marshall went down.
Despite playing a different position, Barnes should be a similar player to Joe Johnson. Johnson is also a great jump shooter and was fortunate to play with Steve Nash at the beginning of his career.
Nash was able to create open jumpers for Johnson which he made a living knocking down. Later in his career, Johnson was able to develop the ability to create his own shot and that earned him the slightly inflated contract he has now.
Barnes jump shot and size will help him make an immediate impact in the NBA, but whether he becomes an All-Star will depend on how he develops the other parts of his game.
Perry Jones III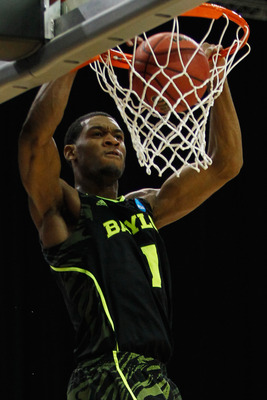 Streeter Lecka/Getty Images
There will be mixed emotions for the fans of the team that drafts Perry Jones III. They will get sick of hearing the word potential. For purpose of this article I am assuming he cashes in on some of that potential.
With his size and athleticism, Perry Jones could be the next Josh Smith but with a better offensive game. Josh Smith is able to play great defense and create offensive mismatches because of his strength and athleticism.
While Jones III is not as strong, he is more athletic and could use that to affect games the same way Smith does. Jones III is a better ball handler and jump shooter than Smith.
By adding some strength and more drive, Jones III should have no problem modeling his game after Josh Smith.
Dion Waiters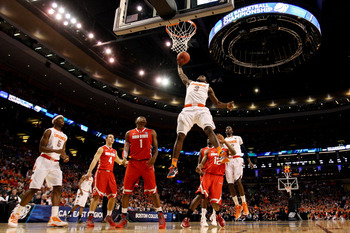 Jim Rogash/Getty Images
Dion Waiters is a versatile guard that can play either the point or shooting guard position. He will be more natural as a shooting guard due to his strong ability to create for himself off the bounce.
He is a creative finisher in traffic and can be explosive on the break where he is most dangerous. His style is quite similar to Russell Westbrook.
Before everybody gets too excited, Waiters is not as explosive as Westbrook and he will not become the caliber of player Westbrook is. However, it wouldn't hurt if he played a similar style as Westbrook as a wing player.
Jeremy Lamb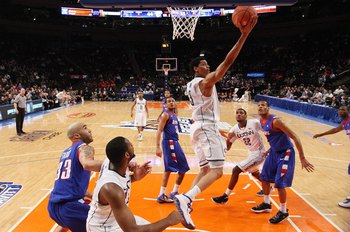 Jim McIsaac/Getty Images
Jeremy Lamb is a very lanky guard that has the most polished mid range game of any guard in the draft. He has a very smooth shooting motion that reminds me of Kevin Martin when he was in Sacramento.
Martin was able to score in a variety of ways and making it all look very polished. Lamb should be able to do the same thing. His length will also help make him a better defensive player than Martin.
I see Jeremy Lamb being a better player that Martin became because of his length and ability to play defense. As long as he does not disappear at times like he did with UConn this year.
Jared Sullinger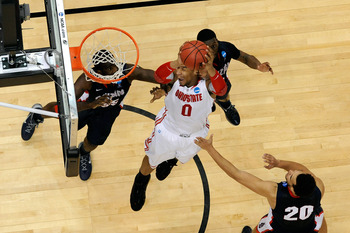 Gregory Shamus/Getty Images
Jared Sullinger and Elton Brand appear to the be the same basketball players with about a decade apart in age. Brand came into the league with the same criticisms that Sullinger is facing.
Both are slightly undersized and will play under the rim for the most part. That leads to the question, can Sullinger get his shot off in the NBA? In college, he struggled when playing against taller defenders but will probably not be guarded by seven footers in the NBA.
Sullinger is able to use his big body the way Brand does to create space down low and should be able to transfer that skill to the NBA. If Sullinger can consistently get his shot off in the NBA, he will be a very similar player to Brand and have a successful NBA career.
Damian Lillard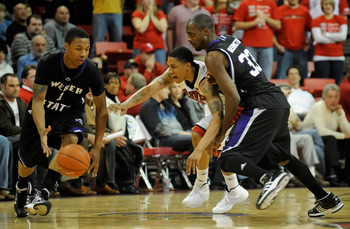 Ethan Miller/Getty Images
It will be interesting to see where Damian Lillard ends up in the draft. He comes from Weber State, a small school in the Big Sky Conference, and his style of play is reminiscent of Stephen Curry.
He was not close to the college star that Stephen Curry was, but did end up second in scoring his senior year and has a sweet stroke from outside. Lillard has a way to go to become an NBA point guard though. He has all the skills needed to become one.
He will face the same type of criticism about the amount of competition he faced in college that Curry went through coming out of Davidson. I see him proving his critics wrong and becoming a very good point guard in the NBA.
Terrence Ross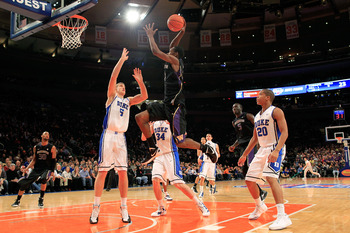 Chris Trotman/Getty Images
Terrence Ross is a scorer and not much else. He could end up being a similar player to O.J. Mayo, providing an offense punch from the bench. They both come from the same conference and both enjoy taking jump shots even when driving to the rack may be a better option.
Both players are the ideal size for an NBA shooting guard, and have the athleticism to penetrate and finish around the rim. Unfortunately, they seem to prefer shooting jump shots.
I see Terrence Ross coming off a team's bench providing an instant scoring as a pro. If he develops other parts of his game that Mayo neglects, he could be much more.
Terrence Jones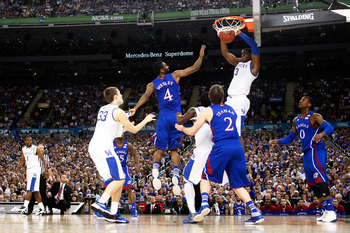 Jeff Gross/Getty Images
Terrence Jones played the same role on the Kentucky championship team that Lamar Odom played on the Los Angeles Laker championship team. They were the X-factor that pushed their respective teams over the edge.
Both of them being left-handed also helps the comparison. Jones is a little less gifted on the offensive ends at this point in his career than Odom, but makes up for it with defensive effort.
If Terrence Jones could be the X-factor in the NBA that he was at Kentucky, he will have a very successful NBA career.
John Henson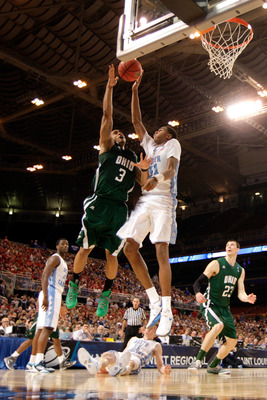 Andy Lyons/Getty Images
John Henson is a hard player to compare due to his rare combination of size, length, and athleticism. His body style reminds me a lot of Tayshaun Prince but he doesn't have near the offensive capabilities of Prince.
Both Henson and Prince use their length very well on the defensive end to disrupt what an offensive player wants to do. Henson is also a quick leaper and has good timing as a shot blocker.
I see Henson working on his mid range game to help spread the floor some on offense. His ability to play defense will keep him playing in the NBA for a while and he should focus on defending just as Prince did.
Austin Rivers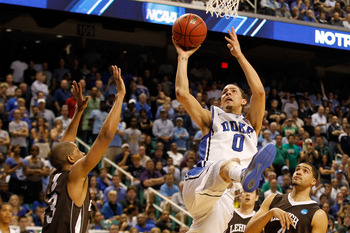 Streeter Lecka/Getty Images
Austin Rivers is a slightly taller Monta Ellis. Both players are explosive on the offensive end but sometimes need a lot of shots to put up their points.
Both players have unlimited range on their jump shot and sometimes abuse that skill by taking bad shots early in the shot clock. Neither player sets up teammates very well and can struggle on the defensive end.
However, every team needs offense and someone as explosive as Rivers will be given a chance to produce in the NBA. The team that drafts him will hope he becomes a more complete player as his career moves along.
Arnett Moultrie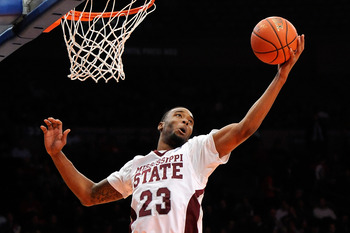 Patrick McDermott/Getty Images
Arnett Moultrie is a very skilled power forward on the offensive end. His athleticism allows him to face up and drive past defenders in the post.
His ability to knock down the mid range jump shot makes teams respect him, setting up that face up game. His diverse offensive game and athleticism could help him turn into a very good player. A player like Al Horford.
Horford could survive just off the energy and hustle he brings to the court, but the diverse skill set he brings to the offensive end sets him apart.
Moultrie will have to work very hard to become as good as Horford. He has the work ethic to make it there.
Kendall Marshall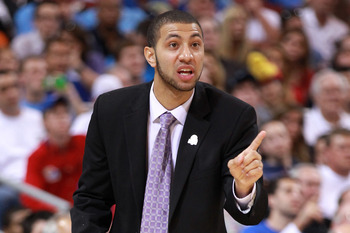 Andy Lyons/Getty Images
It is surprising that a players stock actually increased after he got injured in the NCAA tournament. Kendall Marshall getting hurt during the NCAA Tournament showed how crucial his distributing was to the Tar Heels.
Marshall will play as a pure point guard in the NBA and could be similar to Jason Kidd or Steve Nash in that sense. He won't have the scoring or shooting abilities of Kidd or Nash, but is a skilled passer and can get players the ball where they need it to succeed.
Kendall Marshall is the type of player that makes his teammates play better. This unselfishness will help establish himself in the NBA.
Meyers Leonard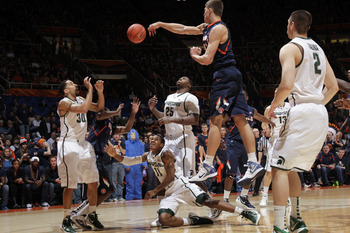 Joe Robbins/Getty Images
Meyers Leonard is getting drafted in the first round because he is a legitimate seven footer. The team that drafts him will be counting on a lot potential coming to fruition. I just don't see this happening.
Leonard has good athleticism for his size but does not carry much skill along with that athleticism. His effort can be inconsistent at times and he needs to develop more offensive moves in the post.
For this reason this will be the first negative comparison. I see Meyers Leonard becoming the next Byron Mullens. A player who came out too early and was drafted due to his size, athleticism, and potential.
Quincy Miller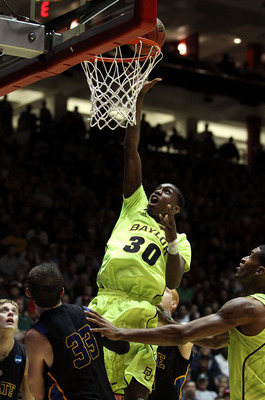 Christian Petersen/Getty Images
I used Tayshaun Prince, and when I started I didn't foresee using him twice. However, Quincy Miller is a very similar player to Prince. Both players are thin, long, and athletic. They use that length and athleticism to play solid defense against multiple positions.
Quincy Miller also has the ability to knock down jump shots and space the floor on the offensive end. He should attempt to model his game after the very successful Tayshaun Prince and focus on defense early in his career, letting his offense develop over time.
Moe Harkless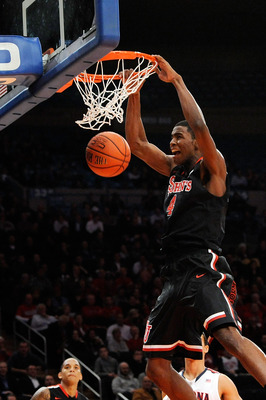 Patrick McDermott/Getty Images
Moe Harkless could be a player similar to Derrick Williams due to his lack of definite position in the NBA. Both Harkless and Williams carried their respective college teams, often playing multiple positions.
They both can create mismatches and have the offensive skills to exploit those mismatches. If Harkless can find a position in the NBA he could become very good at exploiting those mismatches.
This just shows how deep this draft class is, the 20th pick is not too far behind last years second pick. Harkless could be better that Williams if he has the athleticism to play small forward in the NBA.
Keep Reading