Dos Santos vs. Mir: Did Frank Mir Actually Have a Chance to Win?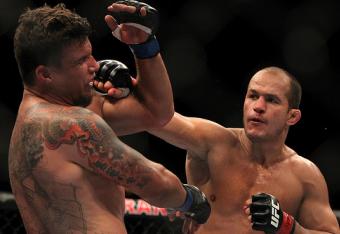 Photo by Josh Hedges/Zuffa LLC/Zuffa LLC via Getty Images

So there it was. The heavy favourite retained his heavyweight title against a chance opponent who seemed completely outclassed in the two short rounds he completed.
Frank Mir's only shot at Junior dos Santos' belt at UFC 146 last night was to take him down and finish it on the ground.
His one shot came early in the first round, but was soon brushed off by the champion, expertly resisting Mir's rugged takedown attempt. Where even Cain Velasquez failed, Mir had no hope.
After that, it went straight to Dos Santos' strengths, as Mir looked too dazzled by the Brazilian's boxing to attempt another shot. Of course, no one gave Mir much of chance to stand toe-to-toe with the man many consider the best boxer in MMA.
After one too many powers shots, Mir was felled at three minutes and four seconds of Round 2 and never managed to get back up.
Leading up to the fight, Mir, a two-time heavyweight champion himself, spoke openly about how he's going to submit Dos Santos, just like he had done to the Brazilian's mentor Antonio Rodrigo Nogeuira last December. It was as if he too believed that this was his only chance of winning.
But this was a forlorn hope against a man who has rarely been taken down in his UFC career and even more rarely has he been held there.
And Mir just isn't that good of a wrestler. The night's co-main event showcased MMA wresting of the highest order, as Velasquez took down and beat into submission the giant Antonio Silva. Velazquez's lightning-flash leg grab which set up the single-leg takedown is far outside the skill set of Frank Mir.
The problem was compounded by the fact that Dos Santos doesn't throw his legs out for you to catch anyway. Together with iron-strong takedown defence, the Brazilian has carved out an effective style in keeping the fight standing, seeing him tear through the division in all 16 pro fights.
Mir, let's be honest, had little chance of winning there. Some of his most remarkable wins have come via submission—a record eight in the heavyweight division—but these victories have led him always wanting to fall back on his BJJ.
It was his BJJ, and his opponent's bad judgment, which got him out of trouble in his last fight. But if he thought it would save him again, he was very much mistaken.
At more than 20 lbs. heavier than Dos Santos, Mir just wasn't quick enough to bring him to the mat or beat him for pace with his fists. Perhaps a leaner Frank, a pre-Brock Lesnar Frank, would have fared better.
As it was, his one chance was hardly much of a chance at all.
This article is
What is the duplicate article?
Why is this article offensive?
Where is this article plagiarized from?
Why is this article poorly edited?