UFC 146 Results: Is Junior dos Santos Unbeatable?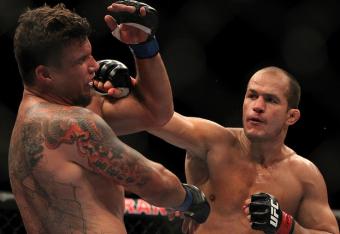 Photo by Josh Hedges

Junior dos Santos retained his UFC heavyweight title in impressive fashion Saturday night in Las Vegas in the main event of the UFC 146 pay-per-view. Dos Santos stuffed an early takedown attempt from challenger Frank Mir and would go on to batter the former champion for the better part of two rounds.
With the win, Dos Santos effectively cemented his place among the top of the heavyweight rankings and validated his championship by defending the belt.
JDS has not only racked up a handful of wins inside the Octagon, but he's also dominated virtually everyone he's fought. The champion has defeated jiu-jitsu specialists, strong wrestlers and kickboxers, as well.
It seems he's impervious to any style an opponent might throw at him and has looked about as close to unbeatable as one could imagine en route to becoming top dog.
But is the champion unbeatable?
Dos Santos has shown great takedown defense as powerful wrestler Shane Carwin was unable to wrestle him to the mat, Roy Nelson failed to capitalize with his jiu-jitsu skills and both Cain Velasquez and Mir were unable in their attempts, as well.
Mir, in particular, had a deep single leg and tried about every variation of a takedown from that position that he could think of. Yet JDS fended him off with his back to the cage and walked away, leaving Mir questioning his confidence.
If you were to tell another fan that JDS is unbeatable, you wouldn't exactly be stretching the truth too much. Although he only brings one skill set to the Octagon, it's an elite-level skill that few men would be able to handle.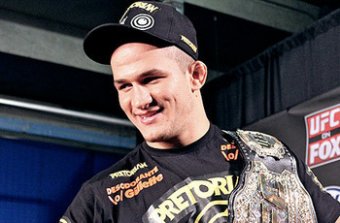 mmaweekly.com
Two possible opponents to dethrone the champion would be the man he defeated to win the belt, Velasquez, and JDS' original opponent for UFC 146, Alistair Overeem.
Velasquez came in a little rusty and clearly tentative in his bout with Dos Santos and it cost him the title. But just watch the bloodbath that was Velasquez vs. Antonio Silva last night and you'd have to bet a rematch could possibly go a different direction.
The former champ wanted to make a statement in his bout with Silva and it's clear that Velasquez is one scary guy at heavyweight. A rematch is likely in the cards for Velasquez and if he comes out with that same kind of intensity we could see a very different outcome.
Another fighter who could end JDS' reign of terror over the division is Overeem. The former Strikeforce champion can lay the claim of having world-class striking as he's a K-1 champion and could give Dos Santos a run for his money on the feet.
While most fighters are forced to play Dos Santos' game because they are ineffective with their grappling, Overeem would be able to compete on equal terms in the stand-up game. Overeem also has a slick submission game that could give Dos Santos' some problems should he find himself in the wrong position.
The main problem with a potential showdown with Overeem is that he will be out until December and may not last in the UFC given how Dana White has responded to Overeem "lying" to him.
Many fans will begin to make claims of JDS' invincibility but as well all know any fighter can lose. Dos Santos has holes and weaknesses in his game just as everyone does, but we haven't seen anyone be able to capitalize on them.
The Velasquez that showed up at UFC 146 certainly has the talent to do so and, lucky for us, that will likely be the next heavyweight title matchup.
This article is
What is the duplicate article?
Why is this article offensive?
Where is this article plagiarized from?
Why is this article poorly edited?