Mexico vs. Wales: Mexico Will Shine in International Friendly
May 27, 2012

Joel Auerbach/Getty Images
Mexico will outclass, outshine and outperform Wales Sunday at MetLife Stadium because they have the better team.
Wales is searching for consistency in preparation for qualification to the 2014 World Cup. They have struggled despite seeing a more talented roster on the pitch in recent years.
Their performance has earned them the 41st ranking in the world; Mexico is No. 20, according to FIFA. 
Mexico will bring the pace, speed and excitement like we are accustomed to seeing. That style of play has made them one of the more up-and-coming teams in the world.
Javier Hernandez and Giovani dos Santos will bring the pressure up front all game long, forcing Wales to play in their final third.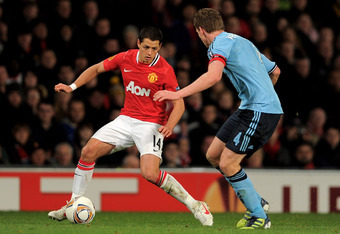 Michael Regan/Getty Images
Hernandez will be the biggest difference-maker, though. He has totaled 23 goals in 34 appearances for his home country.
Wales is a team on the rise, but they're not ready to win an international friendly in North America against a team like Mexico.
This is a country, a team, still recovering from the loss of legendary manager and national hero Gary Speed.
Time is the greatest healing process, and maybe getting onto the pitch on a consistent basis will begin to heal the wound, but this will take some time.
Also, Wales will be without Gareth Bale and Wayne Hennessey; losses that are going to be crucial in the friendly.
Two key figures in order for Wales to sneak a victory will be Craig Bellamy and Aaron Ramsey. Both have proved to have the talent needed to compete against quality competition, but they need to show up to the party Sunday.
Bellamy has 68 caps for his country, and he has scored 19 times. Ramsey has all of the talent in the world, he just needs to be more consistent.
Prediction
Mexico receives two Hernandez goals to win 2-0. They dominate the time of possession and shots on target.