Who Was the Bigger Bust: Rick DiPietro or Mark Prior?
May 27, 2012

Bruce Bennett/Getty Images
In one corner we have goaltender Rick DiPietro, at one point the face of the New York Islanders franchise. In the other, Mark Prior, a pitcher that was supposed to lead the Chicago Cubs to their first World Series in nearly 100 years.
The DiPietro story is very familiar to Islanders fans. DiPietro was taken with the No. 1 pick in the 2000 draft. Just before the Islanders selected DiPietro, the Islanders traded goaltender Roberto Luongo to the Florida Panthers.
Luongo is now with the Vancouver Canucks and is a three-time All-Star and three-time Vezina Trophy finalist. Had the Islanders kept Luongo and went a different direction on draft day, the fate of their franchise could be a lot different today.
Instead, the Islanders did draft DiPietro, and at first he succeeded—enough to where the Isles awarded Rick DiPietro with what is today one of the worst contracts in sports history. On September 12, 2006, DiPietro inked a deal worth $67.5 million over 15 years.
It was all downhill from there.
Since, DiPietro has come into contact with a number of injuries and surgeries. Just some of these include hernia surgery, knee surgery and hip surgery. At this point, DiPietro is practically plastic from the hip down. The goaltender has been irrelevant for years, and one has to think that the Islanders may buy out his contract soon.
However, Mark Prior has been not been the savior he was projected to be, either. Prior was projected to be a perennial Cy Young Award winner tracking back to his days at USC. Only catcher Joe Mauer was selected ahead of Prior in the MLB draft.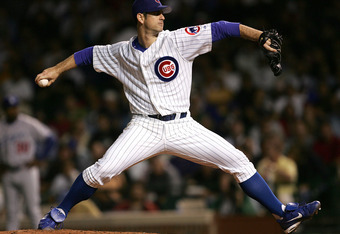 Jonathan Daniel/Getty Images
Prior breezed through the minor leagues and was up with the Cubs a year after he was drafted. He flashed his potential his rookie year with 147 strikeouts in 116 innings with a 3.32 earned run average and six wins.
He finished seventh in the Rookie of the Year voting. He only improved during his sophomore campaign, going 18-6 with a 2.43 era and finishing third in the CY Young voting.
Like DiPietro, though, Prior became all too familiar with his team's medical staff. He hurt his shoulder in a collision with Atlanta Braves second baseman, Marcus Giles. Then he proceeded to have a number of other injuries and surgeries, including shoulder surgery and strains to his Achilles tendon and elbow.
Since, Prior has become an afterthought with the Chicago Cubs. He has bounced around a couple organizations, including the San Diego Padres and New York Yankees. He signed with the Boston Red Sox in May in what is being called his final comeback attempt.
Now that the resumes are complete, we can come back to the original question: Who is the bigger bust?
Both players have come down very similar career paths. Both came into their respective leagues and were successful very quickly. They both have battled a number of major injuries, and they both look like they are on their final comebacks before calling it a career.
While it is hard to compare a hockey player to a baseball player, it is not hard to compare their importance to their respective teams. Arguably the three most important positions in team sports are the quarterback in football, goalie in hockey and pitcher in baseball.
A pitcher, like a quarterback in football, is the only player on the field that touches the ball every play, regardless of the result. A goalie can single-handedly alter the score of the game based on his performance.
A goalie who gets hot in the playoffs can lead his team all the way to a championship. On the flip side, a goalie that plays poorly can cost his team a game at any time.
In Prior's case, he took the ball every fifth day, which was fortunate for him. With pitchers like Matt Clement, Kerry Wood and Jon Lieber, Prior needed to be good every fifth day and not every day.
In Rick DiPietro's case, there was no alternate. He was the guy. He was the player who was supposed to get hot and lead this team to the playoffs and ultimately a championship. That is why, despite the similar resumes and impact on their own team, Rick DiPietro wins this matchup of the bigger bust.
Christopher Benini is a New York Islanders Featured Columnist for Bleacher Report and can be followed here.