San Antonio Spurs-OKC Thunder: Why It's the Matchup the NBA Needed
May 27, 2012

Steve Dykes/Getty Images
Some time before tipoff tonight, an employee in the NBA's hallowed, holier-than-thou offices will grumble about a Western Conference Finals involving teams from San Antonio and Oklahoma City.
And he or she shouldn't. Instead, all of the league's decision makers should consider a round of cartwheels, back flips or somersaults. If the thought of body gymnastics sounds less than appealing to David Stern and company, a smile will do.
A Spurs-Thunder match, with a Finals berth on the line, is just what the association needed, even if not everyone that should knows it yet.
Owners barked and bellowed about spending inequities and propagated a sordid ponzi scheme about competitive balance. What a farce.
Some of the small-market bosses who threatened to torpedo the entire season in what amounted to a cash grab do not deserve this serendipitous outcome.
They get it anyway and not a moment, a month or a year too soon.
Tim Duncan—still delivering heavy doses of stoicism and interior dominance—hopes to win one for the thumb. Ditto for Coach Gregg Popovich. Tony Parker and Manu Ginobili are chasing a fourth title, a colossal accomplishment that would bolster a pair of careers already fit for Hall of Fame enshrinement.
Kevin Durant wears an innocent grin and still dresses like a high school kid, backpack and all, for post-game press conferences. Beneath the surface of that polite, agreeable young man is an assassin raring to use up every bit of the Glacier water in his veins en route to a first championship.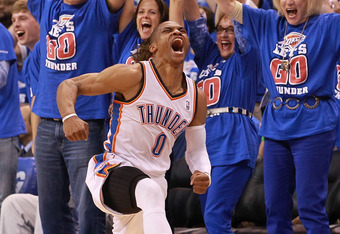 Ronald Martinez/Getty Images
Russell Westbrook and James Harden joining Durant on a podium after a title triumph would affirm that OKC's dogmatic youngsters, hard working Coach Scott Brooks and overflowing-with-aplomb GM Sam Presti all built an ascendant program the right way.
The right attitude and a singular goal has allowed the Thunder to transform itself from a once 3-29 bottom feeder into a team most analysts will pick to win the West for the next decade.
The Spurs' crisp but gorgeous attack belongs in a museum. They make surgical murder a work of art.
Breathtaking passes yield wide-open three-pointers and lay-ups that many players on other squads would be thrilled to get in a spirited practice.
San Antonio's supporting cast members can get these high-percentage looks in the final minutes of tense, pressure-packed postseason contests.
The opponent has geared up to stifle the Parker and Ginobili high pick-and-roll, and yet, there's Danny Green with four minutes remaining in a closeout game, all alone in the right corner, ready to drill a triple to knot the score.
The L.A. Clippers would swear they scoured the available footage and scrutinized the scouting report, and yet, 20-year-old rookie Kawhi Leonard just cut to the rim for an and-one to help the Spurs trim a once 24-point deficit to three.
Eric Bledsoe just sliced through a double team for an acrobatic finish to put L.A. up five in a spurt that would devastate a lot of challengers and extend the series one more night.
These Spurs do not react like most squads. Gary Neal responds with a pair of unattended long-distance bombs.
How did an undrafted second-year player from a second-tier school get himself that open, and where does he get the nerve to shrug off the magnitude of those attempts, as if the San Antonio shootaround continues until the final buzzer?
The mighty, fearsome Lakers stay in contact by climbing on the shoulder of a guy who has done this a few times. Kobe Bryant is headed for 42 points, but the Thunder will emerge as the victors in an eventual runaway.
How can the Lakers get 42 from the Black Mamba and still get shellacked and eliminated courtesy of a backbreaking run?
Westbrook scores relentlessly on every L.A. defender Mike Brown dares to send his way en route to 37 points. OKC steals Game 4 and takes a 3-1 series lead it will not relinquish.
Harden decides to turn a respectable Dallas Mavericks coverage into his own punching bag with ruthless rim assaults, and the defending champion's season ends at home in a sweep. Mark Cuban again becomes one of the planet's unhappiest billionaires.
The Spurs and Thunder established themselves as the NBA's best teams in the first two rounds, with apologies to the Miami Heat and Boston Celtics.
Stern could not have scripted or imagined a better matchup to decide the Western Conference's latest king.
As far as basketball bouts go, it cannot get any better than this.
Thunder-Spurs represents progress for a league that needs to make some.
The owners' competitive balance rants throughout the work stoppage may have been hogwash, but the idea that every franchise can compete is an essential one.
A pair of organizations from media markets in the 30s and 40s will spar tonight, with so much on the line and so much still left to do.
Too many sports followers look to the NBA as the freak show ballast, or worse, as an association that tends to stick parity where the sun never shines.
The Lakers and Celtics have amassed enough titles for an eternity. Kobe Bryant will rank behind Michael Jordan, no matter how many more rings he might collect before retirement. He is the second best shooting guard ever, and that will never change.
Turn off the urge to watch a circus. Stop hating LeBron James. Just witness some great basketball from two squads who have earned the same respect and viewership as the premier franchises mentioned above.
NFL supporters do not gripe when the Green Bay Packers or the St. Louis Rams reach the Super Bowl.
If a community-owned team in an area with less than half a million residents can attract the same prime-time numbers as the New York Giants, the Spurs and Thunder should at least draw a fraction of that.
The NBA cannot compete with the NFL's grand illusion that playing once a week makes games more of an event. Stern doesn't have an abundance of gifted quarterbacks or veiled violence to sell to an audience that craves both.
The vicious hits keep coming, and several former NFL players became so burdened by post-career pain and the ensuing physical and mental handicaps that they ended life.
Millions will forget about the consequences of tackle ball when professional pigskin returns for its Thursday, Saturday, Sunday and Monday slots.
Somehow, someway, though, the NBA must arrive at a new destination where at least 15 million will tune in to observe the best the sport can offer, even if neither plays in New York, Boston, Chicago or L.A.
Save the clowns for Ringling Bros. Barnum and Bailey's "Greatest Show on Earth." Pay attention to the hoops, not the perceived prestige attached to the participants in a joust.
The Lakers are the most exciting team when they field the best one. This L.A. bunch was lucky to advance beyond the conference quarterfinals.
How could anyone enjoy Andrew Bynum's petulance, Bryant's misplaced outbursts, Pau Gasol's incessant character defamation or a bench as erratic as the rainfall in a desert?
Watching the 2011-2012 Lakers became a chore with a payoff that felt like a roundhouse kick to the private parts.
Respect is earned, except in a league where so many casual fans are willing to denigrate a product they should admit they rarely watch.
How many of those who deem the Spurs "boring" have ever watched one of their games in its entirety?
Was any one of San Antonio's low-scoring Finals outings worse than the Super Bowl where Rex Grossman started at quarterback for the Chicago Bears?
NFL fans will watch, even if the product sometimes does not measure up to the hype.
Thunder-Spurs is another small step toward the NBA docking at that critical juncture.
Devout season ticket holders in Sacramento or Minnesota should flip on TNT tonight and take in the action while embracing hope.
The Kings and Timberwolves remain a long way from contention, but traversing the difficult path from lottery loser to championship hopeful is possible for any franchise, well, except the Charlotte Bobcats.
San Antonio and Oklahoma City prove it.
The Thunder and Spurs may rank as exceptions now, but they don't have to be forever. The just ratified collective bargaining agreement includes a more punitive luxury tax and a revamped system that rewards smart spending.
Sure, it takes luck and immeasurable amounts of acumen and perseverance.
R.C. Buford begins responses to questions about his ability to construct title-worthy rosters by reminding the interviewer that it all started with David Robinson, then continued with ping-pong balls and Duncan.
Presti benefited from good fortune when Kevin Durant fell into his lap with the second pick. He needed then Portland Trail Blazers GM Kevin Pritchard to select Greg Oden first for the Texas scoring dynamo to remain on the board.
It also helped both the Spurs and Thunder that their records in the seasons before Duncan and Durant were abysmal enough to put the teams in contention for top 5 picks.
Yet, what Buford and Presti have engineered since is anything but lucky.
Buford plucked Parker and Ginobili with late picks most figured would be inconsequential.
He signed Bruce Bowen off the free agent scrap heap, and one of the league's best perimeter defenders ever produced a silver and black tenure worthy of a jersey retirement.
He unearthed a two-way gym in George Hill then flipped the IUPUI combo guard for Leonard, an athletic wing who has made all the difference for a Spurs squad seeking its 19th consecutive victory.
None of the other 29 teams thought enough of Neal to even invite him to join a Summer League roster. The Spurs auditioned him in Las Vegas, then gambled that his feathery stroke was worth several campaigns worth of guaranteed money.
Many months later, Neal drained the biggest shot of San Antonio's season and helped the top seed stave off elimination for one more night.
Buford was ready when Tiago Splitter and DeJuan Blair fell further than they should have.
He called up Green from the D-League, and no one in the Spurs' brain trust could gave predicted he would become such a vital cog.
Presti followed up acquiring Durant by taking Westbrook in a move described by far too many as a reach.
He saw enough in Parker to demand that Popovich give the puny French kid another shot. That plea changed the course of hoops history.
Parker would have ended up elsewhere without Presti's insistence.
OKC's architect has since added to his impressive resume. Harden, Serge Ibaka, Eric Maynor all put on Thunder blue and white under his watch.
Presti traded Ray Allen for the draft rights to Jeff Green. A few years later, he swapped Green for Kendrick Perkins. The results speak for themselves.
Parker vs. Westbrook provides all the intrigue any series should need, but in this case, it serves as a mere starting point. Thunder-Spurs will deliver on every level, except the one that never should have mattered.
Market size has loomed too large for its own good.
Those hollow cries from owners about the broken system provided scorned, forgotten NBA aficionados with a compelling summer show while billionaires stuffed wallets and recouped some losses incurred during a double-dip recession.
The fireworks mercifully ended in November. The farce has become irrelevant. Now, the real work begins.
Thunder-Spurs is a fantastic start.
Stern doesn't need to jump around like a college student at the ultimate duplex party, but a smile and a simple "thank you" seem appropriate.
The powers responsible for the league's stewardship need this series, and they will know it soon enough.
One best-of-7 slice of basketball heaven pops from the oven tonight, and the NBA takes another step toward progress.