Dos Santos vs. Mir Results: Power Ranking the UFC 146 Prelim Card Fights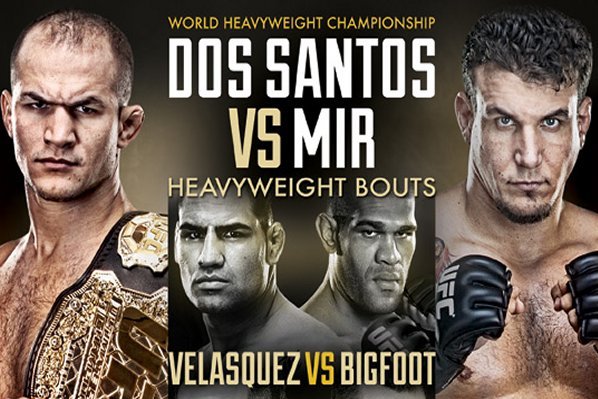 Call me bold, but UFC 146 provided one of the best preliminary cards in company history.
Saturday's prelims featured some marquee names, and those names provided a stellar collection of fights. In fact, this preliminary card would've made a swell main card, given the steep implications many of these matches held.
Furthermore, the prelims provided plenty of crafty finishes, and powerful statements were made by familiar fighters and less-known ones.
None of these fights sucked, so check it out: power ranking the UFC 146 prelim fights.
Begin Slideshow

»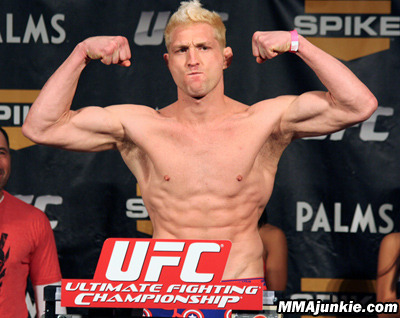 I'm sure this was a frustrating fight for "Mayhem" fans, seeing him pacified without much resistance.
When Jason Miller came out and showboated, I was expecting a showman's performance. I was wrong.
Miller rocked C.B. Dolloway early, but couldn't capitalize. From there, Dolloway controlled the fight with his top control, blocking Miller's meager attempts to get up, but wasn't especially active from the top. He landed strikes sparsely and didn't seem too keen on finishing the quirky grappler.
Not a particularly exciting fight and not a great look for either man—especially "Mayhem", who's floundered thus far in the UFC.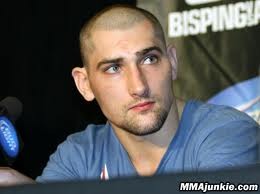 Lots of Saturday's prelims were decided quickly.
Paul Sass entertained us with his submission savvy, disposing of Jacob Volkmann in quick, decisive fashion. The Brit proved his ground game is to be taken seriously—very seriously.
It took little time for Sass to assert his grappling dominance. He pressed Volkmann up against the cage, pulled guard, and transitioned through a number of submissions until a triangle-armbar applied enough pressure to force the American to surrender.
Sass proved his submissions are a real threat, and improves to 3-0 with three submission victories in the UFC.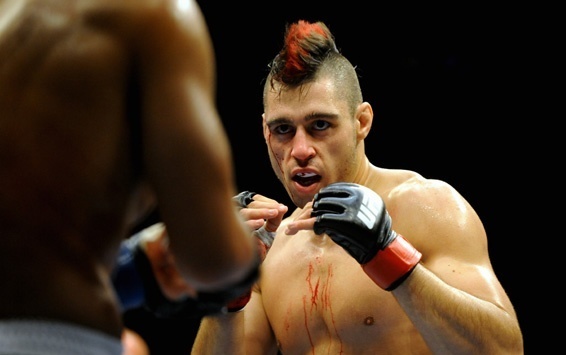 Hardy and Ludwig put on a heated, concise scrap. The dire implications of this fight added plentiful excitement.
Dan Hardy, on the brink of losing his job after four consecutive defeats, knocked out Ludwig with a perfectly-timed left-hook, in patented Hardy fashion. Hardy saved his spot in the company with a trademark KO he sorely needed.
The preceding minutes of the fight were won by Ludwig, a capable striker himself, who was bettering Hardy in a kickboxing match. Each landed crisp blows and fought with the intent to maim, which is appreciable in my book.
Thank goodness Glover Teixeira is here and he's as advertised. Kyle Kingsbury, not a slouch, was made a doormat for Teixeira's UFC career on Saturday.
From the start, Glover threw leather with the intention to maim. No feelers, no gauging his distance. Glover wobbled Kyle with an uppercut early, and after seeing his prey hurt, the Brazilian didn't relent.
Tex hopped into full mount, whacked Kyle's head repeatedly, and dove in for the choke when the opportunity arose. Glover proved himself a bloodthirsty, well-rounded threat.
Boy do I love it when fighters show killer instinct.
Teixeira and Kingsbury added yet another exciting fight to the prelims.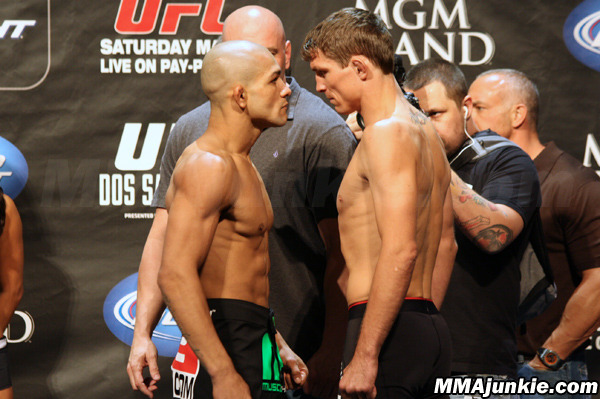 Diego Brandao and Darren Elkins put forth an exciting, close scrap—an appropriate way to cap off a great collection of fights.
As it often happens in MMA, this fight was defined by who was on top. Brandao fought like a juggernaut in the first round, landing colossal blows, but apparently sapped his energy.
Elkins withstood Diego's early onslaught and controlled him from top positions for a majority of the fight, taking advantage of a slip in round two. The two stayed fairly active.
Brando did regain the dominant position late in the third round, but by then, Elkins's prolonged, effective top control earned him the victory.
Another bright prospect loses lust, as Brandao, the big favorite, didn't pace himself properly.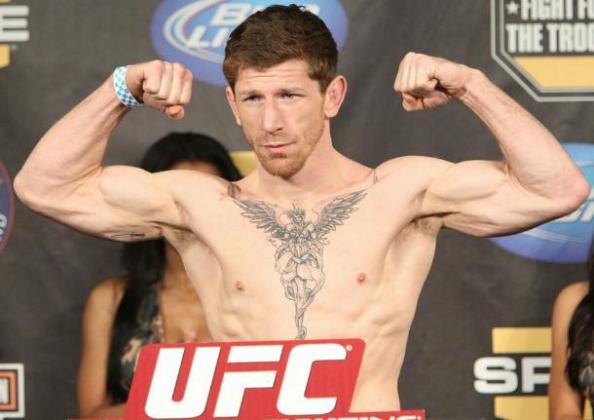 Mike Brown and Daniel Pineda kicked off tonight's lineup splendidly. Each battled admirably, with Brown largely dictating the pace of the fight.
MTB abused Pineda with a barrage of uppercuts and knees in round two. Pineda didn't wilt—he swung back with vigor and returned to take the third round. He showed a warrior's spirit, but he couldn't make up the two-round deficit.
Brown looked revitalized. Perhaps he can muster a surge back to the top of the division..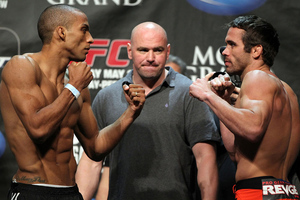 The bout itself was short, but the outcome was unexpected and spectacular.
Jamie Varner, not far removed from languishing in minor league organizations, achieved the huge upset over diamond prospect Edson Barboza.
The bell rang and a striking match ensued. Edson punished Varner with cruel leg kicks early. Varner succeeded with a takedown but Edson stood up soon after.
Barboza persisted with those thudding leg kicks. Perhaps the Brazilian tried too many, for Varner eventually found success with counter-punching Barboza's low kicks. Jamie rocked him and soon after finished off the touted Barboza with punches.
What a statement! A slumping vet is sent in to get wrecked by a young stud, and the vet owns the young stud at his own game. I was flabbergasted.