UFC 146 Results: Junior dos Santos and the Heavyweights Deliver
May 27, 2012
The final, almost dismissive, hammerfist from heavyweight champion Junior dos Santos was the exclamation point on a great night of fights. Dos Santos had just sent former champion Frank Mir staggering across the cage and pounced on his helpless foe to finish the fight. It was par for the course in an amazing night of bouts, a night that saw a gimmick pay off.
The UFC took a big risk, trotting out a pay-per-view card filled with nothing but heavyweight bouts. It could have backfired in a major way, could have been hours of large men running short on breath and throwing the occasional exhausted punch. Many pundits suggested, even seemed to hope, that it would.
It never happened. Starting with Stefan Struve's first-minute armbar win over Lavar Johnson, all five main card fights ended in spectacular fashion. From Stipe Miocic's bloody elbows to Roy Nelson's thunderous right hand, the show was rarely anything but entertaining.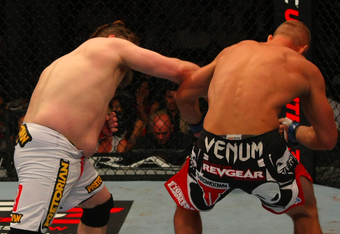 Most impressive of all, including Dos Santos, who clobbered Mir over and over again, was former champion Cain Velasquez. He resembled a cyborg, an emotionless wrecking machine who simply overwhelmed Antonio Silva. The giant Brazilian had toyed with the great Fedor Emelianenko in Strikeforce, but he was no match for Velasquez who took him down easily and then methodically pounded him until blood was shooting out of his head like a sink that has gone incredibly haywire.
The doctor was forced to check the cut, eventually sending Silva back out to take his lumps and bleed some more of his own blood. Velasquez looked like a man who would pose a stiff test to any man on the planet and many of the world's less sophisticated militaries as well.
In the main event, Mir never seemed to be in the fight. He got in deep on an early takedown attempt and never came close to finishing it. He eventually looked to turn it into a footlock, but Dos Santos sprung free, giving Mir the Dikembe Mutombo finger wag for his trouble.
From there it was all Dos Santos, wobbling Mir in a disturbingly casual fashion. As Brock Lesnar looked on, Dos Santos reminded the world why he was the champion. And reminded fight fans why they had to invent weight classes in the first place. Because heavyweights, as we all saw, rule.
Complete Results:
Junior dos Santos vs. Frank Mir
dos Santos defeats Mir by technical knockout at 3:04 of the second round.
Cain Velasquez vs. Antonio Silva
Velasquez defeats Silva by technical knockout (punches) at 3:36 of the first round.
Roy Nelson vs. Dave Herman
Nelson defeats Herman by knockout (punch) at 0:51 of the first round.
Stipe Miocic vs. Shane del Rosario
Miocic defeats del Rosario by technical knockout (elbows) at 3:14 of the second round. 
Stefan Struve vs. Lavar Johnson
Struve defeats Johnson by submission (armbar) at 1:05 of the first round.
Diego Brandao vs. Darren Elkins
Elkins defeats Brandao by unanimous decision (29-28, 29-28, 29-28).
Edson Barboza vs. Jamie Varner
Varner defeats Barboza by technical knockout (punches) at 3:23 of the first round.
Jason Miller vs. C.B. Dollaway
Dollaway defeats Miller by unanimous decusion (29-28, 30-26, 29-28).
Dan Hardy vs. Duane Ludwig
Hardy defeats Ludwig by knockout (punch and elbows) at 3:51 of the first round.
Jacob Volkmann vs. Paul Sass
Sass defeats Volkmann by submission (triangle armbar) at 1:54 of the first round.
Kyle Kingsbury vs. Glover Teixeira 
Teixeira defeats Kingsbury by submission (arm triangle choke) at 1:53 of the first round.
Mike Brown vs. Daniel Pineda
Brown defeats Pineda by unanimous decision (29-28, 29-28, 29-28).