Predicting Tom Brady, Wes Welker and the 2011-12 New England Patriots Roster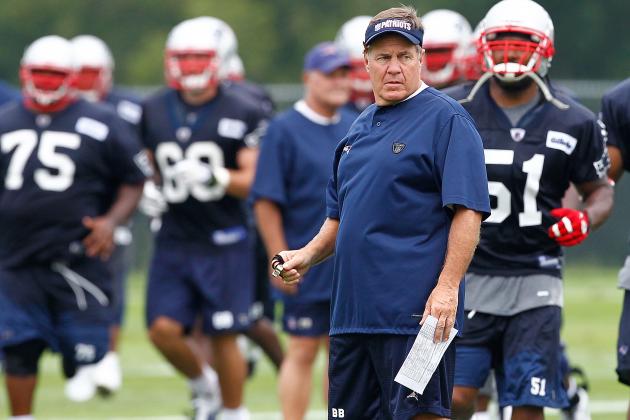 Jim Rogash/Getty Images
Man in Charge: Patriots Head Coach Bill Belichick
Like most football fans at this stage of the year, I am occupying myself with the NBA and NHL playoffs, early season MLB and, of course, monitoring the moves of my football team.
As a Patriots fan, this offseason has been loaded with activity as Bill Belichick, Nick Caserio and company have made several surprise moves.
Coming off another excruciating Super Bowl loss to the New York Giants, this Patriots team is as stacked as ever, brimming with excellent veterans and younger players eager to prove themselves.
Led by future Hall of Fame QB Tom Brady, this may be the most talented Patriots team since Belichick took over in 2000As expected, competition for the 53 roster spots will be intense.
Here's my projected opening-day lineup against the Tennessee Titans.
Begin Slideshow

»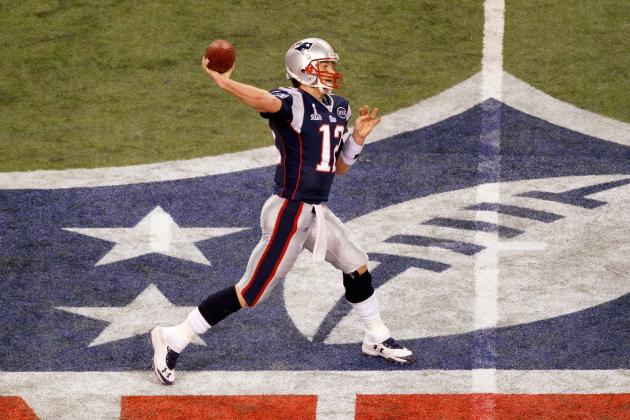 Gregory Shamus/Getty Images
Tom Brady will be aiming for his 4th ring this season
1) Tom Brady: 2011—5,235 yards; 39-12, TD-INT ratio.
2) Brian Hoyer: 2011—22 yards; 0-0, TD-INT ratio.
3) Ryan Mallett: 2011—N/A.
As arguably the greatest quarterback of all time Tom Brady will be expected to start from Day One. Despite being 34 going on 35, Brady remains as good as ever, passing for more than 5,000 yards for the first time last year.
Brady also picked up his first playoff victory since 2007 and advanced to the Super Bowl for the fifth time in his 10 years as a starter. Falling to Eli Manning and the Giants for the second time will only add more fuel to Brady's quest for that elusive fourth ring, which would equal his childhood idol Joe Montana.
Behind Brady, the Patriots have two of the best backup QB's in the league in third-year veteran Brian Hoyer and last year's third-round pick Ryan Mallett. While neither has yet played any meaningful snaps, both have shown flashes of good play in exhibition games as well as in garbage time.
Although I see Hoyer being traded sometime during the season, both he and Mallett are good backups who will be ready if Brady has to miss time.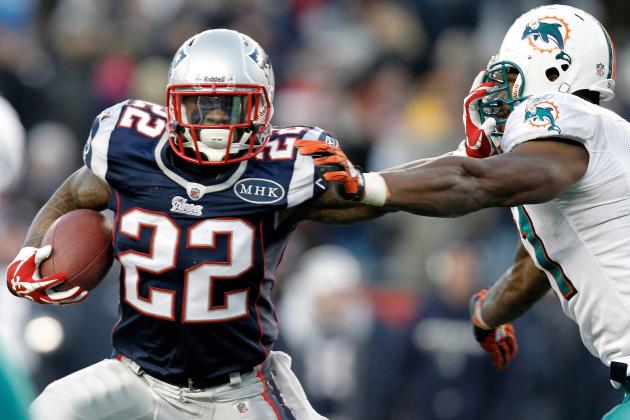 Winslow Townson/Getty Images
Stevan Ridley showed great potential last season
1) Stevan Ridley: 2011—441 yards, 5.1 avg, 1 TD.
2) Joseph Addai: 2011—433 yards, 3.7 avg, 1 TD.
3) Danny Woodhead: 2011—351 yards, 4.6 avg, 1 TD.
4) Shane Vereen: 2011—57 yards, 3.8 avg, 1 TD.
5) Spencer Larsen: 2011 Stats - 44 yards, 3.1 avg, 0 TD
With last year's primary RB Ben-Jarvus Green-Ellis signing with Cincinnati, there are several questions about the Patriots' current crop of running backs.
Who will start? Who will be the goal-line back? Who will be the third-down back?
Competition for the starting job will be spirited, but I expect Steven Ridley, last year's third-round pick, to emerge the winner. Despite limited touches, Ridley showcased a good downhill running style with a surprising amount of explosion in his rookie season. Fumbling issues late in the season prevented him from showing anything in the postseason, but I expect him to have rectified them by the start of next season.
Shane Vereen, last year's second-round pick, should be the backup. Injuries derailed his rookie season, but as he demonstrated throughout college, Vereen's shiftiness and ability to catch out of the backfield should land him backup snaps during the season.
Expect former Colts veteran Joseph Addai to replace Danny Woodhead as the third-down back Green-Ellis as the goal-line back. Addai played this role extremely well for the Colts before injuries shelved him for parts of the last two years.
Having broken the 1,000-yard barrier twice and scored more than 10 touchdowns twice in his career, Addai figures to be a prominent member of the backfield.
Somewhat of a folk hero among Pats fans, Woodhead never recaptured his form of two years ago. I expect him to have a minor role moving forward. I only foresee snaps for Woodhead when the Pats go to their no-huddle formations.
An under-the-radar signing in the offseason, Spencer Larsen's arrival signals a move back to the two- back sets the Pats used to run under Charlie Weis. Largely abandoned of late as the Patriots have gone to the spread formations, Larsen will most likely play blocking back in short-yardage situations. His linebacker background suggests he will be involved on specials teams as well.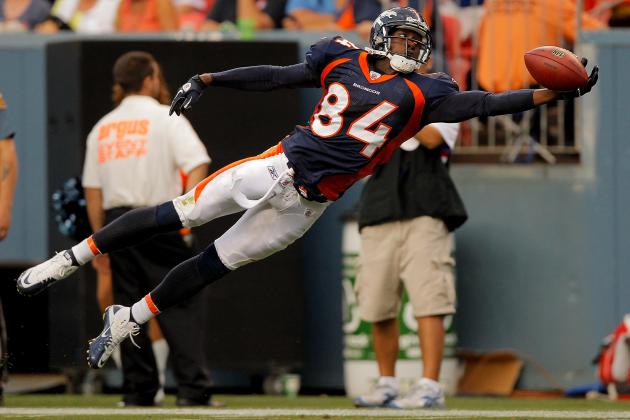 Justin Edmonds/Getty Images
Brandon Lloyd's athleticism will provide a huge boost for the Pats
1) Wes Welker: 2011—122 catches, 1,569 yards, 9 TDs.
2) Brandon Lloyd: 2011—70 catches, 966 yards, 5 TDs.
3) Jabar Gaffney: 2011—68 catches, 947 yards, 5 TDs.
4) Deion Branch: 2011—51 catches, 702 yards, 5 TDs.
5) Julian Edelman: 2011—4 catches, 34 yards, 0 TDs.
6) Matthew Slater: 2011—1 catch, 46 yards, 0 TDs.
Arguably the position with the most competition, the battle for wide receiver spots will be one of the Patriots' most interesting subplots.
Despite ongoing contract talks, Wes Welker will be back for at least one more season, bringing along his guaranteed 100-plus catches. Welker was the best receiver in football last year not named Calvin Johnson and figures to be Brady's go-to guy again next season.
Perhaps the Patriots' biggest signing stealing Randy Moss from Oakland in '07, Brandon Lloyd brings exactly what the Patriots offense missed last season—a play-making receiver down the field.
A Josh McDaniels favorite, Lloyd already knows the offense and his penchant for the spectacular catch should make him a fan favorite. Double-digit touchdowns is not out of the question for Lloyd.
Special teams captain Matthew Slater will most likely make the team as a wide receiver, but his real contributions will come on special teams.
Behind Welker and Lloyd is a litany of pass catchers. Former star Chad Ochocinco, ex-Pat Donte Stallworth, former Colts' first-round pick Anthony Gonzalez, rookie speedster Jeremy Ebert, jack-of-all-trades Julian Edelman and Brady favorites Deion Branch and Jabar Gaffney will all be competing for three jobs.
With his special-teams prowess, Edelman figures to take one spot. As the most logical backup to Welker, Edelman is also the Patriots' primary punt returner.
Filling out the other two spots will be Brady favorites Branch and Gaffney. Despite an average year by his standards, Branch was as dependable as ever and his chemistry with Brady should ensure a spot on the roster.
Gaffney who followed McDaniels to Denver in '08, returns after being cut by the Redskins. However, the 10-year vet is coming off arguably his best year, recording career highs in yards, catches and touchdowns. Brady's go-to guy in 2006, Gaffney will most likely back up Lloyd and get snaps in three- and four-receiver formations.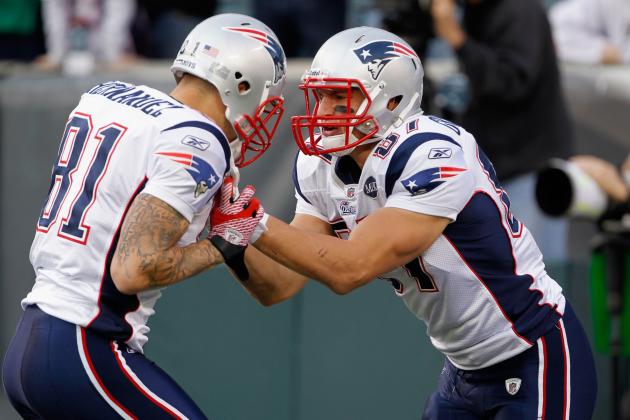 Rich Schultz/Getty Images
Boston TE Party - expect Hernandez and Gronk to dominate again this season
1) Rob Gronkowski: 2011—90 catches, 1,327 yards, 17 TDs.
2) Aaron Hernandez: 2011—79 catches, 910 yards, 7 TDs.
3) Daniel Fells: 2011—19 catches, 256 yards, 3 TDs.
Last year's record-breaking duo of Rob Gronkowski and Aaron Hernandez headline the Patriots' strongest position.
The two young tight ends enter their third year in the NFL coming off a season in which they combined for 169 catches, 2,237 yards and 24 receiving touchdowns. With an outside threat in Brandon Lloyd drawing additional coverage, the two could combine to have an even greater season than last year.
Despite coming of a severe ankle injury which slowed him him during the Super Bowl, Gronkowski remains the premier tight end in the NFL. He had an NFL record 1,327 yards receiving yards and 17 TDs last season.
Hernandez, who will again lineup everywhere from tight end to slot receiver to running back, will likely have his first 1,000-yard season if he stays healthy.
Rounding out the tight end group is four-year veteran Daniel Fells, a combo tight end who is a capable blocker. He will see time when the Patriots enter their heavy sets in short-yardage situations. Expect to see formations in which Hernandez lines up wide, with Gronk and Fells on the line.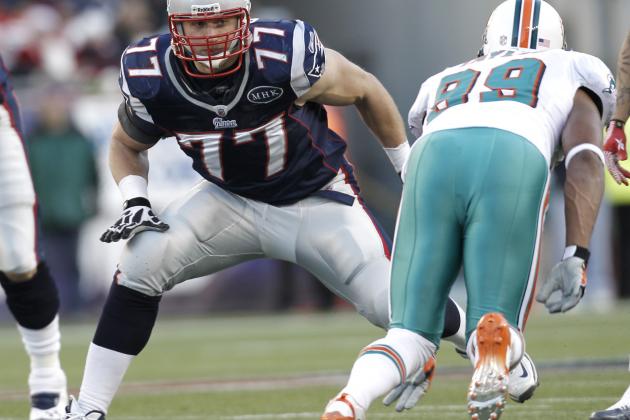 Winslow Townson/Getty Images
Nate Solder's ability to protect Tom Brady's blindside will be crucial
1) Nate Solder
2) Sebastian Vollmer
3) Marcus Cannon
4) Matt Kopa
5) Markus Zusevics
With 11-year veteran Matt Light retiring, the all-important job of protecting Tom Brady's blind side will be up for grabs for the first time in Brady's career. The likely winner will be Nate Solder, last year's impressive first-round pick.
Drafted out of Colorado, Solder was expected to back up Matt Light and Sebastian Vollmer before eventually taking over this year. However, with Vollmer in and out of the lineup, Solder was a fixture, starting 13 games at right tackle. With Vollmer back, expect Solder to land the starting gig at left tackle, allowing Vollmer to stay at right tackle where he was named second team All-Pro in 2010.
Backing up Solder and Vollmer will be Marcus Cannon, a fifth-round pick last year. He made a terrific recovery from non-Hodgkin's lymphoma and saw action at right tackle and right guard.
The final tackle positions should be filled by Matt Kopa and Markus Zusevics. Kopa was a pickup from the Dolphins practice squad last year and Zusevics is a rookie free agent out of Iowa. Both are projects, but with Dante Scarnecchia coaching them up, they should be able to play if needed.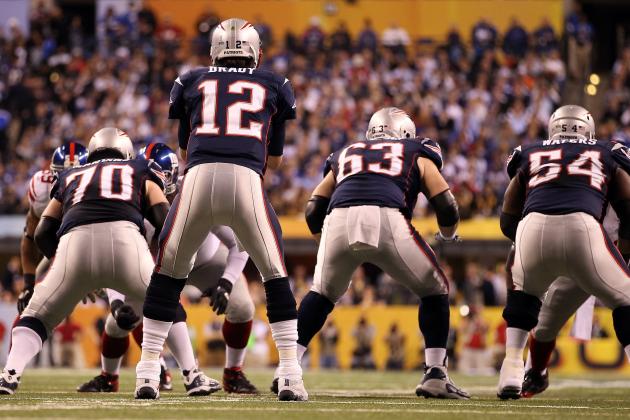 Ezra Shaw/Getty Images
Interior offensive line competition will be fierce
1) Logan Mankins
2) Brian Waters
3) Dan Connolly
4) Dan Koppen
5) Robert Gallery
With Brian Waters expected to return for one more season, the Patriots will return all three starters on interior offensive line from the Super Bowl. However, with veteran Dan Koppen returning after breaking his leg in Game 1 last year and the signing of Robert Gallery, competition for the starting spots will be intense.
All-Pro left guard Logan Mankins is coming of ACL surgery. Provided he is healthy he should be starting on opening day. While he may not have lived up to his monster contract, Mankins remains one of the elite guards in the NFL and brings a much-needed nastiness to the line.
The battle for starting center figures to go down to the wire. Dan Connolly started all but the first game at center and did enough to warrant a three-year contract extension. But with Brady favorite Dan Koppen back, the starting spot could go either way.
With Koppen's incentive-laden contract kicking in only if he starts, I expect Connolly to remain the starting center, given his fine play from last season.
Brian Waters was voted a starter for last season's Pro Bowl after a fine year and is expected to remain the starter at right guard. However, he flirted with retirement in the offseason, suggesting his heart may not completely be in this season. Should he fail to deliver at a high level, the Pats have Gallery to slide right in.
A former second-overall draft pick by the Raiders, Gallery was a huge disappointment at left tackle before transforming his career as a dominant guard. Belichick once said he would've taken Gallery first overall in the 2004 draft, so he clearly likes what Gallery brings to the table. Gallery can also fill in as an emergency tackle.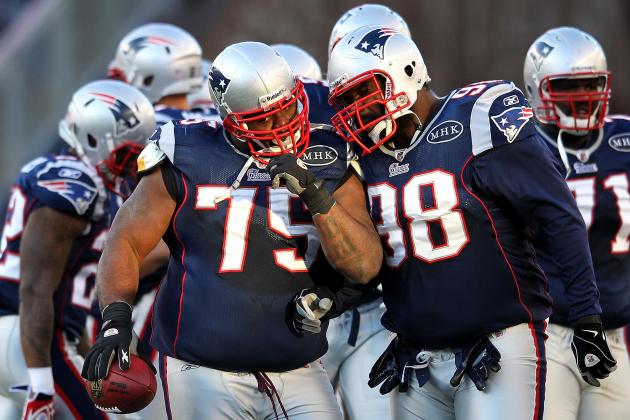 Jim Rogash/Getty Images
Big man with ball - Vince Wilfork dominants the line of scrimmage
1) Vince Wilfork: 2011—52 tackles, 3.5 sacks, 2 INTs.
2) Kyle Love: 2011—40 tackles, 4 sacks.
3) Jonathan Fanene: 2011—24 tackles, 6.5 sacks.
4) Brandon Deaderick: 2011—17 tackles, 2 sacks.
5) Ron Brace/Myron Pryor
While the Patriots' defensive line remains a shadow of what it was during the Richard Seymour, Vince Wilfork and Ty Warren years, this year's crop figures to be the best since Seymour was traded to Oakland.
With Wilfork, who had a career year last season, back to lead the line, expect to see a much more stout D-line this season.
Kyle Love, a surprise starter last season, returns along with Brandon Deaderick, another late-round surprise.
However, it's the signing of Jonathan Fanene that has me thinking this year's D-line will be much better. Terrific against the run and pass, Fanene recorded 6.5 sacks last year for the Bengals after having another six-sack year in 2009.
Fanene should be able to provide penetration through the middle while keeping linemen off the inside linebackers.
The final spot will be taken by either Ron Brace or Myron Pryor. While both have flashed potential, neither has remained healthy enough to provide any real excitement. Should Brace stay healthy, I expect him to beat out Pryor.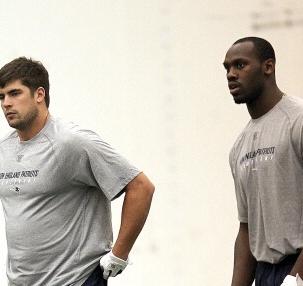 Jim Rogash/Getty Images
Patriots fans have high hopes for Chandler Jones
1) Chandler Jones: 2011—N/A.
2) Rob Ninkovich: 2011—74 tackles, 6.5 sacks, 2 INTs.
3) Jake Bequette: 2011—N/A.
4) Markell Carter: 2011—N/A.
After years of watching the Patriots refuse to sign a big-time free-agent pass-rusher, Bill Belichick finally appeased fans when he traded up and drafted Syracuse DE/OLB Chandler Jones.
Jones who has been tabbed by many draft analysts as perhaps the best defensive player in the draft, will most likely take up Willie McGinest's old role as the "Elephant" backer. While Jones is no doubt extremely raw as a football player, I expect him to start on opening day.
Starting opposite Jones will be the ever-reliable Rob Ninkovich. A Belichick favorite, Ninkovich has worked himself up from special teams player to part-time pass-rusher and is now a fixture in the front seven.
While he gets beat every now and then, Ninkovich has made several key plays and I feel his best is ahead of him.
Backing them up is Jake Beqeutte, this year's third-round pick. An underrated pick in my eyes, Bequette brings with him an above-average array of pass-rush moves that enabled him to make 23.5 sacks in the SEC.
For the final spot, I'm going with Markell Carter, last year's sixth-round pick. Carter, who spent most of last year on the practice squad, has remained at Gillette Stadium throughout the offseason beefing up and mastering the playbook.
He won practice player of the week several times and was even rewarded with an improved contract to make sure he didn't leave the Patriots' practice squad for another team. I believe Belichick will recognize the hard work this kid has put in. I expect him to beat out Trevor Scott and Jermaine Cunningham for a roster spot.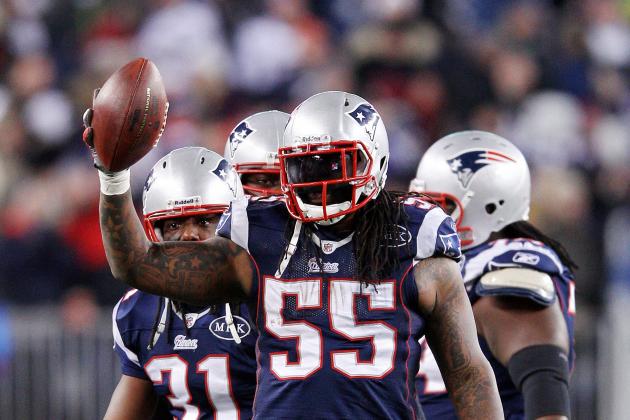 Elsa/Getty Images
Brandon Spikes continuing growth bodes well for the Pats LB corps
1) Jerod Mayo: 2011—95 tackles, 1 sack, 2 INTs.
2) Brandon Spikes: 2011—47 tackles.
3) Dont'a Hightower: 2011—N/A.
4) Dane Fletcher: 2011—32 tackles.
5) Tracy White: 2011—37 tackles,
Led by defensive captain and All-Pro Jerod Mayo, the 2012 Patriots linebacking corps is loaded with youth and talent and will develop into an elite unit this season.
Despite his standing as a Pro Bowl MLB, Mayo has yet to fully develop into a true play-making linebacker in the mold of a Patrick Willis or Ray Lewis. This year that changes. After showing flashes last year with several sacks in the preseason and two game-ending interceptions, I expect Mayo to be around the ball a lot more often this year.
Brandon Spikes truly had his coming-out party in the postseason, with huge games against the Broncos and Ravens. Whether it was sacking Tim Tebow or intercepting Joe Flacco, Spikes finally became the player we all thought he would be coming out of Florida.
Perhaps the most emotional and passionate player on defense, Spikes' growth into an elite linebacker may mirror the growth of the Pats' entire defense.
Joining Mayo and Spikes as starters is former Alabama star Dont'a Hightower. Belichick again surprised Pats fans in the draft when he traded up to get the ferocious Alabama captain. With underrated athleticism and great football intelligence, Hightower should combine with Spikes to bring back the intimidation of the old Patriots.
Rounding out the group is Dane Fletcher and Tracy White. Both are expected to play minor roles on defense while contributing heavily on special teams.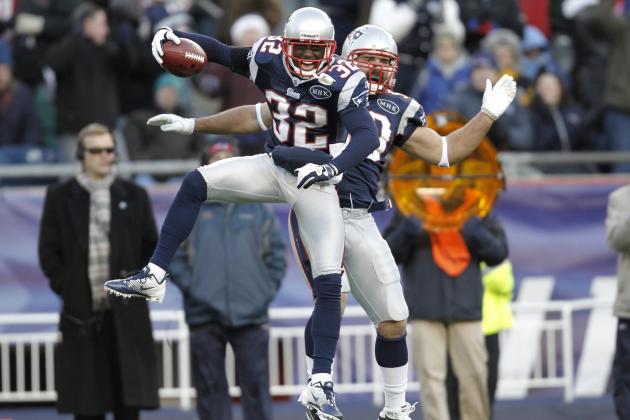 Winslow Townson/Getty Images
The Patriots need Devin McCourty to return to the form he showed as a rookie
1) Devin McCourty: 2011—87 tackles, 13 pass defended, 2 INTs.
2) Ras-I Dowling: 2011—3 tackles.
3) Kyle Arrington: 2011—88 tackles, 15 pass defended, 7 INTs.
4) Alfonzo Dennard: 2011—N/A.
5) Sterling Moore: 2011—7 tackles, 2 pass defended, 2 INTs.
Perhaps the most disappointing Patriot last season was Devin McCourty. After an amazing rookie season which saw him named to the Pro Bowl and honored as a second-team All-Pro, McCourty was among the worst cornerbacks in the NFL.
An all-to-familiar sight was McCourty tackling a receiver 20 yards downfield, something that can't continue if the Patriots defense is to improve. While there has been talk of moving McCourty to safety, keeping him at corner is the right move.
Starting alongside McCourty will be last year's other opening day starter Ras-I Dowling. A second-round pick last year, Dowling lasted until Game 2 before he was knocked out for the season with a hip injury. Expected to be fully healthy for the start of training camp.
Dowling provides rare size at the corner position. With receivers getting bigger and bigger, Dowling figures to play a major role this season.
In backup and slot-corner duties will be Kyle Arrington, last year's best defensive back, and seventh-round pick Alfonzo Dennard. Arrington , who picked off seven passes, was a surprise star and will look to improve from last season. Dennard should provide a feistiness at the corner position that was missing in last year's group.
Completing the group is last year's AFC Championship Game hero Sterling Moore. Moore, an undrafted free agent, flashed potential and will look to build on an impressive few months last season.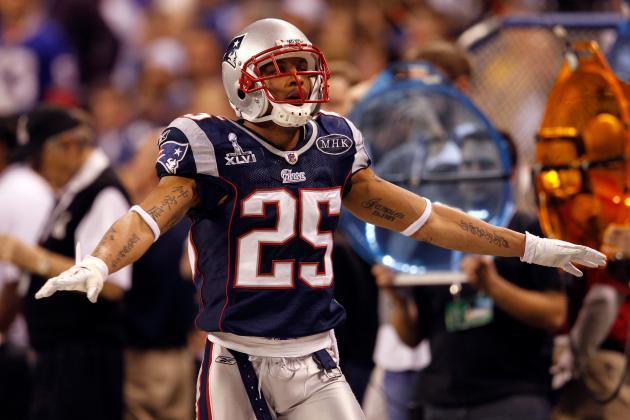 Rob Carr/Getty Images
Patrick Chung needs to take the next step as a player
1) Patrick Chung: 2011— 62 tackles, 1 sack, 4 pass defended, 1 INT.
2) Steve Gregory: 2011— 67 tackles, 3 passes defended, 1 INT.
3) Tavon Wilson: 2011—N/A.
4) Nate Ebner: 2011—N/A.
Without a doubt, this was the worst position on last year's team. Whether it was the injuries suffered by Patrick Chung, Julian Edelman playing spot duty, the sheer incompetence of Sergio Brown or watching James Ihedigbo get injured seemingly every other play, the safety play last year was painful to watch.
With improved health as well as an improved defense surrounding them, this year's group should play much better, which shouldn't be that hard to do.
The most important variable is the health of Chung, an emerging leader. It seems every year he is about the take the leap to become a Pro Bowl safety before injuring himself. When healthy, Chung is a terrific enforcer and adequate in coverage, much like former Pats star Rodney Harrison. However, he must work on his positioning and consistency if he is to reach his potential.
The rest of the Patriots safety group has a question mark over it. Big signing Steve Gregory has been a solid player for the Chargers but has never been the playmaker that the Patriots need. While he represents an upgrade over last year's group, I doubt he will prove to be a true difference maker.
As one of the more baffling selections in the draft, second-round pick Tavon Wilson will have lot to prove. The Illinois defensive back was deemed to be a fifth-round-or-later pick by many draft experts. But Belichick evidently saw something that made them take Wilson so early.
Like many fans, I operate under the "In Bill We Trust" mantra, so I'm more than willing to give him the benefit of the doubt on this one. Wilson does bring great versatility and size to the position, and his progression throughout the year will no doubt be a interesting topic among Patriots fans.
Former rugby player Nate Ebner figures to secure the final spot. Ebner possesses great athleticism and special teams play. He will most likely be used in emergency situations similar to the way Julian Edelman was used last season.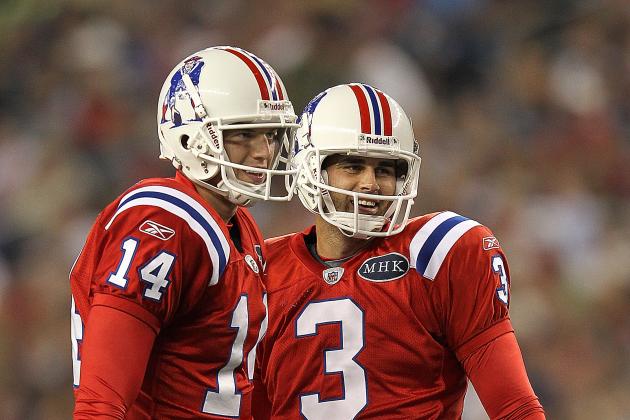 Jim Rogash/Getty Images
Mesko and Gostkowski had solid season's last year
Punter, Zoltan Mesko: 2011— 57 punts, 46.5 yard average, 41.5 net average.
Kicker, Stephen Gostkowski: 2011—28/33 FG.
Long Snapper, Danny Aiken
All three enter will enter camp as the favorites at their respective positions and barring injury should start from Day One.
Mesko was extremely solid last year. While he may not receive the acclaim of a Shane Lechler, Mesko actually led the AFC in net yardage for punters.
Despite missing crucial kicks against the Steelers and Giants (in the regular season), Gostkowski was still successful with 28 of his 33 field-goal attempts and converted all 59 of his extra-point attempts. While he may never be Adam Vinatieri, Gostkowski remains one of the better kickers in the NFL.
There's not much to say about Danny Aiken. And as a long snapper, that's a good thing. He's expected to remain the long snapper this season.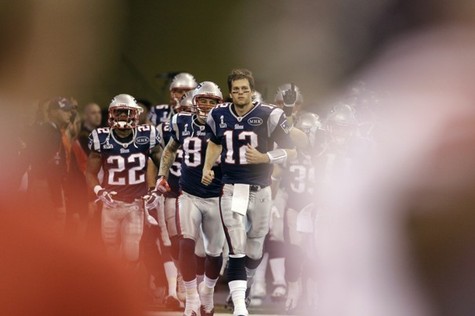 Offense

Defense (assuming 4-3)

Defense (assuming 3-4)


QB - Tom Brady

RB - Stevan Ridley

WR - Wes Welker

WR - Brandon Lloyd

TE - Rob Gronkowski

TE - Aaron Hernandez

LT - Nate Solder

LG - Logan Mankins

C - Dan Connolly

RG - Brian Waters

RT - Sebastian Vollmer

DT - Vince Wilfork

DT - Jonathan Fanene

DE - Chandler Jones

DE - Rob Ninkovich

WLB - Jerod Mayo

MLB - Brandon Spikes

SLB - Dont'a Hightower

CB - Devin McCourty

CB - Ras-I Dowling

S - Patrick Chung

S - Steve Gregory

NT - Kyle Love

RDE - Vince Wilfork

LDE - Brandon Deaderick

ROLB - Rob Ninkovich

ILB - Jerod Mayo

ILB - Brandon Spikes

OLB - Chanlder Jones

CB - Devin McCourty

CB - Ras-I Dowling

S - Patrick Chung

S - Steve Gregory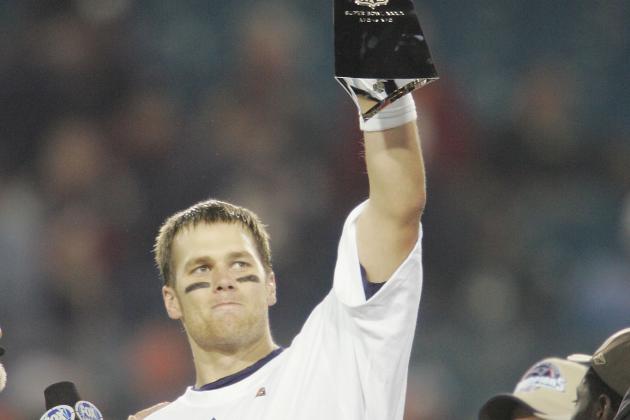 Andy Lyons/Getty Images
Here's to hoping this happens!
Comments?
Suggestions?
Wrong Players?
Thanks for reading.