Miami Heat vs. Boston Celtics: Who Has the Advantage at Each Position?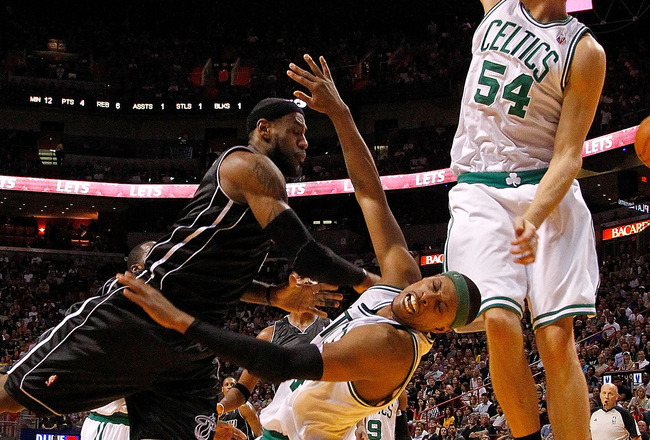 Mike Ehrmann/Getty Images
The Eastern Conference finals matchup is set: Miami Heat-Boston Celtics.
It's a series that everyone wanted to see, despite the general public's distaste for the 76ers-Celtics Eastern Conference semifinal series. That's because folks want to see Boston go against LeBron James one more time, despite the Celtics' aversion to offense. LeBron's inability to beat Boston in a prior Cleveland life fuels much of the intrigue, here.
Miami has a better squad altogether and should be favored, but the C's have a few advantages in select spots. This is because the Heat are top-heavy. So, while I believe that Boston has better players at three positions, I still wouldn't pick them to win this thing.
With Chris Bosh expected to miss this EC finals, Miami expects nearly all its offense and much of its defense to come from two players, LeBron James and Dwyane Wade. But you could hardly ask for two better players from which to derive all your offense.
Point Guard: Celtics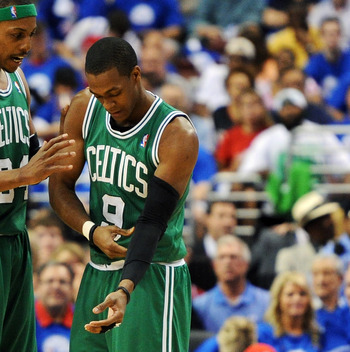 Drew Hallowell/Getty Images
Obviously, this matchup goes Boston's way. Mario Chalmers has had a fine season, but that's relative to "Mario Chalmers." The three-point specialist set a career high with a 57.8 percent true shooting mark, but his deficiencies at other facets still makes him an average-to-below-average player.
Rajon Rondo has actually had a bit of a disappointing season (48.3 percent true shooting, 17.55 PER), but he's still an above-average point guard. Rondo led the league in assists and would be a superstar if his jump shot could go from "abysmal" to "merely mediocre."
Rondo has played well against the Heat this season. The normally errant shooter converted 51 percent of his attempts against Miami in the three regular-season games, while scoring 18.7 points and 13.7 assists. Obviously, this is a small sample size, but suffice it to say that he seems to fare decently in this matchup.
Shooting Guard: Heat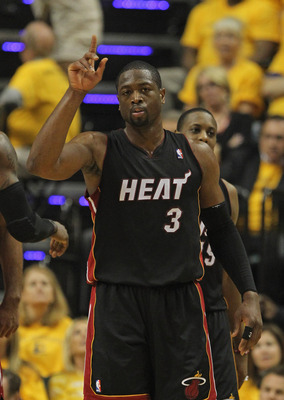 Jonathan Daniel/Getty Images
D-Wade versus a hobbled, calcifying Ray Allen? This needs no explanation, but here we go. While Boston's help defense should contribute to defending Wade, his first defender won't be much of a hindrance. This is concerning for the Celtics because Wade has been scalding of late, most recently dropping 40 points and 10 boards against Indiana.
Wade may have been mitigated a bit by Avery Bradley's sticky defense, but Bradley is out for the season. Ray Allen would be a decent backup plan, except he looks nowhere near "Ray Allen." The Hall of Fame shooting guard looks to either be at the end of his career, or injured.
In seven games against Philadelphia, Allen shot 38 percent and 27 percent on threes, while looking immobile on defense. His backups are Keyon Dooling and a hurt Mickael Pietrus. In other words, he has no backups (not literally, but nearly).
Small Forward: Heat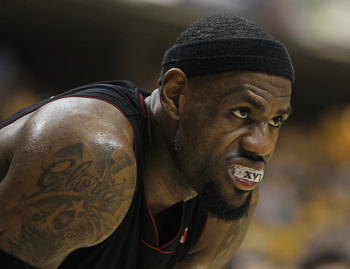 Jonathan Daniel/Getty Images
Yep, LeBron James wins this one. Because it sounds tautological to say, "Because he's LeBron James," I'll add: three-time MVP, 30.8 PER, 53 percent from the field. Whatever your criticism, it's an uphill battle to argue that he's not the world's best player.
It is no offense to Paul Pierce to say he's at a disadvantage. The Celtic small forward continues to churn out fine seasons in sunset years, and he does an adequate defensive job on LeBron. But he's 34 years old and will likely struggle when guarded by a fully ramped LeBron James.
Power Forward: Celtics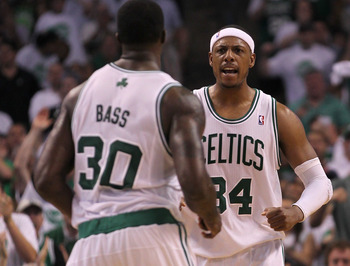 Jim Rogash/Getty Images
Slim pickings here, now that Chris Bosh might be out for the series, but Boston still wins this one. This spot would normally be reserved for Kevin Garnett, but KG has recently moved to center. So this is a Brandon Bass versus Udonis Haslem battle in the mediocrity cage.
Udonis Haslem has had his moments and was crucial against the Pacers. But he lost his ability to hit that pick-and-pock jumper this season, and thus, had the worst year of his career (10.89 PER).
I'm going with Brandon Bass in this one, because his 48 percent shooting on long twos makes him a better version of what Haslem is supposed to be. Bass also hit 48 percent on jumpers between 10-to-15 feet, making him one of basketball's best mid-range shooting bigs.
Center: Celtics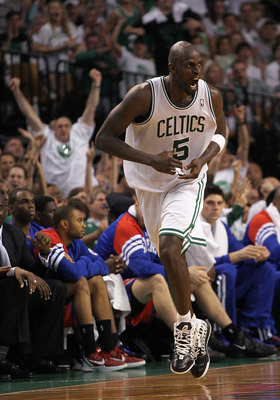 Jim Rogash/Getty Images
Power forward or center, KG is the best frontcourt player in this series. Despite his age, he hedges quickly on pick-and-rolls and patrols the paint like a roving hawk. At 36, he might be the best defensive player alive. Dismiss the old man at your peril.
His offense isn't half-bad either. Like Brandon Bass, Garnett is ripping the twine with 48 percent on long twos. But unlike Bass, KG can board (10.6 rebound rate). He still remains an excellent passer for a frontcourt player.
The Heat can have a rotating cast of characters at the 5-spot, but Ronny Turiaf and Joel Anthony don't exactly strike fear into the hearts of men. Anthony, to his credit, is an excellent defender. It's just unfortunate that his hands are made from slicked stone.
Coaching: Celtics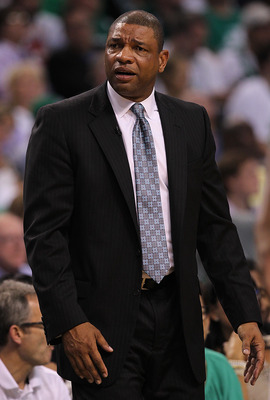 Jim Rogash/Getty Images
Two NBA Finals trips and a championship earns Doc Rivers the win here. At the very least, he's coaching from a position of immense job security, while Erik Spoelstra isn't. This doesn't mean that Spoelstra is a bad coach, though, just that he's perpetually on a hot seat.
He'll never get credit for it, but "Spo" runs a fearsome, ball-hawking defense. Offensively, the Heat have demonstrated an ability to adjust, especially in the playoffs. In Game 6 against the Pacers, the Heat exploited matchup advantages by clearing out an entire area of the floor for Dwyane Wade post ups (usually against Leandro Barbosa).
The Celtics offense has fallen apart over the years, but Rivers still manages to construct a fantastic defensive scheme with aging players. I have to err on the side of experience and championships here. Rivers manages quite a lot with his talent, and still runs awesome inbounds plays.
Keep Reading