Froch vs Bute Results: After KO, Former Champ Deserves a Title Rematch
May 26, 2012

Scott Heavey/Getty Images
Carl Froch has made it clear that he should be next in line to take on Andre Ward. He dominated Lucian Bute in their IBF super middleweight bout, scoring a fifth-round KO.
Ward is the WBA and WBC super middleweight champion and has a planned September 8 match against light heavyweight champion Chad Dawson.
Should Ward come out on top, a rematch with Froch could allow the WBA, WBC and IBF titles to fall to the best fighter in the weight class.
Froch's shot at Ward does have one stumbling block in addition to the pending fight against Dawson.
It wasn't easy to convince Bute to travel to Froch's hometown of Nottingham, England. Bute had mostly defended his titles in Montreal or his hometown of Quebec City, Canada.
But there was a rematch clause. "Froch said he believes that Bute's decision to come to Nottingham was made because he has a rematch clause in his contract in the event that he loses, and that the rematch would be in Canada," per an ESPN report.
After the beating Bute took on Saturday night, he might prefer to pass.
Froch clearly won the first two rounds and then made a run at Bute in Round 3. Bute called him on it, a challenge he likely regrets at this point.
Froch basically ended the fight in the third with one barrage after another. Bute stumbled into his corner and tried to ready himself for the rest of the fight.
Round 4 was better for Bute, but he didn't have the stamina to make it out of the fifth. Froch brought a hard attack and left Bute wobbly in the Capital FM Arena ropes.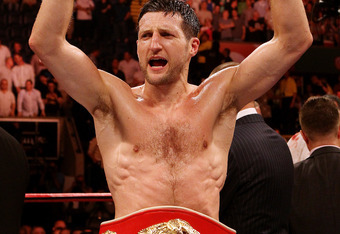 Scott Heavey/Getty Images
Froch made it clear he isn't ready to retire...an option he had strongly considered if he came out on the losing end in this fight.
Instead, Froch will be looking at securing one more title fight. If Ward beats Dawson, Froch would be able to avenge his loss to Ward in the Finals of the Super Six World Boxing Classic last December.
A match against Dawson should still serve as a unification of the super middleweight belts, as the undefeated Ward is expected to put his title on the line in that bout.
For now, "The Cobra" can revel in the rebirth of his career. He was a dominating presence and looked better than ever in this fight.