2012 NBA Draft Order: Who Should Trade Down in the Draft for Proven Talent?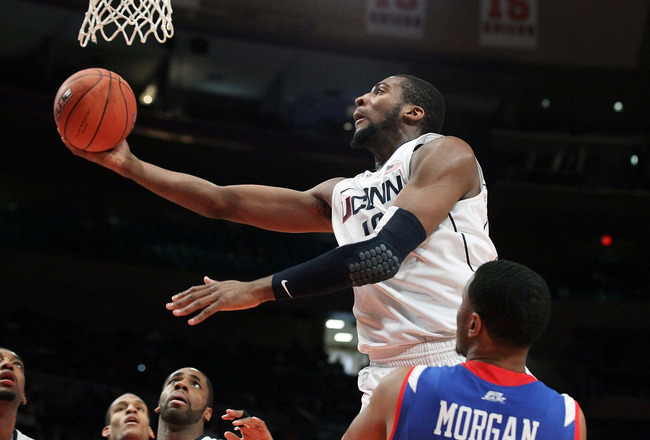 Jim McIsaac/Getty Images
The NBA lottery has come and gone with only one minor change to the original order—in case you haven't heard already, the New Orleans Hornets jumped the top three and get the honor of drafting Anthony Davis. As for the rest of the lottery, it's all just a bunch of question marks.
Mocks can only predict so much, and come the actual draft you can be sure we'll have some more shuffling as teams trade around. This draft is full of high potential high risk prospects, but some teams don't need any more potential—they need proven talent now.
Which teams should trade back in the lottery for more proven talent? Let's take a look.
Sacramento Kings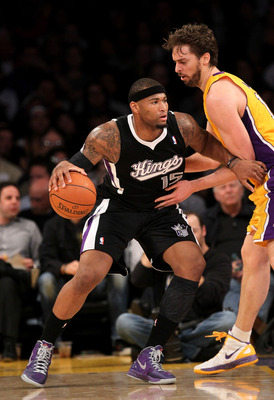 Stephen Dunn/Getty Images
The team who would benefit most of any from trading back for a later pick and extra incentives is easily the Sacramento Kings.
Yes, we all remember how that went last year—the Kings traded back from No. 7 to No. 10, for the "proven talent" in Jimmer Fredette and the "extra incentive" of John Salmons. That was a failure of a move. But it doesn't make any less sense to do it now.
The Kings don't need the super-risky Andre Drummond. Harrison Barnes would be an alright selection, but some other team will want him more than he'd be worth to the Kings.
Sacramento should trade back into the late lottery and take a more proven talent. Terrence Jones comes immediately to mind as a solid defensive fit at SF. And while Kings fans like Drummond as the athletic shotblocker next to DeMarcus Cousins, John Henson is the same type of player with less body mass and a much better work ethic.
Of course, the haggling part is what Sacramento would get in addition. They need leadership badly, and not the John Salmons kind.
Washington Wizards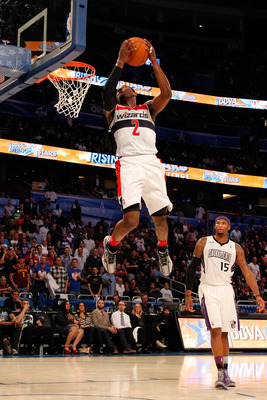 Mike Ehrmann/Getty Images
I could seriously see the Wizards considering a trade back from the No. 3 selection in one serious way.
Say Portland calls up Washington. Portland has the No. 6 selection and the No. 11 selection. Portland has a solid group of talent but needs a top option scorer, and they have their eyes on Bradley Beal to be that scoring punch.
Washington could certainly use Bradley Beal, or Thomas Robinson for that matter, but they have only two starting caliber players in John Wall and Nene. Would Washington trade the No. 3 pick for No. 6/No. 11 and take, say, Harrison Barnes and Jeremy Lamb?
Washington then has a core of John Wall/Lamb/Barnes/Kevin Seraphin/Nene. That seems as appealing to me as would simply taking Bradley Beal or Thomas Robinson.
Golden State Warriors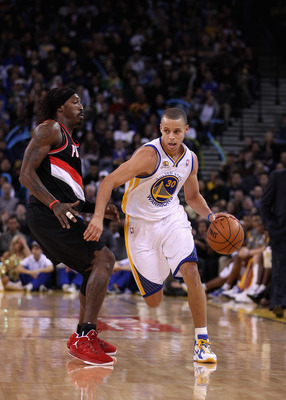 Ezra Shaw/Getty Images
The Warriors need some more size in the paint and/or some help on the wing. They could take Perry Jones at No. 7, but scouts are split on whether Jones is anything more than just athletic.
Golden State also really needs some additional depth, so trading back if they like a big man or a wing in the later lottery makes sense. Houston has two picks in the mid-teens—No. 14 and No. 16. Would Houston fall in love with a guy like Jones so much that they'd swap those two picks for the Warriors No. 7 pick and the No. 30 pick Golden State got from San Antonio?
If that trade went down, Houston could take Jones or perhaps Jeremy Lamb. At No. 14, Golden State could take Terrence Jones to play the three and with No. 16 they could snag Illinois' big Meyers Leonard to play center. Both Jones and Leonard are above-average defenders and would instantly make the Warriors far, far deeper than they currently are.
Keep Reading

Golden State Warriors: Like this team?