WWE: Will the Sin Cara Experiment Continue Its Failure Next Week?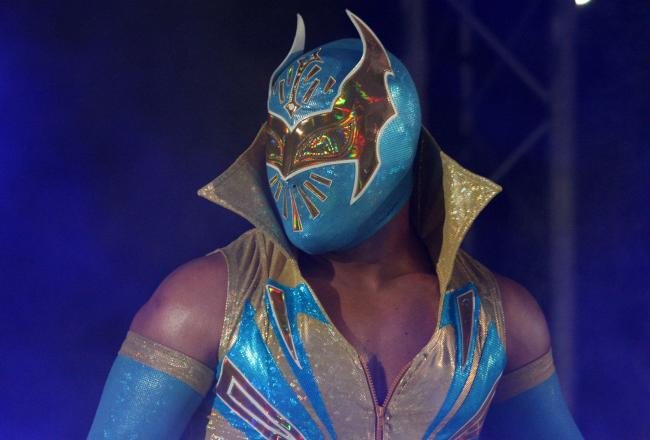 Gallo Images/Getty Images
Counting all superstars, Divas, legends, commentators, celebrities and jobbers, there have been 93 different men and women to take part in a sanctioned WWE match so far this year. Upon his return next week, Sin Cara will become the 94th different person this year.
It will be the first match for the masked Mexican superstar since he injured himself at Survivor Series last November. Before that night, it wasn't exactly smooth sailing for the first major signing that Triple H was a part of.
Sin Cara came into WWE with incredible hype, even garnering a press conference upon his signing. Sin Cara was going to be a little bit out of the ordinary for what WWE typically had on their roster, but he would add some excitement to the product nonetheless.
After weeks of anticipation, Sin Cara debuted in WWE to a very positive reaction. His lucha libre background gave him the potential to be a very unique star in the company. Such stars as Ultimo Dragon and Rey Mysterio had all made it to WWE, but never at the young age of 28, which Sin Cara was upon his debut.
In his career thus far, Sin Cara has been featured on the cards of four pay-per-views: last year's Over the Limit, Money in the Bank 2011, Hell in a Cell and last November's Survivor Series.
However, all four have come at drastically different parts of his short WWE career. Over the Limit came not long after his debut. Facing Chavo Guerrero, it was a battle between two similar styles. As the storyline went, Chavo offered to teach Sin Cara all that he knew but kept wanting the upper hand on the masked superstar. Sin Cara would defeat Chavo in a match that was somewhat sloppy.
Following that win, Sin Cara was almost exclusively used on SmackDown. He had been drafted to that brand weeks earlier but would not make the jump to episodes of RAW, often fearing that the mistakes he made in the ring would ruin the reputation of the Mexican sensation.
Even as the SmackDown appearances came and went, the problems with Sin Cara did not end. With SmackDown being a taped show, the finishes to his matches would often have to be retaped due to a mistake. This, among other things, caused a rift between Sin Cara and the locker room.
Last summer, Sin Cara failed a Wellness Policy test, meaning that a 30-day suspension was coming his way. This annoyed the creative staff, who had Sin Cara booked in the SmackDown Money in the Bank ladder match.
Sin Cara was put into a spot where he was slammed through a ladder, needing medical attention to get away from the ring. Antsy to not let his merchandise sales fall, WWE pulled an audible and had Sin Cara return early from suspension, or at least it seemed like that.
Another superstar donned the Sin Cara gear and competed in a match a week prior to the actual Sin Cara's intended return. With continuing problems backstage, the real Sin Cara was sent home from a SmackDown taping, as it seemed like his understudy was about to get the full-time gig. Cooler heads prevailed, and the real Sin Cara would end up encountering his imposter, who was becoming evil.
The two Sin Caras would develop a rivalry with one another that had a rather rushed payoff but did include a match at Hell in a Cell. The evil Sin Cara began to don a black mask instead of the normal blue. This led to them being called Sin Cara Azul and Sin Cara Negro, respectively.
Azul would defeat Negro at Hell in a Cell and, in the coming weeks, would win a match and unmask Sin Cara Negro.
Sin Cara Negro would then be referred to as Hunico. Hunico's backstory in this rivalry was deeper than what was really let on with television.
Hunico had wrestled in Mexico as Mistico, the name given to Sin Cara before his WWE days. This storyline had turned into a way for Hunico to try and steal the identity of Sin Cara, which had been done to him with Mistico.
Now unmasked as Hunico, the rivalry can continue. Both men were pushed into Survivor Series teams for the pay-per-view at Madison Square Garden. In a spot early in the match, Sin Cara attempted to hop over the ropes and to the outside, but he clipped the top rope with his feet and fell to the floor.
A patella tendon rupture was the prognosis, and the match stopped to allow Sin Cara to be carried off. Hunico remained in the match, being the last man eliminated by Randy Orton before Orton fell victim to Cody Rhodes and Wade Barrett.
If you could only have one on the roster, which would you prefer to have?
Sin Cara has not been on television until that time, but his storylines have given life to Hunico's career. Hunico has since enlisted the help of Camacho, who rides a custom bicycle to the ring with Hunico on the pegs of the bike.
While Hunico has not enjoyed extended success, he does have a winning record in his matches this calendar year (9-8-1 no contest). Hunico has more victories (nine) than John Cena has this year (seven).
When he returns, Sin Cara may just ignore Hunico altogether and go on to face other talent. Regardless of what happens to him, Sin Cara has never been defeated up to this point in his career.
Even though that is still true, the experiment of Sin Cara in WWE has been a failure so far. Upon his return, another chance will be given to Sin Cara to improve and conform to WWE. His failures have led to successes of others, such as Hunico developing a reason to be on the main roster.
How will the Sin Cara experiment continue? We will all have to watch SmackDown this upcoming Friday and find out.
This article is
What is the duplicate article?
Why is this article offensive?
Where is this article plagiarized from?
Why is this article poorly edited?