Boston Celtics: Is This the Last We've Seen of Boston's Big Three?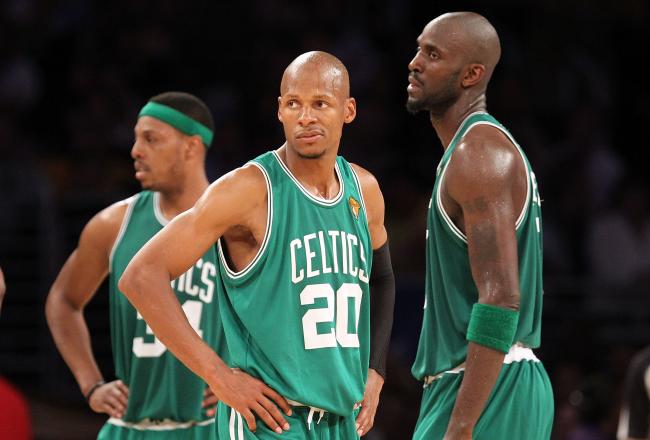 The Boston Celtics are finished, in more ways than one.
Boston's playoff run has come to a screeching halt and it's time for Danny Ainge and the Celtics organization to accept the reality they couldn't come to terms with by March's trade deadline—the Boston Three Party is all but history.
Ray Allen, Kevin Garnett and Paul Pierce have been together since 2007. They've won an NBA title and came within one victory of a second.
But that was then, this is now.
Allen (36), Garnett (36) and Pierce (34) have played their last game together. Not because any of them have severely disappointed or been rendered incapable, but because it's time.
After three years of astonishing success followed by two more of moderate fortune, the end of an era is near. And Boston knows that.
As the Celtics played their way toward a 24-10 record after the All-Star break, word came that the Big Three were almost dismantled prior to the trade deadline.
Boston nearly shipped Allen off to the Grizzlies and Pierce over to the Nets, but Ainge and company decided against decimation. After all, perhaps, this group had some fight left in them.
As it turned out, they did, but even their best effort pales in comparison to Miami's and a healthy Chicago's. Those teams are the Eastern Conference's measuring sticks, and the Celtics no longer measure up. They're simply not young or fresh enough.
Age is a fickle friend, but more of an enemy within NBA circles. No matter how efficient Allen remains from deep, no matter how often Garnett turns back the clock and no matter how clutch Pierce continues to be, toiling with uncertainty is no longer a luxury the Celtics are afforded.
The best days of Boston's core are behind them. And in a league where athleticism reigns supreme, the Celtics are officially wavering.
We relish in their unexpected postseason push, but how effective would any of them be without Rondo? More so than people care to admit, he, not the Big Three, truly has become the heart and soul of this team.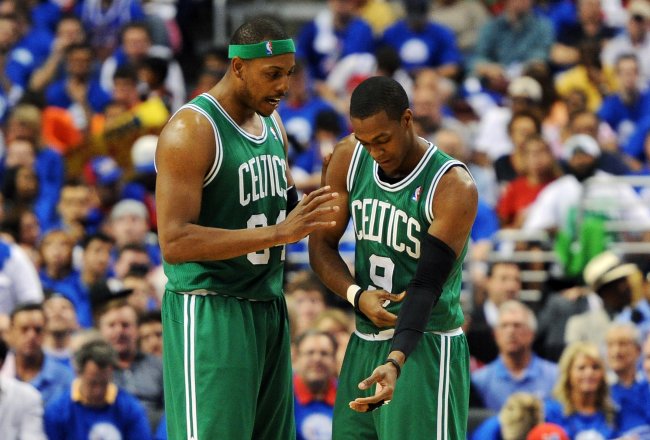 Drew Hallowell/Getty Images
Rondo is the one the entire team looks to for guidance. He's the who one creates scoring opportunities for Allen and Garnett. He's the one who draws double-teams on the weak side leaving Pierce free to score in isolation. And he's the one who has allowed his teammates to seemingly stave off the rigors of age.
It's these subtle changes, borderline regressions that are cause for concern. It's easy to accept Boston's defiance of age, but the Big Three's deficiencies are limitedly apparent, mostly, because of Rondo.
Such a dynamic is not going to win championships. The Celtics need pieces who are not on the verge of becoming products of Rondo's court vision, dribble penetration and overall two-way prowess, and they need them now.
Both Allen and Garnett are unrestricted free agents this summer, and Pierce still has some trade value to cash in on. While dealing Pierce is a move Boston will continue to split hairs over, Allen and Garnett should have already said their goodbyes.
Bringing each back at a steep discount would undoubtedly be an avenue the Celtics explore should the opportunity present itself, yet, Allen and Garnett combined for more than $31 million in payroll this season. It's highly unlikely either settles for the amount of money and contract length Boston would be willing to invest in them.
Have we seen the last of the Boston Celtics' Big Three?
And amicable or not, a split is not only unavoidable, but it's acceptable, because this is now Rondo's team.
He, along with Avery Bradley, are the faces of the future, the ones who will draw in prospective free agents. They are the ones who will instill a sense of hope and purpose into a franchise now in limbo—not Allen, Garnett or even Pierce.
Letting go is hard to do, but sometimes, it's necessary.
And now, for the Celtics, after another pre-finals exit courtesy of the Heat, it's necessary.
This article is
What is the duplicate article?
Why is this article offensive?
Where is this article plagiarized from?
Why is this article poorly edited?

Boston Celtics: Like this team?