2012 French Open: Which "Big 4" Member Has Toughest Quarter?
May 28, 2012

Alex Livesey/Getty Images
Finally, the time has come.
The collective eyes of the tennis world are turned towards Paris as the 2012 French Open has kicked off. The two story lines that everyone will be watching during this tournament on the men's side are obvious.
World No. 1 Novak Djokovic goes for the "Novak Slam" on the Parisian clay, trying to win all four majors in succession, by capturing the only one he has never won. If he accomplishes that, then he will be the first to hold all four Grand Slam titles at once since Rod Laver in 1969.
The Serb's biggest obstacle in winning his sixth major overall will be Spaniard Rafael Nadal, who will look to win an open-era record seventh Roland Garros crown. He has proved that he is still the man to beat on clay by having already captured titles in Monte-Carlo, Barcelona and Rome this spring.
However, there are contenders who will look to stop their record-chasing rivals. Leading the charge should be 16-time major winner Roger Federer and World No. 4 Andy Murray.
With the draw having been released yesterday, these four players are the favorites in their respective quarters. Murray has been drawn in Nadal's half, whereas Djokovic and Federer will be on the opposite side.
The following paragraphs will examine which player out of these four should have the toughest time reaching the final four in Paris.
Novak Djokovic Quarter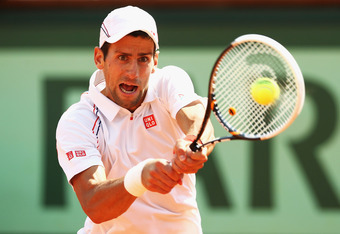 Matthew Stockman/Getty Images
Other Seeds: Jurgen Melzer (30) Andreas Seppi (22), Fernando Verdasco (14), Gilles Simon (11), Stanislas Wawrinka (18), Viktor Troicki (28), Jo-Wilfried Tsonga (5)
Djokovic, who was bounced by Federer in four sets during the semifinals last year (in the last Grand Slam match that he lost), has an interesting draw.
Nole should have no trouble in the early rounds, as he should get Potito Starace, Blaz Kavcic, and Michael Berrer. Austrian Jurgen Melzer would have proved a more formidable opponent in the round of 32, but the No. 30 seed blew a two set lead against Berrer on Sunday. The German will not pose any sort of trouble for Novak. 
Next up would be Fernano Verdasco, Andreas Seppi or maybe Nikolay Davydenko, all three of which play their best tennis on clay.
Verdasco recently had a morale-boosting three-set victory over compatriot Nadal in Madrid, and both Seppi and Davydenko have seen success in recent clay court tournaments (Seppi won Belgrade and Davydenko got to the Nice semifinals).
However, Djokovic will still be considered the favorite in any of these matchups. The Serb should be most wary of Verdasco, who along with being the most talented of the bunch has won his past two matchups against the Djoker, both on clay courts.
Still, neither of these matchups should pose a huge problem for Djokovic, although he might be in for a good fight.
The quarterfinals is where it gets tricky. A pair of energized Frenchmen, World No. 5 Jo-Wilfired Tsonga and No. 11 Gilles Simon are the likely opponents. Both are good players, but they are also both more adept on hard courts. On the "terre battue" Djokovic still has the upperhand. With the fans obviously behind their native sons, Djokovic will have to fight hard to get out of his quarter.
The beginning is set up for straight-set wins, but Novak will surely have to be on top form to make it to the semis.
Rafael Nadal Quarter
Other Seeds: Janko Tipsarevic (8), Julien Benneteau (29), Philipp Kohlschreiber (24), Nicolas Alamgro (12), Juan Monaco (13), Milos Raonic (19), Florian Mayer (32)
Nadal, the two-time defending champion, must be pleased with his draw. He will open with Italian veteran Simone Bolelli and then either Denis Istomin or Igor Kunitsyn, none of which should even bother Rafa.
If the draw plays out according to seeding, Nadal should face 32nd seed Florian Mayer, but it is more likely that he runs into big-serving Croat Ivo Karlovic. Rafa has shown that big hitters bother him, but Dr. Ivo doesn't back up his serve with good ground-strokes, and on clay the Spaniard should have no trouble.
The next round should prove to be the first tricky round for Nadal. He may get another huge server, Canada's Milos Raonic, or clay-court specialist Juan Monaco.
The "King of Clay" beat the 13th seed handily last year, and Nadal is usually very strong against prototypical clay players.
Raonic would be a sterner test, but the 6'6'' man has shown a lack of comfort in his few career clay-court matches. He would give Rafa a good fight, but Nadal would still be considered the heavy chalk if this match were to take place.
Nadal has the lowest-ranked of the "second group" player (those ranked 5-8), as he was drawn with Serb Janko Tipsarevic.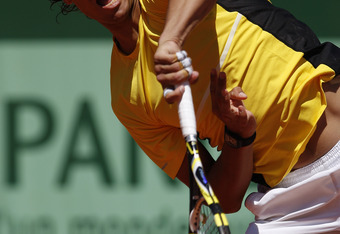 Dan Istitene/Getty Images
However, once again, the draw may not play out to seeds, as Nicolas Almagro is a much more accomplished clay-court player.
Nadal holds a 7-0 career head-to-head mark against his compatriot, including five matches on clay. His topspin-laden forehand causes Almagro's one-handed backhand many problems, and as mentioned earlier Nadal fares well against "dirt rats.".
If in peak form, none of these foes should be good enough to take even a set off of Nadal.
Roger Federer Quarter
Other Seeds: Andy Roddick (26), Radek Stepanek (23), Feliciano Lopez (15), Juan Martin del Potro (9), Marin Cilic (21), Kevin Anderson (31), Tomas Berdych (7)
Roger Federer should have an easy ride to the quarterfinals where all of a sudden his draw looks tough.
The first few matches are gimmes. On Monday, he (despite some sloppy play) handily defeated his first-round opponent, Germany's Tobias Kamke. Adrian Ungur awaits Federer in Round 2.
The big Romanian shouldn't cause any problems for the Swiss maestro. Andy Roddick, Fed's presumed third-round opponent, was knocked out Sunday, leaving Frenchman Nicolas Mahut as the most likely foe.
These three matches will be a breeze for the World No. 3.
Feliciano Lopez, the favorite to face Roger in the Round of 16 pulled out on Monday, leaving Radek Stepanek, the No. 23 seed, as the favorite in that section.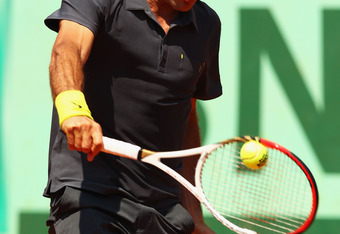 Clive Brunskill/Getty Images
Stepanek isn't the kind of player expected to cause Federer any kind of problems.
Although the first four rounds should be quite easy, Roger may have been handed the unfriendliest quarterfinal draw.
Juan Martin del Potro and Tomas Berdych, two of the tour's best on clay, will face off in the quarterfinals for a spot to battle Federer in the quarterfinals.
Although the 16-time major winner would still have to be the favorite, it should surprise very few if either Berdych or del Potro, both of whom have already beaten Federer in a major (2010 Wimbledon and 2009 US Open, respectively), can pull off the upset.
Federer should be fresh for this encounter because of previous matches, but both of these men are formidable foes.
Andy Murray Quarter
Other Seeds: David Ferrer (6), Mikhail Youzhny (27), Marcel Granollers (20), John Isner (10), Alexander Dolgopolov (16), Richard Gasquet (17), Bernard Tomic (25)
In 2012, Murray seems to have fallen behind the rest of the "Big Four". His French Open draw doesn't seem like it will help him catch up.
Sure, he opens with two easy matches, Tatsuma Ito and Jarkko Niemenn/Igor Andreev, but after that, the road to the final looks very, very bumpy.
In Round 3, up-and-comer Bernard Tomic will run into Murray. Tomic has great creativity on the court, and with the Brit not at 100% health, the young Aussie could very well pull off the upset.
If Murray finds a way past Tomic, he will probably run into talented Frenchman Richard Gasquet, who just defeated Andy in Rome two weeks ago.
Gasquet has shown very good clay-court qualities and will be poised to defeat the World No. 4 if they meet again.
Both these matches are very loseable, and it should come as a surprise to no one if Murray loses one of them.
If not, his hardest match will be in the quarters, where the Scot will either run into World No. 6 David Ferrer, a great clay-courter, or huge-serving American John Isner.
Ferrer would be considered the favorite against Murray due to his outstanding clay-court record, and Isner is one player nobody wants to face.
Murray has a draw chock full of players that could very well beat him in his quest for a first major title.
Analysis
Djokovic has a relatively tough draw, but he has proven that he won't lose early in tournaments, and although Tsonga and Simon are good players, they cannot hang with Nole for five sets.
Nadal has the easiest draw of the four with no player who should able to beat him. Almagro is the top competitor, but Nadal has beaten him handily in the past.
Federer will cruise to the quarterfinals, but the matchups awaiting him there are tough. Either del Potro or Berdych could very well beat him, but the Maestro remains the favorite to get back to the Paris semis.
Murray will lose early. His draw has great players, and one is bound to beat him. Whether it is Tomic, Gasquet, Ferrer or Isner is tough to tell, but Murray will still be looking for major No. 1 at the end of Roland Garros.
Overall, Nadal has the easiest quarter, followed closely by Djokovic. Then comes Fed, and Murray has by far the toughest bracket.
Therefore, no one should be surprised to see the top two players in the world face off once again on June 10.