UFC 146 Fight Card: Why Frank Mir Will Take Home Junior Dos Santos' Arm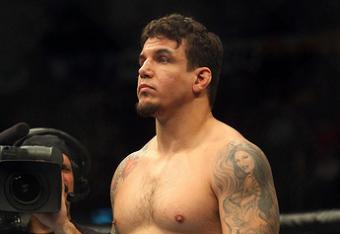 Tom Szczerbowski-US PRESSWIRE

The great submission artist takes on the great boxer at UFC 146 tonight in Las Vegas, 10pm ET.
Under-fancied Frank Mir can do what many expect is his only way to victory against UFC heavyweight champion Junior Dos Santos, and that's to secure a submission victory. Or more likely an arm bar.
After all, this is the man responsible for breaking the humerus of Dos Santos' mentor Antonio Rodrigo Nogueira, as well as the forearm of Tim Sylvia all the way back in UFC 48.
Few are giving credit to him standing toe-to-toe with the Brazilian knockout artist, but many believe that he can win any ground skirmish between the two.
That's because Mir has proven himself to be the best submission artist in the heavyweight division.
The Vegas native came on the scene back in UFC 34 in 2001 and has arm-barred his way through to two championship titles himself. He has scored eight submissions in his 21-fight career, which accounts for half his wins.
That's quite a record compared to Dos Santos, who only has one (we're not counting "Cro Cop") in his much shorter career.
Of course the Brazilian has a solid jiu-jitsu base, considering that he's a brown belt under the Nogueira brothers. But his mentor was himself submitted by Mir, and there's little indication he would do any better.
How will UFC 146's main event end?
Thus far in his career, "Cygano" Dos Santos, has rarely been taken down to the ground, and even more rarely has he been held there. Much more storied wrestlers than Mir, including Shane Carwin, have tried but failed. And Mir has proved highly vulnerable to wrestlers himself (consider the mauling he received in his second fight against Brock Lesnar). But then Mir has been working extensively on his wrestling as well.
Consider how dominant he was in his fight against Roy Nelson at UFC 130 in 2011. His wrestling has come on leaps and bound, as he controlled the fat man's body, picking him apart against the cage.
Mir, at around 260 lbs, is also 20 lbs heavier than Dos Santos, who is going to be relying on his speed and agility to out-box Mir and put Mir to sleep. This gives Cygano a significant disadvantage in the wrestling game, and with that said, Mir has as good a chance as anyone to put Dos Santos on his back.
Once there, few would give the Brazilian any hope of prevailing.
Mir has the skills to take Dos Santos down, and once there, he has every chance of doing to him want he did to "Big Nog" Nogueira. Later tonight, he will wrest the UFC heavyweight championship from the Brazilian's waist, break his arm and secure himself a place in the Hall of Fame.
This article is
What is the duplicate article?
Why is this article offensive?
Where is this article plagiarized from?
Why is this article poorly edited?