WWE: Chronicling Big Show's 10 Greatest Matches Ever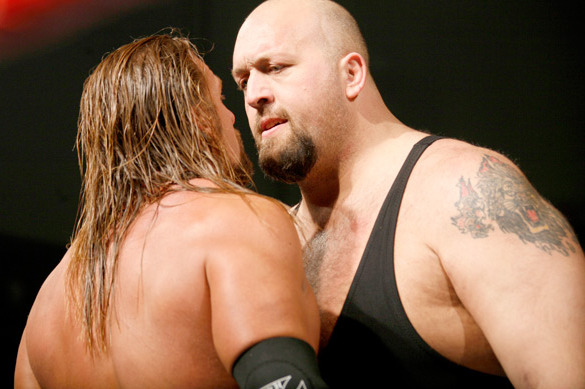 via wwesuperstarswallpapers.com
This may be one of the toughest lists to make concerning a wrestler's best matches.
The World's Largest Athlete has enjoyed a long career, spanning over a decade and a half. His ability to work the crowd as both a face and a heel has proven him to be invaluable for the WWE since his debut in 1999.
He has been a part of over a thousand matches, but listing the top ten of those is difficult, mainly because of his in-ring performance. For his size, the Big Show can easily be considered one of the best athletes ever. He has incredible mobility for a man approaching a quarter of a ton, but while most of his matches go over well, not many of them have ever been considered classics.
In fact, a good chunk of the matches on this list are not straight-up one-on-one matches. Only four contests on this list are singles matches, while four others involve six or more people, whether it be the Elimination Chamber or an elimination tag team match.
The Big Show understands that at his size, it is part of the role he plays. Sometimes, the big wow factor of a multi-man bout is the effort it takes to eliminate a man of his size. Even so, he has still been involved in some great matches over his career.
Therefore, here are the ten best matches of Big Show's career, whether he played a large or small role in the outcome.
Begin Slideshow

»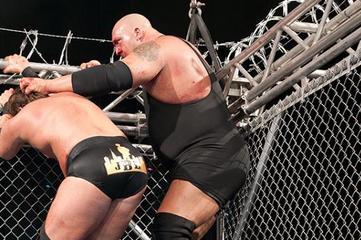 via wwe.com
Wouldn't it be a great idea to bring back the barbed wire for No Way Out in a couple of weeks? Show vs. Cena in the cage could easily be a drag, but the added dimension could make things much more interesting, and it would add to the idea of not having a way out.
Hey WWE, there's no roof on a steel cage! And there's a door! That's two ways out!
Moving on. Who would have thought JBL would hold the WWE Championship for over a year? Facing guys like the Undertaker, the champ would always find ways to sneak away with the title and live to fight another day. And this match was no different.
Big Show sent JBL down through the canvas after a chokeslam, and he ripped off the chains locking the cage door. By the time he made it, however, JBL crawled out from under the ring and won the match.
So I guess that makes three ways out of a cage? Actually, make that four if you count what Mark Henry did to the Big Show last year on Raw. I guess a PPV renaming is in store for the next show.
The World's Largest Athlete did not spend too much time inside the Elimination Chamber in 2011, but he made his minutes count. The video attached shows one of the more brutal plexiglass incidents we've seen, shoving Wade Barrett straight back through the pod.
Big Show actually was not supposed to be in this match originally. He took the place of Dolph Ziggler, who was fired in storyline thanks to a feud with Edge that gave him a very quick World Heavyweight Championship reign.
Just about everyone in the arena knew Show wouldn't be the winner, so it was up to the big man to make a statement when he got the opportunity.
Did he? Why not ask Wade Barrett and see how his back feels.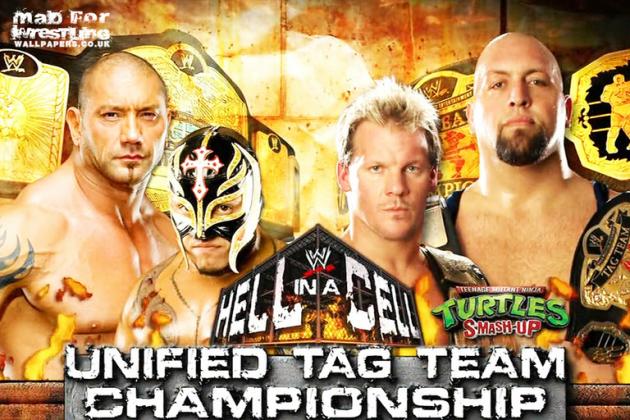 This is another very underrated match during a time when the WWE was actually refocusing its efforts on the tag team division. DX was running wild at the time as well, and they would eventually meet Show and Jericho in December of that year at TLC.
Even so, that match fell short of expectations, and for the five months that Jeri-Show held the titles, this is their best match at a PPV clogged by not one, not two, but three Hell in a Cell contests.
When the Big Show was announced as Edge's replacement when he got hurt in July, the response was mostly overwhelming. Nonetheless, the two veterans had great chemistry and some good teams to go up against.
This was an above-average tag team contest, and it's worth taking a look if you haven't seen it or forgot about the bout.
It also featured the double-strapped purple-ish trunks for Show. Those are long gone now.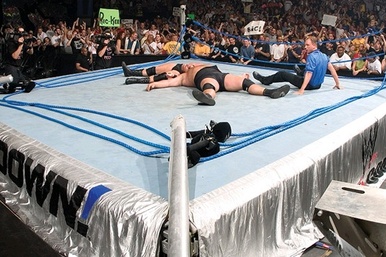 The match itself wasn't anything to write home about, but the crowd reaction after the ring collapse may be the single loudest pop in SmackDown history.
No one knew whether this was planned or not, because it was so believable that the weight of the superplex could actually take down the ring. Because of it, the match had to be stopped, and the WWE Championship contest was put on hold.
The situation was recreated last year with Mark Henry and Show, which is a match that narrowly missed making this top 10 list. All in all, there's really nothing better than the original in this case.
Speaking of Brock Lesnar...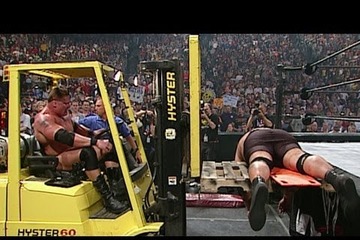 via wn.com
Well, using a forklift is one way to move a 500-pound man. It might be the most effective way too.
It's no coincidence that Brock Lesnar is on this list again, and he will most definitely be popping up again. Show and Lesnar had pretty good matches, and it could be Show's best opponent ever. While the Angle/Brock feud was still going in the background, the Big Show stepped in to deliver some quality work.
The situation is similar to Kane sticking his nose in to the CM Punk/Daniel Bryan business. Maybe that means the Big Red Monster will somehow add to the WWE Championship feud.
Anyway, for a B level PPV, this was a very good main event. Brock as a face lasted through the early part of 2003, and he got a huge pop when he returned from the backstage area driving a forklift.
Stretcher match be damned.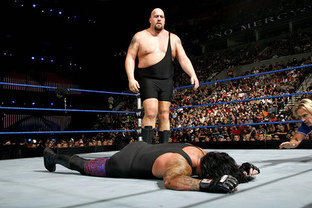 It's not often that you see the Undertaker unable to continue a match. Well, that occurred back in 2008 when the Big Show was making the knockout punch a finishing move.
Big man matches are never going to be a technical masterpiece, but this one was very well done. Taker moved around the ring very well and sold big time for his opponent, who actually threw in a side Russian leg-sweep as a curveball here.
Taker would muster some offense, but not nearly enough to get the job done. Show hit two punches to knock the Deadman to the ground, and then connected with a shot to the back of the head. That was enough for the ref to stop the match.
It helped get some major heat on Show, and it gave him a bit more respect in the fans' eyes for being able to pull off such a decisive victory. The feud would continue for two more PPV matches, but those weren't as good as this first one.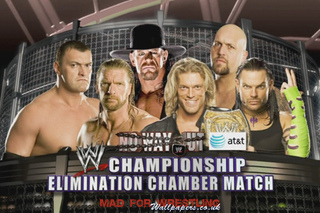 The names in this Elimination Chamber match rank it as one of more star-studded bouts of its kind since the debut of the structure in 2002.
Except for, of course, Vladimir Kozlov.
This would be remembered as Edge's night: even though he lost within the first five minutes of this contest, he would forcefully enter the other EC match and end the night with the World Heavyweight Championship.
Big Show was the second person out of a pod, and as the heel, he doled out destruction during his time in the ring, mostly directed at Jeff Hardy. By the end of his run, it took a flurry of finishing moves, including a crazy leap by Hardy, to get him eliminated.
Trips and Taker had a memorable ending to this one in a preview of their WrestleMania matches, and this Elimination Chamber goes down as one of the better ones in its history.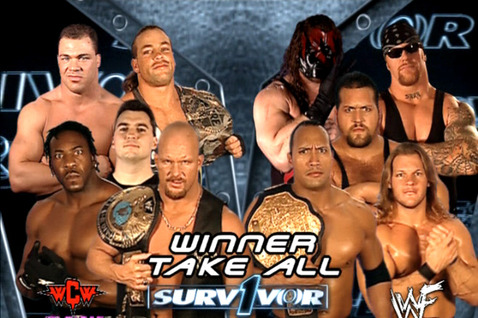 via rockandwrestling.net
If this list wasn't centered around the Big Show, this match would probably be top. It's tough to have this as Show's greatest match, however, mainly because he was eliminated pretty early on in the contest.
This choice unfortunately embodies a large part of the giant's career. While he has enjoyed plenty of TV time over the past decade-plus, his presence is mostly secondary to guys like The Rock, Stone Cold, Kurt Angle, etc.
His sole purpose in this match was to make Team Alliance look menacing and in control of the faces. Kane was eliminated shortly after for the same reason, and even though these two men were not in the ring for too long, they played integral parts in the storytelling of the contest.
The intensity of the Alliance/WWF feud was at an all-time high, and even though many people don't agree with how everything played it, the company-wide battle was still a huge deal in 2001.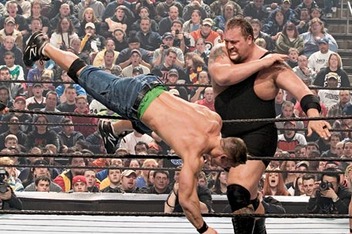 Even though there were 29 other superstars involved, the Big Show became the one-man wrecking crew of the 2004 Royal Rumble.
It was Chris Benoit who provided the amazing 62-minute performance, starting at number one and going coast-to-coast to pick up the victory. Still, it was the giant who made that accomplishment that much bigger.
When the Rumble got down to six people, it became a five-on-one contest, with every superstar trying to eliminate the World's Largest Athlete. He was able to fight them off, and although he only had four eliminations in the match, they all came in the last few minutes.
In the end, it was Benoit vs. Show, and Chris looked to be hopeless all by himself. Miraculously, he was able to pull Show over the top rope and go on to WrestleMania.
The accomplishment of surviving the entire bout is something in itself, but by eliminating a man who was a destructive force beforehand, it made the win even more monumental.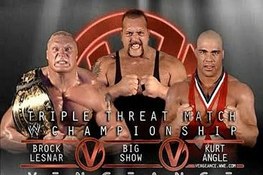 Show didn't get a win, but he was an absolute monster in this match. And it's no coincidence that Lesnar was involved as well, as he is probably the Big Show's best opponent.
Angle and Lesnar were in the midst of a feud that would last for the duration of 2003, and Show was thrown in as a human wrecking machine. This took place a couple of weeks after the ring collapse incident on SmackDown, which gave the World's Largest Athlete plenty of ammunition for another shot at the belt.
This is one of the better triple threat matches in WWE history, and unfortunately, it's not remembered by many fans. All three men hit big power moves throughout the contest, and plenty of color was added by both Angle and Lesnar.
Some of the moves included an F-5 and powerbomb by Lesnar on Show, who also was thrown through the announce table by an Angle Slam. Show would respond with a double chokeslam, but couldn't keep either man down for three.
Angle would prevail in the end by pinning Lesnar, but it was the best performance by the Big Show over his 12 year career in the company.