Kings vs. Devils: Young Stars Who'll Make Big Impact in Stanley Cup Final
May 26, 2012

Harry How/Getty Images
Young players will be hard to come by during this Stanley Cup Final between the Los Angeles Kings and the New Jersey Devils, but the few youngsters on the ice will play a big part in who hoists the Stanley Cup this year. 
We've already seen what an impact young stars, especially rookies, can have in the playoffs. New York Rangers forward Chris Kreider scored his first five NHL goals in this season's playoffs, tied for second on the team, when he joined the team after his national title run with Boston College earlier this year. 
Energy will be at a premium for both teams as they rest up their tired bodies for what should be an exciting and hard-hitting series. 
Let's take a look at some youthful stars who will become difference makers for their teams.
Adam Henrique—New Jersey Devils
Devils forward Adam Henrique is in his first full NHL season, but he's been among the biggest impact players for New Jersey so far in these playoffs.
His OT goal in Game 6 that catapulted the Devils past the cross-river rival Rangers and to the Stanley Cup Final wasn't the first mark he made for his team. He also got New Jersey past the pesky first-round opponent Florida Panthers with another OT goal in a hostile environment in Game 7. 
It's hard to see a scenario where the Devils get as far as they have without Henrique. He's currently tied for fourth in points throughout the playoffs.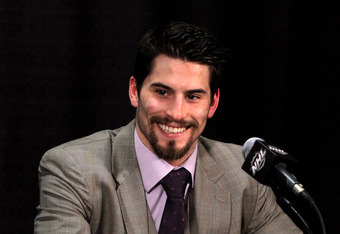 Bruce Bennett/Getty Images
Kovalchuk has been the cog to New Jersey's success in these playoffs, but without Henrique by his side, they wouldn't be where they are. Look for him to continue his impact in their final series. 
Dwight King—Los Angeles Kings
Just three months ago, Dwight King was stuck on the Kings AHL affiliate team, patiently waiting for his chance to shine in the NHL.
Then he was given his chance and notched four goals in three games during their Western Conference finals drubbing of Phoenix. He's a stellar third place on the team with five goals during their playoff run.
He's found his place on the Kings' second and third lines, and has gained good chemistry while on the ice with studs Mike Richards and Jeff Carter. 
Not many people would've expected King to have outscored both players at this point in the playoffs. Then again, not many people expected the Kings to get out of the first round.
Drew Doughty—Los Angeles Kings
Doughty began his 2011-12 season in the midst of a contract negotiation that put a lot of weight on his 22-year-old shoulders, but he's answered the bell with dominant play on both ends of the ice this postseason. He told the New York Times what expectations he's set for himself this postseason.
I think I'm back to that guy that I know I can be. I'm loving everything about it, and I want to continue to be that guy. I think in order for us to win the Stanley Cup, I have to be that best defenseman on the ice every night, and I'm going to make sure I'm doing that.
So far, he's done that for the Kings as they've only lost two games this entire postseason. He'll need to continue his dominance if the road warriors want to continue their success in the Stanley Cup Final.