French Open 2012 Predictions: The Big 3, Who Will Win, and Why?
May 28, 2012
Clive Brunskill/Getty Images
Well, folks, here we are again.  It's springtime in Paris, the terra bateau at Roland Garros is in fine shape, and Rafael Nadal is once more the prohibitive favorite.  The pick?  Nadal to win.
(...unrestrained yawning...) 
And there you have it.  The cat's out of the bag.  So much for suspense.  You can quit reading now, if you like.
(...mild disbelief?  Then...)
"In other news, stocks took a beating again today amid investor concerns that the European debt crisis would continue to spiral...."
Hold on, mon amis!  Sacre bleu, where's the fun in that?!  Let's preview the Big Three anyway, Andy Murray, too (why not?), and throw in a few longshots just for good measure.  Stay with me.  Here we go.
The Prohibitive Favorite: Rafael Nadal.
With all due respect to world No. 1 Novak Djokovic, this is Nadal's tournament to lose until he decides to hang 'em up.  
He's won here six times.  It's his home away from home.  
Only Robin Soderling beats Rafa here (see 2009), and Soderling is MIA this year (nobody's seen hide nor hair of him on a tennis court in years, or so it seems) and is happily expecting a baby soon.  Best wishes, Robin.  Hope baby and baby-mama do well.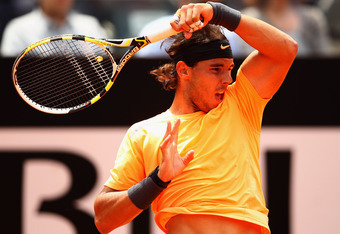 Clive Brunskill/Getty Images
Moreover, Nadal seems to have solved the Djokovic riddle.
Yes, Rafa lost seven straight finals to the Serb until Rafa prevailed a month ago in Monte Carlo and last week in Rome, both in straight sets.  How did he do it?  Well, in typical, stubborn, Rafa fashion: He put in considerable blood, sweat and tears on the practice court, subtly tweaking a few aspects of his game and played aggressive, mostly mistake-free tennis.
But perhaps more significantly, he waited for a drop in Djokovic's absurdly high level of play.  And fortunately for Rafa, he got his wish.
Another huge factor working in Nadal's favor is the draw.  
By virtue of his reclaiming the No. 2 ranking that he lost briefly to Federer after the latter's victory in Madrid, Nadal stood a 50 percent chance of having to face only one of the other "Big Three" en route to the title (i.e. in the finals).  
And when Federer landed in Djokovic's half of the draw, Nadal could breathe a little easier knowing he would potentially face Djokovic or Federer, but not both.  Never hurts to be lucky, in addition to all-world good.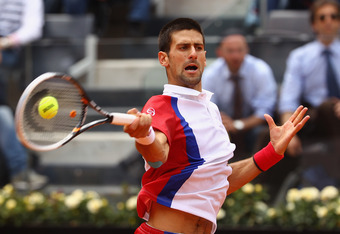 Clive Brunskill/Getty Images
The Clear Second Favorite: Novak Djokovic.
Think back to last year's semifinals, when Novak Djokovic and Roger Federer squared off in an epic match.  
Novak, unbeaten to that point in 2011, somehow found himself down two sets to love.  Bent but unbowed, he battled back to win the third set, and as the shadows crept across the court with the approach of nightfall, Nole gained the better of Federer in the fourth.
With Novak serving to square the match at two sets all, a deciding fifth set seemed all but certain, though it would have to be played the next day because of impending darkness. 
Somewhere, Rafael Nadal was grinding his teeth because at that time and for eight months to come, Novak owned him, and all signs pointed to a Djokovic comeback victory over Federer in the fifth set and a much anticipated Nadal-Djokovic showdown in the final.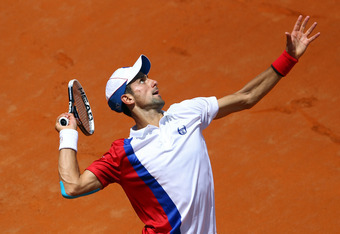 Julian Finney/Getty Images
But fate (or Federer, take your pick) intervened, and Fed broke back, sending the fourth set to a tiebreaker. Seizing the opportunity, Fed won the tiebreaker and the match as the sun set on Court Philippe Chatrier and Novak's historic unbeaten streak.
Fed fans rejoiced.  It would be Roger versus Rafa, Act Cinq, in the French Open final. Not a bad fallback option to the Nadal-Djokovic final most were expecting. 
However excited Fed fans were, nobody was more ecstatic (behind the scenes, to be sure) than Rafael Nadal himself, who had to be grinning like a Cheshire cat, knowing he wouldn't have to face his only known nemesis, Djokovic. He also took comfort in the knowledge that he owned Federer on the Parisian clay.  
It was a huge break for Nadal.  And he would ultimately prevail over a game but mistake-prone Federer to win his sixth title, tying Borg in the process for most French Open triumphs.
But back to Djokovic.  What's the relevance of this flashback to 2011?  Well, for starters, what a difference a year makes!  
Novak, of 2011 vintage, almost certainly would have gotten the better of Nadal had the two met in last year's final.  If so (and allowing for a whole host of other assumptions), Novak would have completed the calendar year Grand Slam, the first to do so since Laver back in the Paleozoic Era.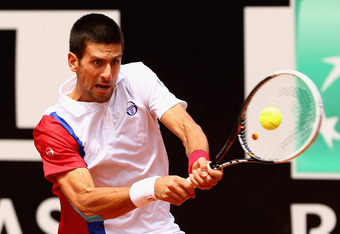 Clive Brunskill/Getty Images
Instead, Novak had to settle for three of four Grand Slams in 2011 as he made short work of Nadal in the Wimbledon and U.S. Open finals.  
Now, fast forward to the present.  Novak, 2012 model, has been good, even very good, but far from dominant.  He narrowly defeated Murray in the Aussie Open semis, then was gifted the fifth and decisive set by Nadal in the final—a nice result all the same.
But those results offered proof that the gap between Novak and the field (and Rafa in particular) had narrowed considerably.  
True, a repeat of Novak's 2011 was wholly unrealistic; even Djokovic downplayed such expectations.  And yes, his mastery of Nadal was bound to run out at some point, which it has.  
But notwithstanding Novak's overall success against Nadal since the start of 2011, the most recent results—namely, two relatively straightforward, straight-set finals victories by Nadal already alluded to—suggest the tide may have turned in Nadal's favor.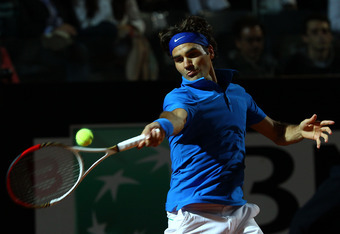 Clive Brunskill/Getty Images
Can Novak beat Rafa on the latter's beloved clay in Paris in 2012?  
No question, Nole has the game and mental toughness to do so.  And he should have the motivation, since beating Nadal at Roland Garros represents probably the greatest challenge in men's tennis today, and a victory there would give Novak the career Grand Slam and the distinction of winning four consecutive majors, something that hasn't been done since, well, Laver.  
But doing so would require a return to the form that saw Novak dominate the field (and Nadal) in 2011, and Novak has yet to show in 2012 that he can summon that form on command and sustain it when he needs it most, especially against Nadal.  
But if anyone is to beat Nadal or take his place as champion if Rafa should inexplicably stumble before the final, Djokovic is that man.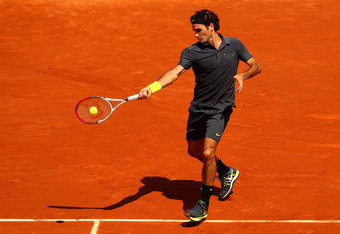 Clive Brunskill/Getty Images
The Nostalgic, "People's Choice" Favorite: Roger Federer.
It's almost sacrilegious to suggest that Federer can't win the French Open this year.  He is, after all, arguably the "Greatest of All Time," less arguably one of the three or four best clay court players of all time.
The latter point is true even with only one French Open title on Federer's resume because, let's face it, if not for Nadal, Federer would probably have four or five French Open titles to his credit and be staking his own claim to the moniker of "greatest clay court player ever."  
Factor in Federer's inspired play since his U.S. Open semifinal loss to Djokovic last year (a match, coincidentally, he figures to win nine times out of 10 when holding two match points on his serve), and why shouldn't he be considered a favorite to run the table and beat Novak and Rafa, his two biggest rivals, along the way?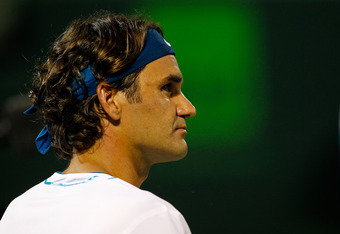 Mike Ehrmann/Getty Images
Well, because it's hard, real hard, that's why.  
Though clearly still capable of inspired play that evokes fond memories of yesteryear, there's no getting around the fact that Federer, just a few months shy of his 31st birthday, is past his prime by virtue of being half a tennis generation older than his rivals. Novak and Rafa are, by comparison, smack in the middle of their primes.
Even with 16 major titles under his belt, Federer hasn't won a major in over two years (2010 Aussie Open). Plus, Roger would have to beat both Djokovic and Nadal to capture the French, and well, that's a lot to ask of anyone, even Federer at his best.  
Roger did came relatively close to pulling off that feat last year, beating Novak and pushing Rafa to four sets. If (and this is a mighty big "if") Roger should capture the French, beating rivals Djokovic and Nadal en route, it would constitute his greatest triumph in a major by far and be a fitting capstone to a brilliant, unsurpassed career.
The Dark Horse (and British Commonwealth's Favorite): Andy Murray.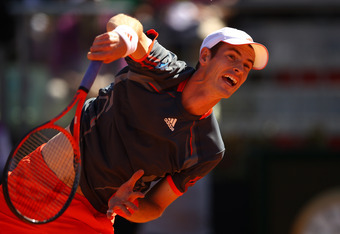 Clive Brunskill/Getty Images
Poor Andy Murray.  Britain's favorite son can't seem to catch a break.
Though he has the game to compete with the Big Three, he seems to lack the mental wherewithal to break through and beat one of them (never mind two) with a major on the line.  
Add to that track record a balky back in recent weeks, and expectations for Murray in this French Open campaign have to be tempered.  With his talent and coach Ivan Lendl in his corner, it's hard to imagine Andy wouldn't make it to the second week.
Sadly, the best he can realistically hope for, even with a very favorable draw (only Ferrer and Isner have any shot to take out Murray in his quarter of the draw), is to make the semis, which, while a commendable result to most, is now a tired refrain in the Murray camp and among his supporters.
Here's hoping that some day, somehow, he wins a major and can bring unrestrained joy to the Commonwealth, if not to himself.  This year's French, however, just doesn't figure to be that major.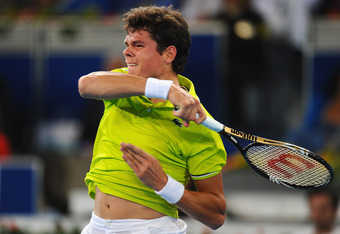 Mike Hewitt/Getty Images
The Long Shots: Del Potro, Berdych, Tsonga and...(drumroll)...Raonic.
Finally, we come to the players who, with the exception of Milos Raonic, have competed in a major final or, in the case of del Potro, even pulled off the unthinkable and won that rarest, most elusive of prizes—that is, a major title (2009 U.S. Open over Federer) in the Federer-Nadal-Djokovic era.
Each of these competitors has, on a given day, the game to beat any of the Big Three, even in a major.
Unfortunately for them, odds are they will have to beat at least two and possibly all three to win the title, a nearly impossible task.  
Could one of them do it?  Very unlikely, but del Potro and Berdych, given their experience and recent strong play, figure to have the best chance of making a run at the Big Three.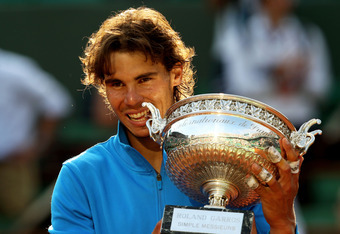 Clive Brunskill/Getty Images
Ironically, they both find themselves in Federer's quarter of the draw, and only one of them will have a chance to knock him off since they would play each other in the round of 16.
Why include Raonic among the long shots?  Because Raonic, like DelPo, Berdych and Tsonga, has the skill set—namely the offensive firepower—to hang with the Big Three and give them trouble if he is on his game.  
Raonic has already beaten Murray handily and gave Federer all he could handle and more in the second round of the Madrid Masters 1000 only weeks ago, eventually succumbing in a third-set tiebreaker.
Very few players have the requisite firepower to get the attention of the Big Three, and Milos has that firepower...in spades.  If not in this year's French, look for Raonic to make a deep run into the second week of a major tournament very soon and challenge for a title.
And there you have it: a preview.  
The prediction here is that form will hold for the Big Three and Murray too, with all four top seeds making the semis.  From there, in rematches of last year's semifinals, Djokovic will avenge last year's memorable loss to Federer, and Nadal will once again prove too much for Murray.  
And in a tightly contested final, I expect Nadal to back up his recent victories over Djokovic and prevail in four sets to win an unprecedented seventh French Open crown.