Hard Knocks: Should They Consider Spotlighting the 2012 Chicago Bears?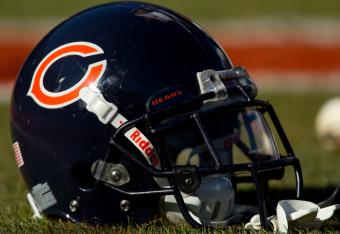 Justin Edmonds/Getty Images
Groundbreaking HBO Sports & NFL Films reality program Hard Knocks really need to consider the Chicago Bears the perfect team to follow throughout this season's training camp.
The Chicago Bears are a team on the rise and a solid bet to be a serious contender for the Lombardi Trophy as they are 20/1 odds to win the Super Bowl.
Bears first-year general manager Phil Emery said in an interview with ESPN Chicago columnist, Melissa Isaacson, that he ''would rather his team not be featured on Hard Knocks, but would not rule it out."
According to a Bears spokesman the team has not been contacted by HBO. HBO is making a foolish mistake by not considering this intriguing team for their reality show. Here are a few story lines Hard Knocks can use with the Bears.
1. The Matt Forte hold-out
Forte has yet to sign the $7.7 million franchise tag that GM Emery offered. Forte's agent is pushing for a long-term extension that will pay Forte somewhere around $8.5 million per year. Due to his contract distribute Forte has elected to skip out of the Bears OTA's. Forte made $555,000 last season while gaining 1,497 yards in only 12 games which was eighth best in the NFL among non-kickoff and punt returners.
2. From Black and Silver to Blue and Orange
The key off-season signings of quarterback Jason Campbell and running back Michael Bush only helped solidify the Chicago Bears for the next few seasons. The Bears last year we're hampered by injuries most notable to Jay Cutler and Forte. With the loss of the two the Bears had to look at Caleb Hanie and Josh McCown as their quarterback and Marion Barber and Khalil Bell as their running back. Campbell and Bush both had great seasons (before Campbell's injury). Bush had 977 rushing yards with 7 touchdowns and will compliment the Bears backfield as a solid third-down back and goal-line threat. Campbell had his 2011 season cut-short after only six games. In the six games he started Campbell threw for 1,170 6 touchdowns and 4 picks.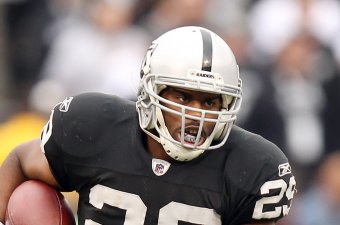 Ezra Shaw/Getty Images
3. Johnny Knox
Knox is still rehabbing from his broken vertebrae during the Week 15 loss to the Seattle Seahawks. Knox came into the Bears OTA's with high hopes, but he may miss the entire 2012 season. Knox currently is trying to get back into the weight room as he is 165 pounds, 20-pounds lighter than last season. Before the injury Knox had 727 yards receiving with two touchdowns. Knox also had 397 yards as a kick returner.
4. Former teammates reunite.
Brandon Marshall and Cutler are back together for the first time since 2008. In the three seasons Marshall and Cutler played in Denver both players had their best seasons of their career most notably in 2008 when Cutler threw for 4,526 yards and 25 touchdowns with 1,265 of the yards going to Marshall along with six touchdowns. The two players have a positive chemistry together. With Marshall, Earl Bennent and Alshon Jeffery, the Bears finally have weapons for Cutler.
5. The rookies
Questions surround first-round pick Shea McClellin out of Boise State. Will the Bears use him in the D-Line or will the Bears try to convert him into a linebacker since Brian Urlacher will be testing free agency next year. How much will the Bears use Jeffery? Will injury plagued free safety Brandon Hardin overcome his injury past the sky's the limit for him? Can Temple tight end Evan Rodriguez be the next Aaron Hernandez and be an essential weapon to Cutler's pass attack?
I firmly believe that the Bears will be the best and most entertaining team up for the HBO reality show Hard Knocks. The Bears have the story lines and a team that can possibly win the Super Bowl. HBO the Bears are the second oldest franchise in the NFL and have a rich history. The Bears, not the Jaguars (even though they need the publicity), Cowboys, Jets, Redskins, 49ers or Falcons fit the bill. We'll see if HBO makes the right choice June 1.
This article is
What is the duplicate article?
Why is this article offensive?
Where is this article plagiarized from?
Why is this article poorly edited?

Chicago Bears: Like this team?