WWE: Top 12 Divas I Wish Would Return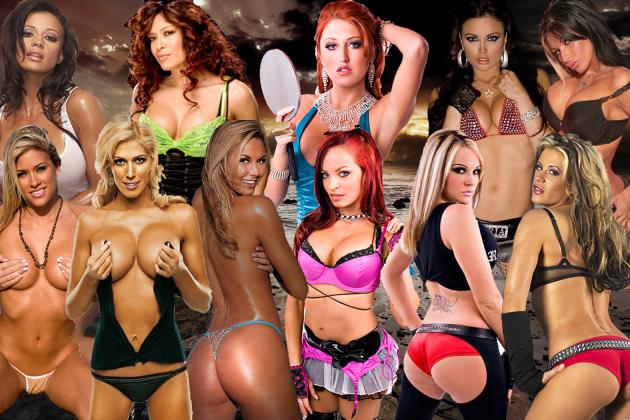 So many Divas have moved on. Who do you miss the most? (Image courtesy of FanPop.com)
Perhaps more so than the WWE Superstars, the cast of WWE Divas seems to have a high turnover rate. For many of them, WWE is their first exposure to mainstream media, and it opens doors for them to move on.
Whether it's dating George Clooney, making adult films with Sean Waltman, or simply focusing on eventually taking over the family business, many of our favorite divas have moved on from WWE television to pursue other interests.
I've put together a list of the top 12 Divas I personally miss the most, the ones I really enjoyed seeing on WWE programming. It's not a list of the 12 most beautiful or the 12 best in-ring performers.
It's the top 12 Divas that I think made a significant contribution to the product, whether as a competitor, valet, love interest or any combination of those things.
Everyone's list would be different, and I'm sure a lot of people will disagree with some of my choices. But that's the true beauty of a site like B/R—we can agree to disagree, while still getting to replay memories of some of the most beautiful (and talented!) women in the world.
Begin Slideshow

»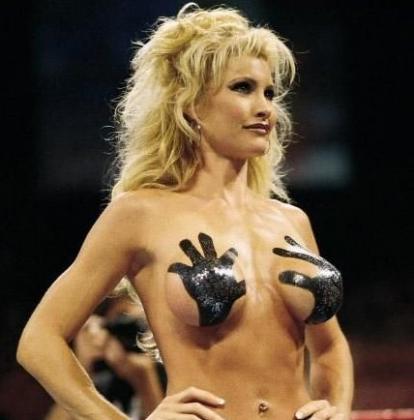 Not sure how this qualifies as a "bikini," but she did win the contest. (Image courtesy of LethalWOW.com)
While some B/R readers may disagree with whom I put in my top 12, others may be upset from the start when they see some of the former divas that weren't on my list. To that end, I have put together a list of "Honorable Mentions" that didn't make my top 12.
Candace Michelle
Arguably one of the most absolutely flawless physical specimens to be under contract with WWE. She didn't make my top 12, but she couldn't exactly be ignored.
Sable
The lady who first introduced wrestling fans to body paint. She was the diva at the beginning of the Attitude Era.
Jacqueline
While a good in-ring competitor, she will likely be remembered more for her pay-per-view "wardrobe malfunction" as she danced too aggressively in her skimpy red bikini.
Stacy Keibler
Easily the longest legs of any diva in WWE history.
Maryse
(See comments about Candace Michelle above.)
Michelle McCool
(See comments about Maryse above.)
Dawn Marie
Dawn had a look about her that said, "you could probably meet someone like her in person, but hit on her and you'll likely suffer for doing so." But in all honesty, who wouldn't want to be slapped by Dawn Marie?
Miss Kitty
As far as I know, the only diva allowed to intentionally show herself completely topless on a WWE pay-per-view.
Sharmell
Her obnoxious "All hail King Booker!" might have sounded as bad as Vickie's "Excuse me!" but it's a lot easier on the eyes if you look like Queen Sharmell.
Alright, enough with those who didn't make the list. Let's go on to my top 12.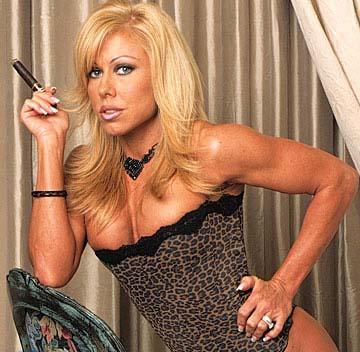 Close but not cigar. Oh wait, yes, there is a cigar. (Image courtesy of listal.com)
Pure sex appeal. There's something about Terri "Marlena" Runnels that stands out more than most other valets.
I do enjoy the occasional cigar. Maybe that has something to do with it.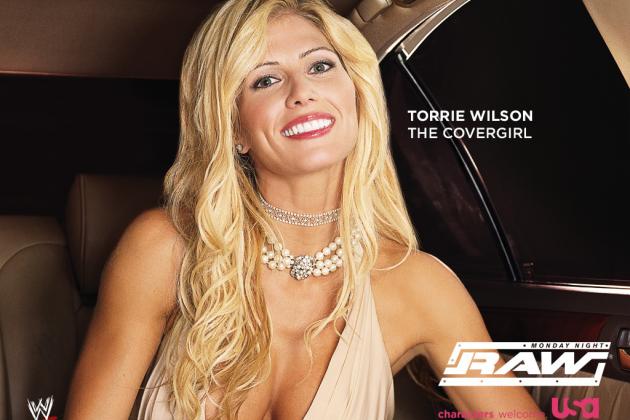 While still apart of Raw on USA, Torrie was part of the network's "Characters Welcome" marketing campaign. Welcome, indeed. (Image courtesy of FanPop.com)
Torrie Wilson, more significant as a valet than a wrestler, took Sable's place as WWE's favorite Playboy bunny.
She was good as eye-candy, she drew attention to the wrestlers she managed, and she made a legitimate effort to be a good wrestler.
You don't need to ask for much more from someone as gorgeous as Torrie Wilson.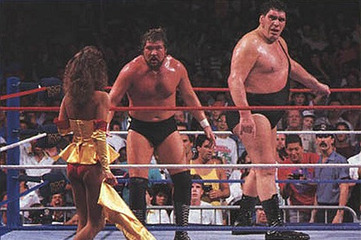 Way ahead of her time, Miss Elizabeth at the first SummerSlam. (Image courtesy of CageSideSeats.com)
Ted Dibiase's face said it all at the inaugural SummerSlam, when Miss Elizabeth stripped off part of her miniskirt.
For the original era of Hulkamania, this was a pretty scandalous move! Even at the age of six, I knew I was witnessing something special.
Elizabeth is the archetype for ringside valet/love interest. Much like John Cena, in her tenure with WWE she never went heel. May she rest in peace.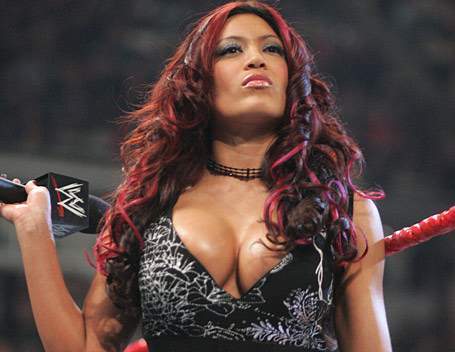 No words needed. (Image courtesy of OnlineWorldOfWrestling.com)
Melina may go down as the WWE Divas Champion with the sexiest ring entrance.
She was everything you could want from a heel valet/manager, and she was very tolerable in the ring.
I hope it was worth it, John Morrison.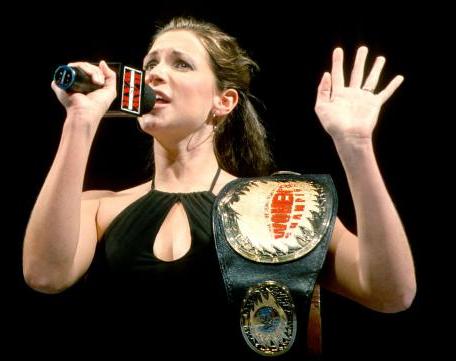 Daddy's Little Girl as the WWF Women's Champion. (Image courtesy of WWE.com)
One thing I always admired about the McMahons was the fact that they were willing to get way more involved than they had to. Stephanie McMahon was no exception.
From on-camera relationships with Test, Triple H and Kurt Angle, to being willing to take the verbal abuse of Attitude-Era Y2J, to taking a physical beating from her own father, Stephanie McMahon delivers the goods.
I know she's focusing on things backstage now, but how long before we see Mrs. Helmsley on television again?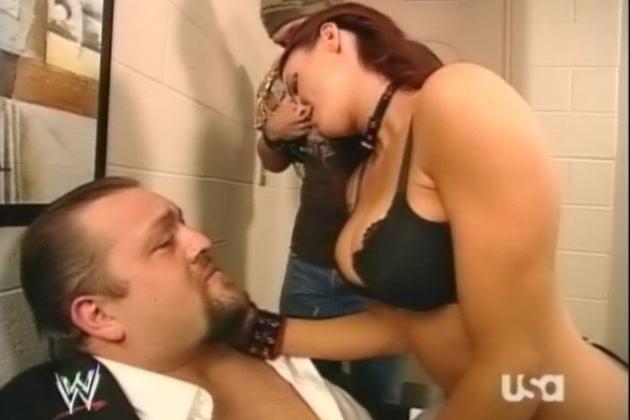 His recent breakdown on Raw was not the first time The Big Show begged on WWE television. (Image courtesy of BlingCheese.com)
Lita was one of the few divas I genuinely looked forward to seeing in the ring, and her life-imitates-art-imitates-life drama with Matt Hardy and Edge ultimately helped Edge's evolution into the Rated-R Superstar.
Currently trying to make it as a rock star, you gotta believe the door remains open for Lita, if she ever wishes to return. She'd be interesting to see in the ring with Beth Phoenix or Kharma.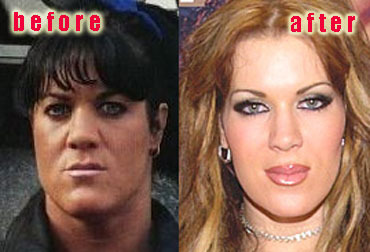 This image from GoodPlasticSurgery.com shows the transition Chyna has made over the years.
With Chyna, anything is possible.
As the WWF Women's Champion, she was more dominant than Beth Phoenix was as Divas Champion.
She was the first-ever female entrant into the Royal Rumble, and she is the only female to ever hold the Intercontinental Championship.
When she was on the cover of Playboy, it set a new record for most copies sold. Everyone pretends he isn't attracted to her, but apparently a lot of people are.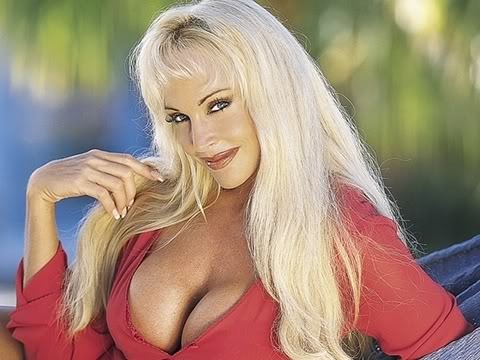 What were you thinking, Stone Cold? (Image retrieved from ThisIsAWrestlingFed.Probards.com)
With incomparable thighs and cleavage that refused to be ignored, Debra's vibe was as sensual as they come.
Her wrestling debut in Atlanta-based WCW and her stints in Vince's company with Tennessee's Jeff Jarrett and then the Texas Rattlesnake helped her maintain an aura of southern belle.
For my money, no one in WWE's history has ever made a skirt look so good, so many different times.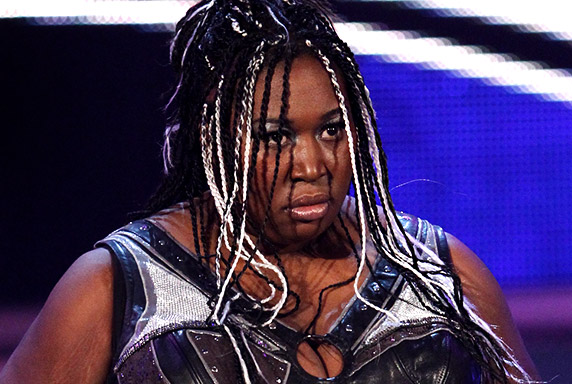 The anticipation of Kharma's return is killing me! (Image courtesy of StuntGranny.com)
All the smarks and all the podcasts and all the rumor boards keep saying that Kharma will be back soon. Every time something seems out of whack in the Divas division, people say it's a set up for Kharma's return.
Enough already! Just bring her back!
The WWE is currently on this kick about making things "legitimate." There is no female competitor more "legit" than Kharma.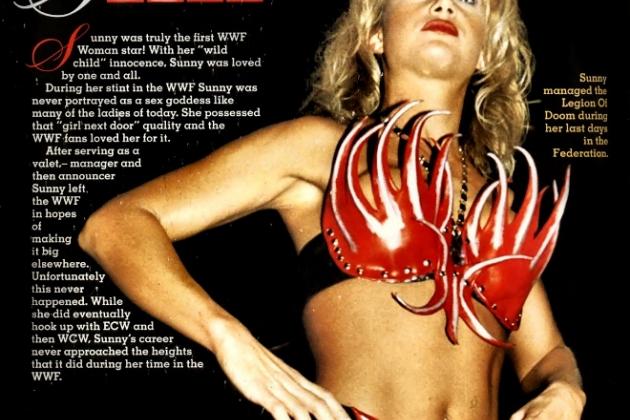 Bring the sexy back to the Legion of Doom (image courtesy of TammySytch.net)
Whenever the WWE's tag team division has been strong, there have been managers and valets that played a big role.
The late 80's and early 90's had Bobby Heenan, Mr. Fuji and "The Doctor of Style" Slick. The 2000's had Lita and Trish Stratus.
The late mid- to late-90's had Sunny. Tammy Lynn Sytch managed such teams as The Bodydonnas, The Smoking Gunns and Legion of Doom 2000.
On top of that, she frequently hosted television shows, competed in the ring and was entertaining on commentary. Having been inducted into the WWE Hall of Fame, she really was a diverse asset to the WWE product.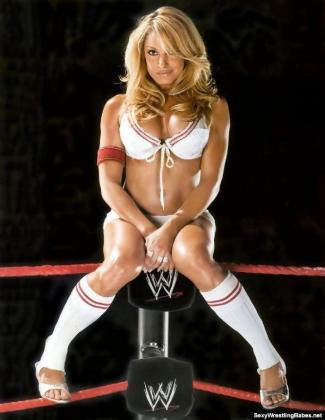 Possibly the most popular WWE diva of all time. (image courtesy of SexyWrestlingBabes.net)
I don't have to justify this one, do I?
Very good arguments could be made about Trish being the sexiest WWE Diva of all time and the most popular WWE Diva of all time.
She was a legitimate athlete before entering the WWE, and she honed her in-ring skills to make her one of the best of all time.
Although she routinely changed her style to remain fresh, I was always a fan of the cowboy hat and long coat.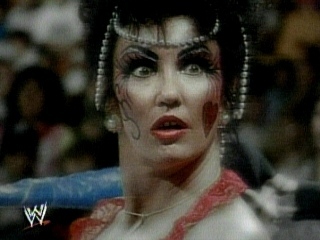 The most under-rated woman in professional wrestling's history. (Image courtesy of Annoyatorium.com)
I know I'm going to get a lot of flack for this, but I stand by my choice.
Sherri Martel set new standards for females in the professional wrestling industry.
In the era of The Fabulous Moolah, Sherri defeated the woman at the top for the WWF Women's Championship.
In the era of Miss Elizabeth, Sherri's personality showed us that female valets could do more than stand around.
When she managed the likes of Randy Savage, Ted Dibiase and Shawn Michaels, when you weren't supposed to admit that you were attracted to her, she showed us that being a bad girl can be sexy.
Paving the way for everyone from Lay-Cool to Eve Torres to Vickie Guerrero, whether you think of her as "Sensational" or "Scary" or "Queen," I miss Sherri Martel's presence in the professional wrestling industry more than any other female.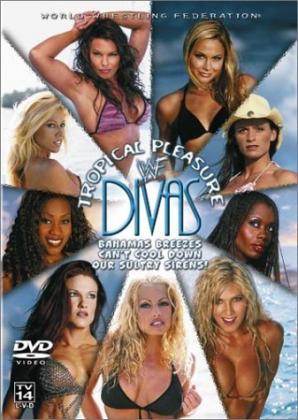 These were the WWF Divas ten years ago (image courtesy of pwwew.net)
This is Bleacher Report, and we encourage you to express your opinions. I'm sure you don't agree with all of mine.
Whom did I leave off that you think should have been included?
Whom did I rank too high? Whom did I rank too low?
Who are your Top 12 Divas that you miss from WWE's programming?