Philadelphia Eagles: 10 Players Whose Stock Is on the Rise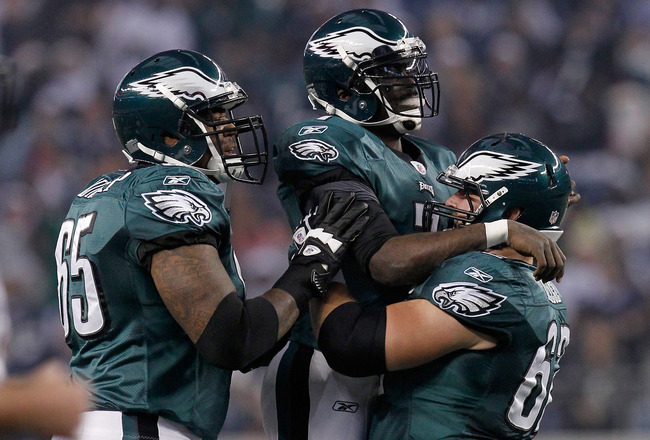 Tom Pennington/Getty Images
What if every NFL player had stock you could buy? Who would be the trade at the highest price? It's an interesting idea. The whole mentality with trading stocks is to buy low and sell high.
So which Philadelphia Eagle would be the best stock to buy?
Several Eagles players are on the verge of breaking out in a big way. Other players had a rough 2011 season and should bounce back this season. Overall, the Eagles are a pretty young team. There are very few players on the roster that are past their prime and have nowhere to go but down.
The Eagles have learned from a lot of the mistakes that they made in a very brief offseason last summer. This team is more has much better chemistry with a better idea of how the defense should be run. The defense will utilize press coverage this season, which should lead to Pro Bowl-type seasons from both cornerbacks Nnamdi Asomugha and Dominique Rodgers-Cromartie.
If NFL players did have stock that fans could buy and sell, which Eagles players would make the best investment right now? Here is a list of 10 Eagles whose stocks are on the rise heading into this season.
1. Jeremy Maclin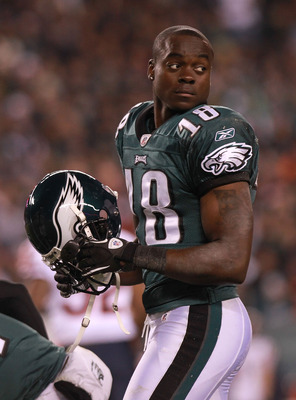 Nick Laham/Getty Images
Jeremy Maclin is on the verge of becoming one of the 10 best wide receivers in all of football. Last season, in a rough Eagles regular season, Maclin was on pace for 88 receptions, 1,212 receiving yards and eight touchdowns after the first eight games. One thousand two hundred and twelve receiving yards would have ranked eighth in the NFL last season among wide receivers. Shoulder and hamstring injuries cost him three games in the second half of the season and killed the momentum he had in the first half.
Last season, Maclin was battling a mysterious illness that many feared could be lymphoma. He was severely fatigued and didn't have much of an appetite. He lost a lot of weight and had a real uphill battle to get ready for the start of the regular season.
Maclin had just one catch in the season opener against the St. Louis Rams. The fact that he had nearly 600 yards over the next seven games speaks volumes of his ability and his work ethic. This season should start off a lot better. He is up seven pounds to 205 already and is 100 percent healthy.
Maclin has become the Eagles go to receiver. Some already see him as the Eagles' true No. 1 receiver. DeSean Jackson is the most explosive receiver in the league, but he isn't as complete of a receiver as Maclin is.
By the end of the 2012 season, everyone will see Maclin as the Eagles' No. 1 receiver. It wouldn't be shocking to see Maclin finish the year off with over 1,400 yards on 90 receptions and 10 touchdowns. Not bad for a guy who hasn't even sniffed the Pro Bowl yet.
2. Brandon Graham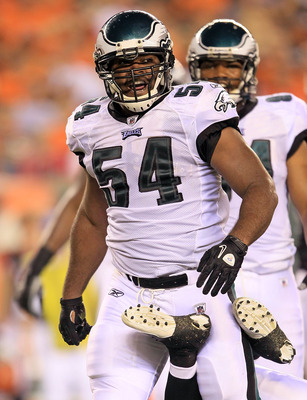 Andy Lyons/Getty Images
Brandon Graham has just two seasons under his belt, but he has already been labeled a first-round bust. The Eagles traded up to the 13th-overall pick in order to select Graham in the 2010 NFL Draft. He tore his ACL late in the 2010 season after recording three sacks in six starts and 13 games.
Graham showed up over 280 pounds at training camp in 2011. He was still rehabbing from his ACL surgery. It's always tough to stay in top shape while rehabbing after major surgery. You can't work out as hard, so sticking to a very strict diet is ideal. Graham learned that the hard way last summer.
In 2012, he finally appears to be fully recovered from his ACL tear back in December of 2010. He is back down to his original playing weight, which is around 265 pounds. With Jason Babin absent from OTAs, Graham has gotten plenty of opportunities to impress coaches.
If he is going to make it in the NFL and prove he isn't a first-round bust, he is going to do it this season. He is in a defensive scheme that fits his natural pass-rushing abilities and is surrounded by talent everywhere. Staying healthy for a full season would be a start.
3. Dominique Rodgers-Cromartie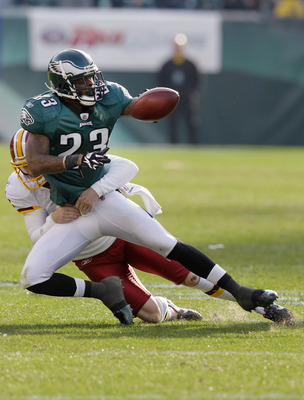 Rob Carr/Getty Images
Dominique Rodgers-Cromartie had the worst year of his career in 2011 with the Eagles. He was forced to play in the slot with Nnamdi Asomugha and Asante Samuel both playing on the outside. Rodgers-Cromartie is best suited for the outside. He will be back where he belongs as an outside cornerback in 2012.
The Eagles are expected to play press coverage this season. That bodes well for Rodgers-Cromartie. His length and speed give him a real advantage in press coverage. At 6'2", he has the length and reach to be a really good press corner even though he is listed under 185 pounds. He also has elite speed, which allows him to make up ground against even the fastest receivers in the league.
Rodgers-Cromartie playing primarily in a zone coverage as a nickel back versus Rodgers-Cromartie playing press-man coverage on the outside is night and day. He is a Pro Bowl corner caliber player in the press-man coverage. That's where his skill set is best suited for.
The Eagles defense will start to take the shape we all thought they would this season. The strength of this defense was supposed to be the play of the cornerbacks. Asante Samuel got in the way of that. Not because he isn't a good corner, but because his skill set is completely different from the skill set of Nnamdi Asomugha and Dominique Rodgers-Cromartie.
In 2012 the Eagles will play press coverage. Dominique Rodgers-Cromartie has the potential to be a star in this defense.
4. DeMeco Ryans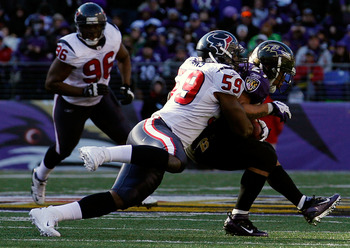 Rob Carr/Getty Images
The first four seasons for newly-acquired Eagles linebacker DeMeco Ryans were nothing but elite. He was surrounded with very little talent, but still put up very impressive numbers. From 2006 through 2009, he had at least 100 total tackles and at least 85 solo tackles in every single season.
In 2010, Ryans tore his Achilles tendon midway through the regular season. Achilles tears usually takes a full season after the surgery to be fully recovered. We started to see that late in the 2011 season with Ryans.
Heading into camp this summer, Ryans is back to his pre-2010 form. He is 100 percent healthy and is back in the 4-3 defense. He is the undisputed leader of this defense. He is in for a big season in 2012.
5. Demetress Bell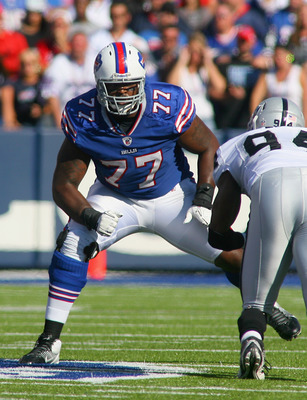 Rick Stewart/Getty Images
Jason Peters ruptured his Achilles tendon early in the offseason. It was a major blow to the Eagles. He is the best offensive lineman in the NFL. He is freakishly athletic for his size and plays with a real mean streak. He will be a major loss this season, but when one man goes down, you plug in the next guy.
That's where Demetress Bell comes in. He is the proFjected starting left tackle for the Eagles this season. He takes over for Jason Peters. Bell has played the past four seasons for the Buffalo Bills where he has made it through more than half the season only once in his career.
Bell struggled at times while in Buffalo with his health and consistency, and also with his technique. It's not surprising to me that Bell struggled in Buffalo. Their blocking scheme better utilizes bigger and more physical linemen. Their tackles wait for the edge-rushers to come to them and initiate contact.
2012 will be different for Bell. I can't guarantee that he will make it through a full season but I do expect his skill set to be better utilized in Howard Mudd's blocking scheme. At 6'5", 310 pounds, Bell is still a strong tackle, but he can't rely on just his strength.
Bell is an outstanding athlete for a 310-pound left tackle. He is an ideal fit for Mudd's blocking scheme. Mudd will better use his athleticism to initiate contract with the edge-rusher and get upfield on screens and draws.
I fully expect Bell to have a good year. He won't make Eagles fans forget about Jason Peters, but he won't be the weak link on the offense either.
6. Nate Allen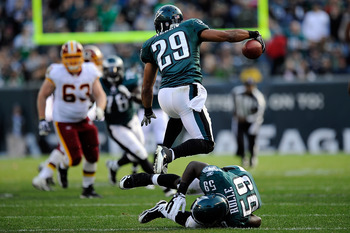 Patrick McDermott/Getty Images
Nate Allen had a great start to his rookie season before he tore his patellar tendon late in his rookie season in 2010. He started his rookie season off by recording an interception in each of his first two games.
His start to 2011 was a different story. He wasn't fully recovered from his knee surgery and didn't have his speed back quite yet. Allen didn't get his starting job back until Week 4. He really didn't get all his athleticism back until Week 14, when the Eagles began their four-game winning streak to end the season.
Allen isn't coming off knee surgery this season and has a full offseason to get better. He has added bulk as well. He is a good cover safety and a sure tackler. He looked like a future Pro Bowl safety early on in his rookie season. His knee injury didn't derail his career; it just slowed down the momentum he had from the first three months of the 2010 season. He got that momentum back in the last month of the 2011 season. It should carry over into the 2012 regular season, barring any setbacks.
Allen won't have to be great to have a really good 2012 season. The corners are solid and will be playing press-man coverage. He just needs to be the last line of defense. He needs to be able to consistently make open-field tackles and make plays when he has the opportunity. As long as he is healthy, he should be able to do just that and more this season.
7. Bryce Brown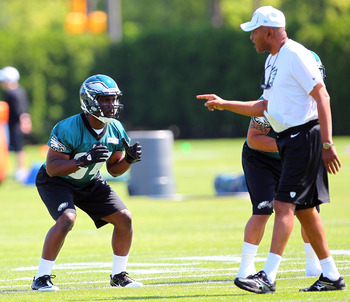 Rich Schultz/Getty Images
Bryce Brown is one of the more intriguing seventh-round draft picks I can ever remember. If he makes the Eagles' final 53-man roster, his stock will much higher than it was going into the draft. He was a former big-time high school recruit who showed little commitment to both Tennessee and Kansas State in college. He lasted just one season at Tennessee and had just three carries at Kansas State.
Despite being a seventh-round draft pick, he is a first-round talent. He is a big back at 220 pounds who runs like a true speed back. He ran a 4.37 40 at his pro day. He has that rare Adrian Peterson type of NFL potential. He's big, fast and has really quick feet.
The coaching staff is going to spend a lot of time with Brown during the summer. They want to see where his commitment level is at with the Eagles, and they want to see what kind of an impact he can have this season.
Brown is exactly what the Eagles need in a No. 2 back. He has the capability of being a really good inside runner for the Eagles who could still take it the distance on any given play because of his speed. He also catches the ball well and can be an adequate pass-blocker.
Running backs that can do all three prevent the offense from being predictable. When an offense sends out a power back who doesn't catch the ball very well and can't hold up in pass protection, it is basically telling the defense they will be running the ball. An offense that sends out a versatile running backs gives nothing away.
Brown can potentially be that back that does everything well and be a really good inside runner. If he does just that, the offense will almost unstoppable with all the weapons they have.
8. Brandon Boykin
Rich Schultz/Getty Images
Joselio Hanson has been a solid slot corner for the Eagles since 2006. He is now entering the final year of his current deal and will be 31 this season. He isn't getting any faster and will be replaceable this season.
That's where fourth-round draft pick Brandon Boykin comes in. He is similar in size to Hanson at about 5'10", 185, but he is much faster, quicker and possess much better ball skills. He can also be a big hitter which is vital to a defense that missed far too many tackles in 2011.
Boykin should win the slot corner job. It's an important position for the Eagles in 2012. Keep in mind their slot corner will have to cover a slew of talented slot receivers like Victor Cruz, twice, and Marques Colston.
I love Boykin's ability as a slot corner. He can press receivers right at the line as a slot corner. He played primarily in the slot this past season at Georgia. A lot of rookie corners who start out as slot corners in the NFL have to adjust to the position and to the NFL at the same time. Most college corners that get drafted were starting outside corners in college. Boykin won't have to worry about adjusting to the position. It's not a knock on Boykin that he wasn't an outside corner at Georgia. It says more about his ability as a slot corner.
It would be a major upset to see Boykin not win the slot corner spot. He has the experience at the position in college, and his skill set is perfect to a tee for a slot corner. It says a lot for a player when he can be an upgrade at the position right away as a rookie.
9. Michael Vick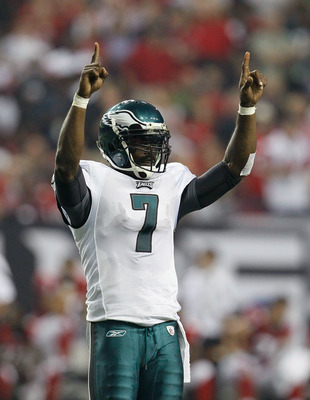 Kevin C. Cox/Getty Images
Michael Vick is a flat-out superstar in this league. There is no doubt about it. So why would his stock be on the rise? Because he's not an elite quarterback; that's why. There is a difference from being a player that generates TV ratings and and sells jerseys to being a player that can carry a team on his back and consistently win big games.
At this point in his career, Vick has been inconsistent. Turnovers and injuries have slowed down the momentum that he creates during the course of a game and a season. He makes plays that no one else can make, but he makes mistakes that no one else would.
2012 is a turning point in his career. This is the first summer that Vick has had to work with the coaches and his offense since he became the full-time starting quarterback. Going into the 2010 season, he had a full offseason to work with the offense. He lead the Eagles to a NFC East division title and nearly knocked out the eventual Super Bowl champions, the Green Bay Packers, out of the playoffs.
Maybe a full offseason with the team is the key to Vick having a good season. There were so many variables that went into Vick having a down year in 2011. There was the DeSean Jackson contract situation, Jeremy Maclin's injuries late in the season, a makeover on the offensive line and three different injuries that kept Vick out of games.
A full offseason of work, more stability with his receivers and more of an effort to protect his body should lead to a big year for Vick. We already know he is a playmaker, but what we don't know is if he can be a Super Bowl winning quarterback.
10. Stanley Havili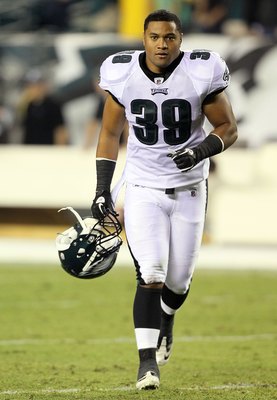 Jim McIsaac/Getty Images
We don't really have much to go on regarding Stanley Havili's potential in the NFL. He is the only fullback on the Eagles roster and is the No. 1 fullback going into training camp.
In college, he had 1,799 career yards from scrimmage and 15 total touchdowns. He didn't touch the ball much last year in preseason, recording just 12 rushing yards on four carries and 20 receiving yards on one catch and spent the entire regular season on the practice squad.
We know Havili can be a very versatile weapon as a fullback, but we don't know if he can be a decent lead blocker in the NFL. Training camp will be huge for Havili. If he really struggles early in camp, the Eagles could be inviting a veteran to compete with Havili.
Fullback is probably the 11th-most important position on offense. The Eagles will run a lot of their running plays out of two tight and single back sets. Still, a fullback who can be a reliable lead blocker and make plays out of the backfield would be a boast to this offense.
The first series we see in preseason with the Eagles offense inside the 20 will be a good indication of what kind of player Havili will be this season. If he can't make his blocks, it will really change how the Eagles run their short-yardage offense this season.
He has the athleticism and the strength to be a really good fullback in the Eagles' West Coast offense.
Keep Reading

Philadelphia Eagles: Like this team?