NBA Playoffs 2012: San Antonio's Bench Will Push Spurs to NBA Finals
May 27, 2012
Harry How/Getty Images
San Antonio and Oklahoma City are about even across the board aside from one area. It's a crucial area, too.
Bench play.
Depth will be the overall factor why San Antonio will win this series in seven games.
Russell Westbrook, Kevin Durant and James Harden. Tim Duncan, Tony Parker and Manu Ginobili.
Each team's Big Three provides maximum production from a variety of angles. Parker, Duncan, Westbrook and Durant get it done in the starting lineup, and Ginobili and Harden are the fire-starters off the bench.
However, Ginobili isn't the only guy off the bench capable of playing big-time minutes for San Antonio, they have a host of others who are ready to shine when they receive playing time.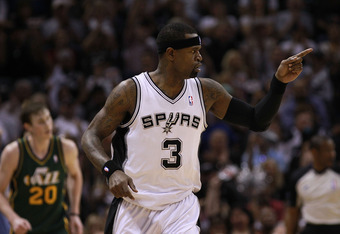 Ronald Martinez/Getty Images
Oklahoma City doesn't have that option.
Do you know who started more games than any Spurs player this season? DeJuan Blair with 62.
Blair can barely get onto the court this postseason. He's averaging 8.2 minutes per game. He's went from an everyday starter, to a guy who sits at the end of the bench.
Remarkable.
Matt Bonner, Tiago Splitter, Stephen Jackson, Gary Neal, Daniel Green and, of course, Ginobili could make up a starting five that could win more games than a number of NBA teams this season.
San Antonio's bench has speed, outside shooting, slashing, defense, rebounding and they have bought into the system.
It is one of the best benches in recent NBA history.
Oklahoma City has the talent to defeat San Antonio, but I just can't see it happening due to the Spurs bench.
Prediction
Home teams in Game 7 are lights-out in the NBA playoffs. San Antonio will ride a great performance from its bench in a hostile environment to advance to the NBA Finals.