Tottenham Transfers: Clues in the Jan Vertonghen Talks
May 26, 2012

Dean Mouhtaropoulos/Getty Images
Tottenham Hotspur's transfer dance with Ajax center back Jan Vertonghen could tell fans a lot as to how Spurs will go about doing business this offseason. At a mere €15 million, capturing the Eredivisie Player of the Year should be cut and dried for Spurs.
But reports from places such as ESPN Soccernet would suggest that Tottenham are not willing to meet even that price tag to make the transfer of Vertonghen happen. While this happens in many transfer stories, should a deal not go down, another club in the Premier League will benefit.
Considering that, last season, Roberto Mancini was reported to be watching Vertonghen in person is a strong vote of confidence that others see quality in the Belgium international. Throw in compliments from Sir Alex Ferguson (post Europa League) and the eye-batting coming from somewhere else in North London, and one has to wonder why Tottenham are not sealing the deal already.
The transfer of Vertonghen would certainly send a signal to the rest of the squad that Tottenham have no intent of sitting back this summer. Reinforcements in the right areas might yet convince a couple of would be transfer targets of other clubs to give it one more round before heading for the exit doors.
It would also help get the transfer ball rolling for Tottenham. There's a lot of dead weight in the squad (certainly in the central defensive areas) as the decaying body of William Gallas, the dead body of Ryan Nelson and the held-together-by-silly-putty body of Ledley King aren't going to play a full fixture list.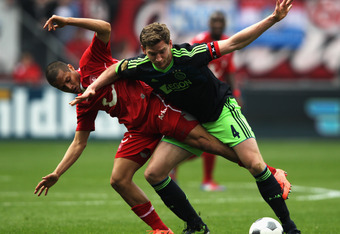 Dean Mouhtaropoulos/Getty Images
Getting rid of Gallas, Nelson and probably fully offloading Sebastien Bassong leaves Tottenham with King, Michael Dawson and Younes Kaboul, along with the returning Steven Caulker and Kyle Naughton. Adding Vertonghen would solidify the central defense with four or five relatively young and healthy bodies.
What worries me is that Spurs have the chance to lock down a central defender who wants to come to Tottenham, yet the club is somehow thrown off by the price tag.
While there are certainly other holes to fill, Tottenham would be foolish to think that other teams won't capitalize on their unwillingness to pay such fees. Non-selling clubs can simply up the price to thwart transfers while cash-rich clubs can simply tack on a few extra pounds to drown Spurs out.
It also sends the signal to the rest of the squad that Tottenham might not be the place for them to stay if they want to move up in the footballing world. A lack of firepower might make Spurs sellers before they realize what is going on around them.
Tottenham would be wise to make the transfer of Vertonghen in the very near future a done deal. Giving the rest of the squad hope for next year, while solidifying a potential weak spot with fresh legs, is a recipe for success at any level, and one the club certainly could use right now.