WWE: 5 Reasons Why Eve Torres Would Make a Better GM Than John Laurinaitis
Eve could very well be heading for bigger things.
Eve Torres is currently WWE Executive John Laurinaitis' Executive Administrator. While this is an excellent fit for her storyline, you have to wonder why she isn't the full-on general manager herself. Fans seem to be tired of the whole Johnny Ace development, and some fresh blood would be great to help boost fan interest.
Laurinaitis has no business on television and hasn't come off as anything but stale, but the best part of his storyline has been the concurrent narrative that has Eve Torres taking out Zach Ryder, playing head games with multiple superstars to even get herself a WrestleMania match and ending up as the main Executive Admin for Johnny Ace.
Eve has been a breath of fresh air in the main event scene and has even looked like she should have been leading the WWE's brand for a while. So, let's explore why Eve would make a better WWE GM than Johnny Ace and Vickie Guerrero.
Reason No. 1: She's Much Easier to Look at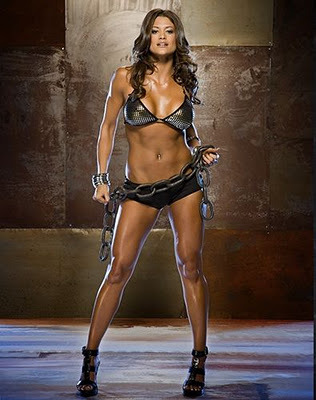 Need I explain this point more?
Look at the picture. OK, you can stop looking now.
Anyway, yes. She is easily the best-looking woman to ever have any sort of power on WWE television. This includes Trish Stratus and Stephanie McMahon, who were either general managers/owners of the company or women who had the GM/owner wrapped around their finger.
Compared to Vickie Guerrero and Johnny Ace
Eve is a former Miami Heat dancer and has the looks of a model with the attitude of, well, a model. But comparing her with Johnny Ace and Vickie Guerrero is like having the Great Khali wrestle Hornswoggle. This is a no-contest for Eve to win.
Reason No. 2: Her Voice Is Much Smoother

Eve is sexy even firing people.

While Eve may not have the deeper sultry tones in her voice, she at least doesn't have the weak laryngitis of Laurinaitis. Eve's tone is smooth and concise, and her words and direct style make her a pleasure to listen to even when she is cutting promos.
Compared to Vickie Guerrero and Johnny Ace
EXCUSE ME!!! Or, Peo-ple! Po-wer! Either way, Eve doesn't need some stupid catch phrase to get on the nerves of fans. Her voice is simple, but sexy and effective, something that fans would much rather hear than the cheese graters that are Vickie Guerrero and Johnny Ace.
Reason No. 3: She Has Been Making Very Fair Matches

Eve makes a great call having the triple threat match.

The People Power Battle Royal. The triple threat match on SmackDown to decide the No. 1 contender for the World Heavyweight title. What do those two matches have in common?
Eve made them up as a way to try to impress Johnny Ace. Instead, Eve has been impressing the fans by being extremely impartial. If you watch the clip above, you can easily tell that she has the power to just give Alberto Del Rio the match, but wisely she decides to let the three men fight it out for the opportunity to win the title.
By doing this, she is coming off as a heel who will do what is best for the company as opposed to what is best for her own personal interests. This is what would make her a good GM for both Raw and SmackDown: She has a tendency to show up and create more wrestling matches, which fans always want to see.
Compared to Vickie Guerrero and Johnny Ace
No one wants a general manager who is so self-serving that he or she can't understand that there are other competitors out there. Unfortunately, that's how Vickie and Johnny are.
With Eve, at least the WWE can have the ability to put off the storylines as somewhat legitimate feuds. Her booking style is looking a lot like how Teddy Long used to book matches, even as a heel GM.
Reason No. 4: She's an Epic Heel and Doesn't Have to Try Hard

Eve is that girl every guy wanted but couldn't have.

She's an epic heel because she will remind people of that girl in high school or college. The one that everyone had a crush on and who would just toy with the guys. She would do whatever it took to get her way and would always be the head cheerleader or sorority president; in other words, the queen bee.
Compared to Vickie Guerrero and Johnny Ace
People hate Vickie and Johnny but it's just because they are annoying and demeaning sycophants. Eve has just the natural jealousy from every guy who has ever been around the kind of girl who was hot and knew she was and used her looks to her advantage.
Reason No. 5: Storyline Opportunities Are Endless

Eve obviously has Johnny Ace wrapped around her finger here.

They used to say that behind every great man is a great woman. However, with Eve Torres, she will bury a semi-decent man to get her way. There are so many different storylines they could use to get her not just into the spot to succeed Johnny Ace as GM, but also to keep her there and feud with the talent.
Compared to Vickie Guerrero and Johnny Ace
Vickie Guerrero's storylines include some awkward romances and some god-awful things that even Eddie would have never wanted to see her do. Meanwhile, Laurinaitis has been involved in some of the most boring, repetitive storylines against his own wrestlers. Eve just brings such a refresh to the storyline and could even enlist Otunga's help to get over Johnny's head.
Keep Reading