NBA Lottery 2012: 7 Prospects with the Biggest Red Flags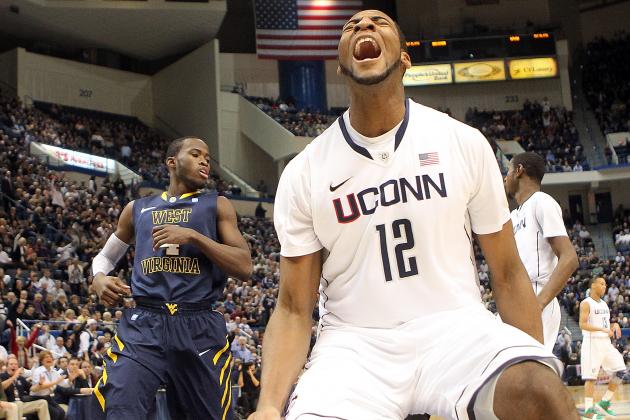 Jim Rogash/Getty Images

The 2012 Draft Class is generally viewed as one of the best in recent years. It is loaded with raw talent, but fans must remember how raw that talent is.
Few of the best players in this class are ready to contribute, and others have issues that will scare teams. Here are the seven prospects major red flags.
Begin Slideshow

»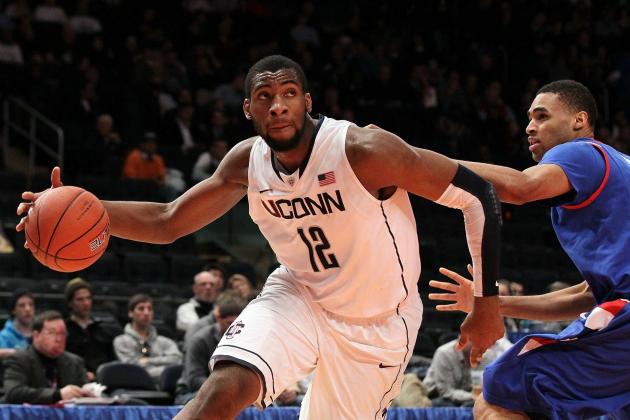 Jim McIsaac/Getty Images

Andre Drummond was commonly seen as the best center in this year's freshman class by far. In fact, many said he was the most complete center to play college basketball since Greg Oden in 2007.
If that's the case, why didn't he dominate like Oden did?
He wasn't constantly double teamed, he had another future top 10 pick as a teammate (Jeremy Lamb) and played for Connecticut, meaning he had a number of other talented teammates.
Drummond averaged 10.2 points and 7.7 rebounds. Solid numbers, but by no means excellent. It shows that he needs more time in college to develop.
As he stands now, he'll probably be a top 3 pick; that means he's expected to be a franchise player. He simply isn't ready to be.
That lack of production is dangerous, especially for big men. Most players simply don't start producing as a pro. It's also much harder for players to develop in the NBA because coaches don't individually work with them as much. He should stay in school for another year; we need to see what he can really do. For now, his lack of production is a major red flag.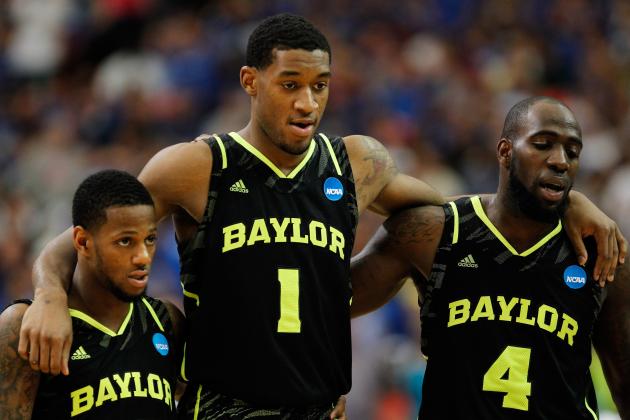 Streeter Lecka/Getty Images

Perry Jones is similar to Drummond in that when he came to college, people called him a future top five pick, but he didn't produce at that level.
He averaged 13.9 points and 7.2 rebounds per game as a freshman, and then his numbers regressed as a sophomore, as he averaged 13.5 points and 7.6 rebounds with his field goal percentage dropping from 54.9 to 50.
Players who don't improve between their freshman and sophomore years are very scary to NBA teams, as it implies that they have reached their ceiling. In Jones' case, that ceiling wasn't very high. If he were putting up 20 points and 10 rebounds it wouldn't be a problem, but he may not get any better than the above average player he is now.
There also really isn't a positive precedent for people with Jones' body type. Skinny wing players who are 6'11'' just don't come around too often. The closest physical comparison would be Anthony Randolph, and that hasn't exactly worked out.
He's not strong enough to play down low, and he's not quick enough to play on the perimeter. How will he be used in the NBA?
That's why I'd stay away from Perry Jones. Some team will take a chance on his talent, but I think they'll regret it.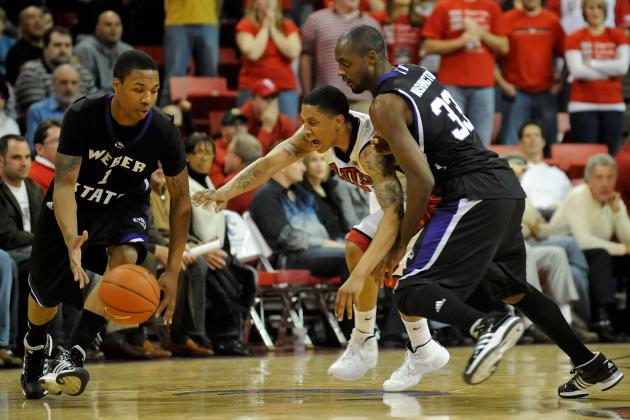 Ethan Miller/Getty Images

As a player, there really isn't too much not to like with Lillard. The problem is that he played for Weber State.
It's very hard to evaluate talent for the NBA with players playing against lesser talent. Every so often there's a Stephen Curry, but that isn't usually the case.
And Lillard didn't dominate nearly on the scale Curry did. Lillard was a great, but not an astounding player playing in one of the worst conferences in Division I.
He doesn't have one skill that sets him apart from Curry. Curry was always going to succeed in the NBA because he's one of the best pure shooters in the world. While Lillard is a very good shooter, he's not on Curry's level, and he isn't as good at creating open jumpers.
It would also be hard to call him a pure point guard, as he is more of a scorer than passer. He'd probably be best utilized as a bench scorer, but someone is going to take him expecting him to eventually become a starter.
The jump from Big Sky Conference to NBA starter is a big one, and it's a risk some team is going to take.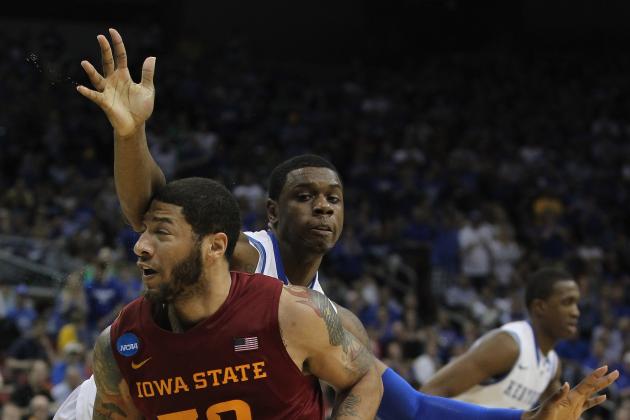 Jonathan Daniel/Getty Images

As a player, I have nothing against Royce White who had a great year for Iowa State. But, he does have a personal issue that causes major concerns.
That's a major issue for an NBA player. NBA teams travel all over the country, and quite often.
The fear is so bad that a panic attack before flying to Lexington actually forced him to change his transfer decision from Kentucky to Iowa State.
I'm really dumbfounded by this. How will a team deal with such an issue? I wouldn't want to be the team that tries to figure it out.
This is a major red flag.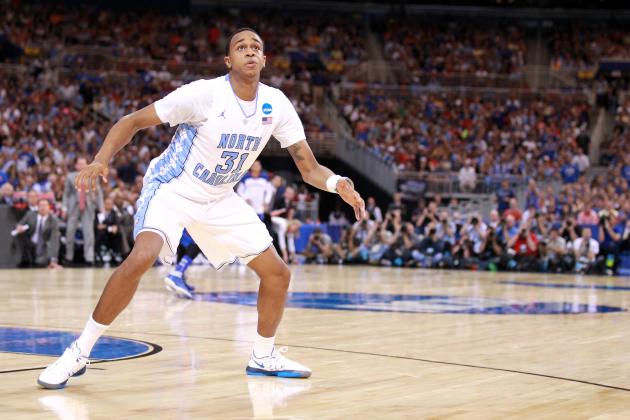 Andy Lyons/Getty Images

Henson hasn't had any major injuries, but he's had several minor ones. At different points in his college career, he has nursed back wrist and knee injuries.
Many teams are going to worry that he can't stay on the court. While that may or may not be true, his size really doesn't help.
He is listed at 220 pounds, but looks a bit skinnier than that. At 6'11'' he'll have to pack on a ton of muscle to catch up to the strength of the guys he'll be playing against in the NBA.
If he doesn't, it will be very hard for him to stay healthy. Going against guys who have 30 or 40 pounds on him every night can't exactly help injuries, meaning he'll have a harder time recovering and may have injuries that bother him during his entire career.
Personally, I would take Henson and just be cautious about it. He has a ton of talent and can fill an immediate role as a shot blocker. I'd just make sure he doesn't do anything to risk aggravating previous injuries.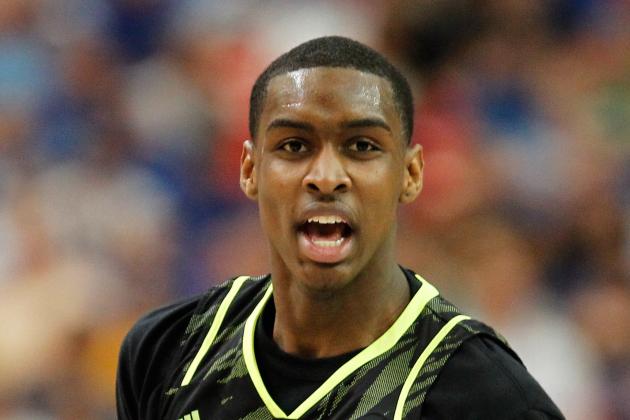 Streeter Lecka/Getty Images

I wasn't too high on Miller to begin with, but the fact that he tore his ACL in high school makes him an even more dangerous prospect.
Knee injuries in the NBA are career threatening; just look at Amar'e Stoudmire before and after his major operations. Think about the career Greg Oden lost because of his knees. Same goes for Brandon Roy.
A torn ACL isn't the type of injury that just goes away. Quincy Miller will never be as explosive as he was before the injury. And it showed at Baylor, where he was solid but not spectacular.
I can't comment on how good Miller could have been; all I will say is that most GMs are terrified of serious knee injuries, and that should really hurt Miller on draft night.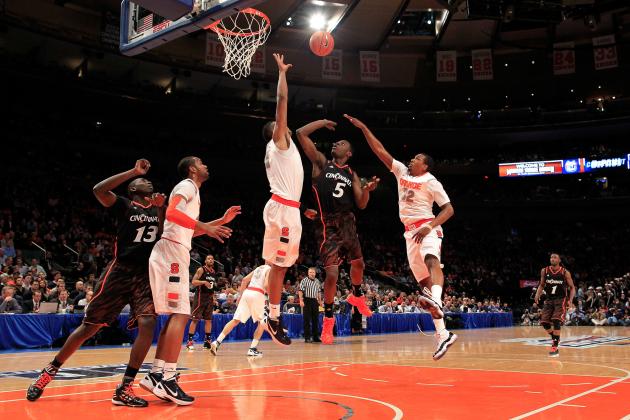 Chris Trotman/Getty Images

Melo doesn't have any major injury issues, has performed at the college level, and as far as I know, has never been arrested.
My concern with Melo is that he was ruled academically ineligible twice this season, including during the NCAA tournament.
Most colleges do whatever they can to make sure their athletes pass their classes so that they can play, and Syracuse isn't Duke or Stanford, their academic standards are reasonable. This begs the question: how stupid is Fab Melo?
Maybe he has other issues that I don't know about, but I think the fact that he couldn't get his act together in order to play in the NCAA tournament shows that he might be one of the least intelligent players in the NBA. Either that, or he simply doesn't have a work ethic. Pick your poison, neither should make a team feel particularly good.
It also seems odd that a team as good as Syracuse would ban their best player for the tournament because of academics. Couldn't they just let it slide? I'm sure plenty of schools would have. Part of me thinks there was something bigger going on here, some sort of major violation that we haven't heard about yet.
Either way, Fab Melo's intangibles don't exactly scream "draft me"; I'd look to avoid Melo unless he is clearly the best player available.