USA vs. Scotland: Live Score, Analysis, Recap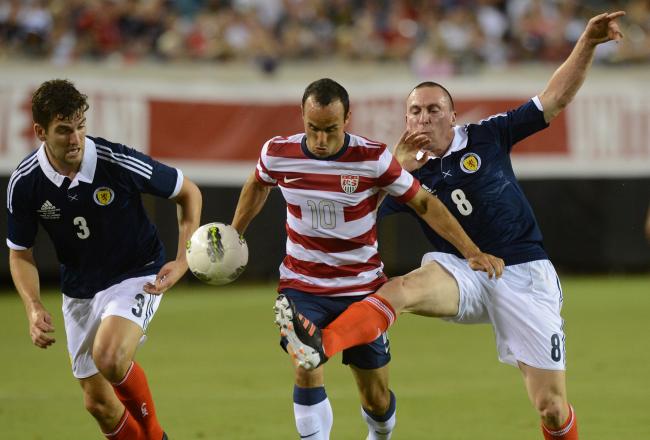 International friendly: United States vs. Scotland
Final score: USA 5, Scotland 1
Goals
USA: Landon Donovan (3', 60', 65'); Michael Bradley (11'); Jermaine Jones (70')
Scotland: Geoff Cameron (own goal, 15')
NOTE: If you're having trouble seeing embedded Tweets, reload your browser.
Tweet, Tweet
Post-game reaction:
FT USA 5:1 Scotland. Breathtaking friendly performance for Klinsmann's team. If Yanks can keep it up against tougher foes, good days await.

— Grant Wahl (@GrantWahl) May 27, 2012
USA 5 Scotland 1. Only one thing left to do. Blame England.

— Alan Black (@footyheader) May 27, 2012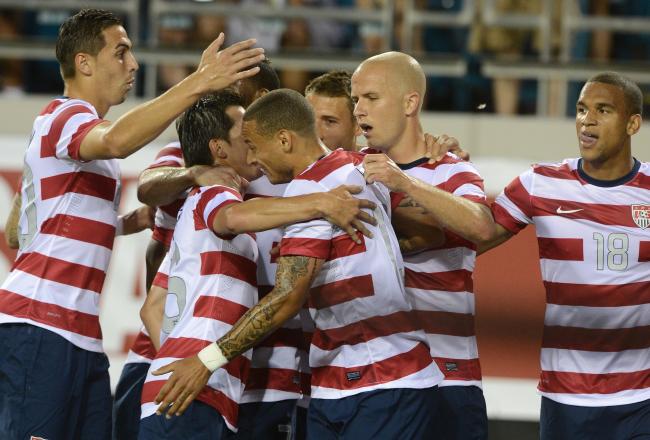 Full time: 5-1
That's it! A great performance for the US!
Landon Donovan scores a stunning hat-trick, Michael Bradley scores an even more stunning golazo, and the whole team impresses.
Great start to an important five-game stretch for the US.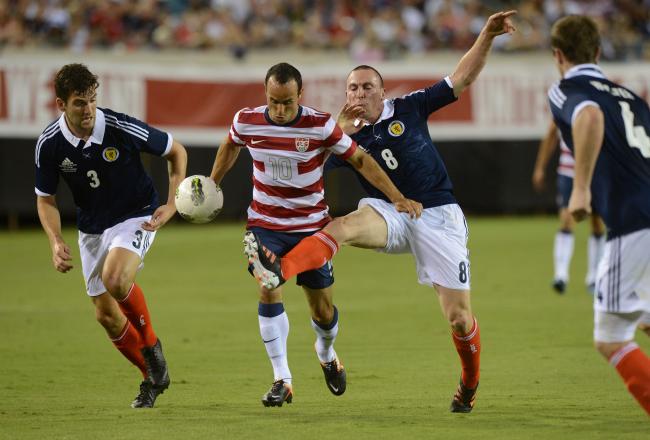 90th minute: 5-1
Heading into stoppage time. This has been a great performance for the US.
Tweet, Tweet
Yep yep:
Landon Donovan was so pissed at the National Anthem, he had to go and score a hat trick to redeem America.

— Alfie Crow (@AlfieBCC) May 27, 2012
86th minute: 5-1
Both teams are just playing out the final minutes.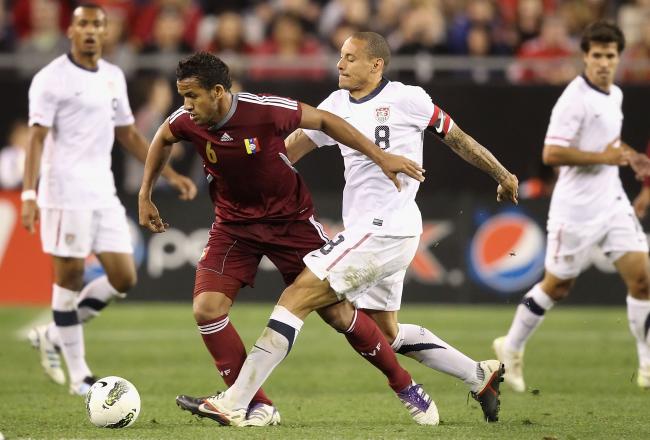 85th minute: 5-1
US midfielder Jermaine Jones limps off. Hope it's nothing too serious.
82nd minute: SUBS
Scotland makes a couple more substitutions. But who cares at this point?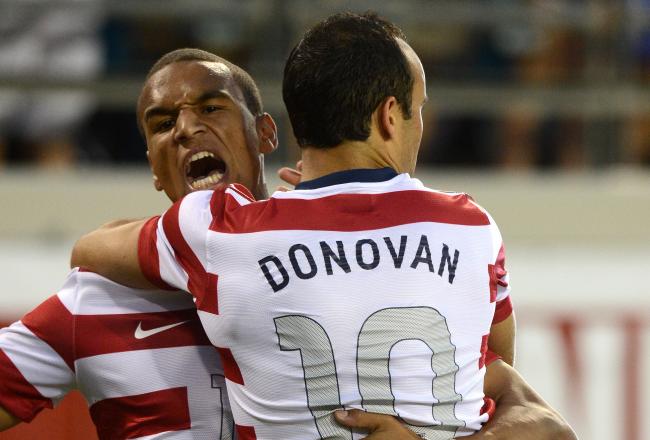 78th minute: 5-1
Scotland is just passing the ball around the midfield aimlessly now.
They are totally defeated and clearly just want to get the heck out of town…
Tweet, Tweet
What we're all thinking…
There is so much to be happy with about this game. Between this & Italy match, Klinsmann's plans beginning to pan out nicely. #usmnt

— US Soccer Daily (@USsoccerDaily) May 27, 2012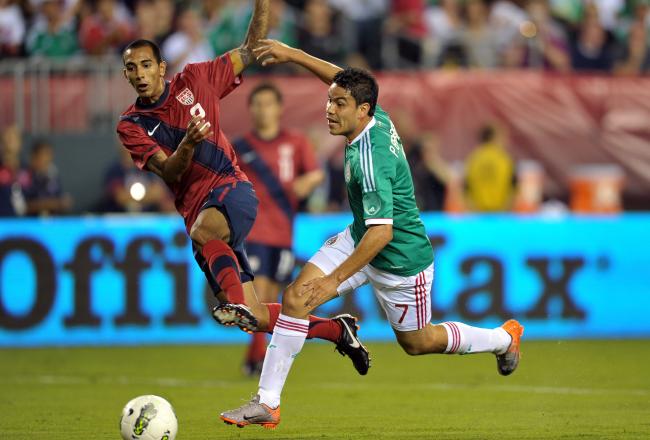 SUB
Edgar Castillo replaces Fabian Johnson at fullback for the US.
Tweet, Tweet
On tonight's attendance:
44,438 in Jax #usmnt

— Steven Goff (@SoccerInsider) May 27, 2012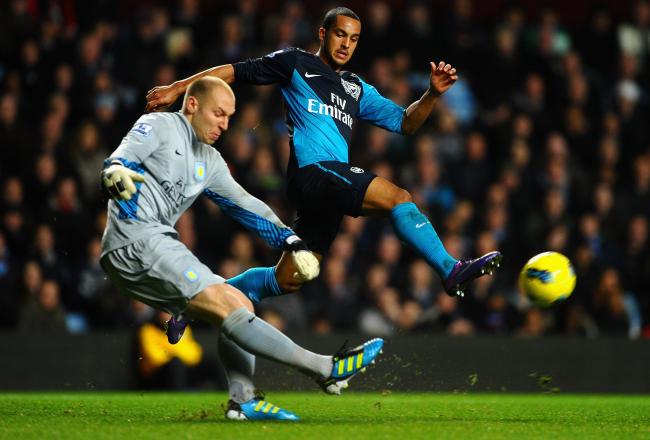 SUB
Another substitution to report. Brad Guzan has replaced Tim Howard in the US goal.
70th minute: GOAL!
Jermaine Jones makes it 5-1 with a header!
It's getting ridiculous now.
Donovan—who else?—with the final ball.
69th minute: SUB
Joe Corono comes on. He's making his international debut.
Jose Torres comes off.
Tweet, Tweet
Good stuff…
Doesn't have to. His court, his rules. RT @thegoalkeeper: Did Landon call bank?

— Jason Davis (@davisjsn) May 27, 2012
More on the goal
It's Michael Bradley with the set-up again.
This time Bradley plays the final ball, and Donovan runs onto it in the box. He takes a touch and hits a perfect shot off the far post and into the net.
Outstanding night for Donovan and Team USA.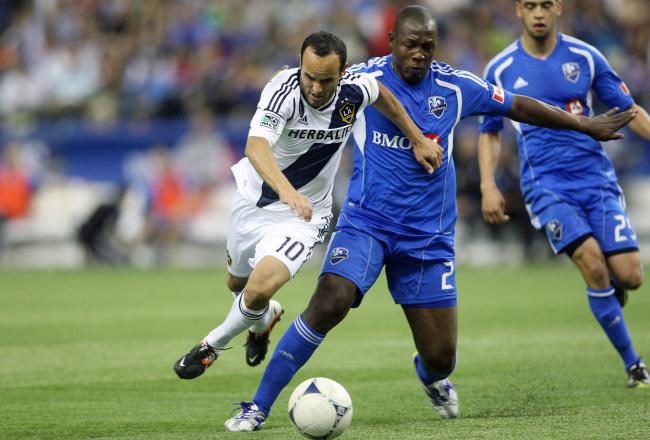 65th minute: GOAL!!!
Donovan completes his hat trick!
63rd minute: SUBS
Triple sub for the US.
Kyle Beckerman, Herculez Gomez and Oguchi Onyewu come on. Carlos Bocanegra, Maurice Edu and Terrence Boyd head off.
63rd minute: 3-1
Now here's a great free kick chance for the US, just outside the Scotland box.
The crowd roars…
… but Bradley's shot slams off the wall.
More on the goal
Michael Bradley plays the ball out to Jermaine Jones on the right.
Jones crosses along the ground for Donovan, who's running into the box.
Donovan keeps his composure on the ball and strokes a simple shot into the far corner.
That was too easy. Great work from the US midfield—and, of course, Landon Donovan.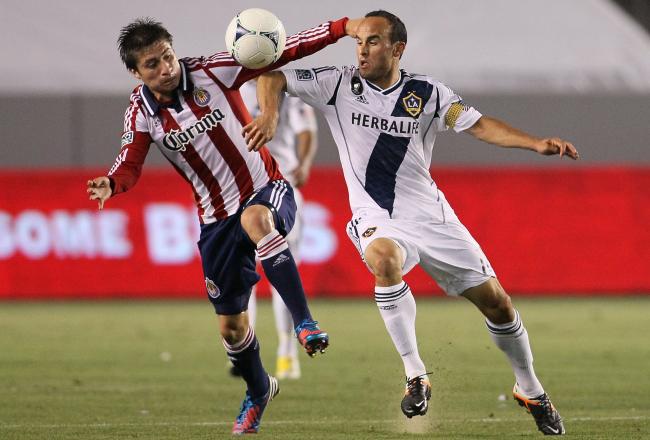 60th minute: GOAL!
Donovan again! This time it's a sweeping move.
59th minute: 2-1
More attacks from the US. Hard to keep up with them all.
Two subs for Scotland…
Tweet, Tweet
Again the Scottish perspective:
Common theme amongst those around me is 'when did the Americans get so good?' I've been saying it for so long. US are serious force.

— Graham Ruthven (@grahamruthven) May 27, 2012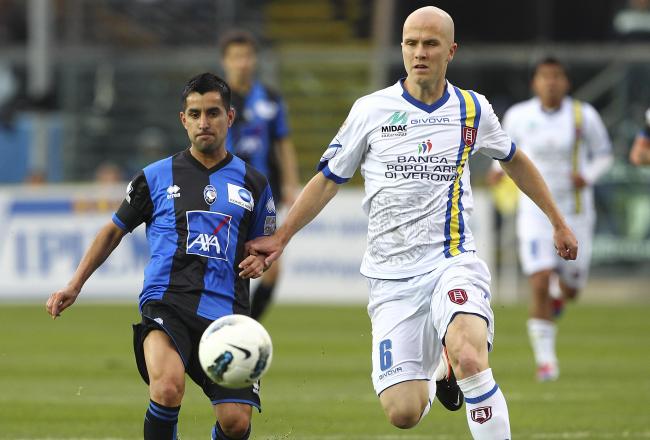 Bradley golazo
Wanna see an animated GIF of Michael Bradley's golazo?
Here it is. You're welcome.
53rd minute: 2-1
I'm really impressed with the US midfield's attacking know-how tonight.
They're fast, accurate and dangerous.
This is a very promising development for US soccer. Way to go, Jurgen.
This article is
What is the duplicate article?
Why is this article offensive?
Where is this article plagiarized from?
Why is this article poorly edited?