Colorado Avalanche: Predicting What the Avalanche Will Do with Free Agents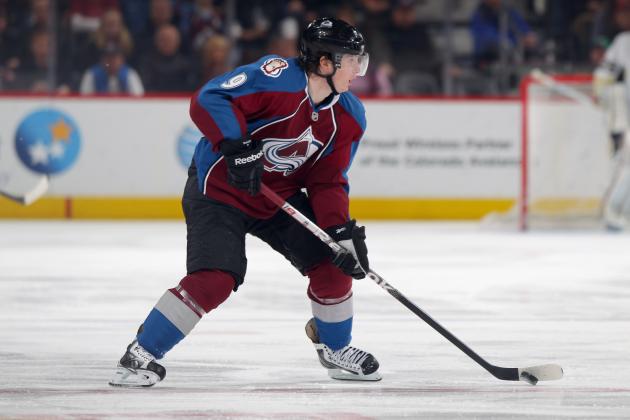 Doug Pensinger/Getty Images

The Colorado Avalanche are currently going through the process of evaluating each player and figuring out which players will be staying and which will be going.
The Avalanche currently have 14 players on their roster that are set to be free agents on July 1.
Of the 14, only five will be unrestricted free agents which means that the Avalanche will have bargaining power with the vast majority of their free agents.
Here are some personnel predictions for the Avalanche.
Begin Slideshow

»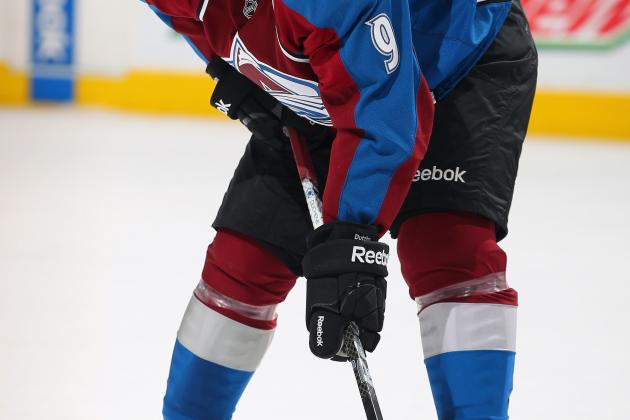 Doug Pensinger/Getty Images

Matt Duchene—Restricted Free Agent
Matt Duchene is coming to his first free agency period in his NHL career and made no bones about the fact that he wants to remain a member of the Colorado Avalanche when he spoke with The Denver Post's Mike Chambers after the season ended.
"I can't emphasize enough how much I want to be a part of this franchise, but at the same time I have to do what's right for me as well. I really hope things work out, and I'm sure they will. I'm hoping they still have me as a big part of the plan here. I know it's tough when you have the second half like I had, with the injuries, and not being able to play through them all that well, but I'm all in for this team."
Yes, Duchene had an off year but that isn't going to stop the Avalanche from wanting to keep him in the burgundy and blue.
Duchene is a keeper and will likely earn a bit of a raise in his second contract. His current contract has him making the maximum amount allowed in the rookie contract: base salary of $900,000, with $2.3 million in bonuses for a salary cap number of $3.2 million (via capgeek.com).
I'm going to guess that Duchene earns about $4 million a year in a cap hit for another three years.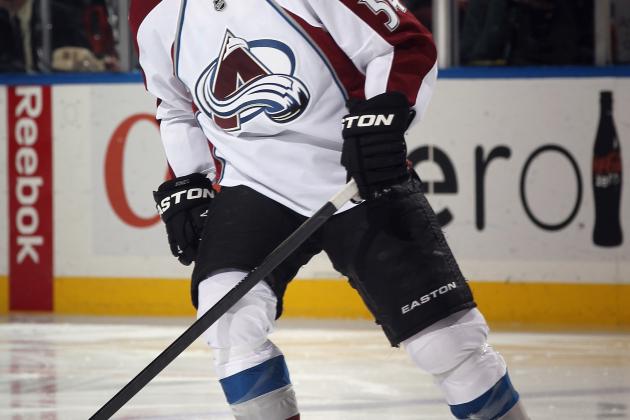 Bruce Bennett/Getty Images

David Jones—Unrestricted Free Agent
David Jones has the opportunity to sign with any team that he wants if he so desires.
Jones told the Denver Post's Adrian Dater that he isn't sure about his future with the Avalanche but it sounds like he is interested in staying with the Avalanche.
"It's a great group of guys in here, and I've been here my whole career," Jones said. "My family's happy here, but we'll see what happens."
Jones had an up-and-down year this season but did manage to score 20 goals for the Avalanche again and was fantastic in the second half of the season; especially after the Avalanche acquired Jamie McGinn and brought Jones back on a line with Paul Stastny.
Jones is 50/50 for me. I can see him staying and I can see him going, it all depends on salary. Jones carried a cap hit of $2.5 million this season and has managed to crack 20 goals each of the last two season.
I think Jones comes back at about $3 million a year for two more seasons.
Peter Mueller—Restricted Free Agent
Peter Mueller was the feel good story of the year last season. After fighting to get back on the ice after more than a year's worth of concussion symptoms, Mueller was finally back and healthy.
Mueller made the most of his 32 games and tallied 16 points. Not spectacular, but considering how much time he had missed this was a good season.
Mueller will be back, and likely at the same $2 million per year that he is at now for another two years.
This contract will be a kind of "let's see what you can do now that you're actually healthy" contract.
I'm looking forward to seeing what Mueller can do with a full season at full capacity.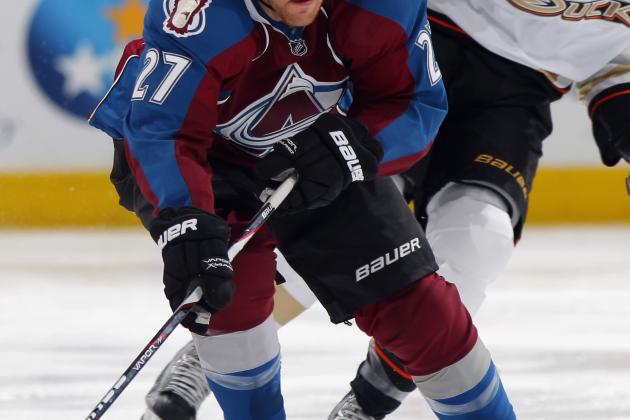 Doug Pensinger/Getty Images

Steve Downie—Restricted Free Agent.
Downie came over to the Avalanche around the trade deadline in exchange for Kyle Quincey and paid immediate dividends.
Unfortunately, Downie was hurt in a game against the Penguins and played the rest of the season injured, which affected his output.
This injury has actually pushed Steve Downie under the knife for shoulder surgery, according to The Denver Post.
This is another easy one, Downie will be back. He made an immediate impact for the team in production and makes the Avalanche a more difficult team to play against.
They need to make sure Downie is back.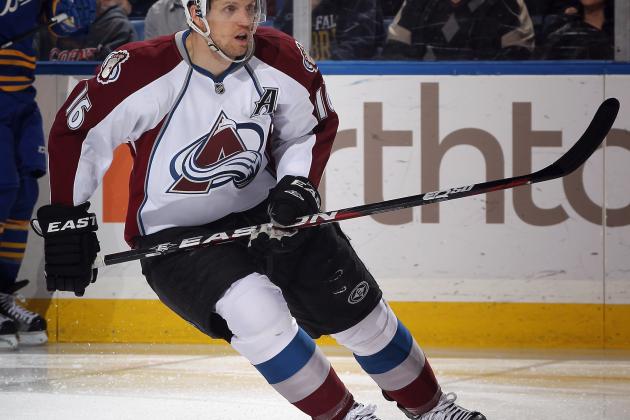 Bruce Bennett/Getty Images

Jay McClement—Unrestricted Free Agent
Jay McClement is the best defensive forward that the Avalanche have, plain and simple.
He's excellent on faceoffs, he's works hard on all areas of the ice, plays great positional hockey, blocks shots very well and is the leader on the Avalanche penalty kill.
The difference in the Avalanche penalty kill was night and day since McClement began leading the Avalanche PK. At the end of this season, the Avalanche were ranked 12th in the league while shorthanded.
Last season, the Avalanche were dead last.
Jay McClement must be re-signed by the Avalanche at all costs.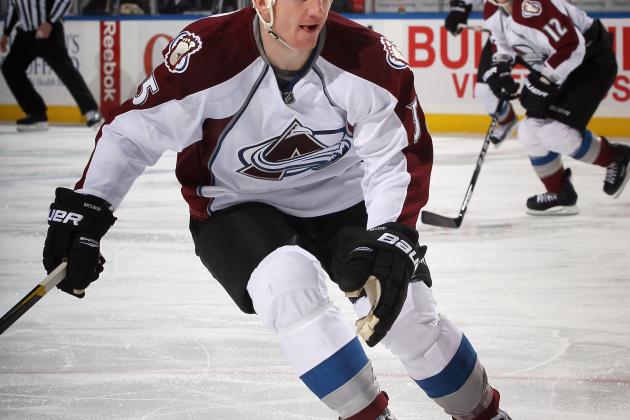 Bruce Bennett/Getty Images

Cody McLeod—Unrestricted Free Agent
Cody McLeod is a favorite amongst Avalanche fans for his hard work and grittiness.
He doesn't see a lot of minutes during a game, but he works hard for every second that he spends on the ice.
Unfortunately for the man they call "Highlander," he isn't really used very well by coach Joe Sacco. McLeod could be a third line guy that can get 20-30 points a year but Sacco keeps him on the fourth line and really just wants him to be a fighter.
As much as Avalanche fans love Cody Mac, I don't see McLeod returning next season. Hopefully, he goes to a team that can use him better.
Bruce Bennett/Getty Images

Ryan O'Reilly—Restricted Free Agent
Ryan O'Reilly showed a monumental amount of progress in his game this past season and has become the leader of the Avalanche team.
He also maintained his stellar defensive play throughout the season and was amongst the league leaders in takeaways.
O'Reilly could easily become a Selke candidate in the coming years if his outstanding play continues.
About the only negative thing that could be said of him was that his production dropped off towards the end of the season. At that point, he was already having a career year so he was playing with house money.
O'Reilly should be signed long-term.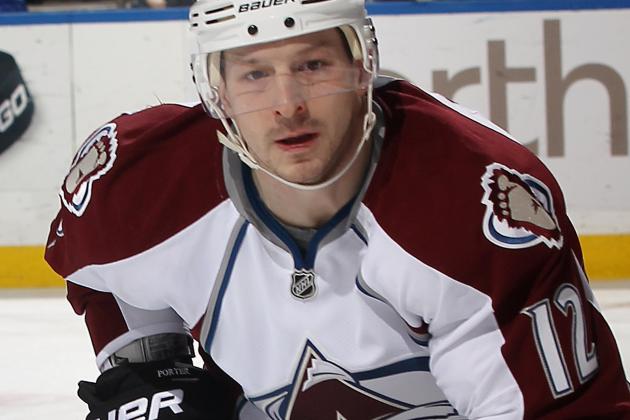 Bruce Bennett/Getty Images

Kevin Porter—Restricted Free Agent
Porter spent a decent portion of the season as a healthy scratch, playing in only 35 games.
The former Hobey Baker winner hasn't really panned out as a top-level NHL player and doesn't seem to fill much of a roll on the team.
I like Porter, but I just can't see the Avalanche qualifying him this year. I hope he finds a home on a team that can use him better.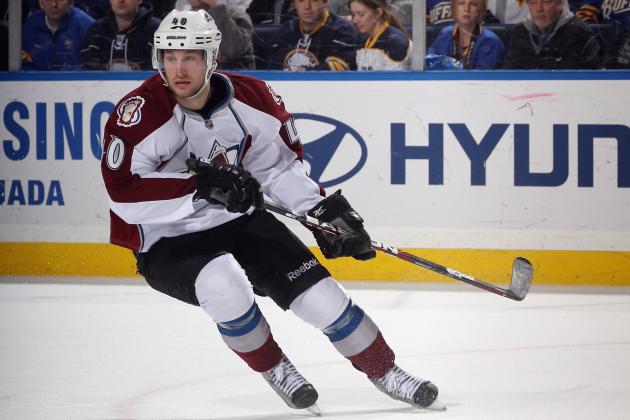 Bruce Bennett/Getty Images

Mark Olver—Restricted Free Agent
Mark Olver had a great season with the Avalanche when he was called up from Lake Erie.
Olver was effective immediately and consistently throughout the year despite the fact that he seemed to be moved around to a different line every other night.
Olver filled the role he needed to fill whatever he was asked to do and did it wonderfully. It was his play that really made T.J. Galiardi expendable and Olver proved to be a truly gifted pest.
Olver has earned his spot on this team and he'll be on the Avalanche squad straight from the start of the year.
Bruce Bennett/Getty Images

Jamie McGinn—Restricted Free Agent
What an impact Jamie McGinn made when he came over in the trade with the San Jose Sharks.
McGinn had 13 points in 17 games, which included eight goals, and really completed his linemates Paul Stastny and David Jones.
McGinn will definitely be back but what will be interesting is what his salary will be. It's safe to say that he'll make more than the $680,000 he made this past season, but he still has to show that he has that scoring touch over the course of a whole season.
I can't wait to see McGinn get a full year with the Avalanche.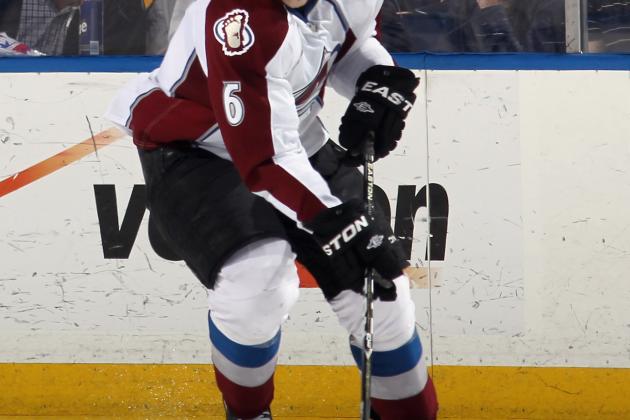 Bruce Bennett/Getty Images

Erik Johnson—Restricted Free Agent
Erik Johnson came into his own around December for the Avalanche and really showed that he is a true top-tier defenseman in the NHL.
His offensive numbers were a little down this year, but I justify that with the absurdly low number of power plays that the Avalanche had this season.
After a rocky start, Johnson really found his defensive game and became a true shut-down force.
Johnson will also probably see a raise in the offseason, and may even see as much as a $4 million cap hit.
Matt Hunwick—Unrestricted Free Agent
Matt Hunwick really redeemed himself in many people's eyes this season. After a truly terrible display at the end of the 2010-2011 season, many Avalanche fans, myself included, were furious to see him re-signed.
We took solace in the fact that he at least was spending a great portion of the season as a healthy scratch, which ended up working out for everybody.
Hunwick worked his tail off while he was a healthy scratch and found some confidence and worked his way back into the lineup.
While I was still never fully comfortable seeing Hunwick out on the ice, he had shown some obvious improvement and gained the trust of Avalanche fans again.
That being said, don't count on seeing Hunwick back in the lineup this season. His salary of $1.5 million was far too much for a guy who spent half the year as a healthy scratch, and given the fact that Joe Sacco is still the coach in Colorado, Hunwick may always be the seventh or eighth guy in the lineup and may stay a healthy scratch.
Count on Hunwick looking for greener pastures.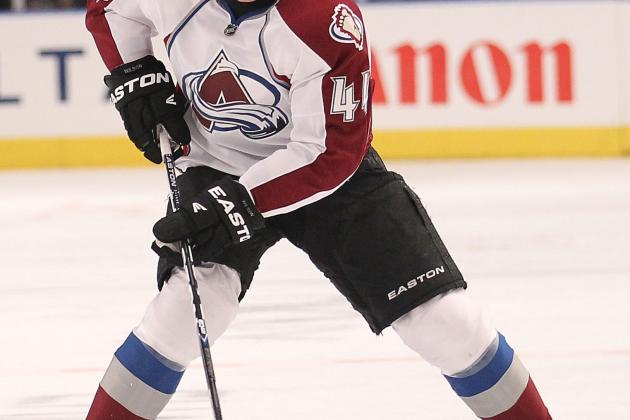 Nick Laham/Getty Images

Ryan Wilson—Restricted Free Agent
Ryan Wilson had a pretty decent year by the numbers. He had a career high in assists (20) and tied his career high in points (21).
Plus, Wilson was the leading Avalanche defenseman in plus/minus (plus-11). Still, Wilson finds himself as being potentially expendable.
Wilson was hurt during the season, which gave the Avalanche a chance to look at young prospects Stefan Elliott and Tyson Barrie, both of whom played pretty well.
Couple that with the fact that Shane O'Brien had an excellent season defensively for the Avalanche and it looks like Wilson will have to fight for a roster spot come training camp.
I think the Avalanche will qualify him and sign him to a similar contract to what he has now, but I could also then see the Avalanche trading him to make room for a younger player to come up.
Wilson's future isn't terribly certain.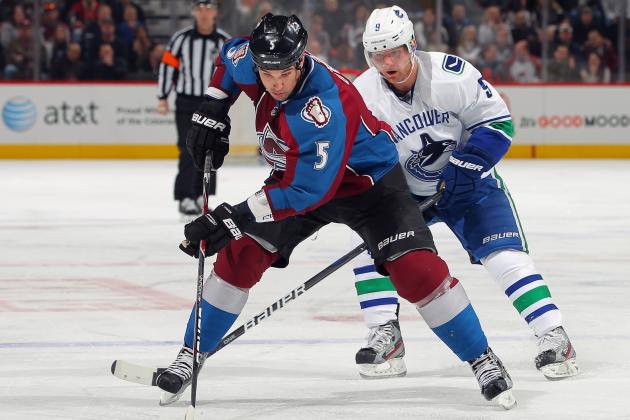 Doug Pensinger/Getty Images

Shane O'Brien—Unrestricted Free Agent
Shane O'Brien was one of the most pleasant surprises of the year for the Colorado Avalanche.
O'Brien provided a decent amount of unexpected offense throughout the year in addition to solid defensive play.
The most important thing O'Brien brought to the Avalanche was his grit and leadership. Frequently, you could see O'Brien talking to his teammates on the bench, especially when things weren't going so well. O'Brien also saw a lot of time with the young defensive prospects, Elliott and Barrie, because of his presence on the ice.
O'Brien is also a character player that provides a meanness that makes the team more difficult to play against, something the Avalanche blue line sorely needed.
He would also stick up for his teammates with questionable hits or when one of his guys was in a scrum against multiple opponents.
Not to mention the guy is just a great personality. Both the fans and his teammates love him and the Avalanche really need to make sure not to let this guy get away.