What We Learned in the AFC North This Week: Doubts, Doubts and More Doubts
May 25, 2012

Larry French/Getty Images
OTAs started around the league this year, but that's not the primary source of some of the biggest stories in the AFC North this week. Let's take a look at what everyone was talking about as most players began taking the field.
Jim Brown Doesn't Think Trent Richardson is All That
Legendary Cleveland Browns running back Jim Brown is also well-known for being opinionated and outspoken, and he was just that this week where new Browns running back Trent Richardson is concerned.
Kevin C. Cox/Getty Images
Brown told ESPN Cleveland's Tony Grossi that he doesn't "see anything outstanding" about Richardson, though he did admit that he believed Richardson would be an efficient player for the Browns this year. 
Brown went on to explain his separation from the Browns organization, which he blames on team president Mike Holmgren. This helps us figure out, therefore, why he's not so sold on a player with such proven talent as Richardson—sour grapes.
While it may be true that Brown doesn't see the second coming of himself in Richardson, to describe the rookie back as not outstanding and "ordinary" (which he did last month) is a completely inaccurate representation.
Chances are, Brown will be proven wrong when Richardson takes the field when the season begins. He didn't score 24 total touchdowns last year at Alabama by accident, after all.
Concerns About Andy Dalton's Arm Strength
In this week's Shutdown Corner Podcast, NFL Films producer and noted tape junkie Greg Cosell said that there are concerns—even within the Cincinnati Bengals organization—that quarterback Andy Dalton doesn't have the arm strength to be a high-impact franchise quarterback.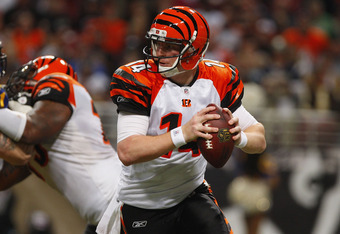 Whitney Curtis/Getty Images
That prompted both Bengals offensive coordinator Jay Gruden and Dalton himself to address the comments. Gruden said the team has no concerns about Dalton's arm, saying that if there were legitimate concerns, there would be more quarterbacks in camp and on the roster.
Dalton added that arm strength is but one component of being a successful quarterback, and I am prone to agree with him.
Limitations in strength can certainly be overcome by accuracy, a good rapport with receivers, and as Dalton himself noted, consistency. As long as he can make the throws he's asked to make and can help his team score touchdowns, issues about his arm strength, whether real or imagined, aren't that big of a deal.
Rashard Mendenhall Should Return to the Field This Season
Time heals all wounds, including late-season ACL tears. The Pittsburgh Steelers were fearful just a few months ago that starting running back Rashard Mendenhall would miss the entirety of the 2012 season after tearing his ACL in Week 17 of last season.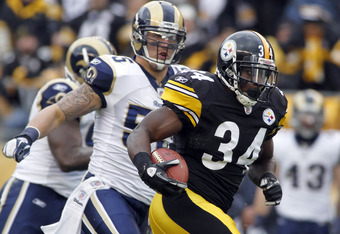 Justin K. Aller/Getty Images
Now, it appears his recovery is progressing well enough to return to action this year. Though it's likely that the Steelers will start him on the PUP list and that he'll come back mid-season, Mendenhall himself believes he'll be able to play come Week 1 against the Denver Broncos.
While Mendenhall's determination should be both applauded and expected, I don't think the Steelers will be interested in risking his health further by allowing him to play come Week 1.
His ongoing recovery may have progressed faster than expected, and the Steelers may ultimately choose not to put him on the PUP list as a result, but I don't think he'll take the field for the season opener.
Ray Rice Reportedly Wants $10 Million Per Year
Surprising no one, Baltimore Ravens standout running back Ray Rice was a no-show at this week's OTA session while he holds out for a new contract. Rice was given the team's franchise tag, but he'd far prefer a long-term deal.
Rice, who led the league in yards from scrimmage last season, is the motive power behind the Ravens' offense. Though overpaying a running back is always a fear for NFL teams, Rice has both proven his worth in recent seasons and has given no indication that he wouldn't be worth the money he's asking for.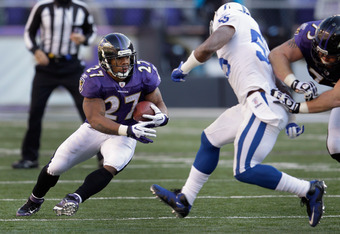 Rob Carr/Getty Images
That figure: $10 million per year, which would make him the second-highest paid running back in the league behind Adrian Peterson.
Complicating matters is the extension recently agreed to between the Philadelphia Eagles and their starting back, LeSean McCoy. McCoy received a five-year deal worth $45 million that includes just over $20 million in guaranteed money.
Jeff Zrebiec of the Baltimore Sun says that the Ravens are optimistic about a deal being done before the July 16 deadline and that there has been some progress in talks, though it doesn't seem likely Rice will get what he wants if a deal is struck.
Personally, I think Rice is truly the most important member of the Ravens' offense right now. No, running backs don't have the playing life that a quarterback or other players have, especially when we're talking about peak years. 
However, Rice has more than proven he's worth that kind of money. Or, at the very least, a $9 million-per-year deal akin to what McCoy has just received.