New York Rangers vs. New Jersey Devils Game 6: Live Score, Analysis and Reaction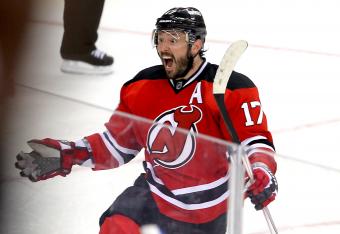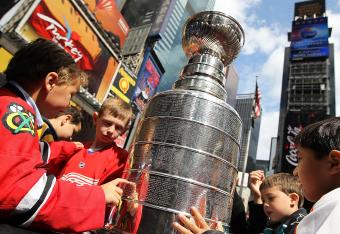 All Stanley Cup final games will begin at 8 PM ET. Game 1 will be Wednesday in New Jersey.
Official Three Stars of the Game:
3. Martin Brodeur, New Jersey Devils
2. Ryan Callahan, New York Rangers
1. Adam Henrique, New Jersey Devils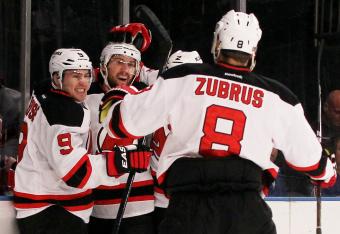 Devils definitely kept their cool when the Rangers mounted another comeback. For the 2nd straight game the script was the same: the Devils got off to an early lead, the Rangers came back but the Devils managed to win the game in the end.
Goals were hard to come by in this series and the team that scored first won all six games.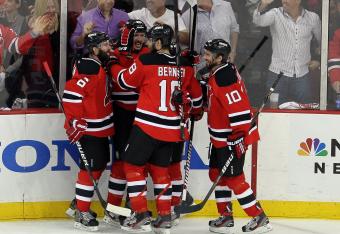 The Rangers have nothing to be ashamed of. They gave a great effort. In the end, a lack of goal scoring depth probably was their biggest shortcoming. When their top goal scorers weren't scoring, nobody else could pick up the slack.
Devils and Kings have never met in the playoffs before. Should be a very interesting Stanley Cup final between two teams with contrasting styles.
Early Prediction: Kings in 7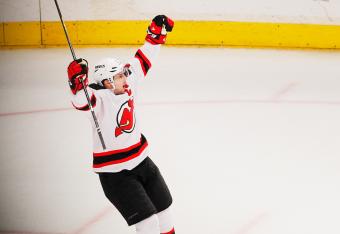 Devils 3, Rangers 2 (OT)
Devils win the series 4-2
Teams going through the traditional hand shake now, one of the great customs in sports. Then the Devils will receive their trophy. Will Parise touch it?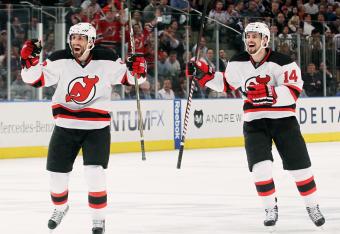 Henrique scores off a scramble in front of the net and the Devils are going to the Stanley Cup final! The Rangers couldn't clear the puck or the Devils out of the crease. The rookie scores and what a big grin Martin Brodeur has on his face.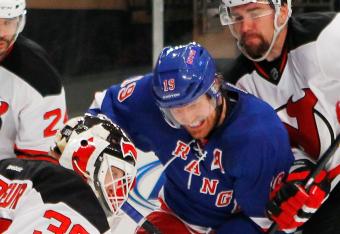 Overtime under way at "The Rock." What a game! What a series! Who will be the hero?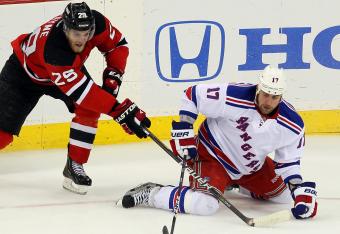 Because the Devils play all four lines more than the Rangers and the Rangers essentially stick with four defensemen, I think the longer the overtime continues, the more it favors the Devils.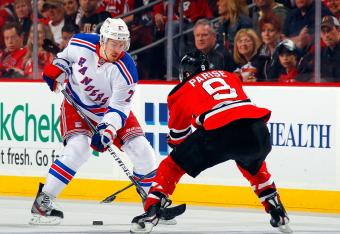 Notes and Stats, 3rd intermission:
Rangers outshooting the Devils 35-26 after three periods
Hits: Rangers 22, Devils 11
Girardi and McDonagh both plus-2 on the Rangers
Parise minus-2 for the Devils
Ice time leaders:
Devils: Zidlickey 23:43
Rangers: McDonagh 27:20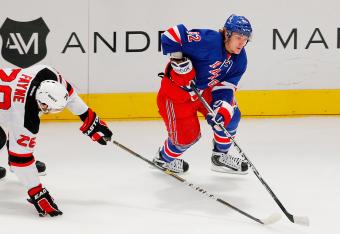 Rangers 2, Devils 2
3rd intermission

Nothing comes easy in this series. We are heading to overtime.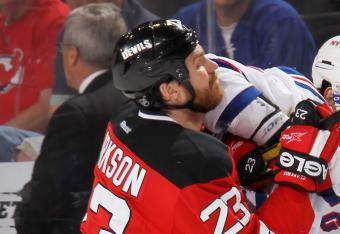 Josefson, Clarkson and Elias have a strong shift and the Rangers have trouble clearing their zone. They finally do with less than a minute left in regulation.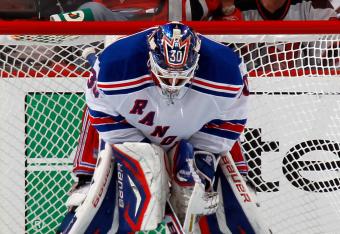 Lundqvist again looks like a soccer play as he makes a save on Elias. Rangers have truly carried the play in the 2nd and 3rd period but Devils hanging on, mostly thanks to Brodeur.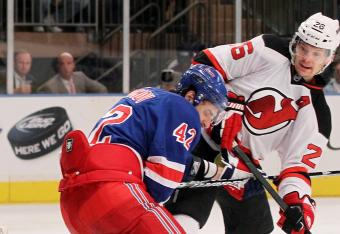 Brodeur again stops Anisimov who had another great scoring chance. Tension building with less than 5:00 left at "The Rock."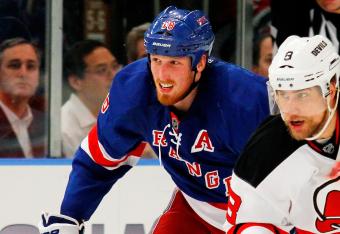 Subtle little play by Staal in hi own end. Used his butt to block a Devils player from getting to the puck which allowed a Ranger to carry it out of the zone. Little things in hockey really do mean a lot.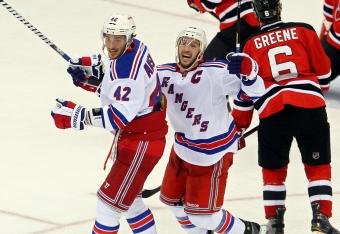 Henrique hurt after blocking a shot. Then Brodeur poke checks the puck away from Anisimov on a partial breakaway. What a game!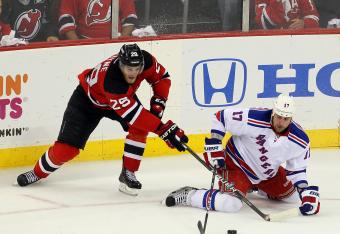 Who do you think gets the game winning goal? Opinions? Guesses? Hunches? Let me know!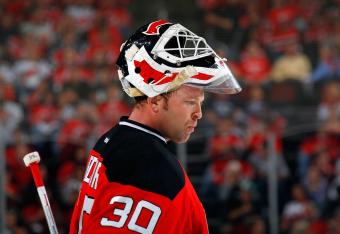 Devils hang on and kill off the Rangers power play. Brodeur clearly New Jersey's best penalty killer there. Less than eight minutes remaining in regulation time.
Rangers 2, Devils 2 9:24 remaining 3rd period
Linesman give Devils a break, saying clearing attempt by Andy Greene hit the glass. Hard to tell from the replay. No two-man advantage for the Rangers. Then Richards robbed by Brodeur who had a lot of empty net to shoot at. Huge save by Brodeur.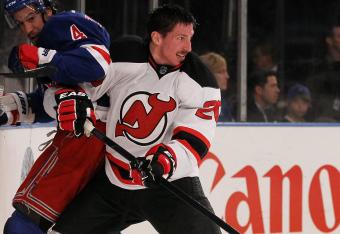 Penalty on Ryan Carter for interfering with Marc Staal. Big power play chance now for the Rangers. 4th line makes a big mistake for the Devil for a change. Tortorella calls timeout as Richards and Gaborik were on the ice for the last long shift.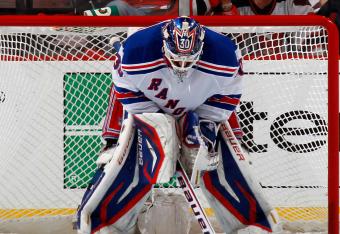 Rangers 2, Devils 2 11:18 remaining 3rd period
It may not officially be sudden death, but whoever scores the next goal is almost certainly going to win this game. Both goalies playing very well in the third period right now.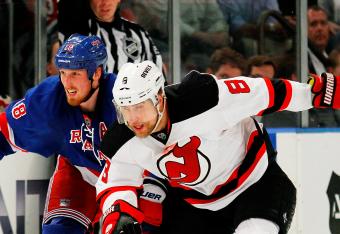 Very intense action. Both teams trying to keep their shifts short. Passes are being missed in large part because of tight checking and hard hits. Exciting hockey in a tie game.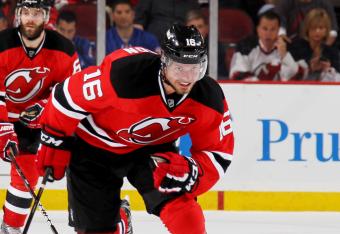 Josefson had a good chance but passed it up. Good shift for Josefson, but he needs to shoot quickly, not look for the perfect pass.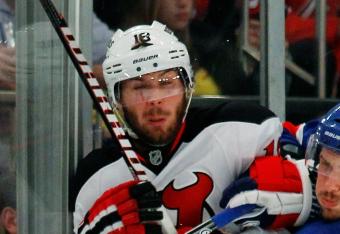 Another strong shift for the Devils 4th line. Any time DeBoer wants a change in momentum, he sends out his 4th liners and they deliver.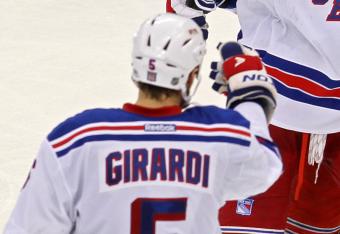 Brodeur stops Girardi who again pinches in and gets a shot on goal for his efforts. Rangers appear to be coming out aggressively here in the opening minute of the third period. Devils fans trying to chant "Henrik"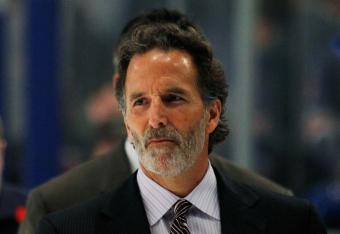 Wonder if the Rangers continue to be aggressive in the third period or do they play more cautiously and hope not to make the mistake that gives the Devils the go-ahead goal? It looks like they are much better off being aggressive, but we'll see what Torts has in mind. The Rangers have been here before, let's see how they handle it.
The Devils have a margin of error. If they lose tonight, there is another game, but under no circumstances do they want to go back to Madison Square Garden either.
Should be a heck of a third period!
This article is
What is the duplicate article?
Why is this article offensive?
Where is this article plagiarized from?
Why is this article poorly edited?