Fantasy Football Studs Not Worth the Risk in 2012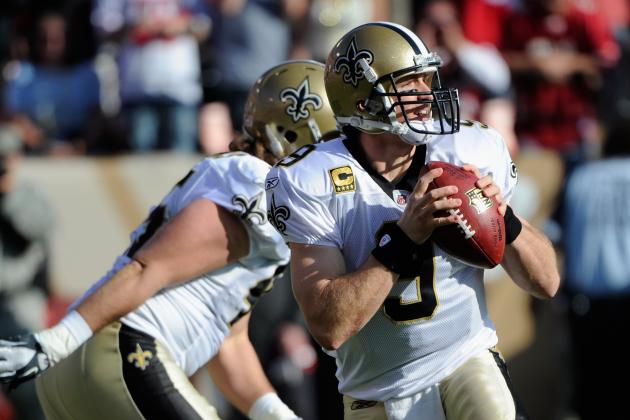 Thearon W. Henderson/Getty Images

Nothing can send a fantasy football season swirling down the drain more quickly than an early-round pick that busts big-time, be it due to an unfortunate injury or just flat-out stinking up the joint.
There are some instances in which there's simply nothing you can do about this—as a great deal of luck is involved in fantasy football—and sometimes the breaks just don't go your way.
Just ask fantasy owners who drafted Kansas City Chiefs running back, Jamaal Charles, last season.
However, with some star players, there are warning signs before the season that can alert observant fantasy owners that a disappointing season may be in store.
Here is a group of players for whom the saying caveat emptor definitely holds true in fantasy football this year.
Let the buyer beware.
Begin Slideshow

»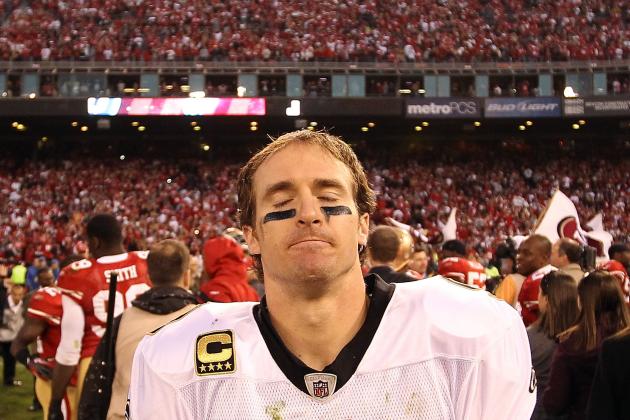 Ezra Shaw/Getty Images

2011 was a historic season for New Orleans Saints quarterback, Drew Brees, who set an NFL record with 5,476 passing yards and finished the year as fantasy football's top signal-caller.
That said, there are a number of reasons why fantasy owners who draft Brees in the first round in the hopes of a repeat performance may be disappointed.
The first is the simple fact that they call them career seasons for a reason. Seasons like Brees had last year just don't come along very often, and they're almost never repeated, making a statistical regression a probability.
Second, there's the cloud of the Bountygate scandal that rocked the team this year and resulted in the suspension of head coach Sean Payton for the entire 2012 season.
Granted, the team may use the fallout from the scandal as a rallying cry, but it could just as easily become a hugely negative distraction.
Speaking of hugely negative distractions, there's the matter of Brees' contract impasse with the team. The Saints franchise tagged the 33-year-old, who is seeking one last big contract.
Brees and the team have until July 16 to work out an extension, and even if they don't, Brees almost certainly would sign the franchise tender.
But if the situation isn't resolved soon, it's just the sort of thing that sets the table for a letdown season.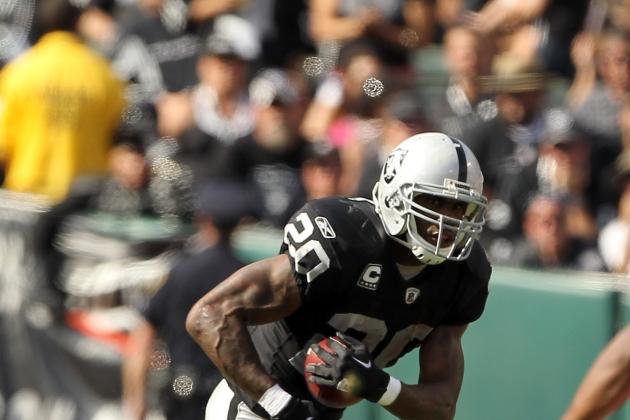 Ezra Shaw/Getty Images

After a 2010 season in which Oakland Raiders running back Darren McFadden topped 1,100 rushing yards and finished among the top-10 fantasy running backs, the former Arkansas star was a first-round selection in most fantasy leagues last year.
Through six games last season, McFadden appeared set to once again be a fantasy stud, as evidenced by his eighth-place finish in fantasy points per game at his position in 2011.
However, McFadden went down in Week 7 with a foot injury and never saw the field again, and therein lies the problem with the fifth-year pro.
McFadden has yet to play 16 games in his NFL career, and while he's certainly capable of huge fantasy production, he's also virtually certain to miss time.
There are enough injury concerns at the running back position without inviting more onto your fantasy team with a first or early second-round pick.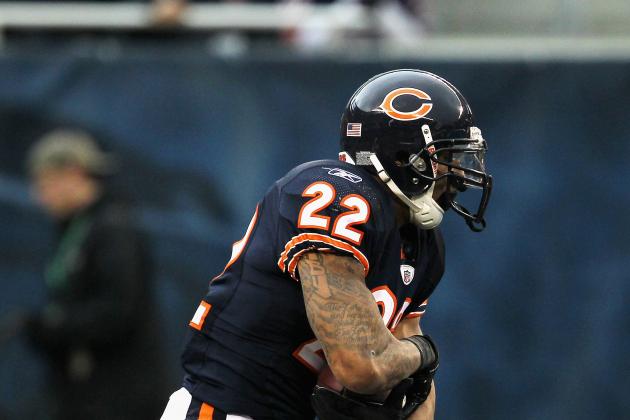 Jonathan Daniel/Getty Images

Much like Darren McFadden, Chicago Bears running back Matt Forte was having a fantastic season last year before going down with an injury.
The four-year veteran racked up almost 1,400 total yards in 12 games last year before an MCL injury ended his season, and his 18.7 fantasy points per game in 2011 ranked seventh among running backs.
It's not Forte's knee that's the worry, as the 26-year-old's injury wasn't overly severe. His rehab has progressed well and the time Forte missed last season were the first games he'd missed in his career.
However, like Brees, Forte is seeking a long-term extension while the team elected to place the franchise tag on him. And more than any other contract impasse in the NFL right now, this one has the possibility of getting ugly.
David Haugh of The Chicago Tribune recently reported that quarterback Jay Cutler may be next in line for a contract extension, which could well anger Forte enough that he refuses to sign his tender and effectively holds out.
The Bears insulated themselves against such a possibility with the signing of free-agent running back, Michael Bush. If Forte does get his deal, he'll come off this list.
As things stand today, Forte carries too much risk to merit consideration with an early draft pick.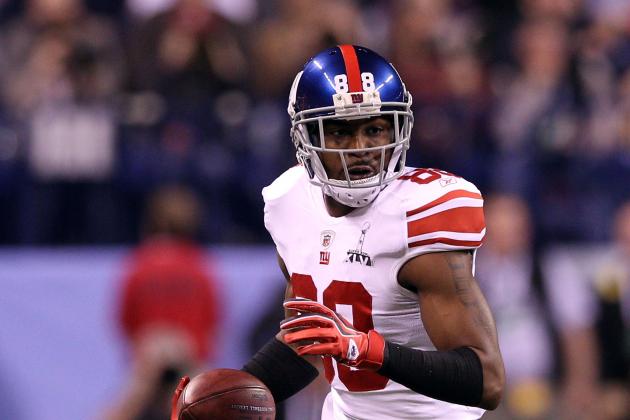 Elsa/Getty Images

New York Giants wide receiver, Hakeem Nicks, hauled in 76 passes for a career-high 1,192 yards and seven touchdowns in 2011, finishing the year as fantasy football's 12th-ranked wide receiver.
OTAs were not kind to Nicks, however, as the fourth-year pro broke the fifth metatarsal bone in his right foot Thursday and will have surgery Friday to insert a screw into his foot.
The Newark Star-Ledger reports that Nicks will be sidelined for around 12 weeks.
ESPN's Adam Schefter tweeted Friday that the timetable for Nicks' recovery may actually be much shorter, but it's worth noting that Giants cornerback Prince Amukamara needed nearly 15 weeks to recover from the same injury last year.
That places Nicks' availability for opening day very much in doubt and Nicks already has a history of lower leg injuries.
Spending an early pick on a wideout with a screw in his foot who may or may not be ready to face the Dallas Cowboys in the league's season opener just doesn't seem very wise.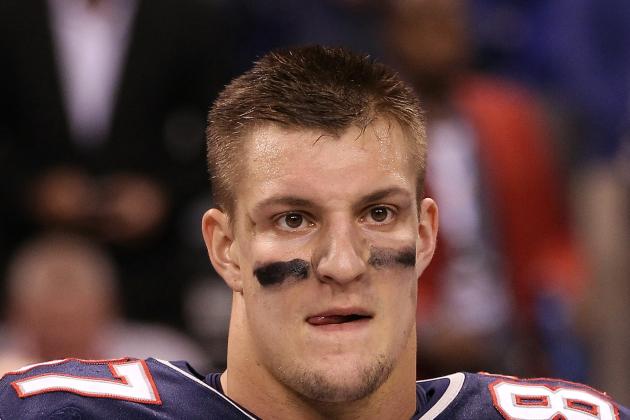 Ezra Shaw/Getty Images

To say that Rob Gronkowski had a breakout second season in the National Football League would be an understatement, as the 6'6", 265-pound monster reeled in 17 touchdown passes, an NFL record for the tight end position.
Gronkowski finished the season as fantasy football's top tight end by a sizable margin, and he's ranked as the No. 1 tight end by the majority of fantasy experts entering this season.
It's not that I have anything against Gronkowski the player, as I enjoy watching the big man drag tacklers down the field and see no reason why he won't have another fine season.
That season just isn't going to be good enough to justify a price tag that has crept into the first round of some drafts.
Gronkowski is highly unlikely to match last year's touchdown totals, and the arrival of wide receiver Brandon Lloyd in New England leaves yet one more mouth to fill in the Patriots' passing game.
So, while I still expect Gronkowski to be a top-five fantasy tight end, I also expect that his statistical production will drop a fair amount in 2012, making "Gronk" a risky bet given his high sticker price.