Indy 500 Lineup: Projecting Which Row 1 Starters Have Best Shot to Win
May 25, 2012

Andy Lyons/Getty Images
Landing a Row 1 start at the Indy 500 doesn't automatically give racers a huge advantage to win the race. That being said, it certainly doesn't hurt their chances either. 
Running a hot qualifying lap is a good gauge for the racing teams to know how their car is running, but it doesn't guarantee a good race. The truth of the matter is that those laps are run without the added pressure and competition of anyone else on the track.
We'll see soon enough which drivers have the chops to win the day when the 96th running of the Indianapolis 500 begins on Sunday, May 27.
Here's how I project the chances each of the three Row 1 starters has to win on Sunday.
1. (2) Ryan Briscoe, Dallara-Chevrolet, 02:38.9514 (226.484)
Briscoe used to be one of the hottest drivers on the IndyCar circuit, winning six races between 2008-2010 and finishing on the podium 19 times during that stretch, according to racing-reference.info.
Since then, Briscoe hasn't won a single race and has finished on the podium only four times.
He put together a blazing qualifying run, though, proving his car and he are in tune and ready to conquer the Indianapolis Speedway—at least in theory.
I don't see Briscoe finishing in the top three, though, and I'll be shocked if he's among the leaders when the race is in its final stages.
Projected finish: 10th place
2. (27) James Hinchcliffe, Dallara-Chevrolet, 02:38.9537 (226.481)
Hinchcliffe is a surprise up at the top of the lineup. He's a young racer who's never won and who has only finished once on the podium on the IZOD IndyCar Series, according to racing-reference.info.
That being said, he did win the Rookie of the Year award in 2011 and was successful in the Firestone Indy Lights Series, winning three times in 2010. Obviously, the young man has plenty of chops, and now it's time for him to prove he can rise to the challenge. 
He'll need to do better this year than he did in 2011, though, when he crashed into the wall midway through the race. 
Projected finish: 15th place
3. (28) Ryan Hunter-Reay, Dallara-Chevrolet, 02:39.1233 (226.240)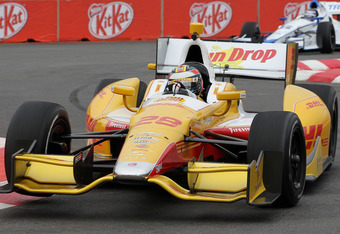 Nick Laham/Getty Images
If ever there was a racer ready to bust out with a career-defining performance at this year's Indy 500, it's Hunter-Reay. He has won three times in the past five years on the IZOD IndyCar Series, and he has two podium finishes out of four races so far in 2012, according to racing-reference.info.
Hunter-Reay was a late entry into last year's Indy 500, and his last-place start caused him to press the entire time. He addressed the difference between this year and last in an interview with reporters, via FoxNews.com:
I just love the place, I have such a massive amount of respect for Indy. The No. 1 thing I want to do this year is have fun and really enjoy the place — as opposed to last year, when it was white knuckle the whole time, and running slow.
Judging by his balanced, measured approach to the first four races of the season, I'd say Hunter-Reay is finally ready to take the next big step in his career.
Projected finish: 1st place
Here is the full Indy 500 Lineup, courtesy of IndyCar.com.
Lineup
1. Ryan Briscoe
2. James Hinchcliffe
3. Ryan Hunter-Reay
4. Marco Andretti
5. Will Power
6. Helio Castroneves
7. Josef Newgarden
8. Tony Kanaan
9. E.J. Viso
10. Rubens Barichello
11. Alex Tagliani
12. Graham Rahal
13. Ana Beatriz
14. Charlie Kimball
15. Scott Dixon
16. Dario Franchitti
17. James Jakes
18. J.R. Hildebrand
19. Takuma Sato
20. Townsend Bell
21. Justin Wilson
22. Michel Jourdain
23. Simon Pagenaud
24. Sebastian Saavedra
25. Sebastien Bourdais
26. Wade Cunningham
27. Oriol Servia
28. Ed Carpenter
29. Mike Conway
30. Katherine Legge
31. Bryan Clauson
32. Simona De Silvestro
33. Jean Alesi