Boston Bruins: Why Rick Nash Is a Bad Idea for the Bruins
May 25, 2012

Gregory Shamus/Getty Images
Rick Nash may very well come to Boston this offseason. 
But I'll be the first to condemn it as a terrible idea that would jeopardize the future of the franchise.  Nash has an astronomical price tag, and the Bruins would be better off pursuing a veteran presence like Ray Whitney (who had 18 more points than Nash this past season). 
If the Bruins do acquire Nash, it will most likely involve a seriously good prospect going to the Jackets.  This means high level prospects like Ryan Spooner, Alexander Khocklachev, and Jared Knight are all easily a part of the deal.  One prospect the Bruins have to hang onto at all costs is Dougie Hamilton.  
The ninth overall pick last year has enormous potential as a number one defenseman, and in the long term he is the replacement for Zdeno Chara.  Parting with Tyler Seguin and Tuukka Rask is another thing that's improbable.  Rask is the future in goal, and Seguin has the potential to get 90 to 100 points in a season in the not too distant future.
However, if the Bruins really want Nash, they may have to part with one of those players, and a top prospect like Ryan Spooner.  
The Bruins would also have to surrender a star player that is proven in the NHL like Milan Lucic or David Krejci along with a considerable couple of prospects.  Trading either is a bad idea for the Bruins.  Lucic is the best power forward in the NHL, and at the ripe age of 23, he has many good years ahead of him.  Krejci is the most likely candidate for this trade.  
Krejci was subpar this postseason and very inconsistent during the regular season.  Still, trading Krejci is not a good idea unless an irrefutable offer surfaces.  He has all the skills of a superstar, he just has not matured in the NHL climate yet.  He will most likely need more seasoning before Krejci reaches his full potential.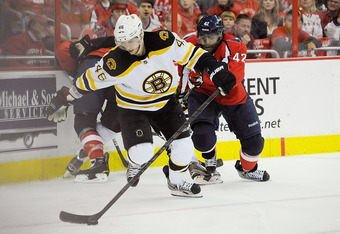 Patrick McDermott/Getty Images
If the Bruins were to trade for Nash and did not have to part with Rask, Hamilton, or Seguin, it could happen.  That said, Patrice Bergeron and Zdeno Chara are off limits to trade.  They are the core of the Bruins and are both invaluable to the team's success, and Peter Chiarelli knows that.
The only player that could be traded, and has not been mentioned, is Tim Thomas.  Thomas gives the Bruins a lot of flexibility.  They could make a trade for prospects with Thomas, freeing up cap space to pursue Parise, or he could be the centerpiece of the Rick Nash deal.
Chiarelli has not been one to part with young players easily but a trade for an aging player like Thomas, who still has a couple good years in him, isn't a bad idea.
One direction that has not gotten nearly enough consideration is a trade for Bobby Ryan of the Anaheim Ducks.  
Ryan is a natural goal-scorer with good hands and is only one or two steps down from Rick Nash.  If the Bruins can part with one prospect and a player like Horton or Krejci, it may be worth it for the Bruins, although they can't take trading Krejci lightly.
The Bruins have many options this offseason to fix their power play, but getting Rick Nash means ripping apart the core of a team that won the Stanley Cup less than a year ago.
Nash is good, but he certainly isn't that good.