Jeff Van Gundy Right to Rip Dwight Howard, Orlando Magic in Radio Interview
May 25, 2012

Jeff Gross/Getty Images
The backlash of Stan Van Gundy's firing is still in full force, and now his brother is chiming in. 
ESPN analyst and former NBA head coach Jeff Van Gundy was a guest on Stephen A. Smith's radio show in New York on Thursday and gave some very honest comments regarding the way Orlando handled his brother's dismissal.
He called out Dwight Howard for having a say in the firing and the organization for pretending like Howard didn't have anything to do with it. While Howard has vehemently denied having any part in the decision, it would be foolish for fans not to think otherwise.
Few people have the guts to call out an NBA superstar, so kudos to Van Gundy for doing so.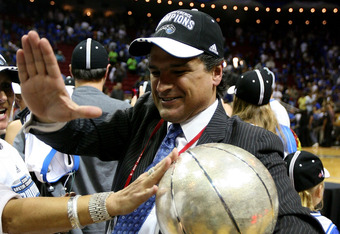 Elsa/Getty Images
But the really juicy stuff was directed toward Magic CEO Alex Martins, who made the final decision on cutting ties with Stan. 
Listen, all you have done in your 25 years in the business is release press releases and run the business side. You don't know if a ball is blown up or stuffed.

Just say, 'I have no knowledge about basketball.'

He doesn't know one thing about basketball, so please hold off your comments on my brother's expertise since you know nothing about basketball.
Van Gundy didn't like that the CEO of the franchise failed to meet with his brother face-to-face before firing him, and it's tough to disagree with that perspective. 
With the nightmare of a season Stan Van Gundy just endured, he deserved better. Despite five playoff appearances and a trip to the NBA Finals in five years at the helm, the organization treated him like some sort of low-level employee. 
Rarely do you see an ESPN personality make such strong comments, but I think it's great. Jeff is sticking up for his brother and isn't afraid of the consequences that could follow. 
Stan has remained quiet since getting the pink slip on Monday, and that's the right move. If he lashes out, he will be stooping to the Magic's level, and could hurt his potential for future employment. 
Having his brother do the talking keeps his reputation intact, while also reminding fans just how unprofessional the situation really was.
Let's all hope the Van Gundy brothers land in the broadcast booth to call games together next season. A Dwight Howard game with those two on the call would be must-see TV.