2012 NFL Training Camp: Predictions for 20 Hottest Position Battles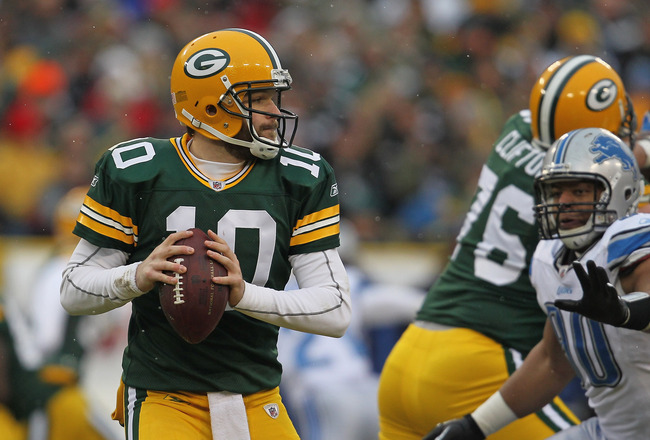 Jonathan Daniel/Getty Images
Every year, the NFL features a great deal of position battles during training camp. This is one of the most intriguing aspects of the preseason leading up to the regular season in September.
2012 has no shortage of these battles around the league. Some of the competition has to do with a surplus of talent, while others have more to do with necessity.
With that, let's take a look 20 position battles that promise to play a huge role during training camp.
20. Kansas City Chiefs: Left Guard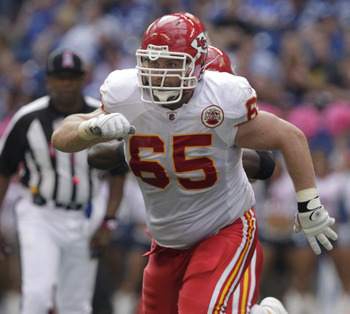 John Sommers II/Getty Images
Ryan Lilja and Jeff Allen

The Kansas City Chiefs made it a primary goal this offseason to build more talent along the offensive line, signing Eric Winston from the Houston Texans to play tackle opposite Branden Albert.
However, one weak link remains on the offensive line—the left guard position.
Ryan Lilja had a pretty solid 2010 season before completely stinking up the field last year. Kansas City's other option is second-round draft pick Jeff Allen, but he seems to translate better along the interior of the line.
The Chiefs not have a choice to make between a marginal veteran starter and up-and-coming rookie. My money is on them going with the upside and attempting to coach Allen up during the offseason.
After all, he can't be much worse than Lilja was last season.
My Prediction: Jeff Allen
19. San Francisco 49ers: Running Back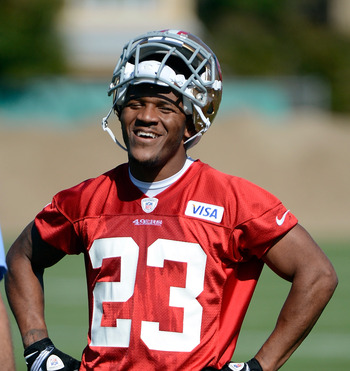 Thearon W. Henderson/Getty Images
LaMichael James, Kendall Hunter and Brandon Jacobs
The San Francisco 49ers are absolutely stacked at the running back position. Last season, Frank Gore and Kendall Hunter combined for nearly 2,000 total yards.
But that production wasn't enough for a team that appears intent on building the best backfield in the entire NFL.
The Niners went out and signed Brandon Jacobs earlier in the offseason and added second-round draft pick LaMichael James to the mix last month.
The big competition here is going to be for the primary backup job behind Gore. San Francisco has three options, but could use them in a variety of ways.
My Prediction: Kendall Hunter
18. Denver Broncos: Center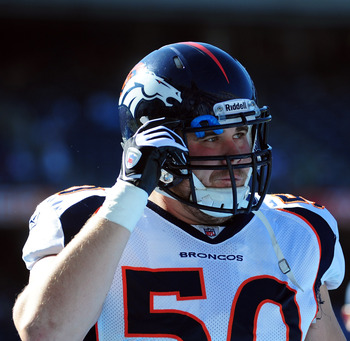 Harry How/Getty Images
J.D. Walton and Philip Blake

One of the most important on-field relationships in football is between the quarterback and his center. We saw this in full force with the Indianapolis Colts when Jeff Saturday was snapping the ball to Peyton Manning.
Now, Manning is going to be working with a new center in a new city.
Last season, J.D. Walton was rated as the worst starting center in the NFL by Pro Football Focus. This is the primary reason why the Broncos selected Baylor's Philip Blake in April's draft.
Blake was one of the best centers in the entire class and has the skills to start immediately.
My Prediction: Philip Blake
17. Dallas Cowboys: Running Back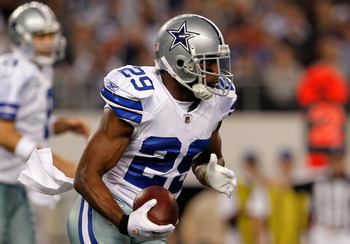 Tom Pennington/Getty Images
DeMarco Murray and Felix Jones
It appears that the Dallas Cowboys might be ready to fly with DeMarco Murray as their starting running back. When healthy in 2011, the Oklahoma product was absolutely sensational in every aspect of the game.
Felix Jones, on the other hand, has struggled with injuries and inconsistency over the course of his career and cannot be counted on to be a primary backfield option.
My Prediction: DeMarco Murray
16. New York Jets: Wide Receiver
Jeff Zelevansky/Getty Images
Stephen Hill and Chaz Schilens
It was pretty evident last season that the New York Jets needed to find multiple upgrades at the wide receiver position. Mark Sanchez did not have a lot of help on the outside or down the field.
Chaz Schilens comes equipped with a lot of talent, but just as much concern over injuries. While with the Oakland Raiders, Schilens had 72 receptions for over 900 yards in just 19 career starts. The downside, of course, it that he has missed a total of 21 games due to injury over the course of the last three seasons.
His competition, rookie Stephen Hill, might not be ready to make an immediate impact. He ran a limited route tree in college and will face a pretty steep learning curve this summer.
Hill does, however, possess the makeup of a dynamic NFL receiver. He has the size to catch balls over defenders, the speed to beat them down the field and the hands to make catches in traffic. All signs point to him being a future No. 1 receiver.
At this point, I would go with the veteran Schilens to earn the starting job opposite Santonio Holmes. The Jets are going to need productive players on the field in order to contend for a playoff spot, and I am just not sure how productive Hill will be out of the gate.
My Prediction: Chaz Schilens
15. Miami Dolphins: Running Back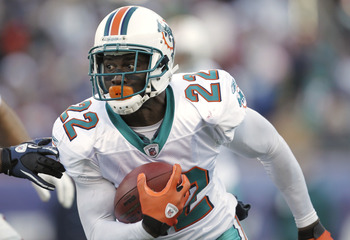 Winslow Townson/Getty Images
Reggie Bush, Daniel Thomas and Lamar Miller

Whoever the Miami Dolphins tab as their starting quarterback promises to get a ton of help from the running game. A position that was considered a weakness just a couple seasons ago now seems to be a major strength for this offense.
Reggie Bush and Daniel Thomas combined for over 2,000 total yards in their first season in South Beach, and now rookie back Lamar Miller has been added to the equation. The Miami (FL) product was considered by many experts as the second-best prospect at his position in the draft, but for some reason, Miller fell all the way to the fourth round, where the Dolphins snatched him up.
Bush should start the season as the starter with Thomas backing him up and Miller getting carries here and there. Any way you look at it, the Dolphins are on solid ground with their backfield heading into the 2012 season.
My Prediction: Reggie Bush
14. Baltimore Ravens: Outside Linebacker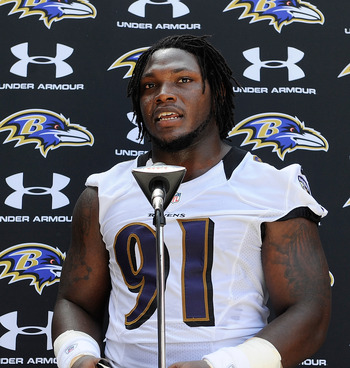 Patrick McDermott/Getty Images
Courtney Upshaw and Sergio Kindle

Make no bones about it, the loss of Terrell Suggs for the majority of the 2012 season is going to greatly hinder the Baltimore Ravens. Losing the reigning Defensive Player of the Year cannot be understated.
That being said, his injury presents rookie Courtney Upshaw with a great opportunity. The Alabama product has all the pass-rushing ability required of an outside linebacker position in a 3-4 defense. The only major issues with the second-round pick is that he tends to struggle dropping back in coverage and against the run.
Upshaw's competition, Sergio Kindle, was a great prospect coming out of Texas in 2010. However, a setback in the form of a freak injury impeded his progress, allowing him to see action in only two games in two seasons.
Kindle now appears to be fully healthy and ready to contribute two years after the fact. There's no question that the talent is there, but Upshaw is still the favorite.
My Prediction: Courtney Upshaw
13. Green Bay Packers: Inside Linebacker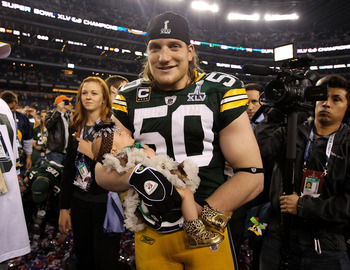 Al Bello/Getty Images
A.J. Hawk and D.J. Smith
Investing in a productive college football player who might not possess tremendous upside can be problematic.
A.J. Hawk looked to be the real deal coming out of Ohio State in 2006 and lived up to the hype as a rookie. The inside linebacker accumulated over 120 tackles, had 3.5 sacks and intercepted two passes. Great things were expected from him in the coming years.
Sadly, Hawk has regressed in each of the last three seasons with the Packers and now could be in jeopardy of losing his starting job to D.J. Smith, who performed extremely well last season.
My Prediction: A.J. Hawk
12. San Diego Chargers: Outside Linebacker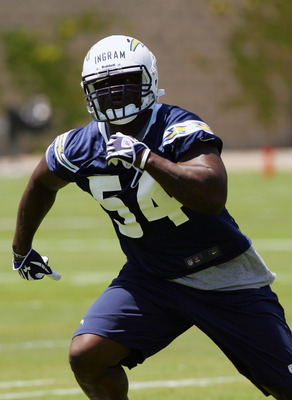 Kent Horner/Getty Images
Melvin Ingram, Shaun Phillips and Antwan Barnes
Jarrett Johnson promises to be the starter at the right outside linebacker position for the San Diego Chargers. His main responsibility, much like it was with the Baltimore Ravens, will be to stop the run.
This means that Johnson will most likely be taken out of the game in obvious passing situations, which opens up a spot for one of these three players to be a situational pass-rusher.
The left side is where it gets interesting.
Shaun Phillips had his worst season in 2011, compiling only 3.5 sacks. Meanwhile, Antwan Barnes dominated as a pass-rush specialist, accumulating a team-high 11 sacks. San Diego also has 2012 first-round pick Melvin Ingram, who might be the best pure pass-rusher in the draft.
I would hedge my bets that the Chargers go with one of the veterans here in order to help out against the run and in pass defense. Ingram could struggle with this early due to the fact that he primarily played up at the line for South Carolina.
My Prediction: Shaun Phillips or Antwan Barnes
11. Detroit Lions: Offensive Tackle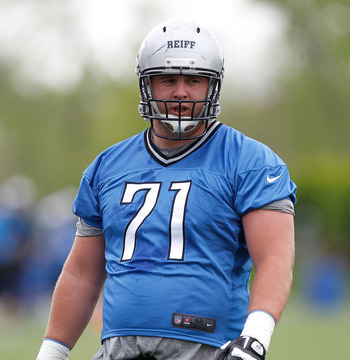 Gregory Shamus/Getty Images
Riley Reiff and Jeff Backus
The Detroit Lions struggled a great deal in pass protection from the left side last season. This is something that they are going to have to fix in order for Matthew Stafford to stay in a rhythm during games.
Despite being a solid performer for Detroit over the course of the last decade, Backus struggled to an extent last season and isn't getting any younger.
This is where Riley Reiff comes into play. The Iowa product already possesses the footwork and technique to start immediately. He was one of the few offensive tackles in the 2012 NFL draft with the ability to make an impact as both a run blocker and pass protector.
The Lions are going to have to make a decision between veteran leadership or young talent when determining who will start. If both Reiff and Backus perform extremely well, one of them could potentially take over for Gosder Cherilus along the right side of the line.
My Prediction: Jeff Backus
10. Arizona Cardinals: Offensive Tackle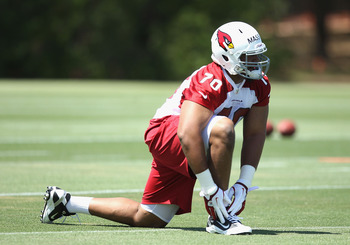 Christian Petersen/Getty Images
Bobby Massie and Jeremy Bridges
Many experts tabbed Mississippi's Bobby Massie as a second-round value despite the fact that his game was extremely raw.
Now, it appears that the Arizona Cardinals are giving him every opportunity to earn the starting right tackle job. This makes sense on a couple of fronts.
First, the Cardinals were absolutely dreadful in pass protection last season, which indicates that incumbents really do not have much to offer. Second, Massie has the most talent of any Cardinals player along this unit.
There are going to be concerns with starting him too early, and Arizona will have to hone his technique and footwork on the outside. Nonetheless, the job appears to be his to lose.
My Prediction: Bobby Massie
9. San Francisco 49ers: Wide Receiver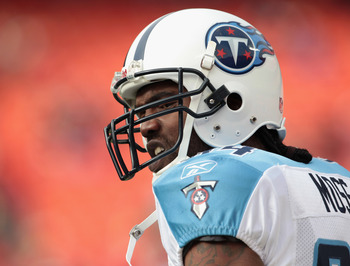 Jamie Squire/Getty Images
Randy Moss and Mario Manningham
The San Francisco 49ers sub-par wide receiver corps was one of the primary reasons they did not reach the Super Bowl last season. This unit combined for a total of one reception in the NFC Championship Game and consistently failed to show up when it counted the most.
This is why the team went out and acquired Randy Moss and Mario Manningham, both veterans that bring a lot in terms of talent and experience.
Michael Crabtree is set to be their No. 1 receiver when camp breaks in September. Though he struggled at times in the postseason, Crabtree was among the most productive receivers in the NFL over the course of last seven games of 2012, compiling 41 receptions and well over 500 yards.
The primary battle for San Francisco heading into camp later this summer will be for the No. 2 wide receiver position.
Randy Moss has impressed everyone with his performance during camp this offseason, while Manningham is better suited for the slot.
My Prediction: Randy Moss
8. Atlanta Falcons: Guard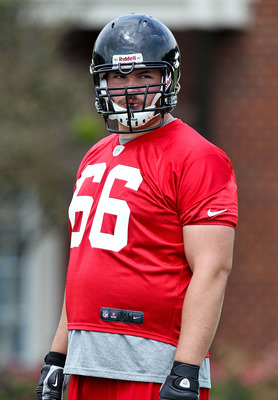 Daniel Shirey/Getty Images
Peter Konz and Mike Johnson
The Atlanta Falcons did not have a first-round pick in 2012 after trading up for Julio Jones in the 2011 draft. It really didn't matter too much as they received first-round value in the form of Peter Konz.
Konz figures to be the Falcons starting center of the future. That being said, Todd McClure has been Atlanta's standout center for the last decade and will hold down the fort in 2012.
This leaves Konz battling for the starting right guard position with Mike Johnson, a third-round pick in 2010 who hasn't seen the field much since being drafted.
Expect the Falcons to go with the best five offensive linemen when they break camp in September. This might be an obvious statement to make, but there remains logistical concerns in terms of how and when to play the rookie out of Wisconsin .
My Prediction: Peter Konz
7. Arizona Cardinals: Quarterback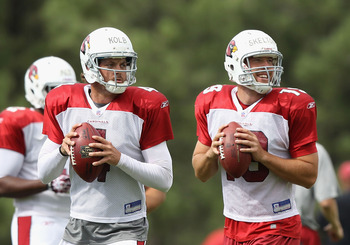 Christian Petersen/Getty Images
6. Tampa Bay Buccaneers: Running Back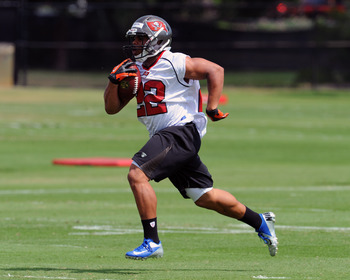 Al Messerschmidt/Getty Images
Doug Martin and LeGarrette Blount
Almost everyone in the football world knew that Tampa Bay's "pass-happy" offense wasn't working last season. Josh Freeman has the capability to be a really good starting quarterback, but the Buccaneers need to find some balance in their offense.
With this in mind, the new regime traded back into the first round to select Boise State running back Doug Martin.
Martin boasts tremendous athleticism and might be the best all-around back in the 2012 class outside of Trent Richardson. He will be a key figure on third downs because of his ability to block in the passing game and catch the ball out of the backfield.
LeGarrette Blount ran for over 1,000 yards as a rookie in 2010 before coming back down to earth last season. His yards-per-attempt average dropped by nearly one whole yard.
I still believe that Blount can be a great starting running back if given the opportunity. However, I was as high on Martin as I was on any offensive prospect in the 2012 draft, and that hasn't changed.
My Prediction: Doug Martin
5. St. Louis Rams: Cornerback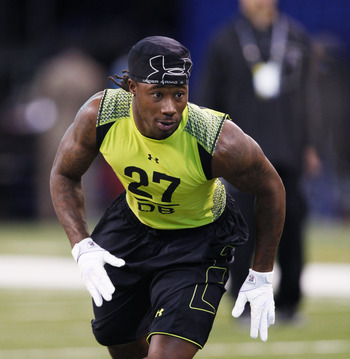 Joe Robbins/Getty Images
Janoris Jenkins and Trumaine Johnson
Cortland Finnegan is going to shut down one side of the field on defense for the Rams. The other side of the field, however, is up for grabs right now.
Due to a gluttony of injuries and overall lack of talent in the secondary, St. Louis struggled in pass defense throughout the 2011 season.
The Rams went all out in terms of attempting to upgrade this position in the draft. Both Janoris Jenkins and Trumaine Johnson bring pro-ready pass-rushing skills to the table. Make no mistake about it, both will be major contributors in 2012.
I would hedge my bets that Jenkins, a second-round pick from North Alabama, gets the nod here. He had top-10 potential leading up to the draft before character concerns crippled his stock.
My Prediction: Janoris Jenkins
4. Cincinnati Bengals: Cornerback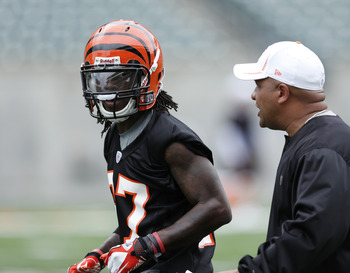 Joe Robbins/Getty Images
Dre Kirkpatrick, Nate Clements, Terence Newman and Jason Allen

A couple seasons after being ripped apart through the air due to poor secondary play, the Cincinnati Bengals are now stacked at cornerback.
Leon Hall, who is recovering from an Achilles injury, might be back by the time the regular season begins in September. If that happens, he's guaranteed the top corner spot on the right side.
The major competition here is going to be opposite Hall when he returns. The Bengals have four options here. Three options are veterans, while the other is a raw rookie.
I believe the vets are going to get a major look at the starting position, with Kirkpatrick having the inside track at the slot position. After all, Cincinnati is looking to contend for a conference championship in 2012 and cannot afford to have a rookie learning the role of cover corner on the outside.
My Prediction: Nate Clements
3. Chicago Bears: Wide Receiver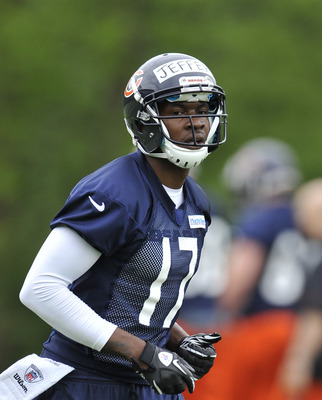 Brian Kersey/Getty Images
Alshon Jeffery, Devin Hester and Earl Bennett
The Chicago Bears struggled a great deal on the outside last season. This is one of the primary reasons that they went out there and upgraded at the wide receiver position this offseason.
Earl Bennett and Devin Hester didn't exactly light the world on fire last season, combining for less than 800 receiving yards as main cogs in the team's passing game.
This is where both Brandon Marshall and Alshon Jeffery come into play. Marshall, acquired from the Miami Dolphins for multiple third-round picks, promises to be Chicago's No. 1 receiver.
But what about Jeffery?
The South Carolina product has all the raw talent in the world, but needs to hone his skills in order to be an impact rookie. This is all about refining his route-running skills and acclimating to the speed of the NFL. If that happens early, Jeffery could find himself as the starter opposite Marshall in relatively short order.
My Prediction: Alshon Jeffery
2. Tennessee Titans Quarterback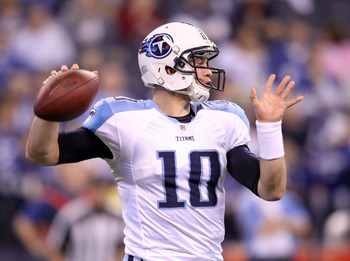 Andy Lyons/Getty Images
Jake Locker and Matt Hasselbeck

You don't spend a top pick on a quarterback and have him sit for two seasons before giving him an opportunity to earn the starting job.
Despite nearly making the playoffs last season with Matt Hasselbeck at the helm, it's hard to imagine the Titans forcing Locker to sit another season.
Hasselbeck played relatively well in his first seasons with the Titans, throwing for over 3,500 yards with more touchdowns than interceptions.
At this point, I would say that the competition is a draw. Common sense indicates that a team vying for a playoff spot would go with the veteran. However, there's no reason to believe that Locker cannot lead the Titans to the same type of success that they had last year.
My Prediction: Jake Locker
1. Seattle Seahawks: Quarterback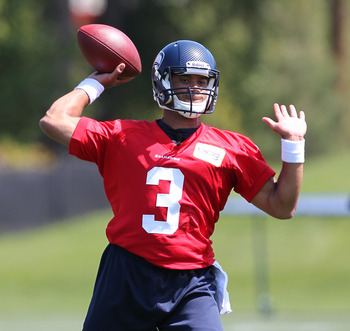 Otto Greule Jr/Getty Images
Matt Flynn, Tarvaris Jackson and Russell Wilson
This is an interesting situation to say the least. After spending $19.5 million to sign Matt Flynn for three seasons, most of us expected the Seattle Seahawks to hand him the starting quarterback position.
Pete Carroll quickly crushed this idea by indicating that Seattle would be holding an "open competition" for the starting job.
With third-round pick Russell Wilson and Tarvaris Jackson in the fold, the Seahawks have three quarterbacks vying for the top spot.
Both Flynn and Wilson represent the "new guard," while Jackson already understands the nuances of the team's offense after starting last season.
Ultimately, the long-term investment in Flynn is too much to overlook.
My Prediction: Matt Flynn
Keep Reading