NBA Free Agents 2012: How the Mavericks Will Rebuild with Deron Williams
May 25, 2012

Ronald Martinez/Getty Images
The free agency period of 2012 is expected to be interesting with big names like Kevin Garnett, Tim Duncan, Ray Allen, Eric Gordon and many others ready to sign with a new team. One player the Dallas push to sign is All-Star point guard Deron Williams. He opted to become a free agent, declining his player option with the New Jersey Nets.
Many expected the Dallas Mavericks to make another title run this season, or compete at the very least. Yet with the loss of many essential role players from last season's roster, the team just wasn't the same on offense or defense.
If the Mavericks can convince Williams to come play in his hometown alongside All-Star forward Dirk Nowtizki, Dallas would once again be a powerhouse in the Western Conference. However, there are several steps they must take in order for that to happen.
1. Amnesty Brendan Haywood, let Odom walk, trade Beaubois.
As solid as Haywood as been for Dallas in his short time with the team, GM Donnie Nelson should look at amnestying his contract. His play is simply not worth his pay, as Haywood is owed roughly $45 million over the next five seasons. His 7″ frame and 263 pounds in the middle is certainly helpful, but not at an $8 million per season price tag.
As well as sending Haywood away, the same exercise should be applied for Vince Carter and Lamar Odom, as Dallas holds a team option for both players' contracts. Odom has had the worst season in his NBA career by far. Whether it's due to off-court trouble or limited playing time, this experiment with the reigning Sixth Man of the Year has not worked in Texas.
The same goes for Vince Carter, as he has been unable to find a niche with the team. He struggled since the All-Star break, shooting just 37 percent and 31 percent from the field and from three respectively. Due to his poor play, not much merits the privilege of the Mavericks picking up his contract option.
Odom's $8.2 million option is certainly more than Carter's $3.1 million option, but dropping both will allow crucial cap-space. As seen with the Miami Heat, every dollar counts when it comes down to signing players. Another situation can arise to re-sign Carter, which we will look at later.
The Mavericks have given up on Rodrigue Beaubois, and could trade the guard for a draft pick to clear more room for salaries. Freeing up this cap-space with the aforementioned moves will push a vacancy of around $27 million, creating space to sign Deron Williams in addition to role players.
2. Sign Deron Williams and co.
Williams made $16.3 million with the New Jersey Nets this season. He has publicly stated that he would be interested in signing with the Mavericks. Whether this becomes a reality remains to be seen, but it is certainly a viable outcome this free agency.
For now, let us assume that Williams' new contract will have slightly more value than his expiring deal. If Dallas signs the All-Star point guard for $17 million, that will leave $10 million in cap relief to fill out the roster.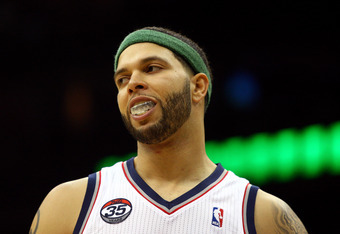 Chris Chambers/Getty Images
Jason Kidd has made it public that he would be willing to return to Dallas with a backup role, and that he has no plans to retire just yet. He has also mentioned returning to New Jersey, albeit if Williams re-signs with them. Kidd shouldn't be offered more than the veteran minimum contract of $1.2 million. While he can still contribute to an extent, he will turn 40 in March of next season.
Additionally, the Mavericks can use Kidd's Bird Rights, meaning that his contract will not count against the salary cap. The same premise can be applied for guard Jason Terry, who could be signed for $2 million. Both can still play effectively and are fan favourites, therefore, should return to the team.
This still leaves Dallas a $10 million window, as well as the mid-level exception of $2.5 million (due to Dallas paying luxury tax this season). At this stage, the point guard, shooting guard, small forward and power forward positions are somewhat covered. Starting players should be chased more intensely that role players, and should be the primary focus for the Mavericks.
The centre position is essential to Dallas' success, evidenced by their Finals run with Tyson Chandler down low. A player of similar skill set should be signed, such as Lakers backup Jordan Hill or restricted free agent JaVale McGee. While he has proven to be immature at times, McGee would be well-served to take guidance from veterans like Kidd, Nowitzki, Marion and even coach Rick Carlisle.
Denver currently has a $3.4 million qualifying offer on him, which Dallas could match or exceed. The Mavs could offer a base salary of $8 million, leaving space for other players.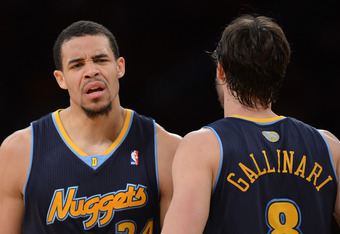 Harry How/Getty Images
As mentioned earlier, Vince Carter has a team option of $3.1 million on his contract. Much like the Miami Heat did with James Jones, the Mavericks can decline this option, then re-sign Carter to a lesser amount to save more money.
Offering a two-year veteran minimum, along with the possibility of contending for a championship, should be enough to entice him back to the team. He will be turning 36 at the beginning of next year, and shouldn't merit an expensive contract.
Much like Terry and Kidd, his contract will not count against the salary cap. This would only apply if Carter was signed after Dallas reached/breached their salary cap limit.
At this point, Dallas' roster would look something like this:
PG- Williams, Kidd
SG- Carter, Terry, Jones
SF- Marion
PF- Nowitzki
C- McGee, Mahinmi
The Mavericks still have $2 million to spend in free agency, as well as the mid-level exception. The current roster is older than what most would prefer, so the remaining space should be used on younger players.
If everything goes according to plan in the NBA Draft, Dallas would draft Meyers Leonard, a 7"0', 245 pound center out of Illinois. He's an athletic rebounder/shot-blocker, and would be perfect to back-up McGee or whoever the Mavericks can acquire.
They could then use the mid-level exception to sign Bucks small forward Carlos Delfino. He would fit in well with the Mavericks, as he is athletic in addition to possessing a decent shooting stroke. Delfino is also solid defensively and would back up Shawn Marion nicely.
The final product of Dallas' roster would appear as:
PG- Deron Williams, Jason Kidd
SG- Vince Carter, Jason Terry, Dominique Jones
SF- Shawn Marion, Carlos Delfino
PF- Dirk Nowitzki, Quincy Acy
C- JaVale McGee, Ian Mahinmi, Meyers Leonard
While some potential signings might not work out due to the players' respective teams matching offers, this still presents a concise idea of what Dallas could do to return to championship form. The rest of the roster would consist of players signed to the veteran minimum; much like the team did this season with Delonte West.
The Mavericks would remain a power in the Western Conference, and have enough talent to make another championship run. Even if the Mavericks can only lock up Deron Williams, the team would still be dynamic and versatile enough to make some noise.
It all comes down to how the Dallas Mavericks play their cards this free agency.