2012 NBA Mock Draft: Struggling Teams Who Will Botch Lottery Picks
May 26, 2012

Jim Rogash/Getty Images
There is a reason some of the NBA's worst teams are continually bad. Sure, injuries and bad luck play a role, but more often than not it is because the organization doesn't know how to work the draft.
That could mean a number of things, ranging from drafting poorly to foolishly trading picks (i.e. the New Jersey Nets should they fail to land a top-three pick this year) to not being to develop talent.
This year's draft is unusually deep and talented with a number of potential superstars available in the lottery. Unfortunately, there will be teams that completely botch their picks.
Here's a look at lottery teams that are bound to screw up.
1. Charlotte Bobcats: Anthony Davis, Kentucky
The Bobcats are so bad that even if they don't land the No. 1 overall pick in this draft, they should be able to land a potential starter/superstar.
Davis is the ideal choice, but MKG or Bradley Beal certainly won't hurt them either.
2. Washington Wizards: Michael Kidd-Gilchrist, Kentucky
Could the Wizards possibly do any worse than they did a year ago in the draft? It remains to be seen whether Jan Vesely or Chris Singleton will ever turn into players in this league, but an MKG or Anthony Davis pick is sure-fire slam dunk.
3. Cleveland Cavaliers, Bradley Beal, Florida 
The Cavs could easily screw things up here, but they if they land a top-four pick then they'll grab a kid who could easily become a superstar with a few years time.
Beal is one hell of a choice if they land No. 3.
4. New Orleans Hornets: Thomas Robinson, Kansas
New Orleans has two lottery picks, so we could say they're bound to botch one of them. Their lack of overall talent is alarming and they don't have a ton of building blocks to work with.
Robinson is the safest pick here, but it wouldn't at all be surprising if they went a different route and took a risk on someone like Andre Drummond.
That, unfortunately, would be a huge mistake for this ball club.
5. Sacramento Kings: Harrison Barnes, North Carolina
Will the Kings address what they need, or will they take a safe player? Rumor has it they're not looking for another big man to develop with DeMarcus Cousins, so hopefully they go out of their way to find someone who has a definitive position.
We know this much about Barnes, he's a true swingman with scoring chops.
If they go for some tweener, it will be a problem.
6. Portland Trail Blazers (via New Jersey Nets): Andre Drummond, Connecticut
The Blazers are still weary after the Greg Oden debacle/misfortune, but here they make another mistake by selecting a gifted athlete with incredible upside.
The problem is that he's slightly more likely to reach his potential than Oden ever was.However, Drummond struggled with consistency all season and rarely played up to his ability.
The major concern is that if he couldn't do it college, who's to say he'll do it in the pros?
7. Golden State Warriors: Perry Jones III, Baylor
Golden State is searching for way to get back to postseason relevance, but they'll struggle to get there if they don't draft well.
PJIII is a complete potential-based pick, elite potential, but potential nonetheless. He also struggled to consistently dominate at the collegiate level and came up short in big spots too often. 
Again, if he couldn't do it then, what say's he'll do it in the NBA?
But, with two picks in this first round, the Warriors can opt to take a risk.
8. Toronto Raptors: Jared Sullinger, Ohio State
The Raptors need to find someone who can score the basketball and Sullinger is as NBA-ready as any player in this draft. He's limited on potential, but the Raps have drafted on potential too often. Sullinger is a nice fit.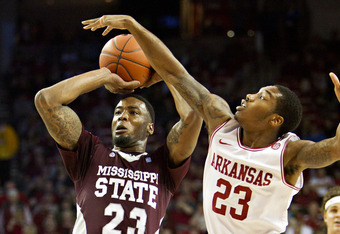 Wesley Hitt/Getty Images
9. Detroit Pistons: Arnett Moultrie, Mississippi State
Pairing up a big man alongside Greg Monroe must be the Pistons' only thoughts with this draft pick. Moultrie finally put his game together this season and has great potential. His athleticism will complement the big man extremely well.
10. New Orleans Hornets (via Minnesota Timberwolves): Kendall Marshall, North Carolina
Trying to replace Chris Paul is impossible, but adding a pure point guard with size and improving offensive game doesn't hurt.
11. Portland Trail Blazers: Austin Rivers, Duke
From one potential-laden pick to another, the Blazers find a much better bang for their buck here. For too long they've played a stagnant style of basketball and Rivers does the exact opposite. He's a gutsy kid with plenty to learn, but he's a player.
12. Milwaukee Bucks: Tyler Zeller, North Carolina
For what the Bucks need this pick is perfect. Zeller is solid scorer around the basket, he likes to rebound and he can play defense as well.
Milwaukee just traded all that away in Andrew Bogut, so this is about as perfect a pick as there is.
13. Phoenix Suns: Damian Lillard, Weber State
Eventually, and that could easily be this summer, the Suns are going to have to replace Steve Nash. Lillard isn't nearly the passer the future Hall of Famer is, but he'll develop that part of his game with the right coaching.
He can score immediately and gives the Suns a spark plug off the bench if Nash stays.
Joe Robbins/Getty Images
14. Houston Rockets: Jeremy Lamb, Connecticut
The is the last of the lottery picks, and Houston has a way of screwing things up pretty good in the draft, but Lamb is a genuinely talented prospect with a lot upside.
The Rockets could do much worse.
15. Philadelphia 76ers: John Henson, North Carolina
Arguably the most perfect pick in this mock, Henson gives the 76ers the young big man they can't wait to develop. He can also help out immediately.
16. Houston Rockets (via New York Knicks): Terrence Jones, Kentucky
This Jones' floor on draft night and the Rockets would eagerly snatch him up here. The athletic sophomore has quickly boosted some of the stock that fell during his championship season at Kentucky.
17. Dallas Mavericks: Terrence Ross, Washington
Another fantastic pick, and a kid who's rising up draft boards as we speak, Ross is a ready-made replacement should Jason Terry seek too much money.
Ross will likely go higher than this.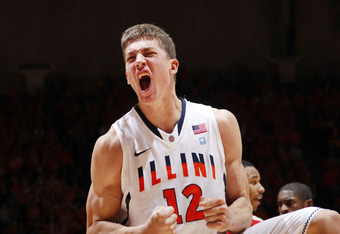 Joe Robbins/Getty Images
18. Minnesota Timberwolves (via Utah Jazz): Meyers Leonard, Illinois
The Timberwolves had better not draft another point guard, in fact, their best bet is to find a young center to put down on the block. Leonard is a genuine seven-footer who can rebound and block shots.
19. Orlando Magic: Quincy Miller, Baylor
Miller's another kid who should fly up the board come draft day. He's super talented and the only reason he's this far down is because he struggled to return to form after an injury.
Some team will jump on him earlier than this, but if they don't, the Magic would be foolish to pass on a potential star.
20. Denver Nuggets: Dion Waiters, Syracuse
The Nuggets have plenty of people who can score and Waiters adds another to that mix. His mid-range game is phenomenal.
21. Boston Celtics: Andrew Nicholson, St. Bonaventure
The Celtics would be ecstatic to see Nicholson still on the board here. The do-everything senior is incredibly skilled and still has upside despite his four years in college.
22. Boston Celtics (via Los Angeles Clippers): Royce White, Iowa State
The second of Boston's two picks, they'll continue to look for bodies to stash under the basket with more athleticism than Greg Stiemsma.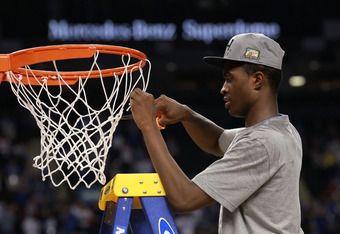 Ronald Martinez/Getty Images
23. Atlanta Hawks: Doron Lamb, Kentucky
The National Championship Game hero, Lamb boosted himself into first-round consideration and now has contenders looking at him as a scorer off the bench.
24. Cleveland Cavaliers (via Los Angeles Lakers): Moe Harkless, St. John's
If Moe Harkless is still on the board at this pick, the Cavaliers will do backflips. The St. John's star has tremendous upside and could be a legitimate starter and star in the NBA if he develops all his skills.
25. Memphis Grizzlies: Tony Wroten, Washington
There are some who honestly believe Wroten is the best point guard in this draft and if the Grizzlies are able to land him to back up Mike Conley, they'll be the happiest team in the draft.
26. Indiana Pacers: Marquis Teague, Kentucky
A speedy, potential-laden guard, the brother of Jeff Teague is still coming into his own. He's a great backup for Darren Collison going forward.
27. Miami Heat: Fab Melo, Syracuse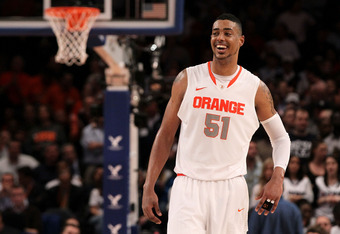 Jim McIsaac/Getty Images
We've seen the Heat's weakness exploited at various times this postseason, but LeBron and Wade are simply too good to let it affect them.
Melo is a genuine seven-footer and has a ton of potential. The problem is he's inconsistent, has no offensive game and struggles to stay on the court.
He's a developmental project Miami can afford to take a chance on.
28. Oklahoma City Thunder: Draymond Green, Michigan State
Green just makes perfect sense as a member of the Oklahoma City Thunder. He projects to be a backup who can play minutes behind both Kevin Durant and Serge Ibaka at the forward positions. The Sparty product is also a high-character guy that fits in the locker room. 
29. Chicago Bulls: John Jenkins, Vanderbilt
Jenkins is a lights-out shooter that can move well without the ball in his hands. Chicago desperately needs a 2 and the Rip Hamilton project hasn't panned out thus far. They would be happy to land the experienced Vandy alumni. 
30. Golden State Warriors (via San Antonio Spurs): Jeffery Taylor, Vanderbilt
As one of the best athletes in the draft, it is hard to imagine Taylor will potentially fall out of the first round. Golden State will not allow that to happen. His improving jumper is just a plus this late.