New York Rangers: John Tortorella's 10 Greatest Rants as an NHL Coach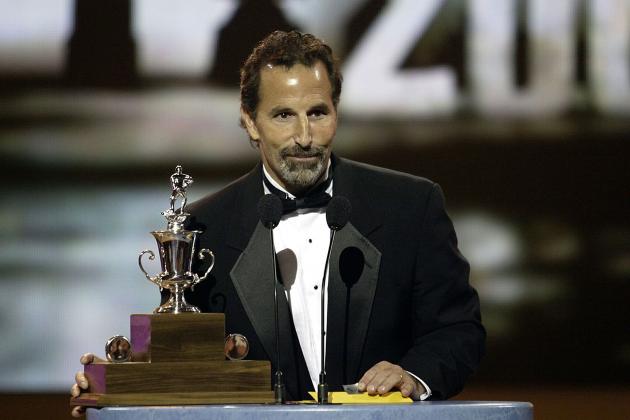 Craig Melvin/Getty Images

Anyone who knows New York Rangers coach John Tortorella knows he's actually Arthur Fonzarelli.
Kidding aside, the man his players affectionately refer to as "Torts" is one the most ornery, fiery and intense people you'll come across in the NHL. Those characteristics are driven by his passion for hockey and his will to win.
It's those traits that helped the Tampa Bay Lightning win the 2004 Stanley Cup, and were the driving force behind the Rangers' run to the Eastern Conference finals in 2012.
Tortorella also has an glowing affinity with the media.
In 11 NHL seasons as a bench boss, Tortorella has certainly had some memorable moments in press conferences and confrontations with reporters.
Leave your comments below if you agree or disagree with the list, or if you think an incident is missing and deserves some attention.
Without further ado, let's take a look at Tortorella's 10 greatest rants.
Begin Slideshow

»
Coaches get asked all sorts of questions after a game, from why they played a particular player more in certain situations to how the team felt about the game's outcome.
They aren't normally asked why they have only one assistant coach on the bench. Deciding to ask Tortorella that type of question means you're holding your life right in the palm of your hands.
Midway through the first period of Game 7 against the Washington Capitals in this year's playoffs, NBC Sports analyst Pierre McGuire felt it was a good time to ask John Tortorella some quick questions regarding the team.
Tortorella and McGuire go way back, including their days at TSN. The smile after Torts' comments indicates it was done playfully, certainly without any malicious intent.
Try telling that to some other members of the media. AM980's Devon Peacock wanted to boycott Tortorella's press conferences in the playoffs because of his uncooperative demeanor
The 2012 Stanley Cup playoffs certainly brought out Tortorella's lack of eagerness to speak with reports. But is it because he doesn't know how to converse?
Hardly.
It's more a cautionary tactic, to prevent the other team from knowing strategy or injuries to make it more difficult to game-plan against. So reporters shouldn't feel as if Tortorella doesn't like them personally, only that he's doing his job to protect his club.
Before Game 3 against Washington, a reporter went straight after Torts and asked him if he didn't like dealing with the media.
Bad idea.
After a 2-0 loss to the Edmonton Oilers on October 22, 2011, in which the team mustered little offensively with just 19 shots, Tortorella told the media exactly how he felt about his team's performance that night.
In just under 22 seconds—neat and tidy. Just how Tortorella likes things.
Sometimes, less is more.
The New York Rangers participated in this year's NHL Winter Classic against the Philadelphia Flyers in a classic outdoor matchup that had everything from excitement to drama. A penalty shot by Danny Briere late in the third period against Henrik Lundqvist decided the game.
Hank made the save and the Blueshirts went on to win 3-2 in their first Winter Classic appearance. Should be a time for the team and its coach to celebrate, right?
Wrong.
In his postgame press conference, Torts aired out his feelings regarding the officiating late in the game, which seemed to favor the home team. He went far enough to accuse the NHL and the referees of being "in" on the outcome together.
Tortorella was fined $30,000 by NHL commissioner Gary Bettman for his comments.
After a 5-2 loss at the hands of the Pittsburgh Penguins on April 5, a clearly agitated John Tortorella vented to the media. He discussed the Penguins playing a dirty game, who nearly injuring center Derek Stepan on a questionable, knee-on-knee hit by defenseman Brooks Orpik.
Torts also called Pittsburgh one of the most "arrogant" franchises in the league for the way they handle themselves on and off the ice.
Once again, Tortorella was fined by the NHL for his comments, this time $20,000.
Back on October 31st, the Rangers and Sharks played an early season, out-of-conference matchup that resulted in New York coming away with a 5-2 victory.
Feeling his team could have done better, Sharks captain Joe Thornton showed a bit of frustration, telling the media the Rangers were the softest team they had played so far on the road (via CSN Bay Area).
Obviously stunned, Torts only had one word for the salvo fired at his club by Thornton during the postgame press conference: "wonderful."
However, it would be the next day Tortorella would let the world know his true feelings on the matter by coming to the defense of his team, saying Thornton should just "shut up."
It is not wise to criticize Tortorella's team.
Narrowing down to the top three John Tortorella moments, we revisit an incident that put Torts on the map in regards to his historic media confrontations.
You could argue this should be the No. 1 rant—it's that good.
Back in 2004 as the head coach of the Tampa Bay Lightning during their eventual Stanley Cup run, John Tortorella vented his anger towards then-Philadelphia head coach Ken Hitchcock for getting into a verbal confrontation with one of his players.
What was to follow was a memorable diatribe, with some quotable lines, including "shut yer yap!"
John Tortorella would have made a fine Army general. Or a motivational speaker.
Usually, to create a great story, you need a hero and a villain. A protagonist and an antagonist.
Enter Larry Brooks.
The longtime Rangers writer for the New York Post has found a way to get under the skin of John Tortorella. Over the years, the two have had some classic confrontations, including an incident during last year's playoffs, when the two got into a battle of "logistics."
In this incident, Torts refused to answer Brooks' initial questions. In what could be argued as his most memorable rant as Rangers head coach, Tortorella goes after Brooks for writing an article poking fun at Wade Redden, now playing for the Rangers' minor league team, dropping the gloves to stick up for his teammates.
Imagine if Brooks and Tortorella actually did decide to drop the gloves. Who would you have your money on?
(WARNING: video clip includes foul language)
Once again, it's Larry Brooks vs. John Tortorella in what is arguably the most famous of Torts' incidents.
Visibly short with the media after losing 3-0 to the New Jersey Devils in the playoffs as coach of the Tampa Bay Lightning—including the line, "we know what we did"—Tortorella was in no mood to elaborate on any of the media's questions.
Larry Brooks, on the other hand, was in the mood to poke the bear, asking Torts "what did you do?" several times with Torts responding by saying "next question."
As the press conference wore on, you could feel the tension building and knew something was coming.
And it did, including Brooks mouthing off back at Tortorella—something you almost never see.