Manny Pacquiao vs. Timothy Bradley: Why This Fight Is Worth Pay-Per-View Dollars
March 26, 2017
Stephen Dunn/Getty Images
There has been a lot of hype surrounding the upcoming fight between Manny Pacquiao and Timothy Bradley. The combination of one of the world's top boxers in Pacquiao and a rising star in Bradley should make for an intriguing bout.
Let's take a look at tree reasons why the Pacquiao and Bradley encounter will be worth watching, not just for boxing fans, but for sports fans as a whole.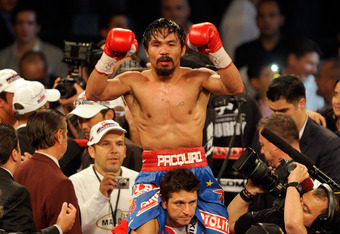 Ethan Miller/Getty Images
Pressure on Pacquiao
Pacquiao enters the fight with a lot of pressure on his shoulders for two main reasons. Super-fight rival Floyd Mayweather defeated Miguel Cotto in his last match, and Pac-Man will want to keep pace. Also, the eight-division champion is coming off of an uninspired victory over Juan Manuel Marquez.
When it comes to Mayweather, the two camps have been going back and forth for awhile now. Even though fans would love to see the two dominant fighters face off, the entire ordeal has turned into a public relations battle. If Pacquiao loses, he'll fall behind.
So, he needs a much stronger showing than he had against Marquez. The Filipino superstar won, but it wasn't as convincing as he probably would have liked. Fans should get to see Pacquiao turn it up a notch against Bradley.
Bradley's Undefeated Record
Something will have to give when Bradley brings his 28-0 career record up against Pacquiao's 15-fight winning streak. Desert Storm started his run back in 2004, and he has slowly worked his way up the ladder to earn a shot at Pacquiao.
It's always impressive when a boxer can remain unbeaten for an extended period of time, because everybody has an off night once in awhile. Even Pacquiao lost his first bout in his 12th fight, showing just how difficult it can be to keep that zero in the loss column.
The good news for Bradley is that losing to Pacquiao isn't necessarily a bad thing, especially if it's the only blemish on his record. That said, he has worked hard to reach this point and isn't going to go down easily.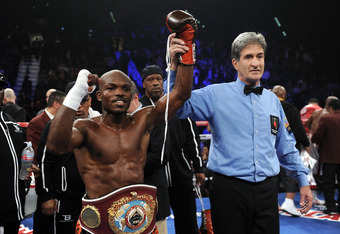 Harry How/Getty Images
Potential Upset
Pacquiao will enter the bout as the favorite, but he's not a lock to walk away with the victory. Bradley utilizes a similar style to Marquez, with strong defenses and counterattacks, so he knows the game plan can keep it close against Pac-Man.
Bradley should also have plenty of motivating factors. Most importantly, a win would provide a huge boost to his career and make him one of the biggest names in the entire sport. A chance like that doesn't come around much.
In other words, Pacquiao will need to be on the top of his game if he wants to keep his streak alive. If he turns in another performance similar to the one against Marquez, he'll be in serious danger. That makes the fight must-see TV.