NFL Quarterback Competitions: Breaking Down Early Leaders in Current QB Battles
May 25, 2012

Joel Auerbach/Getty Images
Position battles dot the NFL landscape every offseason, but few are more scrutinized during the summer months than quarterback competitions. The 2012 offseason is no different. 
Over the course of the next couple of months and into training camp, the following quarterbacks will be directly under the NFL spotlight. While much can change and likely will, we attempt to break down who is the early leader in each quarterback competition below.
Seattle Seahawks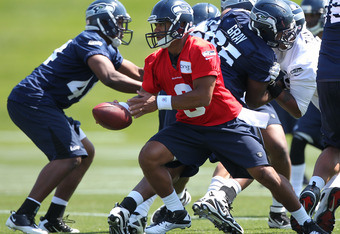 Otto Greule Jr/Getty Images
Tarvaris Jackson
Matt Flynn
Russell Wilson
What was once assumed to be a two-man quarterback race with incumbent starter Tarvaris Jackson and free-agent pickup Matt Flynn has turned into a three-way competition with the emergence of 2012 third-round pick Russell Wilson. 
The three quarterbacks split their reps evenly during the Seahawks' organized team activities (OTAs) this week, giving credence to the desire of head coach Pete Carroll to have a true quarterback battle this summer.
There appears to be two clear favorites, however.
While the Seahawks signed Jackson to a two-year, $8 million deal last offseason, he was merely average over 14 starts in 2011. The former Vikings quarterback threw for 3,091 yards and 14 touchdowns, but his passer rating stayed below 80 and Seattle won just seven games.
Jackson's contract in 2012 is not guaranteed.
The money given to Flynn this spring would seem to suggest he is the front-runner for the position. While it was not quite the contract some thought Flynn would get, Seattle did hand over a three-year, $24.5 million deal with $10 million guaranteed. You do not give a quarterback $10 million in guaranteed money without thinking he can be the team's immediate starter.
Wilson's spot on the roster is guaranteed, but could he start at all 2012? At 5'11", Wilson is shorter than 99 percent of quarterbacks currently playing in the NFL. But if he was two-to-three inches taller, we could have been talking about Wilson as the fourth first-round quarterback, and possibly as a better overall prospect than Ryan Tannehill. 
In the end, the job is Flynn's to win. By the end of training camp, the real question will be whether or not the Seahawks feel comfortable with Wilson as the backup and if they are willing to keep a $4 million backup in Jackson on the roster.
Early leader: Matt Flynn
Miami Dolphins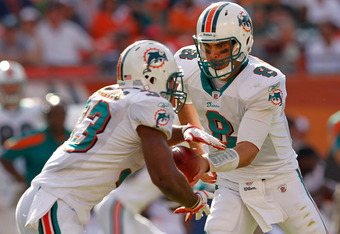 Mike Ehrmann/Getty Images
Matt Moore
Ryan Tannehill
David Garrard
The Dolphins were linked to every available quarterback this summer, from Flynn to Peyton Manning to Alex Smith. When the dust finally settled, Miami added veteran David Garrard and then picked Ryan Tannehill in the first round of the 2012 draft. 
While Tannehill is considerably more raw than both Andrew Luck and Robert Griffin III—the two quarterbacks that joined him in the Top 10—the former Texas A&M signal-caller cannot be ruled out to start in 2012. 
In addition to his first-round status—a draft position that has seen more and more year-one starting quarterbacks—Tannehill also has the playbook on his side. That's because Mike Sherman, his former head coach in College Station, is now the Dolphins' offensive coordinator. 
According to NFL.com's Jeff Darlington, Tannehill pointed out that the Miami playbook looks 80-85 percent like the one used at Texas A&M, with 60-65 percent of it being exactly the same. Such a deep familiarity with Sherman and his playbook could give Tannehill the edge if things are close coming out of camp. 
However, Matt Moore showed late last year that the Dolphins can win games with him in charge. Over the last nine games of the 2011 season, Moore went 6-3 with 16 touchdown passes and just nine interceptions. 
The journeyman quarterback may not be a long-term answer like Tannehill is, but he can hold down the position until the rookie is ready—even if that means starting all of 2012. 
Garrard, who put together solid seasons for Jacksonville in the past, missed all of 2011 and is not likely to be a big factor in this competition. He is the backup at best, but being the No. 3 is not out of the question.
While there is temptation to give the edge to the first-round pick who knows the playbook, Moore is the better bet to start in Week 1. How long he starts into the 2012 season is anyone's guess.  
Early leader: Matt Moore
Arizona Cardinals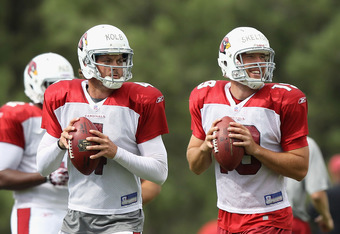 Christian Petersen/Getty Images
Kevin Kolb
John Skelton
Money and past compensation would tell you there is no quarterback competition in Arizona. Last offseason, the Cardinals gave Pro Bowl cornerback Dominique Rodgers-Cromartie and a second-round pick to the Philadelphia Eagles for Kolb, whom Arizona then signed to a six-year, $65 million deal with over $12 million guaranteed. 
However, performances during the 2011 season opened up the debate about who should be starting in Arizona. 
Kolb played in just nine games, and the Cardinals won just two games that he started and completed. His stats hardly matched the compensation, too: 1,955 yards, nine touchdowns, eight interceptions, 57.7 completion percentage and a 81.1 passer rating. That combination of numbers screams backup louder than it does $65 million starter.
Skelton made things more interesting when he went 5-2 in games he started, and that does not include another Cardinals win in which Skelton took over for an injured Kolb. His numbers were not great either (1,913 yards, 11 touchdowns, 14 interceptions, 54.9 completion percentage, 68.9 passer rating), but wins are wins, and Skelton helped provide them more than Kolb did early in the season. 
Do not forget that the Cardinals also flirted with Peyton Manning when the Colts released the future Hall of Famer earlier this offseason. 
That said, Kolb appears to be the early leader to begin the 2012 season as the Cardinals starter. 
According to Kent Somers of The Arizona Republic, Kolb led the first-team unit at the team's OTAs this week, while Skelton was with the No. 2 offense. Unless Kolb looks awful in camp, expect him to be the Cardinals' starter in Week 1. 
Early leader: Kevin Kolb
Cleveland Browns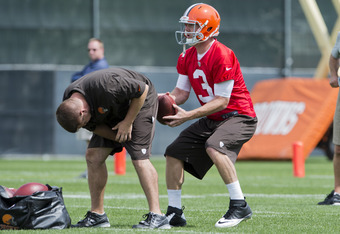 Jason Miller/Getty Images
Colt McCoy
Brandon Weeden
When the Browns failed to commit to McCoy as their starting quarterback before the NFL draft, the feeling was that McCoy's time as the team's No. 1 was coming to an abrupt end. That assumption was all but proved during the draft, when the Browns took Oklahoma State quarterback Brandon Weeden with the No. 22 overall pick. 
While McCoy has taken the first-team reps during the Browns' OTAs this week, the overwhelming majority believe Weeden will have every shot to win Cleveland's starting job for Week 1. 
In fact, GM Tom Heckert is expecting Weeden to win that "competition." According to the Akron Beacon Journal, Heckert said, "The best guy's gonna play, but we fully expect Brandon to be that guy. Now if he's not, and Colt plays better or Seneca, whoever—but right now that's our goal is to have [Weeden] be the guy.
Weeden needs to win the job outright, and Heckert said as much when he spoke to the Beacon Journal. But at this point, it may be nothing more than a formality to say he has to win the job.
If Weeden is not starting for the Browns in Week 1, something will have gone terribly wrong for the No. 22 pick this summer.
Early leader: Brandon Weeden
Tennessee Titans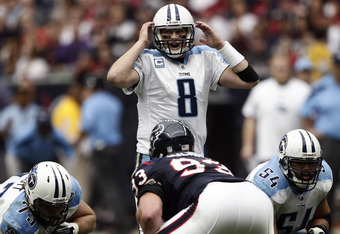 Bob Levey/Getty Images
Matt Hasselbeck
Jake Locker
The Titans currently have the ideal situation at the quarterback position. 
Hasselbeck, a 36-year-old, 13-year NFL veteran, showed in 2011 that he still has something left to offer. In 16 starts, Hasselbeck threw for over 3,500 yards with 18 touchdowns and 14 interceptions. His showing was enough to assume he could hold down the starting job again in 2012. 
The Titans not only have a veteran in Hasselbeck to lean on, but the team has their future in 2011 first-round pick Jake Locker. Locker received the opportunity in '11 to show why the Titans took him so high two Aprils ago. 
In five games (zero starts) as a fill-in for Hasselbeck, Locker threw for 542 yards and four touchdowns with no interceptions or fumbles. He also ran for 56 yards and a score. While the completion percentage was far too low (51.5 percent), Locker did enough on film to make the Titans think twice about keeping him on the bench for a second season. 
According to head coach Mike Munchak, via NFL.com, the Titans will have a completely open competition at quarterback this offseason:
These two guys are competitive and they understand no one's going to be given the job. We're gonna let it play out, that's what you do in these situations. As a staff, you hope it becomes obvious fairly early on, and hope it doesn't take until the last week of camp, because someone has to play. The negative is the longer it goes, the harder it is to build. But I think these guys can handle it.
The vast majority believes that Hasselbeck will win the job to open the season, including ESPN's Paul Kuharsky and Adam Schefter.
But despite those opinions, I'm not ready to discount the rocket arm and nimble feet of Locker. He provides the Titans with more playmaking opportunities, and the only real drawback preventing him from being the clear-cut No. 1 one is his accuracy. If he can resolve the precision issues this summer, Locker is the Titans' better option. 
Until we hear that those accuracy issues have been fixed, however, Hasselbeck has to be the early favorite.
Early leader: Matt Hasselbeck