Rangers vs. Devils: Early Goals Imperative for New York to Win Game 6
May 25, 2012

Bruce Bennett/Getty Images
Careless mistakes have all but doomed the New York Rangers. Giveaways, sloppy play and early goals have turned the Eastern Conference's No. 1 team into something they're not.
The New Jersey Devils have a way of doing that. They've always been that pesky team that can force even the best squads to play Devils hockey.
It took a little while, but once New Jersey captain Zach Parise woke up in Game 4, everything changed. The Devils are now a home win away from playing for the Stanley Cup.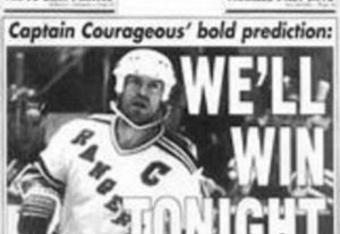 A number of parallels have been drawn between this scenario and the one that played out in 1994, when Rangers legend Mark Messier turned things upside down with his hat trick in Game 6. The Rangers went on to win the Eastern Conference championship on a double-overtime goal from Stephane Matteau in Game 7.
The Devils' goalie at the time was none other than a rookie Martin Brodeur—he's now all of 40 years old and a three-time Stanley Cup winner.
If the Rangers are going to have any chance of repeating that improbable turn of events, they'll need to beat Brodeur early and often.
The emphasis must be on early.
New York allowed the Devils to score five goals in each of the last two first periods, while they've scored only once.
They've had to dig themselves out of pre-dug holes in both games and it has cost them their home-ice advantage and put them on the brink of elimination.
That cannot be the case tonight. The Rangers excel as a team playing with the lead. Captain Ryan Callahan leads an aggressive bunch that can create opportunities by forcing mistakes out of their defensive shell.
They can't play in a defensive shell when they aren't on the defensive, it doesn't work that way.
Tonight, New York needs their goal scorers to be goal scorers early, and their defenders to be defenders late.
The Rangers have been on the brink of elimination twice already this postseason, and they've yet to actually go home. There is a reason for that, and the best way for them to get back to it is by scoring early tonight.