Mark Sanchez's Agent Should Look at Own Client Before Bashing Tim Tebow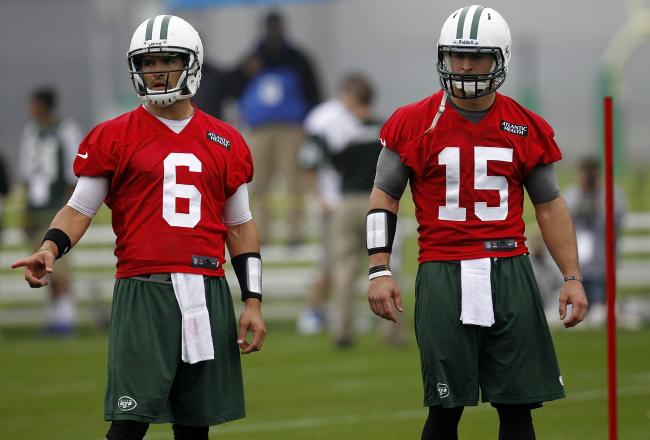 Jeff Zelevansky/Getty Images
The New York Jets' acquisition of quarterback Tim Tebow has been one of the hottest storylines of the NFL offseason, but the quarterback controversy that many have predicted for the Jets this season is all just a creation of the media according to at least one source.
The agent for Jets' starter Mark Sanchez took to Twitter on Thursday, and according to Brian Murphy (who of course has no vested interests or bias in the matter whatsoever) there is no controversy, as his client is clearly the answer for Gang Green under center.
No offense media, but of course Sanchez is going to out perform Tim T. Mark is a franchise quarterback and Tim is a great athlete.

— Brian Murphy (@A1Murph) May 24, 2012
Granted, if the Jets' recent organized team activities are any indication then Murphy could be onto something. The New York Times' Ben Shpigel reported Thursday that the duo of signal callers were the center of attention at OTAs, and while Sanchez performed very well Tebow struggled mightily in some of his first practices since coming to the Big Apple.
[Tebow had] problems with his decision-making, which produced two interceptions — one by Bart Scott, the other by the new safety Yeremiah Bell — and a displeased Sparano, who each time barked at Tebow to check down and throw to receivers right in front of him. Ryan characterized Tebow's performance Thursday as teeming with "ups and downs," adding that Tebow played better earlier in the week.

More intriguing — or, at least noticeable — was how Sanchez shed his monotone in favor of a more relaxed and playful tone. But Sanchez's mood could have been a result of his enjoying another strong day of practice — highlighted by a beautiful 75-yard touchdown pass to the second-round pick Stephen Hill.
Neither of these developments are exactly earth-shattering. Tebow isn't the most accurate of quarterbacks on his best day, and that combined with his perceived inability to read defenses and check down to his underneath receivers was a large part of what led to his being jettisoned by the Denver Broncos in the first place.
Also, although the Jets are installing a new offense with Tony Sparano now the team's offensive coordinator they're not re-inventing the wheel in New York, so one would hope that a quarterback with three years experience with the Jets would have an early leg up on one that just got into town a few months ago.
However, for Murphy to call Sanchez a "franchise quarterback" is accurate only in that he is a quarterback who plays for an NFL franchise. Sure, the Jets advanced to the AFC Championship game in Sanchez's first two years in the league, but that was as much in spite of Sanchez as because of him.
The numbers just don't lie. Sanchez has averaged 17 interceptions a season since entering the National Football League, and he has yet to post a quarterback rating of over 80 in a season, with his quarterback rating of 78.2 ranking a moribund 23rd in the NFL last year.
Does that sound like a "franchise quarterback" to you?
It wasn't OTAs, or even training camp, when the quarterback controversy was expected to really get going anyway unless Sanchez faceplanted in staggering fashion. As Gregg Rosenthal of NFL.com recently pointed out it's when the games begin to count and Sanchez has his first bad one that the calls for Tebow to start at quarterback will begin in earnest.
This is a game that Sanchez can't win. There is no grace period, no breathing room. If Sanchez starts the season with an interception or a few three and outs, the Jets home crowd will be begging for his removal.
Rosenthal goes so far as to state that "there isn't a player under more pressure in the NFL than Mark Sanchez". After an up-and-down 2011 season and an offseason that saw the Jets pursue Peyton Manning and then trade for Tebow that may well be the case, and in any event the Jets' offseason activity at the position would certainly seem to indicate that the team dosn't share Murphy's glowing opinion of Sanchez.
This is a make-or-break season for Mark Sanchez, and Murphy would be better served spending his time making sure his client is doing everything he can to maintain his role as the Jets' starter than wasting it tossing backhanded insults at Tebow on a social networking site.
That is, if he wants to see his cut of Sanchez's paycheck.
This article is
What is the duplicate article?
Why is this article offensive?
Where is this article plagiarized from?
Why is this article poorly edited?

New York Jets: Like this team?