12 NFL Players with the Highest Trade Value Heading into 2012 Training Camps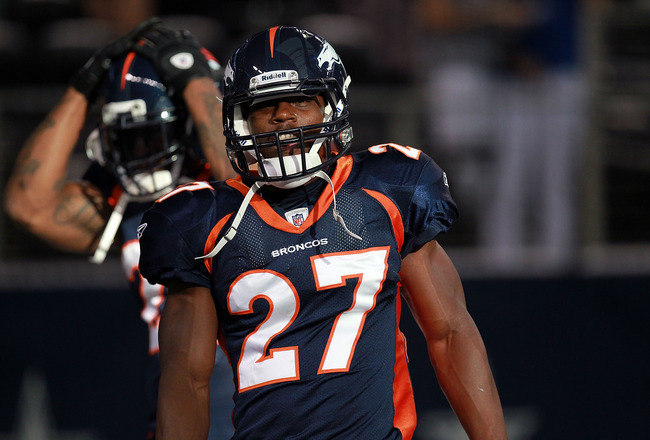 Ronald Martinez/Getty Images
Player trades are relatively rare in the NFL, unless you are the Philadelphia Eagles or Seattle Seahawks. If you are an avid fantasy-football participant, you know how difficult it can be to make a trade. If it is difficult for you to agree with another fantasy owner about a player's value, imagine how a real-life general manager must feel.
As we head into the preseason, trades might even be more difficult to consummate than in years past. With the new CBA increasing roster limits to 90, teams can simply wait to scoop up talent after the waiver wire runs red with hundreds of cuts.
Even so, there are plenty of players with enough trade value to make some trades feasible. Here are some who could be traded before the outset of the season.
Note: Since player-for-player transactions are the rarest kind and particularly difficult to predict, trade values are limited to 2013 draft picks.
Michael Jenkins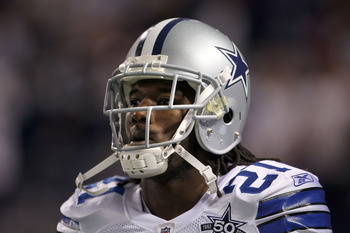 Jeff Gross/Getty Images
According to one well-known parody Twitter account, Jenkins was already traded to the Oakland Raiders. While it's a possibility, Jenkins is still a Cowboy.
Still, moving Jenkins makes a lot of sense for the Cowboys, who signed Brandon Carr and drafted Morris Claiborne this offseason. In fact, this could happen quite soon. Here is what ESPN's John Clayton had to say:
The Indianapolis Colts have made multiple trade offers to the Dallas Cowboys in an effort to acquire disgruntled cornerback Mike Jenkins, and the last one remains on the table, according to a league source.

Cowboys coach Jason Garrett said this week that Dallas would not trade Jenkins. But another NFL source familiar with the situation said he believed a trade could be worked out for the right price.
This one seems like it's just a matter of time.
Trade Value Assessment: Third- or fourth-round draft pick
Odds Jenkins is traded before the season starts: 85 percent
Virgil Green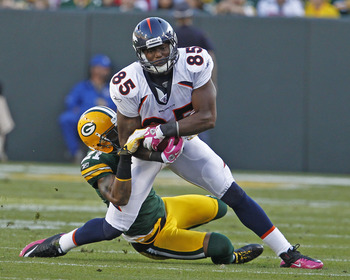 Matt Ludtke/Getty Images
The Broncos had a tight end problem last year, but they somewhat solved it by drafting Julius Thomas and Virgil Green. Then Peyton Manning came to town, and Denver snatched up Jacob Tamme and Joel Dreessen on the same day later on in this year's free agency.
What does this mean for Green?
Manning's two new, veteran toys at tight end are signed through 2014. While not a terribly long time, it is enough to make me wonder if the Broncos have plans for the talented second-year player.
The problem with trading Green before the season starts is that he is suspended for the first four games of the season. While it appears to be an honest mistake, his trade value will remain depressed until he can get on the field. That is, unless some team decides they need to invest in him, suspension notwithstanding.
Trade Value Assessment: Fifth-round draft pick
Odds Green is traded before the season starts: 25 percent
Kyle Williams
Doug Pensinger/Getty Images
Poor Kyle Williams.
Not only did he all but cost San Francisco a Super Bowl appearance with two fumbles late in the NFC Championship Game, but he also suddenly finds himself the odd man out at wide receiver.
The 49ers signed Randy Moss and Mario Manningham as free agents and drafted A.J. Jenkins in the first round this offseason. With Michael Crabtree also in the fold, Williams' only real hope was to reprise his ill-fated role as a return man—until San Francisco re-signed Ted Ginn Jr. to a one-year deal this past March.
While there is surely some uncertainty surrounding a few of those guys—namely Old Man Moss and Alligator Arm Ginn—the 49ers might feel they are stocked enough at the position to trade Williams. He could benefit from a fresh start after receiving death threats for his championship-game gaffes.
Trade Value Assessment: Fifth-round draft pick
Odds Williams is traded before the season starts: 35 percent
Knowshon Moreno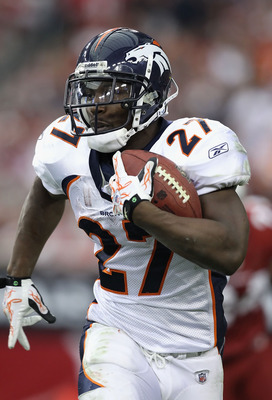 Christian Petersen/Getty Images
As an injury-prone running back who has seemingly fallen out of favor with the current regime, it is a wonder Knowshon Moreno has not been traded already.
Perhaps the fact he might have to begin the season on the PUP list has something to do with it.
The Broncos have resurgent Willis McGahee and drafted Ronnie Hillman to play Moreno's role. With Lance Ball, Mario Fannin, Xavier Omon, Chris Gronkowski and Jeremiah Johnson around to compete for backup spots, Denver can afford to move Moreno and receive decent compensation for the 24-year-old former first-round pick.
Were he not coming off ACL surgery, his value would be much higher.
Trade Value Assessment: Fourth-round draft pick
Odds Moreno is traded before the season starts: 50 percent
Anquan Boldin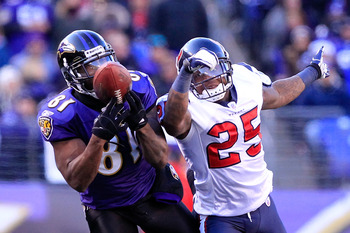 Chris Trotman/Getty Images
The Ravens have a receiver on the downswing of his career in Anquan Boldin. Why not give youngsters Torrey Smith, Tandon Doss and Tommy Streeter a chance to shine?
The truth of the matter is that Boldin is still quite serviceable at the position, and he is a veteran presence in a young receiver corps. Methinks a general manager would have to blow the Ravens away with an offer for Baltimore to let him go.
Trade Value Assessment: Third-round draft pick
Odds Boldin is traded before the season starts: 10 percent
Matt Moore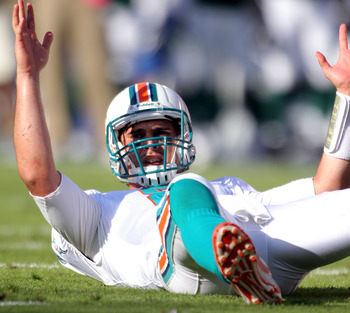 Marc Serota/Getty Images
The writing may be on the wall for one of Miami's quarterbacks, and Ryan Tannehill is not one of them.
Moore did a nice job stepping in for an injured Chad Henne last season, but all that may have done is increase his trade value for the Dolphins.
Garrard has outshone Moore thus far, though I realize we are talking about organized team activities (OTAs) right now. If that becomes a trend, Jeff Ireland might be tempted to offer Moore up as trade bait to see if he can get something in return for Moore, who is in the final year of his contract.
Stephen Ross recently said he expects Moore to be the Week 1 starter, and I expect him to beat out Garrard for the starting job as well. Garrard has no trade value, but if he winds up with the starting gig or Joe Philbin decides to throw the rookie into the fire, Moore could be on his way out of South Florida.
Trade Value Assessment: Fifth- or sixth-round draft pick
Odds Moore is traded before the season starts: 35 percent
Colt McCoy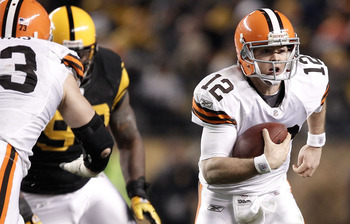 Jared Wickerham/Getty Images
Rumors and speculation are flying about a potential McCoy trade already, but there is something to be said for having a quality backup. Seneca Wallace provides that for the Browns already, however, and he is just three years older than the heir apparent to the starting gig, Brandon Weeden.
Still, there is a case to be made to keep McCoy, who will make far less money than Wallace over the next couple of seasons. The former Texas Longhorn does not seem like the type to grouse, though his father might have some choice words for the Browns again.
Then there is the question of value—the Browns are liable to get more for Wallace, the more proven and seasoned backup, than for McCoy, whose ceiling may not be higher.
If it seems like I am going back and forth on this issue, just imagine how much of this is going on at Browns headquarters.
Trade Value Assessment: Fifth-round draft pick
Odds McCoy is traded before the season starts: 65 percent
Matthew Slater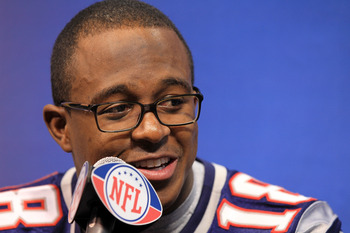 Scott Halleran/Getty Images
No, that is not a picture of Steve Urkel's older brother. (Actually, he would be his younger brother—if you want to feel old, Family Matters premiered in 1989.)
With the Patriots stockpiling receivers like they are expecting an apocalypse, guys like Slater, Donte' Stallworth, Julian Edelman and Chad Ochocinco suddenly find themselves on the bubble.
The good news for Slater is that he is a special-teams ace and captain, even contributing on defense much like Edelman. He also just re-signed with the Patriots.
His contribution on special teams may save his job, but the Patriots are so loaded that Slater could be on the trade block even if they cut another receiver.
I actually think there is a better chance that Edelman or even Ochocinco are traded or cut loose, but Slater carries the most value.
Given that New England picked holds just five picks next year, thanks to the Albert Haynesworth and Ochocinco trades, it might be looking to get back to their stockpiling ways.
Trade Value Assessment: Fourth- or fifth-round draft pick
Odds Slater is traded before the season starts: 15 percent
Leon Washington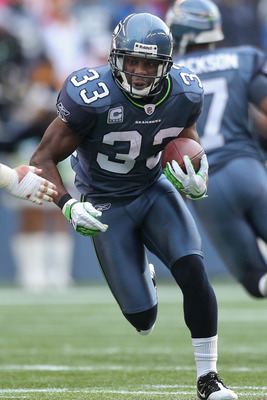 Otto Greule Jr/Getty Images
Leon Washington has been ineffective at running back since his arrival, and the Seahawks suddenly have a bevy of backup running backs in Kregg Lumpkin, Vai Taua, Robert Turbin, Tyrell Sutton and Michael Robinson.
Any one of those players could be trade candidates, but Washington would likely bring the most value via a trade. His value mainly stems from his abilities as a kick returner, which may be too valuable for Seattle to give up. The glut at running back might be too much for them to keep him, however.
Trade Value Assessment: Fourth- or fifth-round draft pick
Odds Washington is traded before the season starts: 20 percent
Santana Moss
Scott Halleran/Getty Images
Like the Patriots, the Redskins also seem to be stocking up on wide receivers recently, though they let Jabar Gaffney go—of course, he signed with New England.
Even with Gaffney gone, Washington already signed Pierre Garcon and Josh Morgan this offseason to go along with incumbent sophomores Leonard Hankerson, Niles Paul and Aldrick Robinson. They also have Anthony Armstrong.
Moss has been a stalwart on this roster for what seems like ages, but his time might be up. He still has something left in his tank, which might give him enough value in a trade. His veteran presence may be the only thing keeping him on the Redskins.
Trade Value Assessment: Fourth-round draft pick
Odds Moss is traded before the season starts: 35 percent
Chris Ivory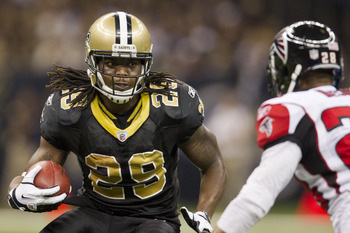 Wesley Hitt/Getty Images
This is déjà vu all over again for Chris Ivory and the Saints.
New Orleans traded Reggie Bush after drafting Mark Ingram last year, but they signed Darren Sproles to replace him. There was speculation that they would try to trade one of their running backs, as they had a glut at the position, but with Pierre Thomas returning from injury and Ingram's rookie status, that did not seem to be a consideration.
Fast forward to this offseason, however, and the picture is a bit different.
The Saints still have the same superfluity at the position, but Sproles has emerged as one of the league's most dynamic backs, Thomas has been outstanding, and Ingram hopes to bounce back after an injury-plagued rookie year.
Incidentally, New Orleans will not be quick to pull the plug on the rookie if he continues to struggle after having traded this year's first-rounder to snag Ingram in 2011.
That leaves Ivory as the odd man out in the Hydra of a backfield in New Orleans.
Ivory has performed well when called upon in recent years, averaging 5.0 yards per carry throughout his young career. The Saints might try to pick up some extra draft picks after the Ingram trade and getting hammered in the bounty scandal this year.
Trade Value Assessment: Third- or fourth-round draft pick
Odds Ivory is traded before the season starts: 40 percent
Mike Thomas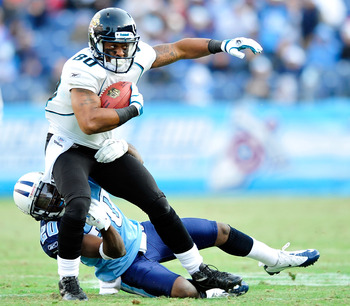 Grant Halverson/Getty Images
If you peer into the foggy memory of Jacksonville's 2011 season, you might recall that Mike Thomas was its No. 1 receiver at one point.
My, how things have changed.
After signing Laurent Robinson and drafting Justin Blackmon with the fifth overall pick, the Jaguars find themselves sitting on a bit of a surplus at wide receiver. Including second-year receiver Cecil Shorts, Thomas could be fourth on the depth chart going into training camp.
While Thomas may not be on the roster bubble—his $6 million guaranteed over the next two years being his saving grace—he very well could be on the trading block. Whether anyone is willing to send a draft pick over for the disappointing Thomas is another matter.
Trade Value Assessment: Fourth- or fifth-round draft pick
Odds Thomas is traded before the season starts: 50 percent
Keep Reading