WWE: Why Daniel Bryan Is Getting Championship Matches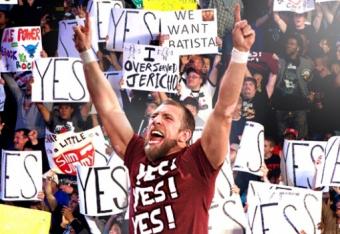 Daniel Bryan is getting his biggest push in WWE yet because he is finally a WWE guy.
Vince McMahon would rather put his heart and soul in his own idea than piggy back off of something else. When people ask me if I think the Kings Of Wrestling tag team will be used in WWE now that both men are signed to the company, I always say no. Vince didn't come up with it.
Very few have ever gotten over prior to working for WWE to the point of McMahon feeling it's worth building off of. Goldberg, Ric Flair, and Road Warriors are some of the few.
PWInsider.com is reporting via a report I had on Wrestlezone.com:
PWInsider.com is reporting that WWE officials seriously considered letting Daniel Bryan win the WWE Championship from CM Punk.
The idea reportedly picked up steam as they got closer to the pay-per-view but, obviously in the end, company officials decided to keep the title on CM Punk.
It was nearly two years ago that Bryan was fired after the Nexus invasion for choking Justin Roberts with his tie. He then came back at SummerSlam but even then was irrelevant on Smackdown or Superstars.
In the past five months, Bryan has became a WWE guy. The heel turn was the best thing for him. It got him away from being the internet sensation.
When you hear his name, a certain description automatically comes to mind. It use to be Daniel Bryan—He's the guy who was awesome on the independents and WWE reversed his name. Now its, Daniel Bryan—The "YES" guy in WWE.
The key is "in WWE."
I got in to a conversation with a wrestling fan not long ago about Daniel Bryan finally being a WWE guy. The fan, who admittedly was huge independent wrestling fan, says "Bryan Danielson is a sell out."
How can you sell out if you don't have anything to sell? He didn't sell his pride. I'm sure Bryan is happy he paid his dues and came up the right way. The fan goes "he should have stayed on the indy scene forever and would have made more money doing that than anyone else on the indys ever in history."
That's like striving to only be a AA baseball pitcher with no aspirations to make it to the Major Leagues.
It's a great dream to be recognized for underground success via the die hard internet fans, but you won't become WWE champion that way.
As I said, the heel turn was the golden move. I always envisioned him turning heel and having a Chris Benoit-type character. The rabid wolverine where he could brawl or mat wrestle you.
Bryan has ended up weathering the perfect storm. He's an amazing wrestling talent. He manages to be crafty in the ring but also very cowardly—it's a great mix.
Add on the annoying, pompous "YES" chants—what a winning combination.
Would you be happy to have Daniel Bryan as WWE Champion?
Daniel Bryan is a great heel because he knows best what Daniel Bryan would say and do. Several months ago when he was champion, he wrote a great blog entry on his Facebook page describing ways AJ could be a better girlfriend. There are many guys today who struggle to figure out what to say during the two hours of WWE programming, much less of capable of blogging on Facebook in character.
Daniel Bryan is now making more in one week with WWE than he would make in six independent shows, working in front of five million people a week and oh yeah, he's dating a Bella Twin.
So the question is: Is Daniel Bryan leaving behind the underground, radical independent scene, in order to make it to the top of the corporate "sports entertainment" industry?
YES! YES! YES! YES! YES!
This article is
What is the duplicate article?
Why is this article offensive?
Where is this article plagiarized from?
Why is this article poorly edited?