Other Playoff Teams Should Be Very Afraid of a Pissed-off LeBron, DWade
May 25, 2012

Mike Ehrmann/Getty Images
For the past couple of weeks, it has been said that the winner of the Western Conference Finals between the San Antonio Spurs and Oklahoma City Thunder would go on an win the NBA championship.
However LeBron James and Dwyane Wade might disagree with that statement.
Somewhere along the line with all of the physical play from Indiana Pacers, James and Wade got pissed off and the remaining teams in the playoffs should be very afraid.
After falling behind 2-1 to the Pacers, everyone wrote the Heat off a little prematurely and Miami made a statement in the final three games of the series.
With LeBron and Wade playing with a chip on their shoulder, the Heat look more like title contenders right now than they possibly have all season.
All it took was to wake the two Miami superstars up.
LeBron certainly woke up after the Heat were embarrassed by their 94-75 loss in Game 3. All he did was turn in one of the best postseason performances in history in Game 4, scoring 40 points, grabbing 18 rebounds and dishing out nine assists.
In the past three games, James has finally realized he has to put the Heat on his back in order to win a championship. He did that, averaging 32.7 points, 11.3 rebounds and 8.0 assists, while shooting 55 percent from the floor in the three consecutive Miami wins.
But the Heat really didn't get going until Wade woke up shortly before halftime in Game 4.
Wade was coming off a Game 3 in which he scored a career playoff-low five points and shot only 32 percent (25-of-77) during his past four playoff games.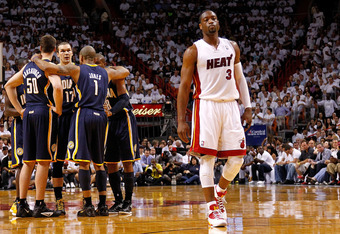 Mike Ehrmann/Getty Images
But then Wade woke up and made 40 of his last 65 shots (62 percent) in the series and played like a guy with something to prove.
He averaged 33 points per game the final three games, including a dominant 41 point effort to close-out the Pacers in Game 6.
The difference is that both superstars are attacking the rim like they are pissed off and that's bad news for whoever wins Game 7 between the Boston Celtics and Philadelphia 76ers.
Wade and James are playing with a sense of urgency and they are producing results. 
When both guys are playing with a chip on their shoulder, it will be tough for anyone in the NBA to slow them down.
The key is whether or not they can keep it up.
They won't have the benefit of a Pacers team to push them around and wake them up next series. No team remaining in the postseason will do the foolish things that Indiana did throughout the series.
But if Wade stays hot and James continues to be willing to take over games, the rest of the NBA should be put on notice.