Adrian Gonzalez's Outfield Play Gives Boston Red Sox a Morale Boost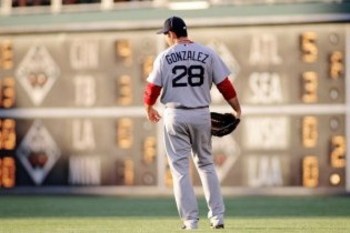 Getty Images
How many $20-million-a-year athletes can you think of who would tell their coaches or managers to put them anywhere on the court or field?
If you're having trouble, Adrian Gonzalez is the fledgling member of this club. And his selfless move couldn't have come at a better time for the Red Sox.
Granted, Boston's 10–3 stretch over the past two weeks—drawing them to .500 heading into tonight's game against the Tampa Bay Rays—has been a total team effort.
Both the starting rotation and bullpen have improved significantly since their debacle-filled start to 2012. And the offense is starting to take on the well-rounded quality that has defined it for the past decade.
Gonzalez's willingness to play the outfield is, however, symbolic of everything the Red Sox aspire to be this season. It's not a long-term solution, but as a stop-gap measure, it solves a few pressing issues for the team.
Helps Injury-Depleted Outfield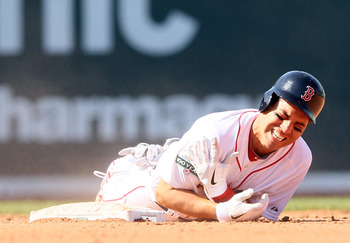 Elsa/Getty Images
Remember that scene in The Simpsons when the camera pans out and shows all the kids who hurt themselves jumping on Homer's trampoline (influenced by a similar scene in Gone with the Wind)? That's what the Red Sox outfield has resembled this season: a triage unit.
In the eighth inning of Tuesday's game in Baltimore, Scott Podsednik became the 12th player to man the Boston outfield in 2012. According to Grantland's Jonah Keri, only two other teams in the past decade have sent 12 different players to the outfield by May 22: The 2007 A's and the 2002 Expos.
Rather than putting an offensively-challenged player like Marlon Byrd or Darnell McDonald in the lineup and hoping for the best, the Red Sox can use one of the lynchpins of their attack without having to sacrifice the playing time of any of their big boppers.
(Make all the jokes you want about A-Gone's slow start, he remains one of the best hitters in the league.)
And the funny thing: Gonzalez hasn't looked half bad at his new (temporary) position. If his sliding catch down the line last Saturday at the Phillies or his nifty grab on Wednesday at the Orioles are any indication, the Red Sox won't have to worry about his defense in the outfield.
The Red Sox and their fans will take that in a heartbeat.
Silences the Youkilis-or-Middlebrooks Debate (For Now)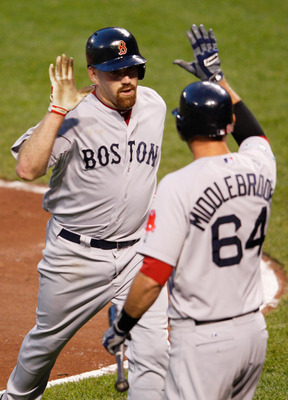 Rob Carr/Getty Images
Leading up to Kevin Youkilis' activation from the DL on Tuesday, there was endless chatter about what to do with Youk and rookie sensation Will Middlebrooks—the latter of whom has performed so admirably that the idea of trading the former has become an earnest debate.
By agreeing to play the outfield, Gonzalez allows a banged-up Youkilis to man first and Middlebrooks to stay at third.
Youkilis doesn't have to wrestle a place in the lineup away from Middlebrooks and can just focus on hitting. If his 3-for-6 showing (including a home run) in the final two games of the Baltimore series are any indication, he'll render his early-season struggles a distant memory.
Middlebrooks, meanwhile, doesn't have to ride the Pawtucket-to-Boston shuttle all season long and can be appropriately rewarded for a start that has proven his major league worth.
Plus, he can continue to be mentored by Youkilis about the finer points of third base while sharing the same dugout with him instead of from afar.
When Jacoby Ellsbury and Carl Crawford are back in the big leagues by July, this debate is sure to resurface. For now, the Red Sox are wise to assure that both Youkilis and Middlebrooks are in the lineup and on the field every day.
Sends a Team-First Message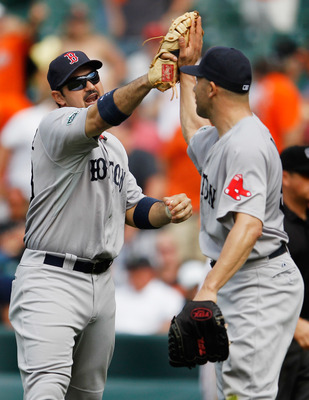 Rob Carr/Getty Images
There's a sense of entitlement that has crept into the Red Sox clubhouse in the last season or two.
Whether it's the beer and fried chicken that Josh Beckett, Jon Lester and John Lackey allegedly indulged in during games last season or the golf outing that Beckett went on after he missed a start earlier this season, some of Boston's players have enjoyed themselves too much even when their play left a lot to be desired.
So imagine the message that Gonzalez—the second runner-up for the 2012 American League MVP award and making over $20 million a year—sends when he agrees to play the outfield (where he had only started three games before this season).
Boston fans have pulled for Dirt Dogs and Idiots. Players with braggadocio who aren't afraid to go out of their element or get dirty if it means the team will win. While his polished game and demeanor won't remind anyone of Kevin Millar, Gonzalez's willingness to do what best helps the team will.
On a personal level, it silences the critics who have gotten on Gonzalez for his lack of power (three home runs and 22 RBI) to start the season. (Through two months last year, he was hitting .329 with 10 home runs and 46 RBI.)
He won't use his lagging numbers as an excuse to not be a team player. If they want the full support of Red Sox Nation, Gonzalez's teammates would be wise to behave similarly.
Keep Reading

Boston Red Sox: Like this team?