Seattle Mariners: The "What Could Have Been" Team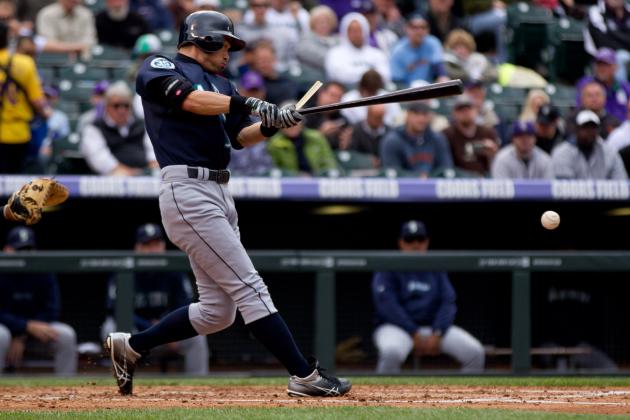 Justin Edmonds/Getty Images

For Seattle Mariners fans these day, let's just say the going is tough.
Stuck in rebuilding mode for a few years now, the M's are off to another sub-par start with a 21-26 record that puts them at seven games back of first place.
The future is bright for this team which has many young players in place and a whole cavalry on their way through the minors. You can't help but wonder though: With all the good players who have donned the Seattle uniform, how is it they have no hardware to show for it?
With a few questionable trades and misjudgment of talent, the team organization has allowed a lot of good players to walk out the door. In fact, the 25-man-roster in the next slide is full of current MLB players.
Fortunately the Mariners have held on to a select few of these players, but just imagine if they would have re-signed all this talent (and didn't have a salary cap). Sure, they would have had to trade some away if things got too expensive, but that's how you get more good players and continue building success.
Of course, it's much easier said than done. For now though, let's have some fun and take a look at what might have been for the beloved Mariners.
* Stats are from ESPN.com, MLB.com, and baseball-reference.com .
Begin Slideshow

»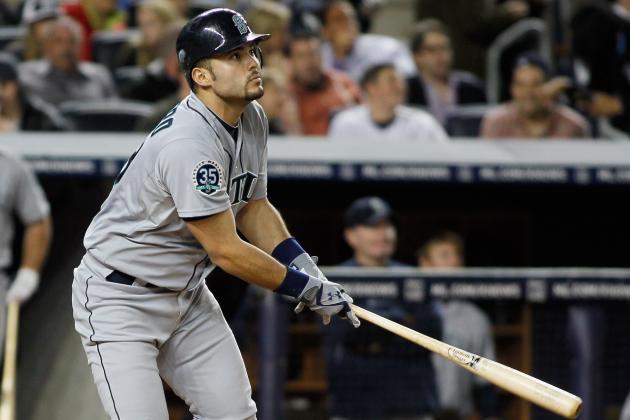 Mike Stobe/Getty Images

Jesus Montero was acquired by trade from the New York Yankees in one of the offseason's biggest moves.
Though the M's gave up one of the bright spots of the 2011 season, and what seemed to be a key piece in the rebuilding process in Michael Pineda, they landed the impact bat they have desperately needed for the past few years.
Montero is currently batting .252 with six home runs and 22 RBI, but those numbers aren't too bad for a rookie through the first couple months of the season—especially when you consider how much of a pitcher's park Safeco is.
The run production he has brought to the team this season is refreshing, and it's something for Mariners fan to look forward to in the future as this young man progresses into his full potential.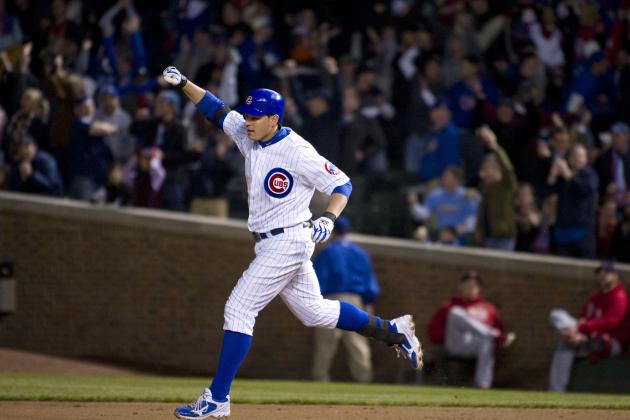 Brian Kersey/Getty Images

In 2002, Seattle selected LaHair in the 39th round of the MLB draft.
After seven years in the Minors, and a brief stint in the big leagues, Seattle parted ways with the big guy. After his release, the Cubs inked a minor league contract with him in the 2009 offseason.
Fast forward to this season and LaHair is one of the few things Chicago baseball fans have to be happy about. The Cubbies have the worst record in all of baseball, but it's definitely not this guys fault.
In his 41 games, LaHair is batting .310 with 10 homers and 21 RBI. His 10 longballs and his .408 OBP are both in the top eight in the National League.
His average is a full .101 points higher than the M's current every-day first baseman Justin Smoak, and has also doubled his home run production.
Smoak still has a lot of potential, and will hopefully find it soon, but I'm sure Seattle wouldn't mind having Bryan LaHair's bat in their lineup right about now.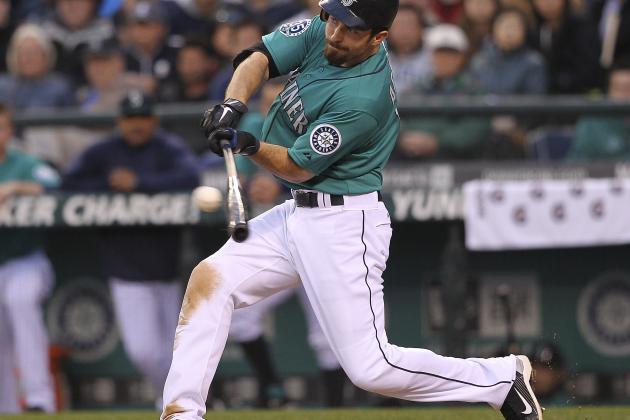 Otto Greule Jr/Getty Images

If Seattle still had all this talent on their roster, they definitely wouldn't have had the number two overall draft pick in 2009. Nor would they have been in place to draft Dustin Ackley. However, I am willing to toss that aside for the sake of the list.
Off to a slow start, Ackley arguably has the most offensive potential of all the Mariners' young hitters.
He burst on to the scene in early June of last year and quickly became a fan favorite in his opening series against the Phillies. He showed it all: patience, power, and speed. He even ended up batting in the three hole for a majority of the time towards the end of the season.
He finished the year with a .273 average, 6 homers, 36 RBI and 7 triples.
This year Ackley has fallen victim to the sophomore slump. He's currently batting .247, but still has come up with big hits that have been key to a lot of victories.
His low average is nothing to be concerned about. It's early in the season and this guy was born to hit. Don't be surprised to see his average start creeping up towards .300 in the next month as he keeps heating up.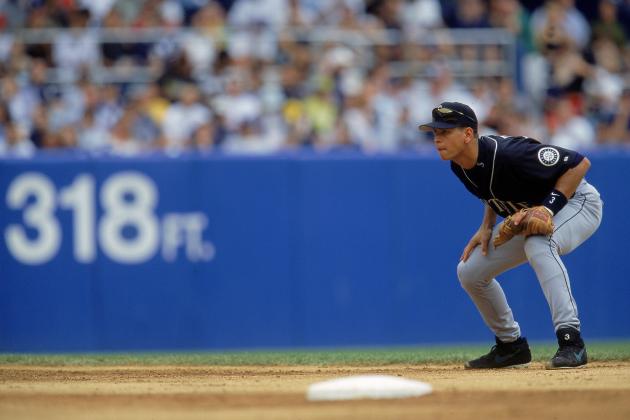 Jamie Squire/Getty Images

Though A-Rod is currently welcomed with a chorus of boos every time his name is mentioned in or around Safeco Field, not one fan can claim they still wouldn't want him on their team.
If you ask a Mariners fan they'll claim that, Rodriguez "sold out" and, just for the money, left a town that loved him.
That's debatable. Still, one can't help but wonder what his career would look like if he had stayed in Seattle. If you believe that he only took steroids to live up to his contract in Texas, then it's safe to say he would've stayed clean in a Mariners uniform.
With an unsoiled name and the numbers continuing to increase, we could be looking at, hands down, the greatest baseball player of all time—no asterisk necessary.
Just after he left, Seattle posted a 116-win season—its best record ever. With him on the team, they might have had enough to get past the Yankees and eventually knock off Arizona to bring home the first ever World Series in club history.
Since then he's won three MVPs along with countless other awards. You could even make the case (which I'm doing) that with his old age and knee/hip problems, he would've made the move to third regardless, like his idol Cal Ripken Jr.
Now, as a 36-year-old, he's batting .281 with 7 HR and 18 RBI. Even those numbers would be appreciated in Seattle's slumping lineup.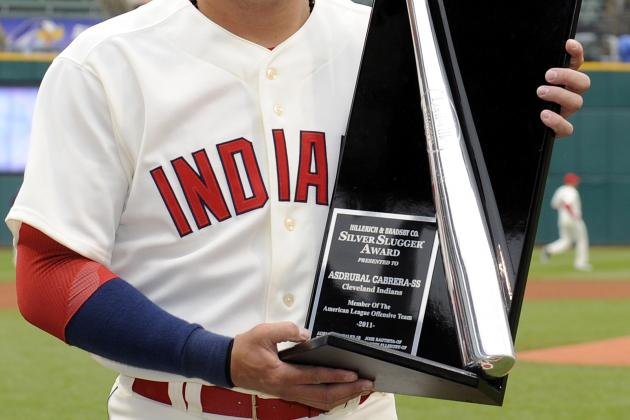 Jason Miller/Getty Images

The picture alone is enough to make every M's fan cringe.
A non-Ichiro-named Mariner hasn't brought home the prestigious Silver Slugger award since Brett Boone and Edgar Martinez both won at their respective positions in 2003.
However, Cabrera won this award just last year.
Traded in 2006 as a minor-leaguer, in one of the most questionable trades in Seattle's history, Cabrera is becoming one of the bright young stars of the major leagues.
His amazing season last year consisted of him batting .273 with 25 homers and 92 RBI, numbers which would take current M's shortstop, Brendan Ryan, years to achieve.
He's also one of the best fielders in all of the game with potent offense.
Out of all its poor decisions, I'm sure none make Seattle's front office kick itself as much as this one.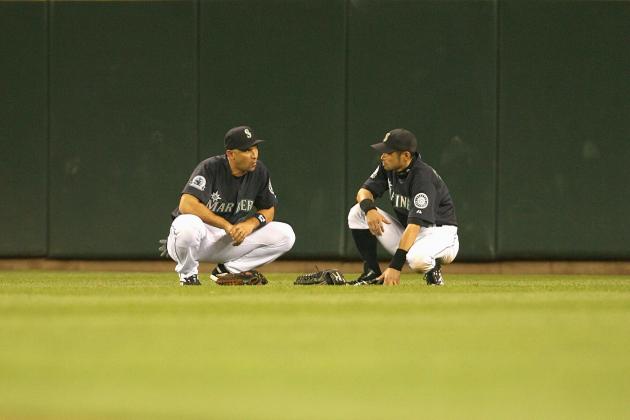 Otto Greule Jr/Getty Images

Rauuuuuuuul!
That's all that needs to be said, really. In his two stints with the Mariners, Raul Ibanez was a huge fan favorite. His fun first name was a big reason why—his offensive numbers didn't hurt either.
Ibanez spent 10 years total with the team. The first five years of his career, 1996-2000, he roamed the Mariners' outfield. Then, after three years with Kansas City, he found his way back home. He then spent, arguably, the prime of his years as a Mariner, from 2004-2008, before packing his bags once more and heading to a real contender in Philadelphia.
Nowadays the 39-year-old is DH-ing for the Yankees and is one of the biggest surprises of the season. Ibanez is batting only .263, but he's slugged 9 HR and 27 RBI—both of which would lead the team for Seattle.
Though he's aging, "Rauuuuul" is still a very productive ballplayer and one who M's fans would love to still have around.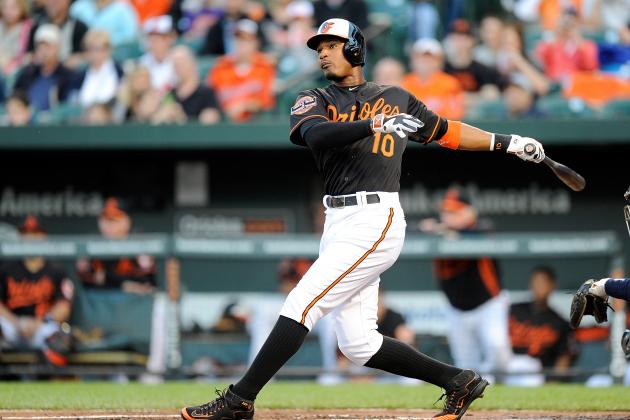 Greg Fiume/Getty Images

Seeing Adam Jones fulfilling his potential is a tough pill to swallow, knowing that he could still be roaming the spacious center field area under the Seattle sky.
Unfortunately, he's in a Baltimore uniform now, and is an early candidate for AL MVP. Batting .311 with 14 big flies and 29 RBI, Jones is, in large part, the main reason the Orioles have the second-best record in all of the MLB and sit atop the powerhouse AL East.
He was traded during the '08 offseason as one of many pieces to bring Erik Bedard to Seattle. In Bedard's four years with the team, he never pitched in more than 16 games and missed the entire 2010 season due to injury.
He was eventually traded to the Red Sox in a three team trade before the trade deadline in 2011. The M's acquired Trayvon Robinson and Chih-Hsein Chiang from the deal so, ipso-facto, the Jones deal got Seattle the two aforementioned prospects.
Though these prospects are poised to have good major league careers, it'll be hard to top what Jones is doing now. If one were to guess, this would be the start of a very long and promising career for the 26-year-old—a career that could have been spent elsewhere.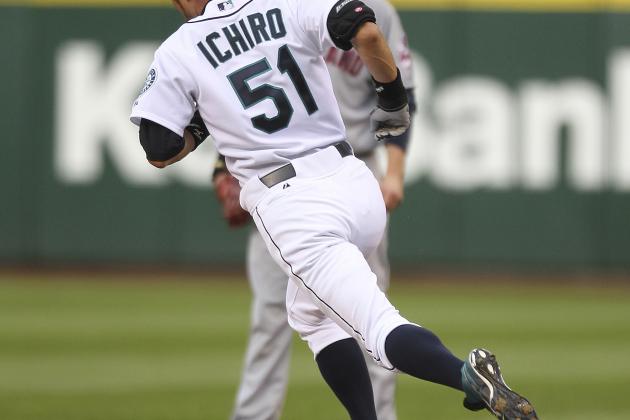 Otto Greule Jr/Getty Images

Suzuki, thankfully, is one of the few rare talents that Seattle has been able to hold on to.
Breaking on to the scene in 2001, he was able to win AL rookie of the year and AL MVP—and was a large factor in the Mariners' 116-win season. Not too bad for someone's first year in America.
He's seen it all and done it all in his 12 seasons in the great northwest. The list of accomplishments are never-ending:
10 All-Star games
10 Gold Gloves
10 Consecutive 200 hit seasons
3 Silver Sluggers
League leader in hits seven times
League leader in average twice
At the age of of 38, it appears he is finally starting to slow down. His average has dipped to just below .300, but he's still the biggest asset to the M's lineup.
Through the ups (and a lot of downs), Suzuki has remained faithful to the Seattle organization. As great a player as he is, he didn't leave a struggling team—which says a lot about his character.
That's the main reason he is, and will always be, one of everyone's all-time favorite Mariners.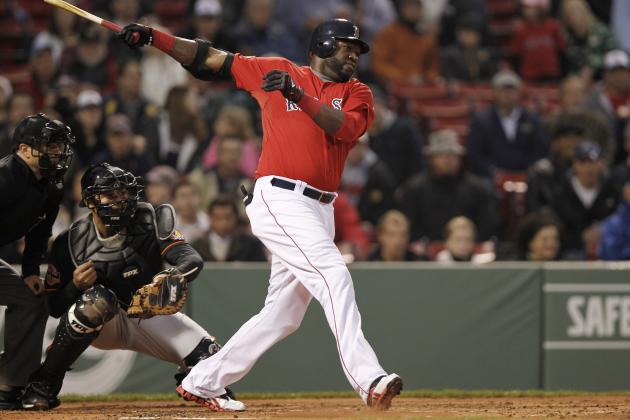 Winslow Townson/Getty Images

Though Ortiz never played a game in a Seattle uniform, it's tough to imagine he was once "a player to be named later" in a trade early in his minor league career.
"Big Papi" is hands-down the second-greatest Designated Hitter of all time. His bat and late-game heroics are things that will be remembered long after he hangs up his spikes.
It's been 20 years since the Mariners drafted Ortiz, and he is still putting up remarkable numbers. He's currently batting .315 with 10 homers and 30 RBI.
He's also hit 20 or more home runs for 10 straight years. Unless something drastic happens, it looks like he's well on his way to that and then some this year.
I would say he's everything good about the Red Sox, but let's be honest—he's the only good about them.
Just imagine if he made his career with the Mariners.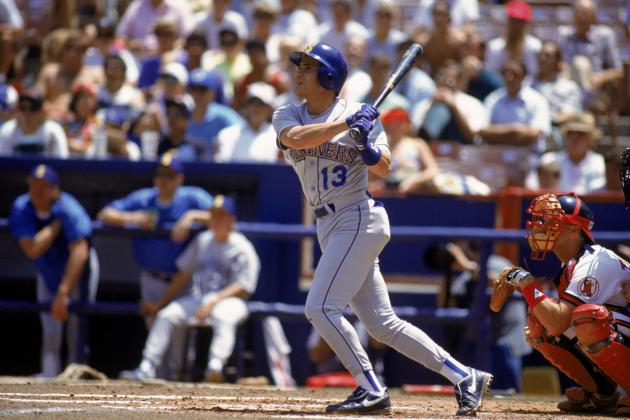 Ken Levine/Getty Images

Adrian Beltre: The 2004 NL MVP never quite lived up to the contract Seattle signed him to the following offseason, but Beltre's numbers were still impressive in his five years with the team. He's arguably the best third baseman in the game right now, and though he was expensive, I doubt many people would complain if he was still manning the hot corner.
Omar Vizquel: Though it seems Omar's career is just about over, who would've imagined that he'd still be around all these years later? He made his debut in '89 and was traded for to the future face of the franchise, A-Rod. His bat won't be much of a help these days, but I'm sure his glove and veteran leadership wouldn't hurt.
Shin-Soo Choo: Another tough pill to swallow seeing that he has the potential to be a .300/20 HR guy every season. In fact he did just that in 2009 and 2010, before injuries kept him sidelined most of last season.
Willie Bloomquist: Don't get me wrong: Bloomquist isn't a premiere hitter, but he is a great teammate and also a great utility man. He proved that in the limited playing time he got in Seattle over his seven years.
He's since taken his talents to Kansas City, Cincinnati, and is now with Arizona showing the world what he's made of. He wouldn't be a starter on this team, but it definitely wouldn't hurt to have him sitting on the bench.
Mike Morse: I haven't done any extensive research or found any evidence to prove this, but trading Mike Morse for Ryan Langerhans could be the worst trade in Mariner history. Morse batted .303 with 31 HR 95 RBI last season. In Langerhans' nine-year career, he has a .226 average with 33 HR and 125 RBI. (I rest my case.)
Jason Varitek: Sure, Varitek is retired now, but if he had have stayed a Mariner I believe he would have at least been around for this season. He was never the best at anything offensively, but there's no doubt he's one of the greatest defensive catchers of his generation. He was the captain of two World Series Champions, something no Mariner can say—that's for sure.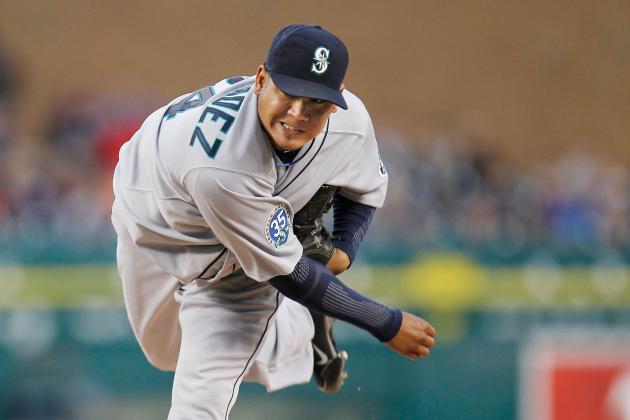 Gregory Shamus/Getty Images

Felix "the King" Hernandez. Enough said.
He's everything right about baseball, and he's everything a fan could wish for in a player.
He's dominated hitters for seven years now—and he's only 26-years-old. Felix won the 2010 AL Cy Young award and has been named to two All-Star teams.
Breaking onto the scene as a 19-year-old stud, he has never disappointed. In each of his six full seasons he's recorded 175 plus strikeouts, and currently has 68 through his first ten games.
Hernandez has already written his way into being one of the Mariners all-time greats—and he's just now getting into his prime.
He even has his own section(s) at Safeco Field, labeled the "King's Court". Not too many players, if any, can say they're lucky enough to have that.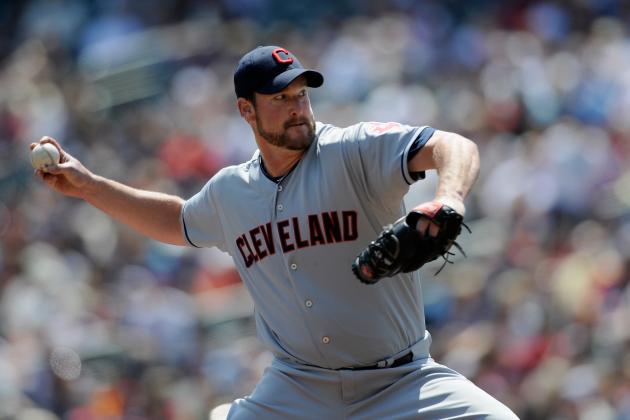 Hannah Foslien/Getty Images

In yet another questionable trade, the Mariners sent both Derek Lowe and Jason Varitek to the Red Sox because they needed immediate help in the bullpen.
The "help" came as Heathcliff Slocumb, who in his two years with Seattle went 2-7 out of the bullpen with an ERA over 4.00.
The two traded for him were both key contributors in the 2004 World Series for the Champion Red Sox.
Lowe went on to lead the league in saves in 2000, with an All-Star appearance. From 2002-2010 he was converted to a starter. In each of those years he had 12 or more wins.
Currently the 38-year-old has the lowest ERA in the AL at 2.15, with a 6-2 record to go along with that. Those numbers, of course, would both be team highs for Seattle's current lineup.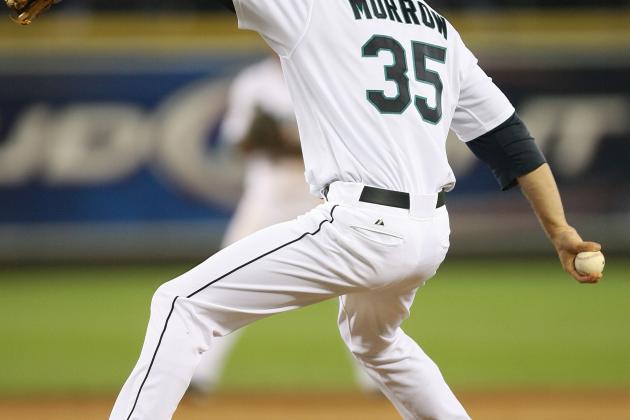 Otto Greule Jr/Getty Images

Though the trade that saw Brandon Morrow leave town helped bring Cliff Lee in, it's hard to watch his recent success, knowing that he once laced up for the good guys.
Of course, Lee was supposed to be a part of the 2009 Mariners' team which was supposed to shock the world—they were the dark horse to win the whole thing. Unfortunately the offense slipped back into neutral and we saw Lee dealt to division rival Texas.
The M's basically got Brandon League, Justin Smoak and Blake Beavan for Morrow. All three are currently in the big league club, but none contribute to the team as much as Morrow does for Toronto.
Before being "touched up" by the Rangers on Friday night, Morrow had posted a 5-2 record with a 2.63 ERA. He also had 54 strikeouts as well.
He seems to have finally got his command issues figured out, and the flashes of brilliance he had strung together over the past couple of seasons were turning into an every-start thing.
Morrow has the potential to be one of the best in the bigs—if he can keep things up. As with a lot of the other players who were let go early, it's hard to watch him grow with another team.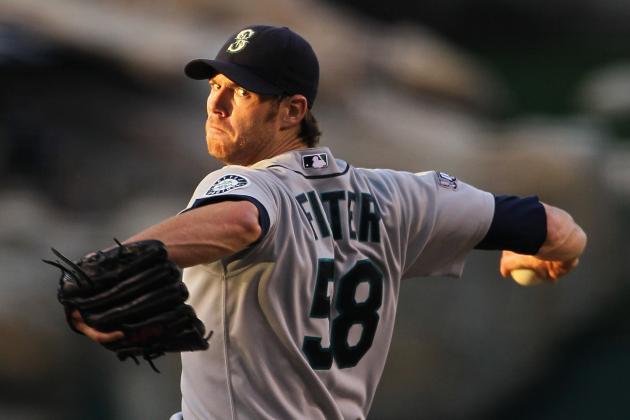 Jeff Gross/Getty Images

This is the one player on the list that I honestly wanted to see be dealt to another club, not because I didn't like him—he is still one of my favorite players—but because Seattle's offense showed no love whatsoever to this guy.
In 2011, before he was dealt to Detroit, Fister was 3-12 in his 21 starts with the M's. That doesn't sound too impressive, but his ERA was 3.33. In three of his losses he threw a complete game, but couldn't get the support needed.
It was hard to watch him go out there and give it his all every night, and have his record show just the opposite. It was holding him back. For him to progress in his career, he needed to go.
And go he did. In his 11 starts with Detroit last season, Fister went 8-1 and even lowered his ERA to 2.83 to finish the season.
He also got his first taste of the postseason, going 2-1 in his three starts.
Though it's nice to see him succeed, it would be nice to have him on this "what-if" team to see his wins pile up.
Justin Edmonds/Getty Images

Viva las Vargas.
Vargas isn't the best pitcher statistically, and probably won't go down as even one of the all-time Mariner greats, but there are not too many guys I enjoy more than him.
Though he's also been a victim of Seattle's woeful offense, Vargas is a highly-underrated player. This is his fourth season with the team, and if things continue this way he might end up with a winning record to prove his worth.
Currently at 5-4 with a 3.39 ERA, Vargas is putting up his usual, impressive numbers. The southpaw is a nice mix to go with King Felix, and always has the hitters guessing.
He might not be the most fun player to watch, but he gets the job done. That's all you can ask for as a manager and a fan.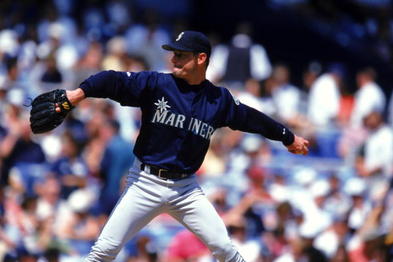 M. David Leeds/Getty Images

Jamie Moyer: Though Moyer has been around nearly as long as the Mariners have been a team, it's hard to make a list of players you'd want back on the team without him. At 49 years young, he would definitely be in the club's bullpen, but it wouldn't hurt having him around for some long relief.
Eric O'Flaherty: Even if O'Flaherty's years with Seattle were horrendous, to say the least, the lefty would be a good addition to the bullpen today. He seems to have settled down and figured things out since Atlanta got hold of him. As part of one of the best bullpens in all of baseball last year, he posted a 0.98 ERA in 73.2 innings pitched.
Brian Fuentes: Even if he was a seldom-used arm in the 'pen, it wouldn't hurt having Fuentes' talent out there for some seventh inning close-game action. Though his career has never been one to brag about, Fuentes still owns an impressive resume—one that would be nice to have for a Seattle player.
If anything else it would be nice to have him just so the A's wouldn't be throwing him against the M's to close out games.
Rafael Soriano: When Soriano suited up as a Mariner, it was obvious that he had talent. He would eventually lead the league in saves and went on to be the replacement (temporarily or not) for the greatest closer of all time, Mariano Rivera. Whether as a set up man or the closer, it would be amazing to have him in the bullpen in close games.
J.J. Putz: Though his numbers this year aren't impressive, neither are those for Seattle's current closer. If Putz can return to his form last year, in which he went 45/49 in save opportunities, then any team would love to know that he's there to slam the door shut on opposing teams.